Taking cooking classes in foreign countries has really become a highlight of my travels and taking a cooking class in Hanoi was no different. Cooking classes are one of the few things that gives you an inside look into the culture and customs. Not to mention, it's a skill you can take home with you. Knowing how to make foreign cuisines is one of the coolest souvenirs you could ask for. After taking a Balinese cooking class with my mom in Indonesia, I was equally excited to share another cooking experience with two of my best friends from home.
---
Taking a Vietnamese Cooking Class in Hanoi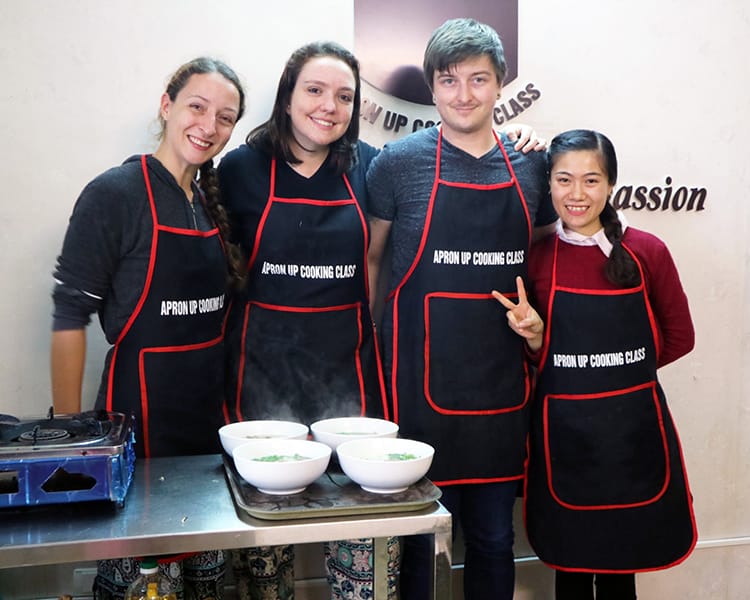 We showed up to Apron Up in Hanoi ready to learn two of our favorite Vietnamese dishes; the famous pho and the incredible egg coffee. One of the reasons I was extra excited to learn to make Vietnamese food is because it's not particularly spicy. Yes, they still use chili sometimes, but it's nothing compared to the food I had in Thailand or other countries nearby. Northern Vietnam is known for it's balanced food which is not too hot.
Upon arrival, we met our guide and teacher Hoai (her real name) but were told to call her Mango. The day started with a tour of the local market where we would be buying all of the ingredients. Vietnam's roads are notorious for being difficult to cross, so Mango would yell "sticky rice" and we'd all have to stick together to cross the road. This became a favorite saying even after we left the class.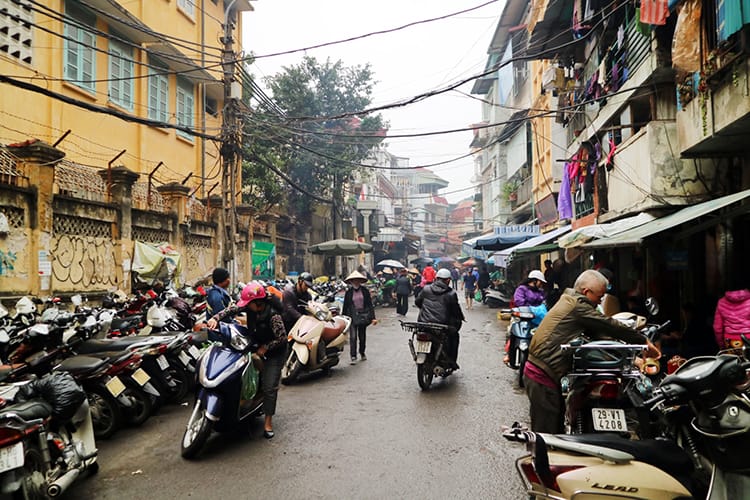 As we walked through the market, Mango explained that when a couple wants to get married in Vietnam they have to pass two tests. The woman needs to pass a cooking test where she makes food for her soon to be in-laws. If they like the food, she can marry their son. If not, she will need to take cooking classes until she can impress them.
On the other hand, a man has to pass a drinking test. His soon to be in-laws will take him out and get him drunk. He has to drink everything they give him and once he's wasted they ask him every uncomfortable question you can think of. We found this hilarious and loved picturing our parents bombarding guys with questions.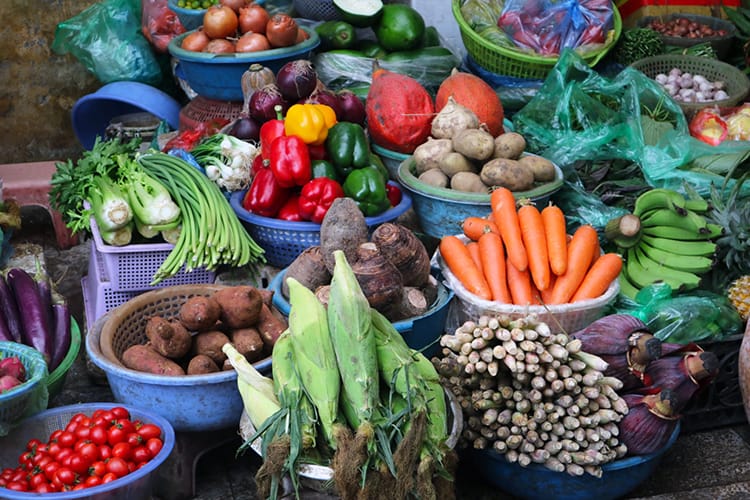 My friends, Lisi and Pat, were curious if people ate dog and cat in Vietnam. I had assured them that no one was going to sneak it into their food instead of beef. We asked Mango and apparently dog is three times more expensive then beef while cat is two times as expensive as dog. So yes, people in Vietnam might eat them, but no they won't sneak it into your meal because it would actually cost them more.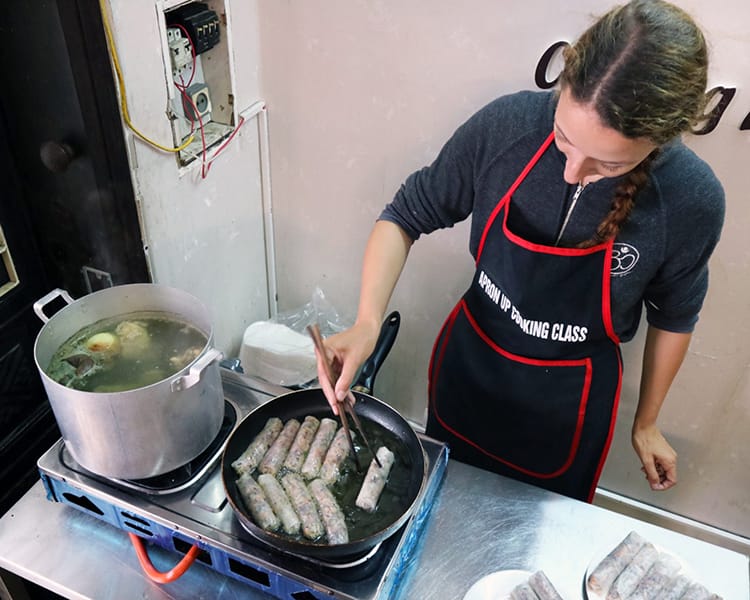 After our crash course in Vietnamese culture, we headed back to the cooking school and began to make five different dishes. We'd had the chance to enjoy some of the best street food in Hanoi during our time there, so we were looking forward to making it ourselves. We started with pho bo (beef noodle soup) which actually takes eight hours. We took a short cut to speed up the process of making the broth and cut it down to three hours. While the broth was cooking we started to make nem (fried spring rolls), nuroc cham (dipping sauce), nom du du (papaya salad), and bun cha (barbecue pork noodle).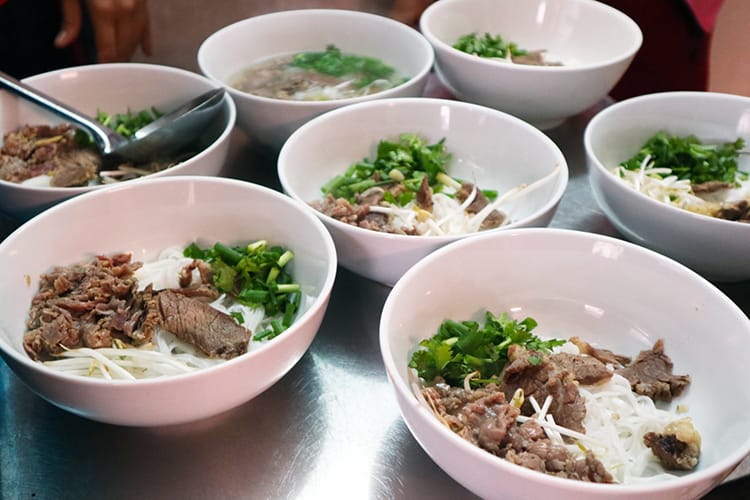 We all chopped the ingredients together and then added them to mixing bowls. Everyone took turns stirring, and then, we got a chance to actually put together all the ingredients. The class learned how to roll the spring rolls, which I'd done previously in Thailand and Cambodia. We all helped make the beef 'meatballs' and finally, we fried and cooked everything until it was ready to plate.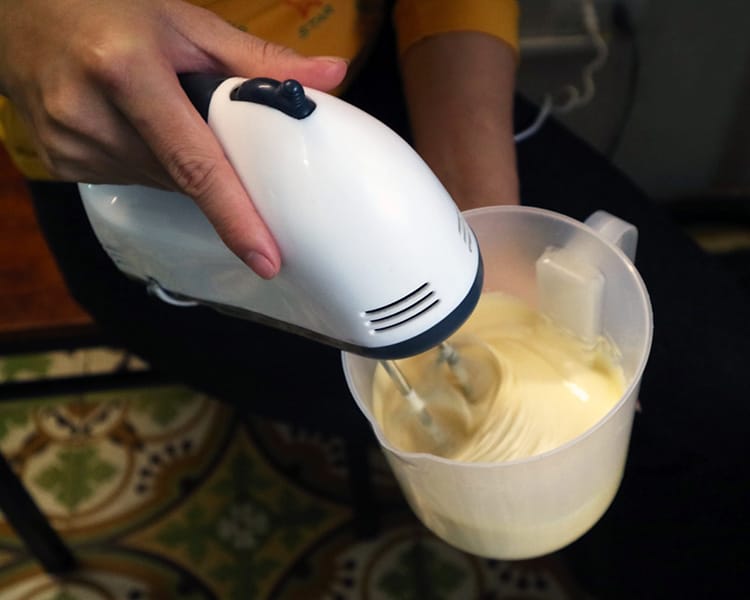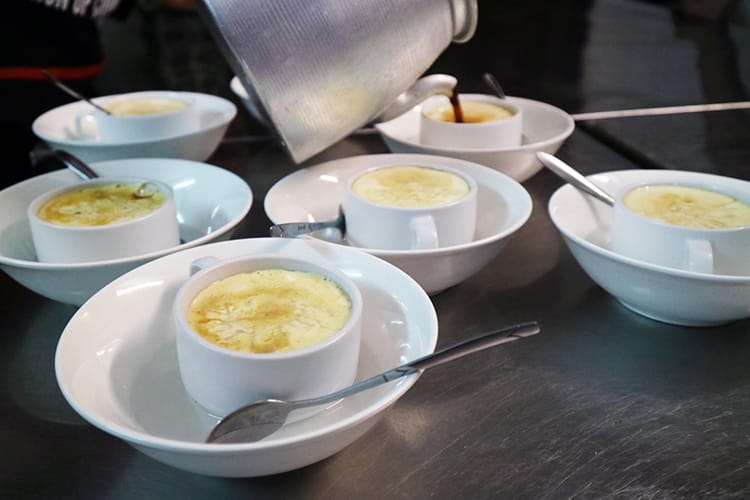 Last, but definitely not least was the egg coffee. During the war, it was extremely hard to import milk into the country. Since Vietnamese coffee is so strong, people drinking it needed to add something to make it sweeter. Someone decided to mix condensed milk, sugar, and egg yolks to make a meringue and soon it became popular amongst coffee drinkers. It may sound gross, but this really is one of the best coffees I've ever had. Just be careful not to get any egg white in it or it will end up tasting pretty awful.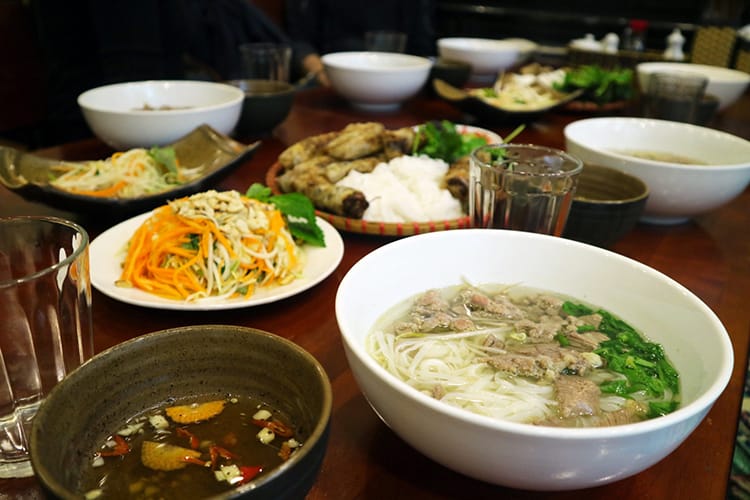 At the end of our class we all sat down to an amazing meal. It was by far the best cooking class I've taken to date and Mango was amazing! You can actually request teachers, so I highly recommend asking for her if you go. She gave us more history and information on Vietnam than any other guide on our entire trip. Plus, she was hilarious and made us laugh throughout the entire class.
---
You might also like…