Most people don't know what to expect of the food scene in Kathmandu. What does one eat in Nepal? Curries, lentil soups, and rice are pretty prominent, however, nothing is really out of reach. The best restaurant in Thamel have everything from Italian style pasta to Japanese ramen. You can have whatever your heart desires. After spending weeks in Thamel, these were the places I loved the most. A lot of them were recommended by locals, or I stumbled upon them by accident. The ones listed are the restaurants that I went back to more than once because they really stood out.
---
Forest & Plate
---
Best for Salads and Raw Foods
This adorable rooftop restaurant is the perfect pick for fresh salads and raw ingredients. In Nepal, most tourists are too afraid to eat anything uncooked because the water is not potable, but many of the restaurants in Thamel have filtered water in their kitchens. Forest and Plate is my favorite place to get a salad. If you're wondering why you'd want a salad in a country known for it's incredible soups and curries, you'll understand when you get here. On popular trekking routes its extremely hard to find fresh fruit and veggies, and this place is a nice retreat from all the heavily cooked cuisine.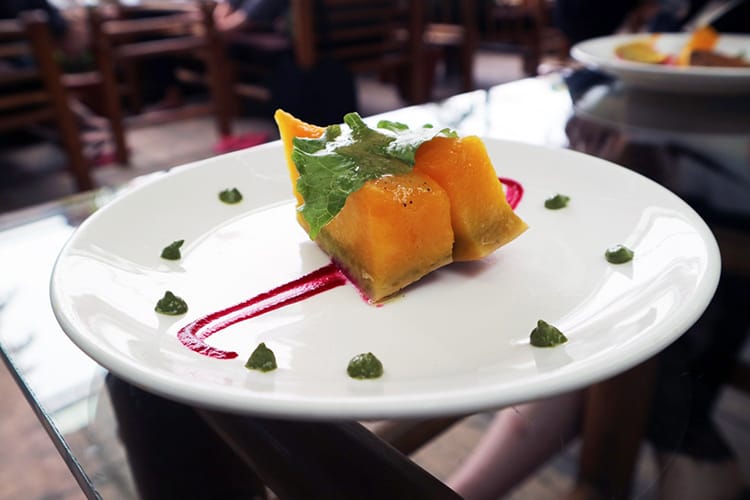 Thamel Momo Hut
---
Best for Nepali Momo
Tucked down an alleyway and up some stairs, this restaurant has an array of different momo. While all of them are delicious, it's the garlic momo that have won over my heart. Thamel Momo Hut is great for sharing with friends and also fantastic for a quick snack. You can either buy 5 or 10 momo at a time, making it easy to try different kinds. You can even see into the kitchen which ensures that everything is really fresh.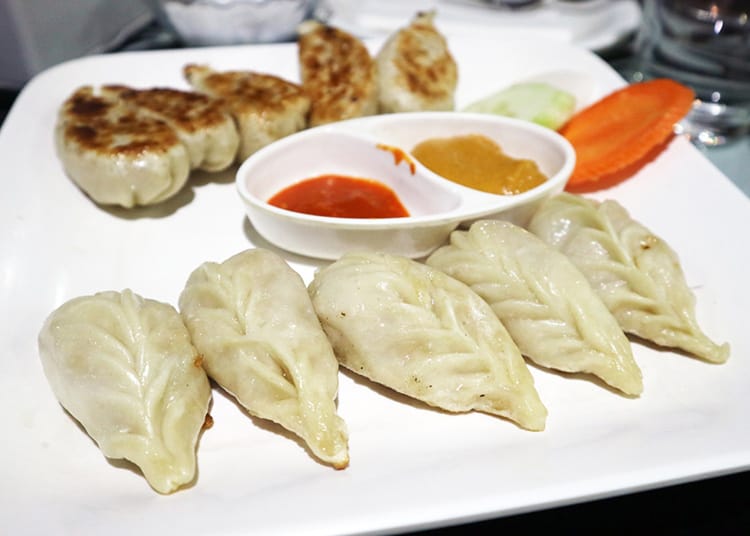 Sarangi
---
Best for Vegetarian and Vegan Food
Located on the third floor and rooftop of a building near the Kathmandu Guest House, this little restaurant is the perfect place for vegetarians and vegans. Even if you're a meat eater, you'll find awesome items on the menu that make you forget you didn't have any meat in your meal. What I truly love about Sarangi is the atmosphere. I've met tons of people here and have become friends with the staff. The restaurant also supports a lot of local organizations in the community. I'd recommend the dal bhat, quesadilla and the nachos.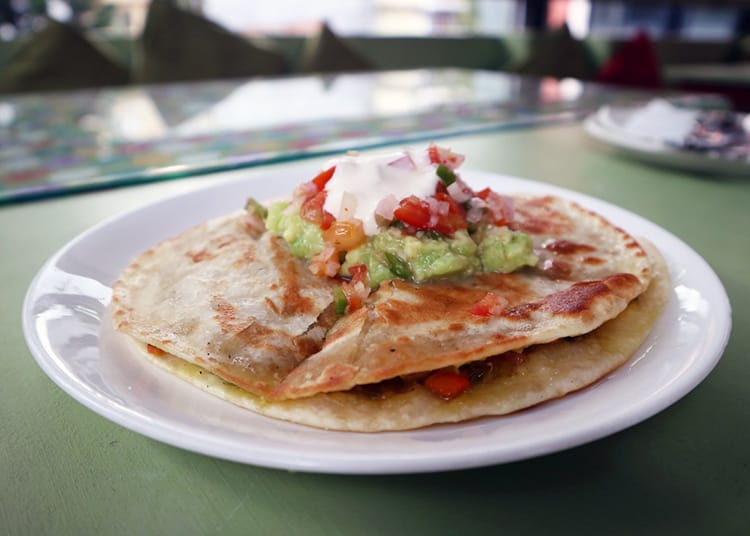 Momotarou Japanese Restaurant
---
Best for Japanese Food
Momotarou has some of the best Japanese food I've ever had. It's also some of the best food I've had in all of Nepal in general. Everything on the menu is extremely fresh. We got the sweet tofu, udon noodles with veggies, and prawn with egg over rice. Every single dish was flavorful. The meal came with tea, miso soup, and pickled beets. It ended up costing us $5 each and was one of the most filling and healthiest meals I've had in a while.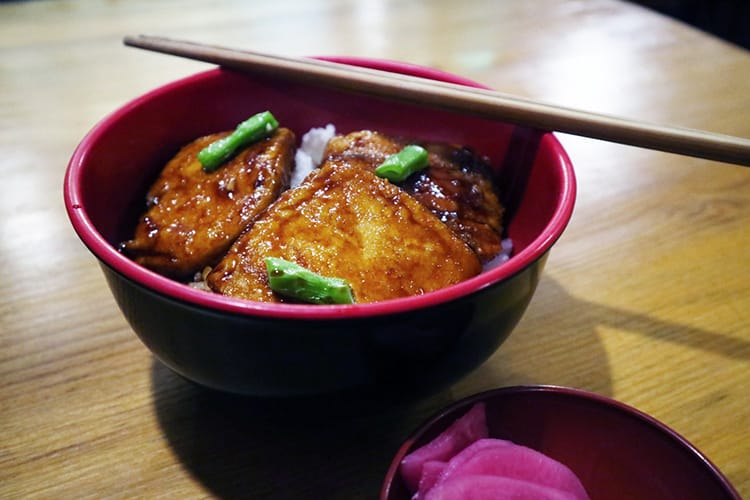 Gilingche Tibetan Restaurant
---
Best for Tibetan Food
One of the cheapest places I've eaten in Thamel is Gilingche. It's a great place to try traditional Tibetan food. I personally love the thentuk soup which has thick noodles and veggies along with your choice of protein. The restaurant is usually pretty empty in the afternoon, but at dinner time it fills up fast, making it a popular hot spot for locals and tourists.
---
Thorong Peak Guest House
---
Best for Western Breakfast & Mexican
I stayed at the Thorong Peak Guest House for a few nights and got free breakfast with my stay. That being said, I've had breakfast at a lot of restaurants throughout Thamel, and this is the most filling for the price. Items range between $2 and $4 and include eggs, toast, potatoes, bacon, and tea or coffee. Places on the main strip charge $4 and up and you don't get a drink included. The quality of food is really good and the service is fast.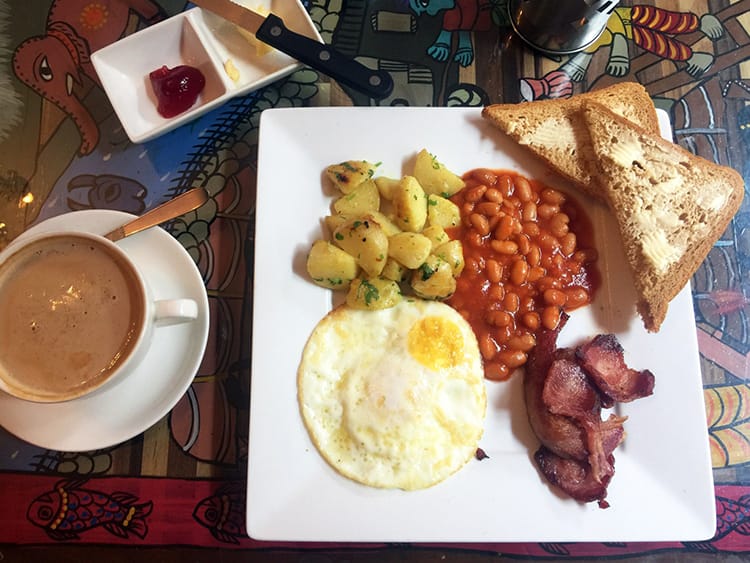 OR2K
---
Best for Mediterranean Food
OR2K is probably one of the most popular restaurants in Thamel. It's right in the main hub and has a great atmosphere. Their menu is vegetarian and features some vegan options. Most importantly, it's the best Mediterranean food in the area. From falafels to hummus, this place has great fresh food. The only problem is how crowded it gets at peak hours. I recommend trying the vegan crème brulee which is delicious.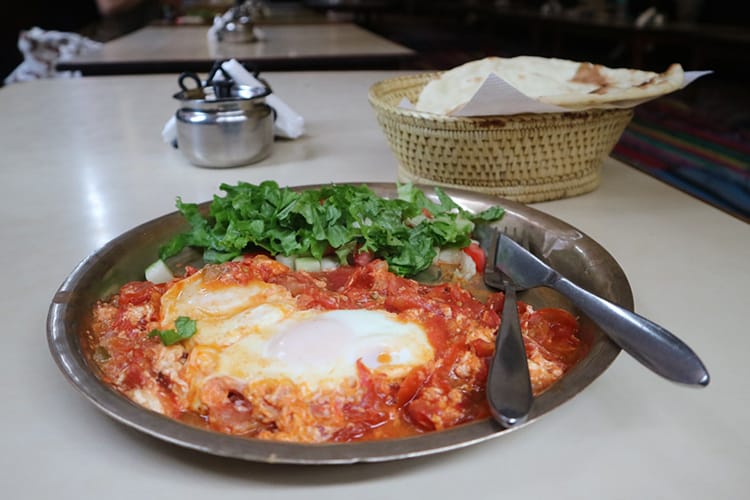 BK's Place
---
Best French Fries
It may seem odd to include a place for the best French fries in Thamel, but BK's place has the best fries I've had in all of Nepal. As an American, traveling can sometimes make me miss home and something as simple as good fries can make a bad day of travel seem great. BK's is famous for their Belgian style fries which are super crispy on the outside, soft on the inside, and the perfect amount of salty.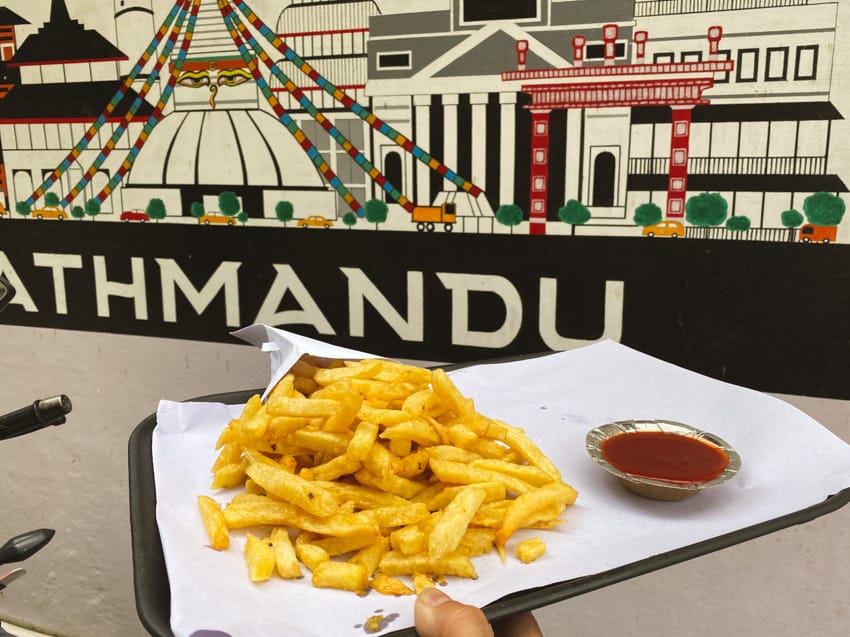 Places
---
Best for Work or Play
As a digital nomad, finding places to work outside of my hotel is tricky. What I love about Places is that they have strong WiFi and electrical outlets at almost every table. It's never super crowded, so I always feel like I can order a meal and work or catch up with family while just hanging out after I eat. The food is great, and the menu offers lots of amazing vegetarian options. They also have really delicious drinks like fresh lemonade. If you're not working or attached to your phone, there's also lots of board games to try out.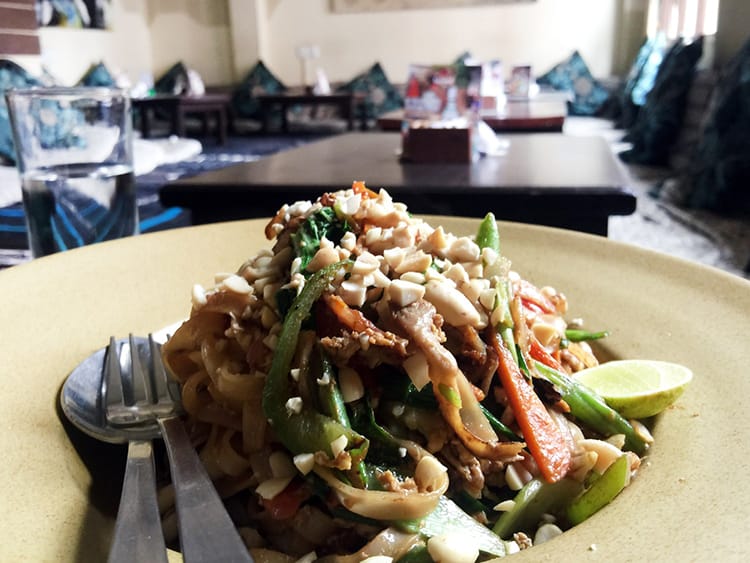 Roadhouse
---
Best for Italian
Roadhouse is one of my favorite places to go after trekking. First of all, the food is incredible. They have a variety of brick oven pizzas. I highly recommend the margherita and tandoori chicken pizza. They also have amazing salads, and the fish and chips (shown above) is to die for. The food is fresh and well made. There's even a few locations including one in Pokhara. Mostly, I love the ambience of this place. It always makes me feel like I'm back in New York, and is therefore my go to place when I'm feeling homesick.
---
Pho 99
---
Best for Vietnamese
Vietnamese food might actually be one of my favorites. Pho 99 has great pho that tastes like it's straight out of Vietnam. I had been meaning to visit this restaurant, but honestly I kept forgetting until I got sick one day and craved some soup. The ingredients were super fresh and the flavor was spot on. It was the perfect thing to eat after not feeling well and made me feel right at home. I also love that it's not on Mandala Street (the main street) because I didn't have to walk through hoards of people to get there. It's super close to everything, without being in the chaos.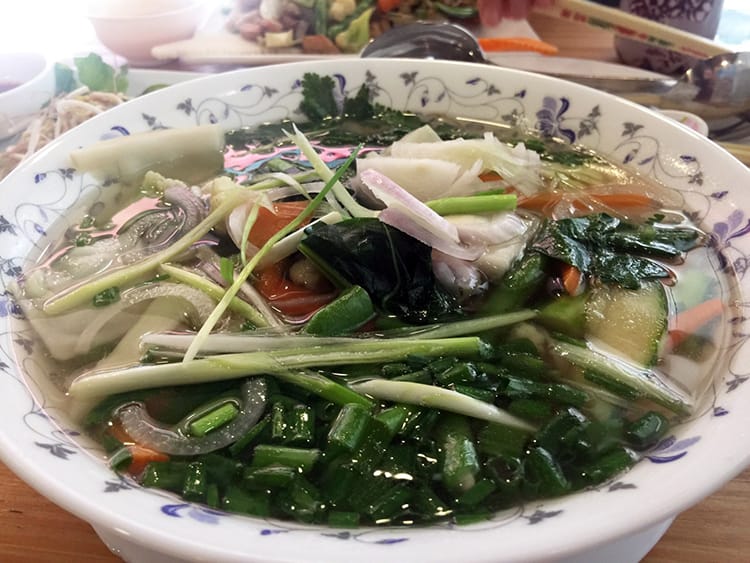 Rosemary Kitchen
---
Best for a Romantic Date
I stumbled upon Rosemary Kitchen one night when it was pouring rain and no one wanted to go out to dinner. I chose a place close to my hotel and ended up in a beautiful high class restaurant by mistake. Think candle lit dinners and soft classical music playing in the background. Not to mention, the food is incredible. I had the mushroom ravioli and the cheese cake. Both were absolute perfection. Honestly, it was the best western style meal I've had in all of Nepal. Along with a hot lemon and honey tea, my bill was $10. It's a little on the pricey side and the portions are smaller than other restaurants, but every single bite was amazing. I highly recommend this place for a fancy night out.
---
Kaiser Cafe (Garden of Dreams)
---
Best View
There are places you go for the food, and there are places you go for the view. Kaiser Cafe is the latter. While the food is good, I find it to be highly overpriced for what you actually get. That being said, it's got the most beautiful view in Thamel. The gardens are incredibly beautiful and peaceful, and it's an amazing place to order a tea and pie and read a book.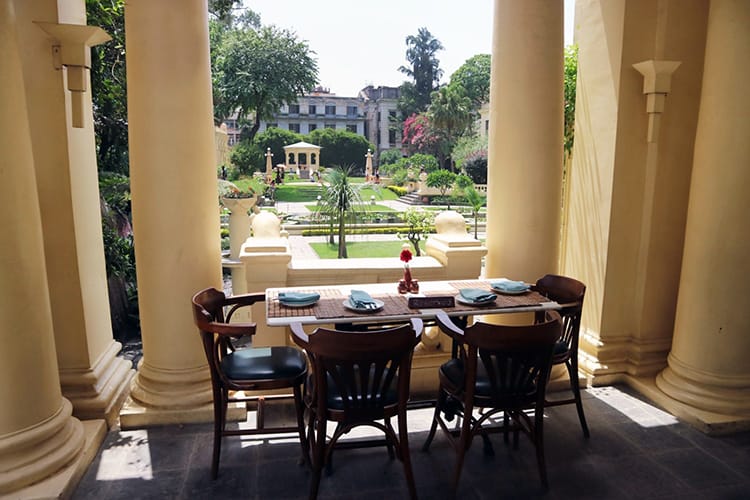 Phat Kath
---
Best for Chill Vibes
Phat Kath is probably one of the chillest places I've been in Thamel. First of all, it's down a small alleyway and up stairs in what feels like a tree house. Branches hang over the outdoor space making it feel like you're not in the hustle and bustle of the big city. It's relaxing music, heavily pillowed seating areas, and calming murals combined with good food, hookah, and board games makes it a great place for good vibes. I ordered a buckwheat pancake filled with ham, cheese, and egg and it was really delicious.
---
The HUB
---
Best for Coffee
I recently discovered The HUB after going on a search for the best ground coffee in Kathmandu. After living here for a while, I was constantly disappointed in the grocery store coffee and couldn't stand another cup of instant coffee. Then, I found Kar.ma Coffee which became an obsession and it happens to be sold at The HUB. After going in several times just to buy coffee for home, I finally met a friend there and sat down to enjoy a cup. The HUB has a cool Brooklyn coffee house vibe which reminds me of home. The coffee and baked goods are great, and they regularly have art classes, cooking classes, and more on site!
Looking for more coffee shops? Check out my picks for the 3 Best Coffee Shops in Kathmandu!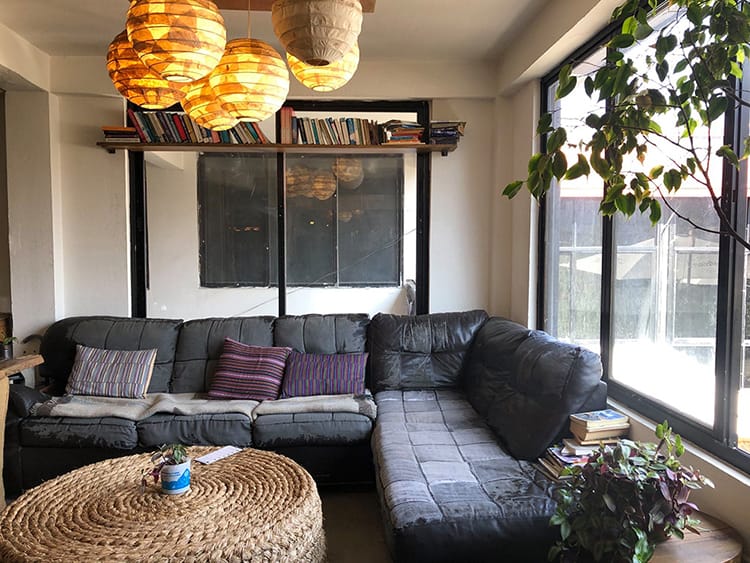 The Temple
---
Best for Cocktails
Located on the second floor of a building right next to Kathmandu Guest House, this little gem seems to be undiscovered among tourists. Although the food here is good, I really love the vibe for a cocktail in the evening. There's an outdoor patio with twinkle lights, comfy couches to lounge on, and really good music that isn't overwhelming or too loud to talk over. Temple is honestly a great place to just chill and have a drink. It reminds me of the bars my friends and I would go to in New York City.
---
Purple Haze
---
Best for Live Rock Music
Okay guys, this isn't exactly a restaurant. Actually, I'm not even sure if they serve food, but it's a great place to grab a beer. Being from New York City, I think it's amazing when I can check out a live band without paying a cover fee. I went to Purple Haze to grab a beer with a friend and the band ended up being amazing. They played everything from Coldplay and Ed Sheeran to System of a Down. I'd recommend heading upstairs and sitting in the galley or outside on the deck for a more chilled vibe. Downstairs was honestly a little too rowdy for me.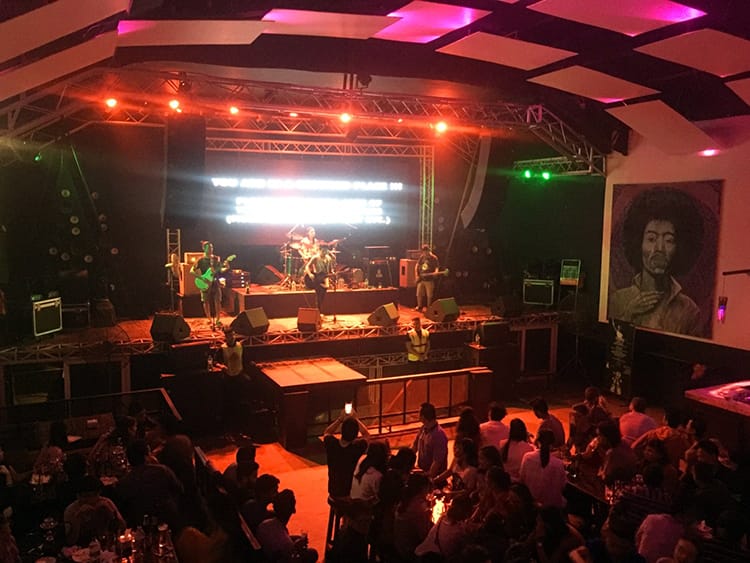 ---
You might also like…