Most people don't know what to expect of the food scene in Kathmandu. What does one eat in Nepal? Curries, lentil soups, and rice are pretty prominent, however, nothing is really out of reach. The best restaurants in Thamel have everything from Italian style pasta to Japanese ramen. You can have whatever your heart desires. After spending weeks living in Thamel (and now visiting frequently), these are the places I love the most. A lot of them were recommended by locals, or I stumbled upon them by accident. The ones listed are the restaurants that I go back to time and time again.
---
Forest & Plate
---
Best for Salads and Raw Foods
This adorable rooftop restaurant is the perfect pick for fresh salads and raw ingredients. In Nepal, most tourists are too afraid to eat anything uncooked because the water is not potable, but many of the restaurants in Thamel have filtered water in their kitchens. Forest and Plate is my favorite place to get a salad. If you're wondering why you'd want a salad in a country known for it's incredible soups and curries, you'll understand when you get here. On popular trekking routes its extremely hard to find fresh fruit and veggies, and this place is a nice retreat from all the heavily cooked cuisine.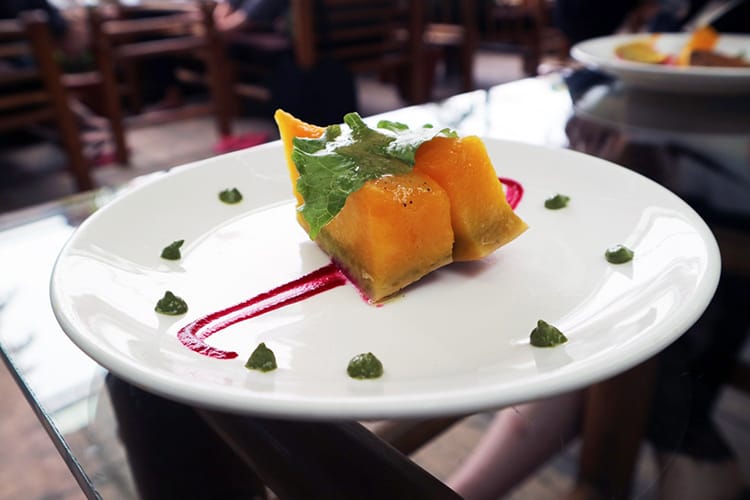 ---
Thamel Momo Hut
---
Best for Nepali Momo
Tucked down an alleyway and up some stairs, this restaurant has an array of different momo. While all of them are delicious, it's the garlic momo that have won over my heart. Thamel Momo Hut is great for sharing with friends and also fantastic for a quick snack. You can either buy 5 or 10 momo at a time, making it easy to try different kinds. You can even see into the kitchen which ensures that everything is really fresh.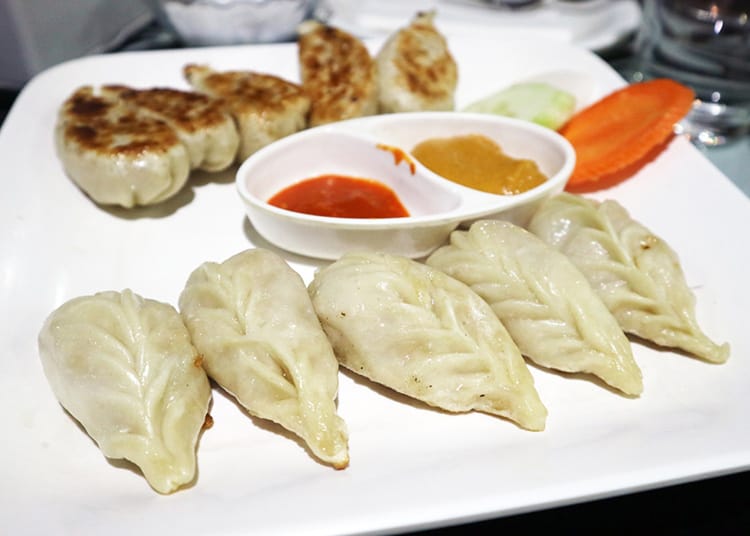 ---
Sarangi
---
Best for Vegetarian and Vegan Food
Located on the third floor and rooftop of a building near the Kathmandu Guest House, this little restaurant is the perfect place for vegetarians and vegans. Even if you're a meat eater, you'll find awesome items on the menu that make you forget you didn't have any meat in your meal. What I truly love about Sarangi is the atmosphere. I've met tons of people here and have become friends with the staff. The restaurant also supports a lot of local organizations in the community. I'd recommend the dal bhat, quesadilla and the nachos.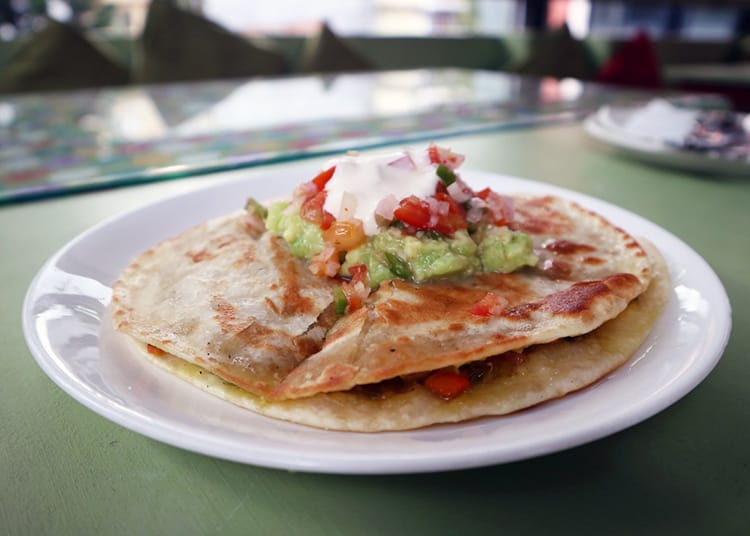 ---
---
Momotarou Japanese Restaurant
---
Best for Japanese Food
Momotarou has some of the best Japanese food I've ever had. It's also some of the best food I've had in all of Nepal in general. Everything on the menu is extremely fresh. We got the sweet tofu, udon noodles with veggies, and prawn with egg over rice. Every single dish was flavorful. The meal came with tea, miso soup, and pickled beets. It ended up costing us $5 each and was one of the most filling and healthiest meals I've had in a while.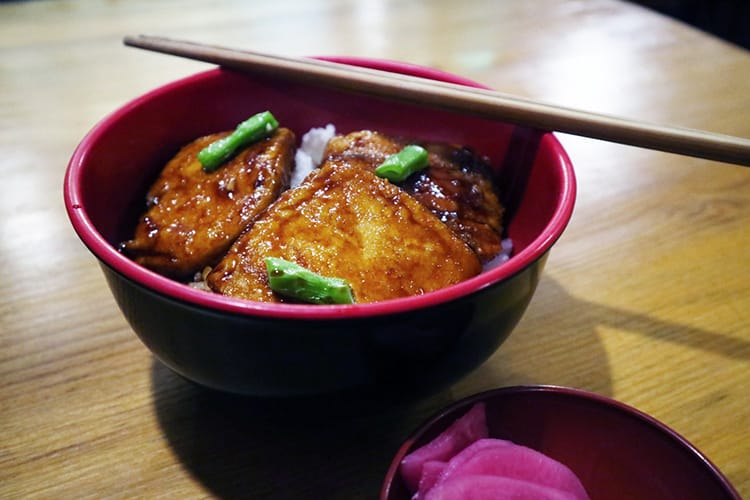 ---
Dechenling Garden Restaurant
---
Best for Bhutanese & Tibetan
Dechenling Garden Restaurant is one of those places that multiple friends recommended. Some said they had the best momo in town, so I obviously needed to check it out. The restaurant is located on a quiet side street in Thamel with a beautiful outdoor garden area that feels like a nice escape from the hustle and bustle of the main tourist area. The service is good and the food is super tasty. We tried the kothey style vegetable momo which was filled with spinach and something cheesy. I usually don't like vegetable momo because they tend to be mostly cabbage, so I really enjoyed that they used spinach. We also had chicken shapale which was perfectly crispy and not as oily as the ones you get from street vendors. Overall, I really enjoyed our meal and would highly recommend Dechenling Garden.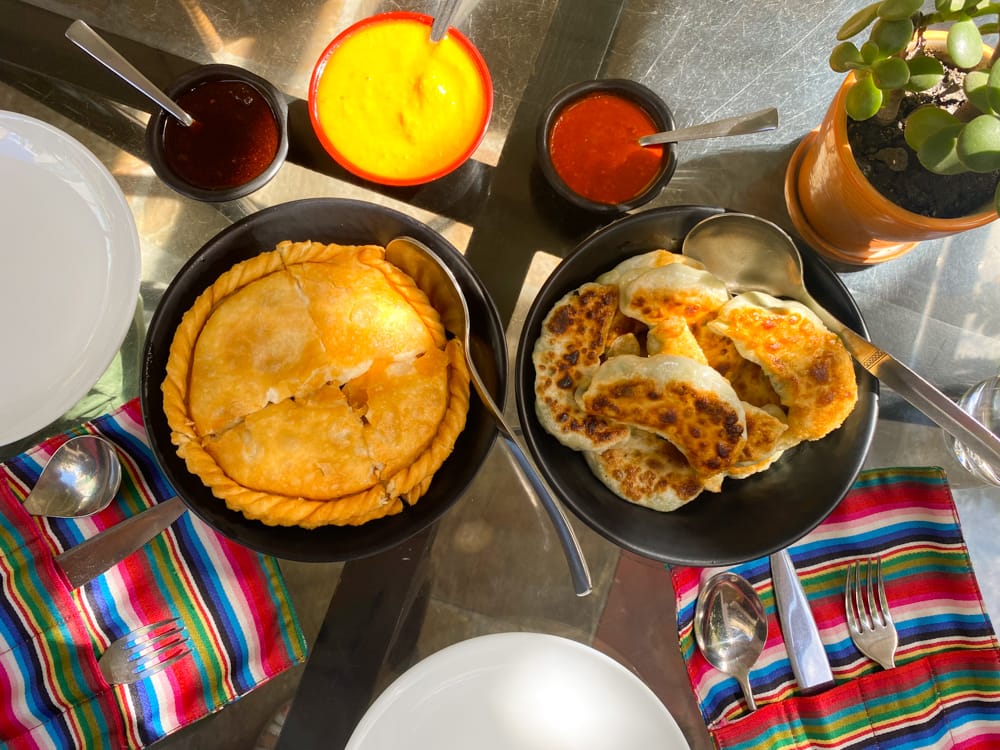 ---
Hankook Sarang
---
Best for Korean Food
I've just recently started eating Korean food. In my mind, I always thought it was super spicy and didn't know what to order, but after trying a few things I've found that I really like Korean food. Hankook Sarang recently renovated their restaurant and it now takes up a huge area including indoor and outdoor seating. We ordered the kimbab (Korean style sushi roll) and bibimbap (a rice bowl with a variety of toppings). Everything was fresh and delicious.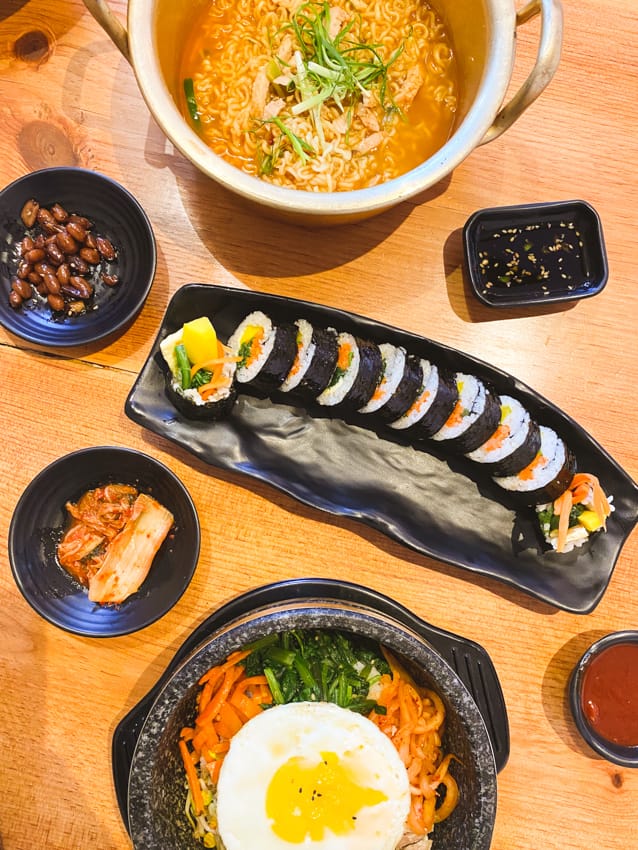 ---
Gilingche Tibetan Restaurant
---
Best for Tibetan Food
One of the cheapest places I've eaten in Thamel is Gilingche. It's a great place to try traditional Tibetan food. I personally love the thentuk soup which has thick noodles and veggies along with your choice of protein. The restaurant is usually pretty empty in the afternoon, but at dinner time it fills up fast, making it a popular hot spot for locals and tourists.
---
---
French Creperie
---
Best for French Food
The French Creperie is famous in Pokhara as one of the best restaurants to eat, yet most people don't know it's in Kathmandu as well. My husband and I were strolling down the streets of Thamel looking for a new place to try when I recognized the French Creperie sign pointing down a back street. We followed it around and found it tucked away off the main roads. The Thamel location is small, but the food is just as tasty as the one in Pokhara.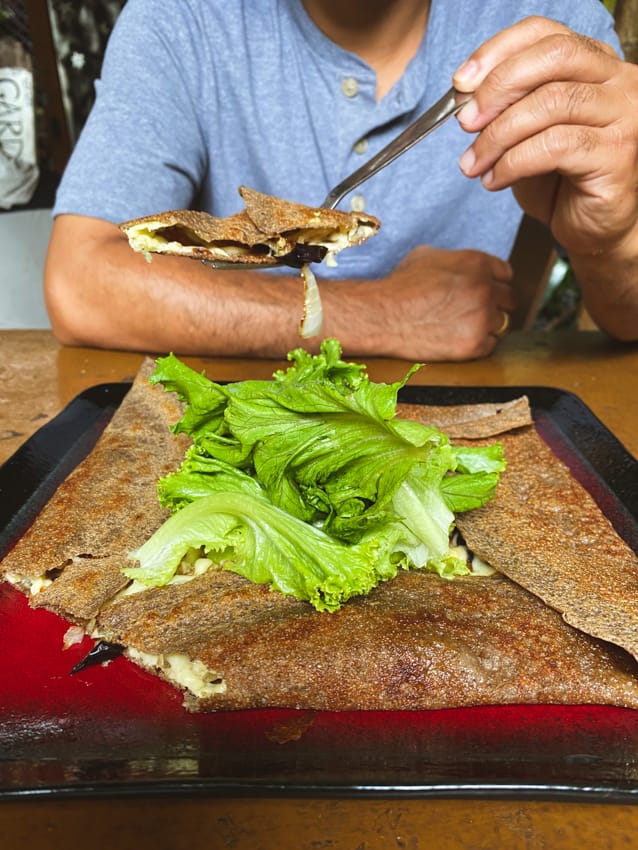 ---
OR2K
---
Best for Mediterranean Food
OR2K is probably one of the most popular restaurants in Thamel. It's right in the main hub and has a great atmosphere. Their menu is vegetarian and features some vegan options. Most importantly, it's the best Mediterranean food in the area. From falafels to hummus, this place has great fresh food. The only problem is how crowded it gets at peak hours. I recommend trying the vegan crème brulee which is delicious.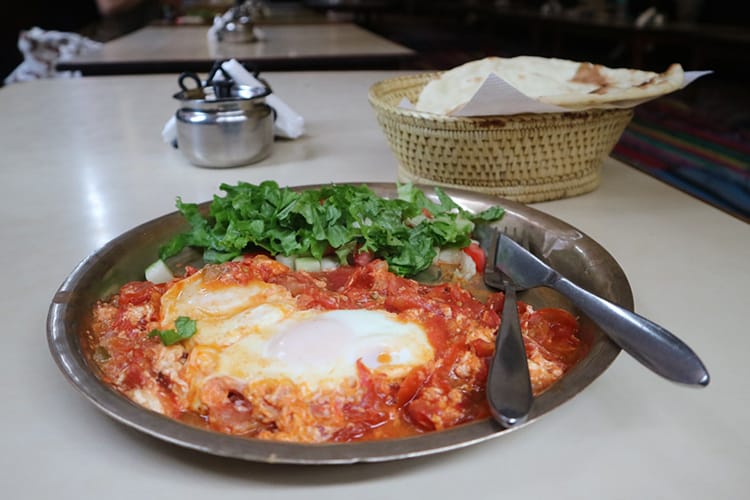 ---
BK's Place
---
Best French Fries
It may seem odd to include a place for the best French fries in Thamel, but BK's place has the best fries I've had in all of Nepal. As an American, traveling can sometimes make me miss home and something as simple as good fries can make a bad day of travel seem great. BK's is famous for their Belgian style fries which are super crispy on the outside, soft on the inside, and the perfect amount of salty.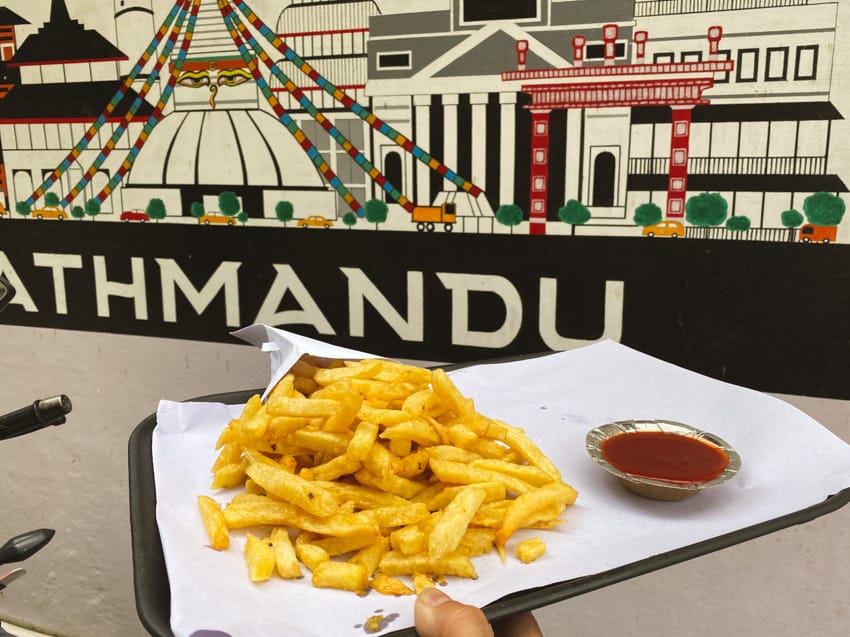 ---
Sandwich Point
---
Best for American Style Sandwiches and Burgers
Something you don't see a lot of in Kathmandu is sandwiches. Sandwiches are still fairly new to Nepal, so I was excited when I heard about Sandwich Point in Thamel. I lived in NYC for 10 years, and it would be unfair to compare this to a New York deli, but I would say that it's pretty close to a lot of U.S. style delis. You can think of it like a small Subway. What I love about this place is that it's cheap, filling, and easy to take to go. Nepalese food is often hot, and it can be hard to find things that you can pack for a hike or a road trip. For these instances, Sandwich Point is the go-to spot!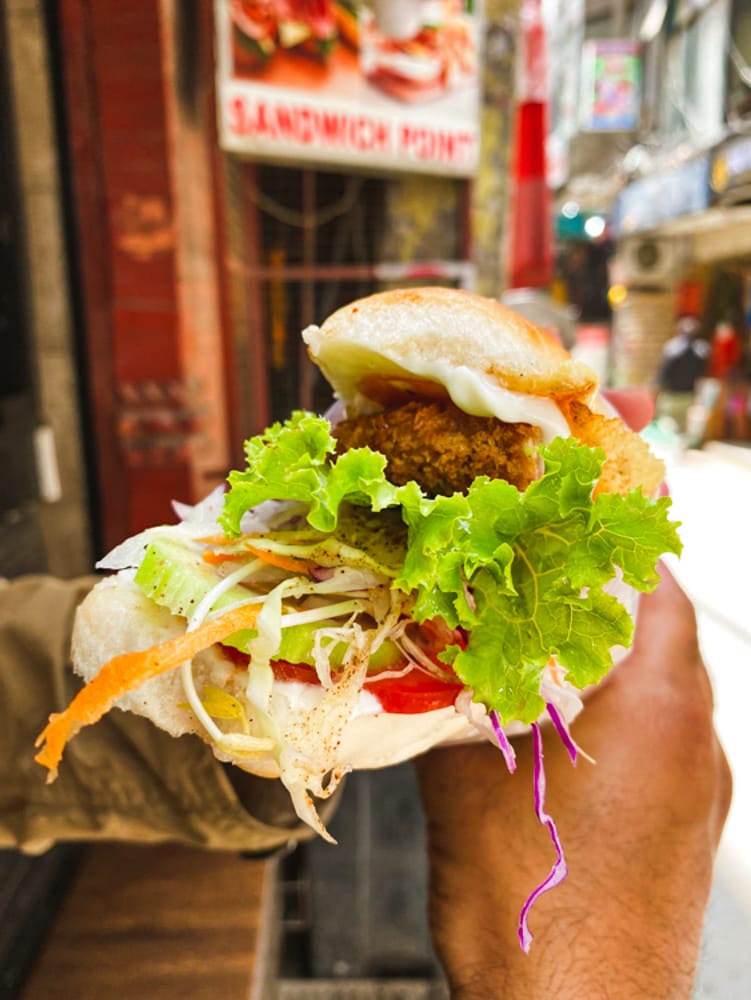 ---
Gaia
---
Best for Dal Bhat
Gaia is one of my husband's favorite restaurants in Thamel. He used to frequent the place for breakfast, but I prefer to go there for lunch or dinner. While they have an array of items on their menu, it's their chicken dal bhat that won me over. They make best chicken curries in Thamel. On top of that, they offer a nice outdoor seating area with friendly staff. Overall, this is a great place to hang out and eat.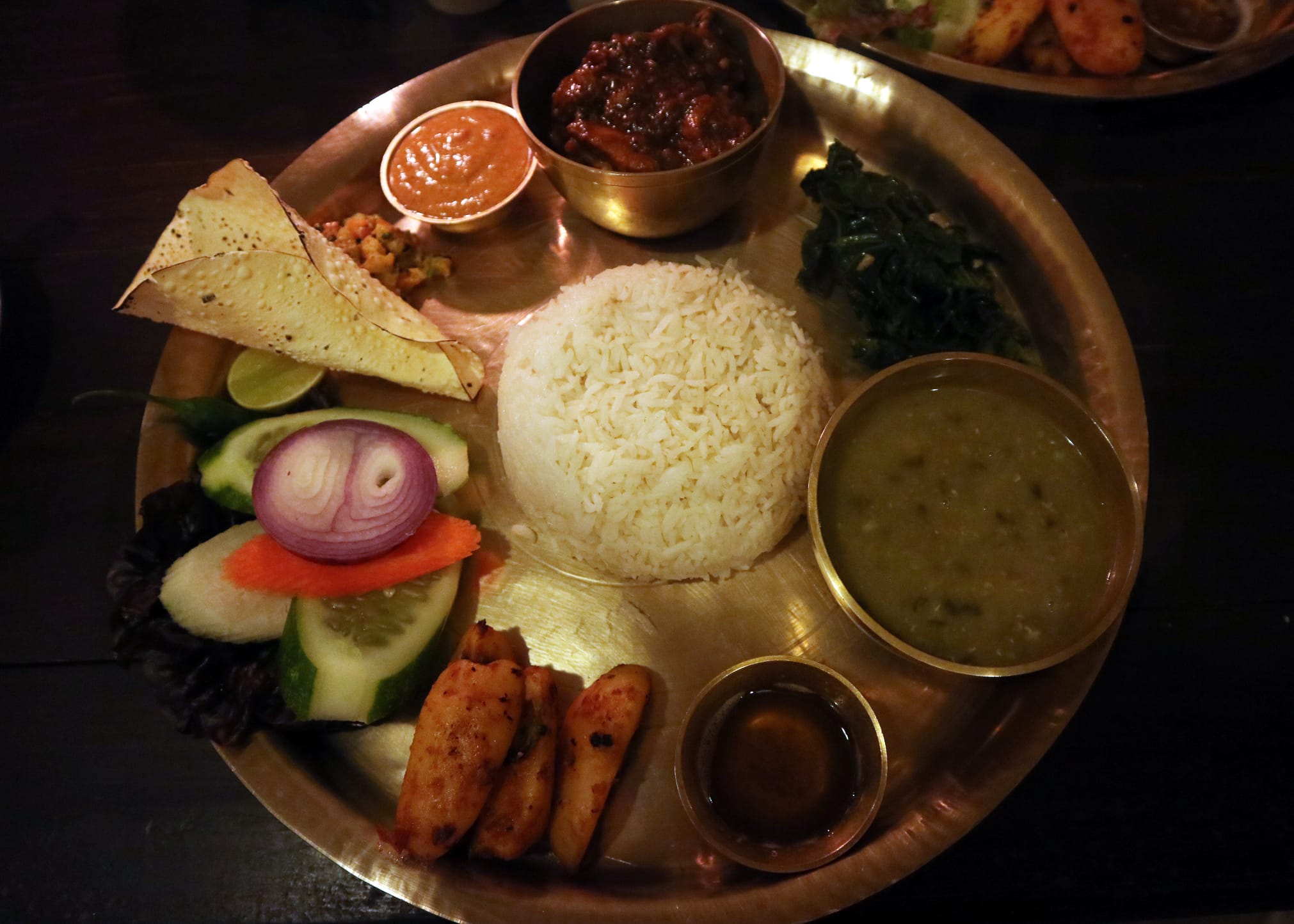 ---
---
Roadhouse
---
Best for Italian
Roadhouse is one of my favorite places to go after trekking. First of all, the food is incredible. They have a variety of brick oven pizzas and pastas. I highly recommend the truffle pasta which is insanely affordable and delicious. They also have amazing salads. This is the only place I'll order a caesar salad in Thamel. The food is fresh and well made. There's even a few locations including one in Pokhara. Mostly, I love the ambience of this place. It always makes me feel like I'm back in New York, and is therefore my go to place when I'm feeling homesick.
---
Himalayan Java
---
Best for Coffee
Himalayan Java is a bit like the Starbucks of Nepal. They get their coffee beans from the mountain sides within Nepal and they make a good cup of coffee. I highly recommend trying the honey latte if you like sweet drinks. Himalayan Java is also a great workspace if you need reliable wifi.
Looking for more coffee shops? Check out my picks for the 3 Best Coffee Shops in Kathmandu!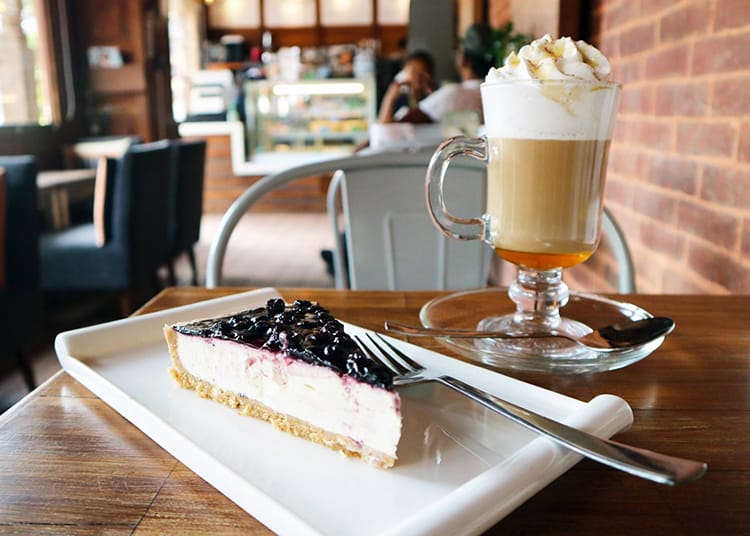 ---
Rosemary Kitchen
---
Best for a Romantic Date
I stumbled upon Rosemary Kitchen one night when it was pouring rain and no one wanted to go out to dinner. I chose a place close to my hotel and ended up in a beautiful high class restaurant by mistake. Think candle lit dinners and soft classical music playing in the background. Not to mention, the food is incredible. I had the mushroom ravioli and the cheese cake. Both were absolute perfection. Honestly, it was the best western style meal I've had in all of Nepal. Along with a hot lemon and honey tea, my bill was $10. It's a little on the pricey side and the portions are smaller than other restaurants, but every single bite was amazing. I highly recommend this place for a fancy night out.
---
Ying Yang
---
Best for Thai Food
Ying Yang is a Thai restaurant located in the heart of Thamel. It was recommended to us by friends so we decided to give it a try. The restaurant has an upscale look, but the prices are affordable. At night, the restaurant has a romantic feel perfect for a date night. We ordered the pad thai and summer rolls which were both good. The pad thai reminded me of NYC pad thai rather than authentic Thai cuisines, however I loved it because it reminded me of home!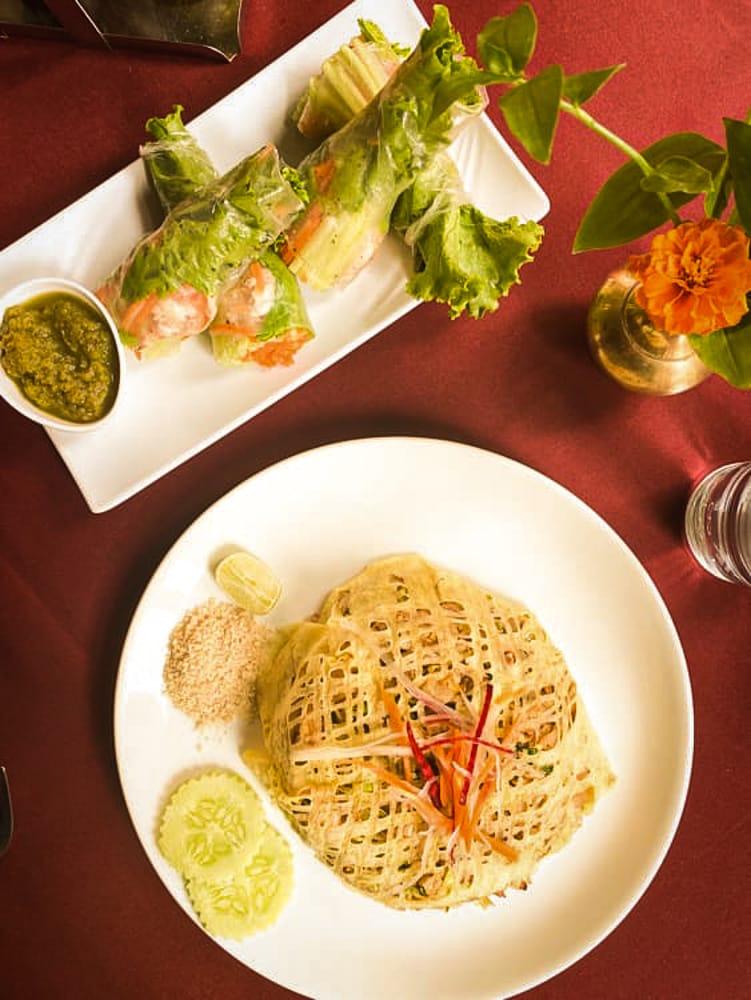 ---
Fire and Ice
---
Best for Pizza
Fire and Ice is famous as the best pizza in Nepal, and it's easy to see why. Their brick oven pizza has that authentic Italian flavor with a light crispy crust and the perfect sauce to cheese ratio. I'm pretty sure every pizza we try in Nepal gets compared to Fire and Ice. If you're craving a good brick oven pizza, this is the place to be.
---
Coffee Ghar
---
Best for Coffee & Pastries
Coffee Ghar is located a short walk outside the main hub of Thamel on a quiet back street. What makes this place special is the traditional Newari décor including gorgeous wood carvings and artifacts on display. It feels like you are stepping back in time. The staff is friendly and the prices are very reasonable. We tried the lemon drizzle cake and had some coffee. It's the perfect place for a relaxing drink.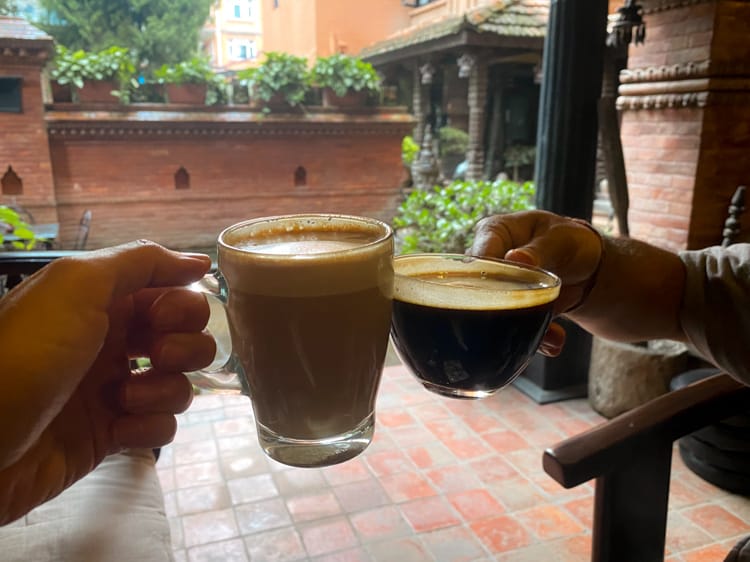 ---
Phat Kath
---
Best for Chill Vibes
Phat Kath is probably one of the chillest places I've been in Thamel. First of all, it's down a small alleyway and up stairs in what feels like a tree house. Branches hang over the outdoor space making it feel like you're not in the hustle and bustle of the big city. It's relaxing music, heavily pillowed seating areas, and calming murals combined with good food, hookah, and board games makes it a great place for good vibes. I ordered a buckwheat pancake filled with ham, cheese, and egg and it was really delicious.
---
Purple Haze
---
Best for Live Rock Music
Okay guys, this isn't exactly a restaurant. Actually, I'm not even sure if they serve food, but it's a great place to grab a beer. Being from New York City, I think it's amazing when I can check out a live band without paying a cover fee. I went to Purple Haze to grab a beer with a friend and the band ended up being amazing. They played everything from Coldplay and Ed Sheeran to System of a Down. I'd recommend heading upstairs and sitting in the galley or outside on the deck for a more chilled vibe. Downstairs was honestly a little too rowdy for me.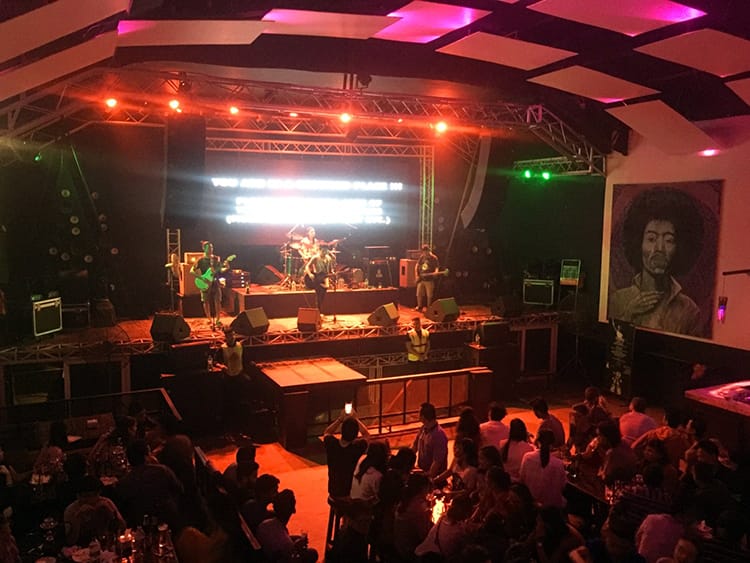 ---
You might also like…