Who says you have to trek for days to see the Himalaya mountains? The truth is, some of the best places to visit near Kathmandu have Himalayan views. These city, towns, and villages are only a few hours from the Tribhuvan International Airport making them the ideal place to visit as soon as you arrive in Nepal. The Kathmandu Valley is large and diverse. If you go to the rim of the valley, you can see pretty far without a whole lot of effort. So, what are the best places to visit near Kathmandu with Himalayan views?
---
Best Places to Visit Near Kathmandu Map
Chandragiri Hills
---
Chandragiri Hills is one of the easiest ways to see the Himalayas. Not only is it easy to get to, it's the best view of the Himalayas I've seen in Nepal short of being in the mountains. There's a cable car located at the property which takes you up over the Kathmandu city smog. At the top is a view-point, temple, and restaurant which make it easy to enjoy the views for a couple of hours. When we went, it was pretty clear, and we were able to see from Annapurna to Everest. Although you can see Everest from Kathmandu, it's important not to get your hopes up because it's insanely small and hard to spot from far away. The mountains that look the biggest from Kathmandu are the ones around Langtang since they are the closest.
Read my Chandragiri Cable Car Guide for more info.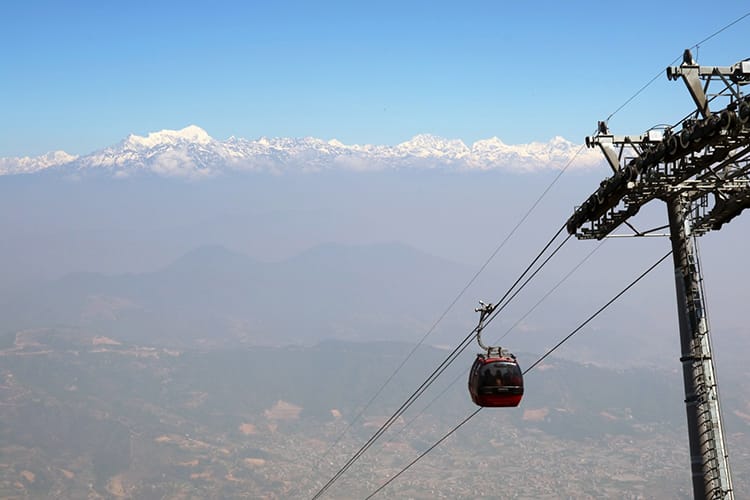 Dhulikhel
Dhulikhel makes the top of my list because if you stay overnight, you can wake up to a perfect view without spending a fortune on a hotel. Nearly half the hotels on the outskirts of this little city have epic views of the mountains. I'm also opposed to going to a place for only the view. Mountain views can be unreliable and on a cloudy day, I don't want to be stuck in the middle of nowhere looking at white clouds. What I love about Dhulikhel is it has one of the best views AND there's a lot of stuff to do nearby. There's an old city full of charm, hiking, temples, and good food to name a few. This makes it easy to spend a couple of days relaxing, and it gives you multiple opportunities to see the mountains at sunrise.
Read my Dhulikhel City Guide for more info.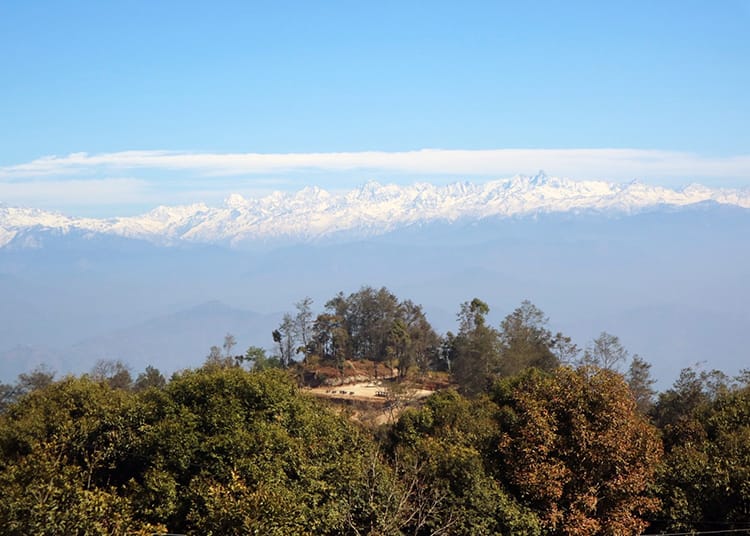 ---
---
Namo Buddha
---
Unfortunately, we arrived to Namo Buddha Monastery on a cloudy day, however we slept just a 15-minute walk away the day before and were able to see the beautiful views from there. On a clear day, you can see a similar view from the actual monastery. Namo Buddha makes the list of places to see the Himalayas because it's not only beautiful, but also a great cultural experience. You can stay in the monastery and hear monks do their morning chant with the Himalayas as your backdrop.
Read my Namo Buddha Monastery Guide for more info.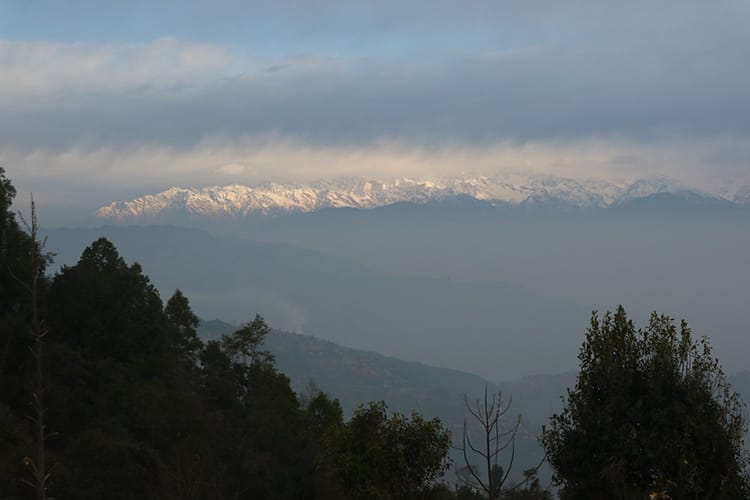 Kakani
---
We happened to be in Kakani on a foggy day. Even on a foggy day, we were able to see hints of the mountains, and they looked spectacular. Since Kakani is on the northern Kathmandu Valley rim, you get a good view of the mountains without too many barriers in the way. Most people drive past Kakani in jeeps on the way to the beginning of the Langtang Trek. I'd recommend stopping there if you have the time. There are some small day hikes nearby, or you can walk through Shivapuri National Park on a 3-4 day hike.
Read my Kakani Village Guide for more info.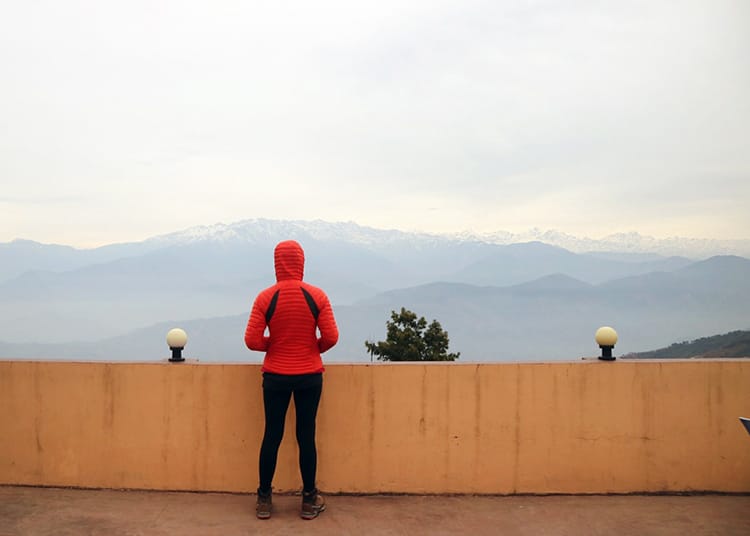 Nagarkot
---
In my opinion, Nagarkot is a bit overrated. Many people say it's "the most beautiful view of the Himalayas." As you can see from this post, I wouldn't rank it #1, but it is a pretty good view. My only problem with Nagarkot is that most of the budget friendly hotels don't have a view. The hotels that do have a view charge a lot for it, and I found them to be a little unfriendly. This area feels super touristy to me and doesn't have much local charm. It was pretty much built with tourism in mind and therefore feels a bit like a resort town tin my opinion. On the other hand, if you stay outside of the main town on the road headed toward Dhulikhel, there are some beautiful isolated places with amazing views.
Read my Nagarkot Village Guide for more info.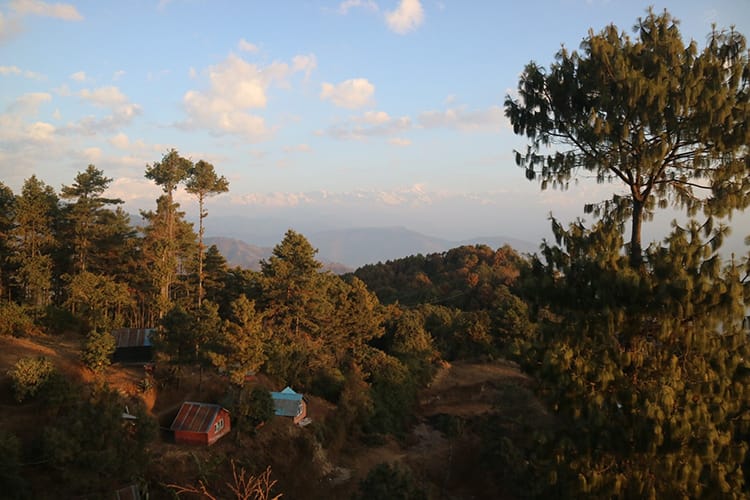 ---
---
Pharping
---
While you can't see the mountains from the main city, there are several short day hikes around the area that offer amazing views including the Champa Devi Hike and the Asura Cave Hike. These are great for people who want to hike instead of doing a long trek. These are both great options for beginners. They're also a great way to train for an upcoming trek if you're looking to get in shape. The famous Hattiban Resort is worth visiting on the way back as the restaurant patio has beautiful views of the Himalayas.
Read my Pharping City Guide for more info.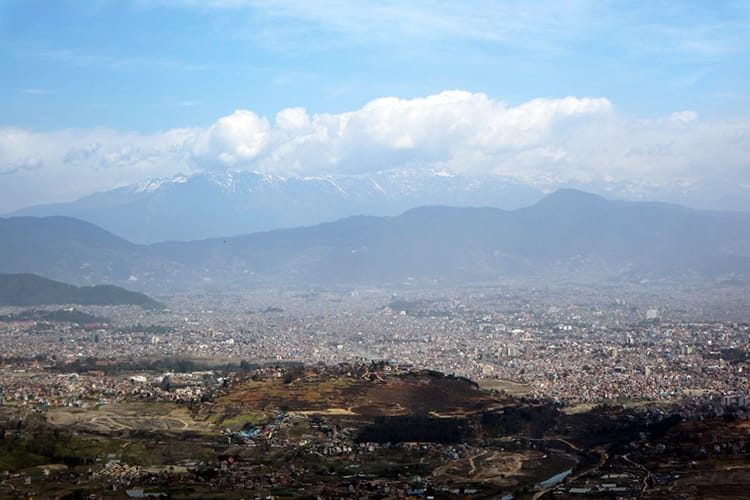 Kirtipur
---
Kirtipur is a small city full of history and charm. Although it doesn't have the best views of the Himalayas, you can see them peaking over the Kathmandu Valley rim in the distance. There are two temples in the city that offer views. What's unique about this perspective is that you can see the mountains towering over the brightly colored houses that liter the city below. For me, it's an interesting contrast compared to the other views which are surrounded by nature.
Read my Kirtipur City Guide for more info.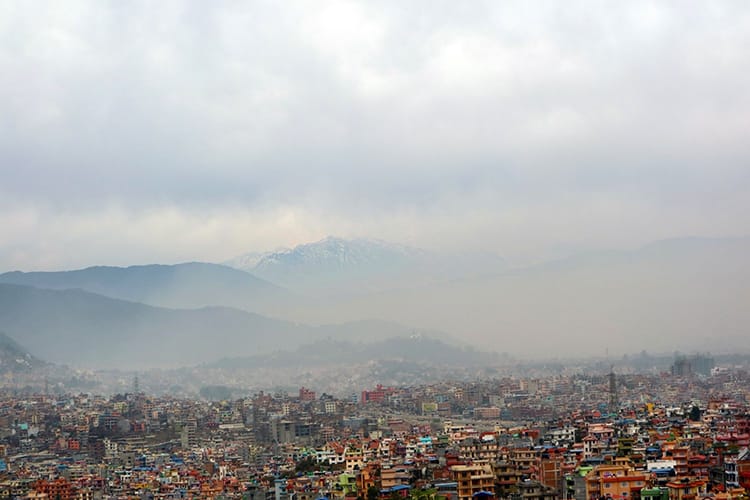 ---
---
You might also like…