Last month, I was visiting upstate and made plans to catch up with my childhood bestie. We grabbed coffee and walked around New Paltz while chatting about life. The topic of travel came up and the fact that I plan to hike to base camp of Everest. My friend, Danielle, mentioned a book she loved about a girl who decided to climb a mountain as an attempt to do one thing that scared her every day. Immediately, I felt intrigued. She texted me the name of the book, and I downloaded it on my kindle and was hooked. After having read First They Killed My Father by Loung Ung, I was desperate for a light read. Most of the books on my list were way too deep or heavy, so this seemed like the perfect fit.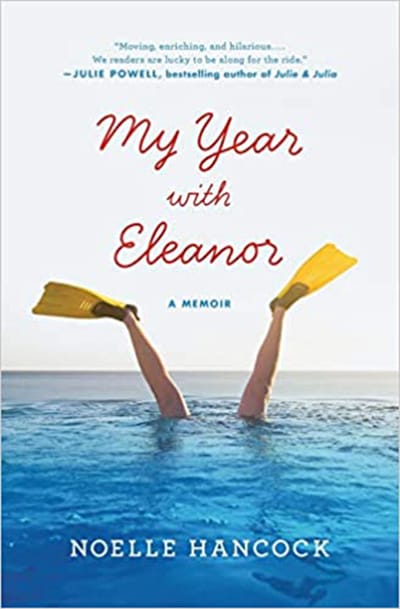 ---
My Year With Eleanor starts out with Noelle Hancock, a celebrity gossip blogger, getting laid off while on vacation. I felt a sense of camaraderie as a former fashion stylist who found out she got laid off while watching NY1 right before Christmas. Nothing will compare to the deep dread of hearing that the company that pays your bills and owes you 10k just filed Chapter 11. The amazing thing was that we had both lost jobs that seemed meaningful at the time but were really just shallow shells of reality.
One day, while she is sitting in a coffee shop looking for a new job, she sees a quote of the day from Eleanor Roosevelt stating, "Do one thing every day that scares you." Something resonates with Noelle and she decides to dig deeper into her fears. The book effortlessly combines Eleanor Roosevelt's life story and the obstacles that she overcomes with the wise words of Dr. Bob (Noelle's therapist), but mostly it's about the ridiculous stories of Noelle conquering her fears. She does everything from Pilot Combat School to Trapeze Classes. Even small things like streaking through the hallway and speaking up to the annoying guy on the subway make her list. Her final goal is to summit Mt. Kilimanjaro, which is known for being difficult both physically and mentally.
Her whole story is told with a bit of self deprecation and hilarious friends. I literally laughed out loud reading it and can't wait to have my own adventure next year. Not to mention, I learned a lot about Eleanor and how crazy her life was. I'd highly recommend this book to anyone. It's filled with history, free therapy, and a ton of laughs.
---
Don't have time to sit down and read a book? Check out audible! You can sign up for a 30-day free trial and get two books free by clicking the banner below! If it's not for you, you can cancel any time. This is a great option if you're on the road or commuting and want to listen as you go.
---
You might also like…