The elephant safari in Chitwan is often described as "unethical." There are a lot of reasons for this, but the main one is that baby elephants are slowly tortured into submission. Only then is a trainer able to teach the elephant to submit to giving rides. It's an awful process that the elephant never forgets. Most people who ride elephants are completely unaware of the training process, and others just don't care. But those who choose to ride an elephant or post pictures doing so are contributing to the problem. But riding an elephant isn't the only way to have an Instagram worthy experience. You can interact with elephants in a positive way!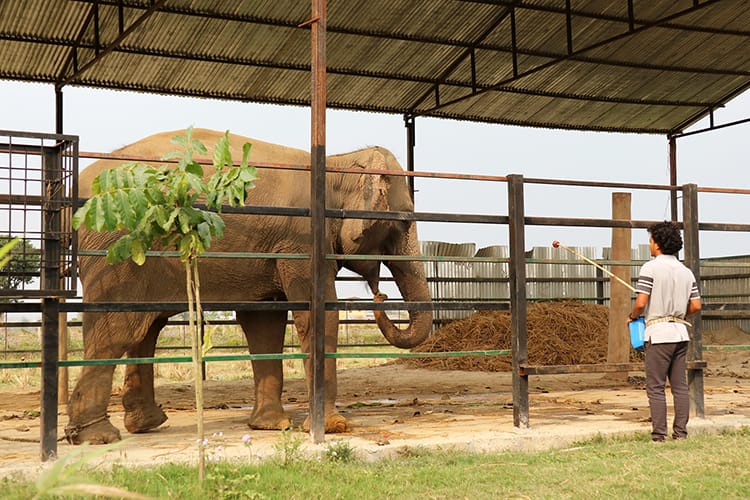 What to do instead of an Elephant Safari…
---
Unfortunately, Nepal does not have an "elephant sanctuary" at the moment. But, don't be discouraged. There are a few organizations that are working hard to make a difference. I was lucky enough to meet with Michael from Stand Up 4 Elephants (SU4E). The organization used to run Elephant Happy Hour where you could hang out with the elephants. Typically, a working elephant in Nepal is either chained or giving rides 24/7. SU4E would rent the working elephants as an alternative to riding. Elephant Happy Hour was set up to show elephant owners that there are alternatives to riding elephants. Owners can still get paid and the elephants get a nice break to relax and do what they want without commands.
Currently, Elephant Happy Hour is closed, however they are hoping to bring it back in the future. In the meantime, people who would like to have a positive and ethical interaction with an elephant can go to SU4E to see Eva. Eva is their first "rescue" elephant. She was purchased from her owner at a discount due to her injuries and inability to continue offering rides. The organization now feeds and houses her in a safe environment where they only use positive reinforcement.
---
How much does it cost to visit SU4E?
---
Visiting Eva is free, but you need to make a reservation in advance. Those visiting will get to sit beside Eva's large enclosure while learning about Asian elephants, the negative effects of elephant tourism, and what they are doing to change things. You'll also get to learn a myriad of fun facts about elephants! While the program is free, I highly recommend making a donation or purchasing a t-shirt while there. The funds help pay for Eva's care.
Email for reservations: [email protected]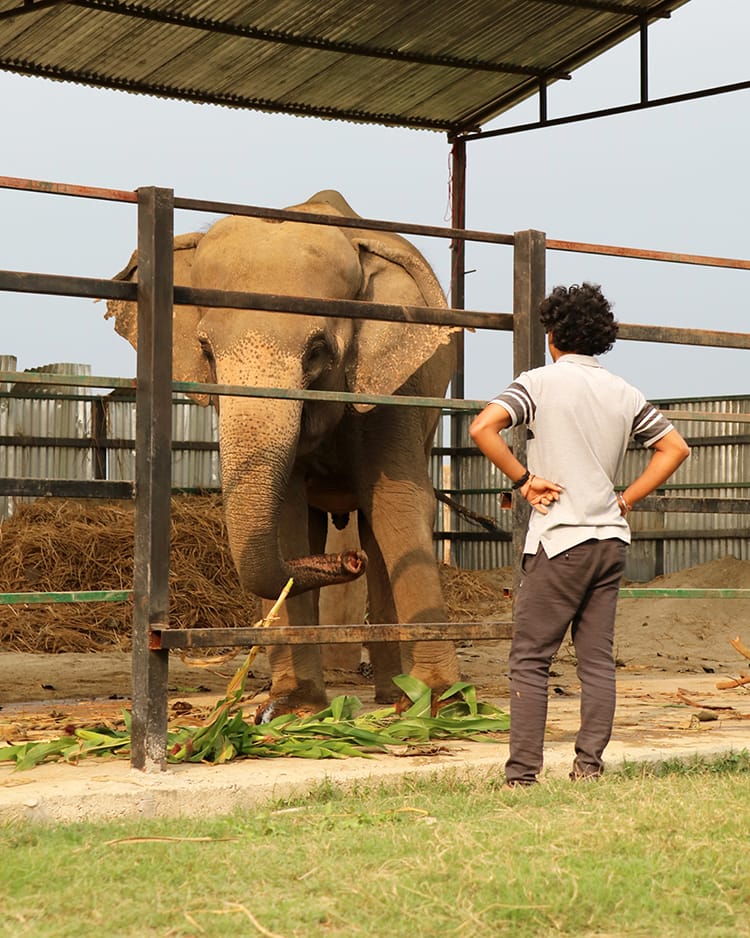 Did you know…
---
A human has about 800 muscles in their entire body while an elephant has 40,000 muscles in just their trunk! Another fun fact is that a dog can smell 10,000 to 100,000 times better than a human can while an elephant can smell 4 times better than a dog. And my favorite tid bit of info was that a manatee is the closest living species to an elephant (a mammoth is the closest extinct species). Weird right?
---
What makes SU4E an ethical choice?
---
SU4E doesn't allow the riding of elephants but they also treat Eva with respect in every way. She's in a large enclosure compared to other privately owned elephants. You may spot a chain on her foot, however, it's not actually attached to anything. They take Eva out of her enclosure for walks through the jungle and the foot chain is there just in case they need to intervene.
They train Eva with positive reinforcement. She is taught to follow instructions and is rewarded with yummy fruit rather than being punished when she doesn't obey. Her training isn't for the delight of tourists. It's so that they can treat her medically. But, if she doesn't listen, they just try again the next day. She isn't forced to do anything she doesn't want to.
When we arrived, we were told that she still spooked easily around new people. She was brought there in October and we visited in February. Therefore, she still distrusts new people and gets uneasy around them. We were kept at a distance that was comfortable for Eva and made her feel safe. Her happiness was top priority over ours. That showed me how much they truly care for her.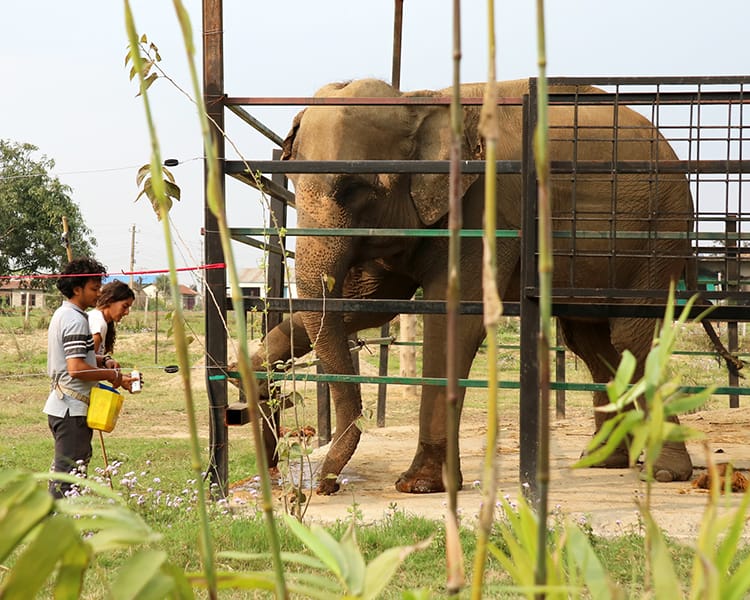 What's next for SU4E?
---
They are extremely conscious of not biting off more than they can chew. Right now, they are taking care of Eva and that costs a lot of money. Running expenses for an elephant are upward of $1,500 a month. That's just to feed her and care for her medically.
They hope to bring back Elephant Happy Hour, however they need the owners of the elephants to agree to it. The previous owner they worked with no longer participates in Elephant Happy Hour and they are hoping to find another owner who is willing to allow their elephants a day off from riding.
In the future, they'd like to rescue another elephant but it's a lot easier said than done. Owners don't just give away elephants. They are only willing to sell one for good money. The only time you can buy an elephant for "cheap" is if it is sick and can't make money anymore. Eva cost $32,000 USD and that was a bargain.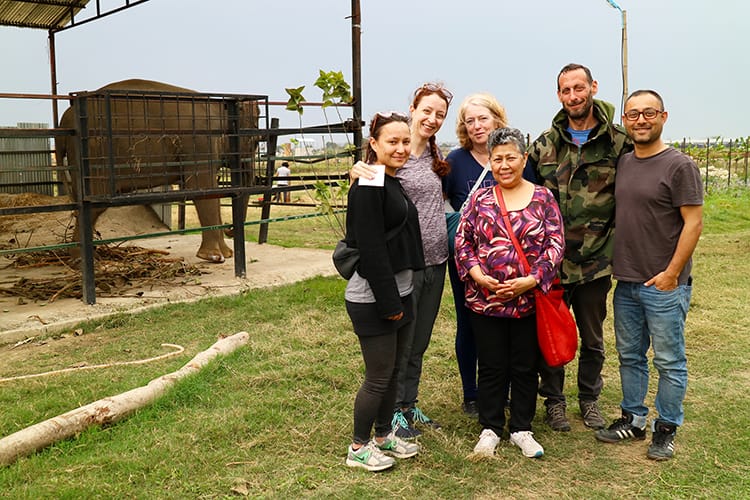 Tiger Tops
---
Another alternative to the Elephant Jungle Safari in Chitwan is to visit Tiger Tops. Tiger Tops offers walks with elephants as part of a package deal for guests who choose to stay at their Elephant Camp which looks like glamping. This time around, it didn't fit into our schedule, but I hope to be able to stay there the next time I visit Chitwan National Park. I'm told they do a wonderful job caring for their elephants and they do not allow any riding. A trip to Tiger Tops will cost about $100 – $125 USD per person per night depending on the time of year.
---
Is the breeding center ethical?
---
There is an Elephant Breeding Center in the park which is a popular place to visit. The question of it being ethical or not is a bit muddy. I'd rather people make their own decision, but I don't consider it ethical. The elephants that are born there are not released into the wild. They are not even kept in a large open enclosure. They are chained and used for more breeding or as patrol elephants which are trained to go through the forest.
Chitwan has an outstanding record of no poaching and the elephants can reach areas that the jeep can't. This is why it is a bit of a gray area. Since they are being bred for other purposes, I don't feel that this is helping "conserve" the species. Therefore, I will not go to the breeding center as I don't want to contribute money to the breeding of elephants that are not going to be free.
---
How to get to Chitwan…
---
You can access Chitwan by road from Kathmandu, Pokhara or Lumbini. Tourist buses go from each of these points. It takes about 6-8 hours depending on traffic from Pokhara and Kathmandu while Lumbini is a bit closer. You can read my guide on taking the bus from Kathmandu to Chitwan. You can also fly into the Bharatpur Airport if you are on a time crunch. Buses cost around $8-$10 USD and you can book them online along with car service.
Need a Hotel in Chitwan…
Extravagant Luxury: The ultimate luxury accommodation in Chitwan is Meghauli Serai Chitwan National Park. It sits along the river and has an amazing infinity pool. With rooms ranging from $300 – $1000 a night, there's no expense spared on your comfort.
Book on BOOKING.COM | AGODA
Luxury: Barahi Jungle Lodge is perfect for those with a good budget who want to enjoy all the luxuries Nepal has to offer. Situated on the river, it has an incredible pool, traditional rooms and a natural vibe that will make you feel at one with nature. Prices range from $200 – $350 USD
Book on BOOKING.COM | AGODA
Ethical: Tiger Tops Elephant Camp is the perfect option for those who want an ethical stay in Chitwan. They rescue elephants and have an elephant experience that doesn't include riding the elephants or doing anything harmful to them. A night at the camp, which is like glamping costs between $100 and $120 per person. The nice thing is that you know the money is going towards care for the retired elephants.
Book on BOOKING.COM | AGODA
Comfort: If you want to travel in style without going over the top then Chitwan Paradise is a great option. Rooms range from $50 – $100 USD. Rooms are simple but clean, and there's a lovely pool on the grounds.
Book on BOOKING.COM
Budget: Chitwan offers a lot of budget friendly accommodations. If you want a cheap but private room, then I recommend Wild Horizons Guest House which has rooms ranging from $12-$20. They all have a private bathroom and include breakfast. We stayed there for two nights and really enjoyed our stay. It's very close to town and sunset point.
Book on BOOKING.COM | AGODA
---
You might also like…