Several people had asked me to visit Chitwan National Park with them during my stay in Nepal. Every time, they told me about a great all-inclusive package for $100 which included three days and two nights. Basically, two travel days and one day of doing safaris. It seemed way too expensive compared to the rest of Nepal, but everyone was worried we wouldn't find something cheaper. I finally decided to go with two backpacking buddies I'd met on the Annapurna Circuit. We were all on a tight budget so we made the absolute most out of every dollar we could.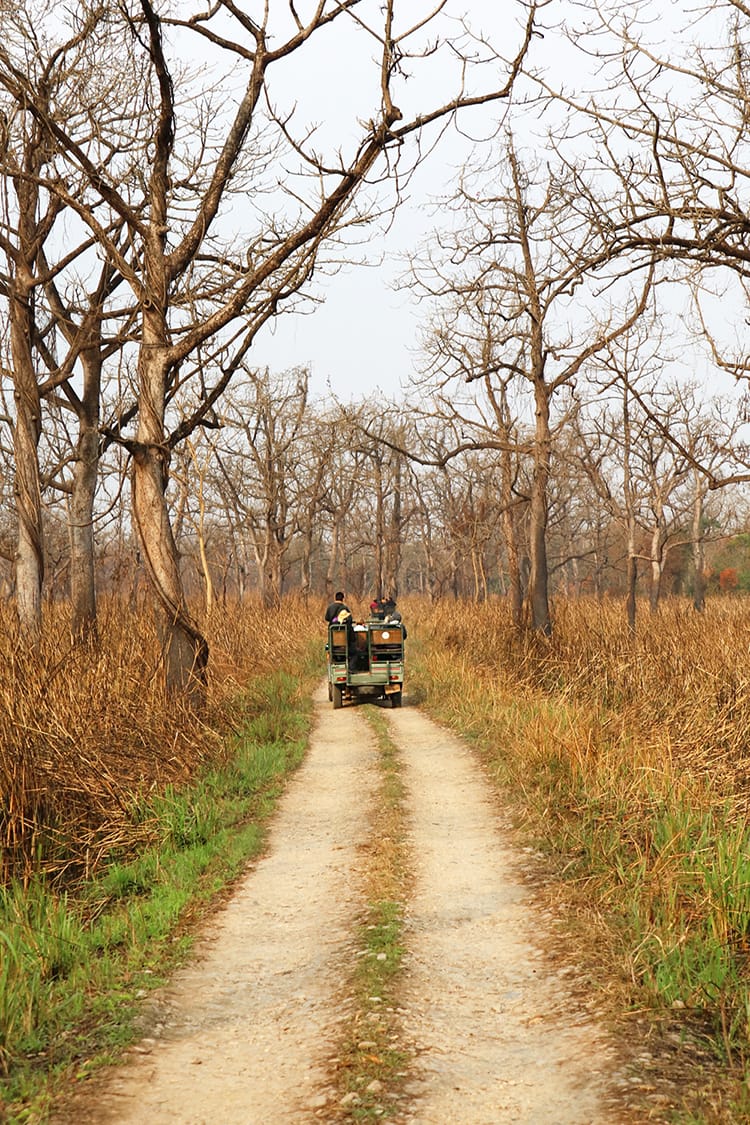 Chitwan Hotels & Accommodation
---
We chose to stay in the adorable town of Sauraha which is right next to the National Park. The town is full of hotels and cute little restaurants. It's much better than staying in the big city nearby. If you take the tour bus, ask them to drop you at the Sauraha Bus Station which is only a ten minute walk from town.
We found a great deal online at the Sauraha Nana Hotel. We were three people total and decided to share a room with a double and twin bed. The hotel had A/C, a TV, restaurant, café, and private bathroom. The showers were cold, but it was so hot that it felt amazing. We paid $25 for three nights which came to $4.17 each per night.
How to Get There…
---
Getting to Chitwan is pretty easy if you are coming from another major city like Pokhara or Kathmandu. It takes between 6 and 9 hours depending on traffic. You can purchase tickets for the tourist bus from local tour companies or online. I don't recommend buying them last minute at the bus station as the people selling them often raise the price as the bus fills up.
---
Where to Eat in Sauraha
---
There are a few great places in town, but our favorite ended up being right under the Hotel Sathi. They had an insanely good dal baht for only $2. The staff was super friendly and the women who cooked the food were really funny and sweet. It became our regular dining place during our stay since the price and food quality couldn't be beat. I'd like to mention that this was during the World Cup, and despite this place having the smallest TV in town, it was still the most crowded. The food is that good.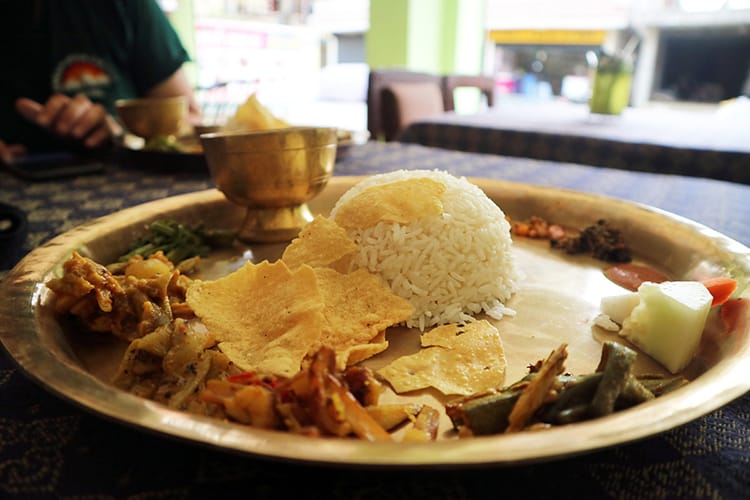 Tharu Cultural Program
---
Safaris are a booming business in Chitwan, but there are a few cool random things offered around town that are cheaper and don't need to be booked in advance. For instance, the Tharu Cultural Program which features a dance show at night for $2.
The Tharu people are an indigenous population in Nepal who generally live in rural areas and specialize in agriculture. They have a rich culture, and in the program, you get to see a variety of traditional Tharu dances. What I really loved was a dance using bamboo sticks. The dancers moved around the stage choreographed with perfect timing while slamming their bamboo sticks into each other's creating the sound of a heavy rainfall.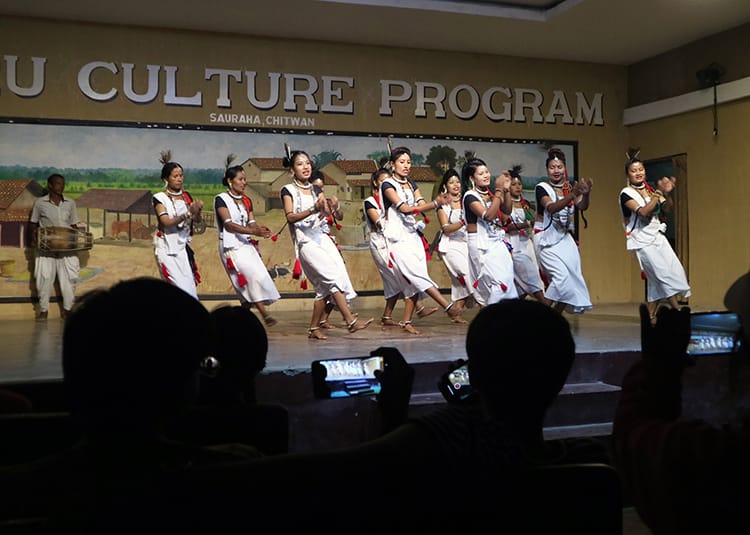 ---
---
Elephant Bathing
---
Personally, I was a little disappointed in the elephant bathing. I had done this in Thailand and Cambodia previously with elephants that had been rescued from tourism. I knew that they offered elephant rides in Chitwan National Park, which I am very against due to the cruel and inhuman way they train elephants for them to submit to being rode. I thought an elephant bath would be a nice alternative, however it was unlike the baths I'd done in the past where everyone got in and splashed around with the elephants.
In this case, one person got in the water and jumped on the elephants back while the elephant was instructed to spray the rider. The man in charge had a hook in his hand, so I opted not to do the $2 "bath" which lasted several minutes. It is free to watch, so I stood nearby and bought a bunch of bananas from a local woman. When the crowd dispersed and the rides were over, I fed the elephant. It was a more rewarding experience for me, and I felt I hadn't contributed money to elephant tourism. The bananas cost $1.50 for a large bunch.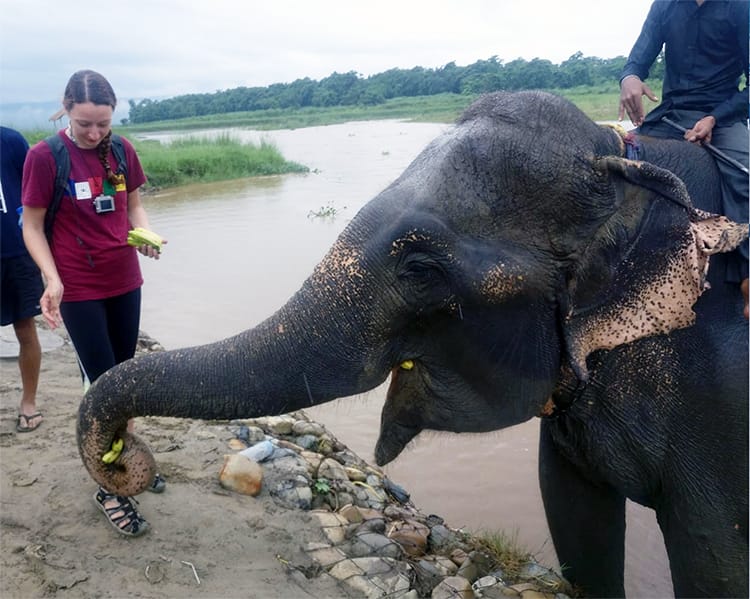 Elephant Visit at SU4E
---
Stand Up 4 Elephants is an organization in Chitwan that is helping to change the patterns of elephant tourism in Nepal. I had the chance to visit SU4E and meet their new elephant Eva. Going to SU4E is free and you get to watch Eva live her life without being subjected to rides, performing tricks, etc. They are working hard to rescue elephants while showing elephant owners that there are more sustainable ways to make money with their existing elephants rather than to use them for riding. Read about my experience visiting SU4E in this post about ethical alternatives to elephant riding.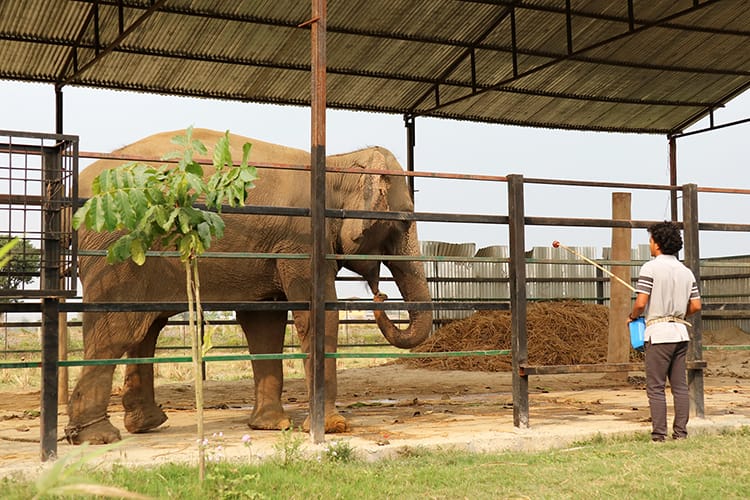 ---
---
Renting a Bike
---
It rained the morning we planned to go on a safari, so we decided to postpone a day and do something less expensive on the rainy day. By noon, the sky had cleared up and the temperature was still fairly low given how hot it normally gets during monsoon season. It ended up being the perfect weather for a bike ride. We rented bicycles in town for half a day and paid $1.70 each.
My best advice is to just get lost and have GPS on your phone to find your way back. We turned down back roads and ended up in small Tharu villages. We yelled "Namaste" to locals and kids who chased us on our bikes while giggling. We were the only foreigners riding around in this part of town, and it was so beautiful to see the local villages and their lifestyle. We passed rice paddies, rivers, fishermen, and animal herders. Tour companies offer village tours, but this felt like a much more authentic and cost efficient way to see real village life. There's also a Tharu Cultural Museum you can check out, but we didn't find it on our route.
Sunset Point
---
At the end of town, within walking distance, is a beautiful view of the river at the edge of the park. Crocodiles often sunbathe there, and if you're lucky, you'll even see some wild rhinos taking a bath in the evening. We went during monsoon season, so very few animals were coming to the watering hole after being pounded with rain for two days straight. Even with the lack of animals, the views are really beautiful and there are restaurants along the water serving a full menu along with fresh fish curry.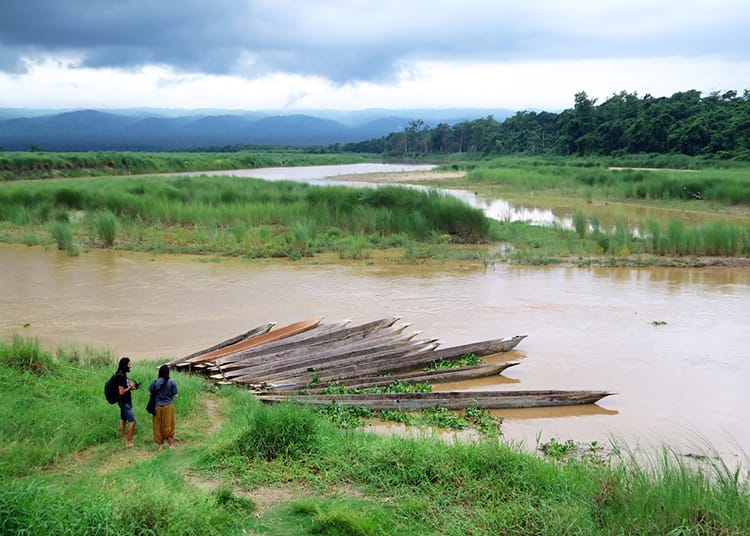 ---
National Park Canoeing & Walking Safari
---
I spent a few hours going to almost every tour company in town to see which one offered the best information and deals. Some gave the obvious vibe of just trying to sell me something expensive while others offered honest advice and good prices. I highly recommend talking to Deependra at Wildlife Encounters Tours & Guide Service. While some people told us the tour would be $30 each (excluding the $17 park permit), he only charged $13 each which included 30 minutes of canoeing, 2.5 hours of jungle trekking, and a visit to the Elephant Breeding Center with two guides (required by the government).
Sadly, there was a monsoon and flood warnings so we were unable to go. What really impressed me was that he wouldn't risk our safety by sending us over into the flood zone just to make extra money. He very quickly came up with an alternate plan and refunded us the permit costs since we couldn't enter Chitwan National Park.
Update: I went back to Chitwan and did the safari with the same tour company. Check out my post on the Chitwan Jungle Safari for more info!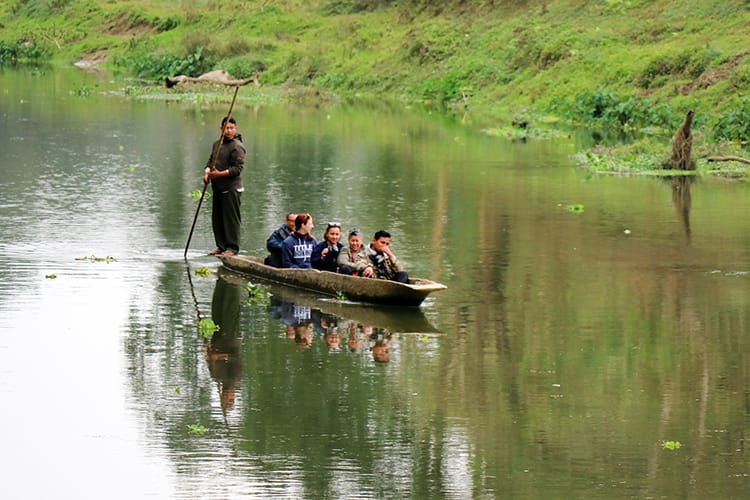 20,000 Lakes
---
20,000 Lake is a small area on the outskirts of the National Park. Therefore, you do not need the $17 permit to enter. We ended up paying $16 for a 3-hour jeep ride with a guide through the area. I had really wanted to do a walking tour to get off the roads where it's harder to see animals, but we kept a positive spirit and ended up having a blast despite the turn of events. It was pouring rain when we went, so we ended up getting soaked, even in the jeep.
The tour started in town so we laughed as we pointed out ducks, chicken, dogs, cats, and cows. When we reached the jungle, we were able to see two wild boars (a mommy and baby), two types of alligators, and some wild deer. This area seems to be great for bird watchers since we saw several really exotic birds soaring across the lake. The lake itself was extremely peaceful and reminded me a bit of a painting. The bright greens seemed almost unreal.
---
Barahsinghe Brewery
---
One of the newest things to do near Chitwan is visit the Barahsinghe Brewery which offers a 30 minute tour around the brewery along with a tasting of beer straight from the tank. They'll even give you some snacks. The tour costs 500 rupees (about $5.00 USD) and is perfect for beer enthusiasts who would like to try some Nepali beer. If you're on a budget, this is a great way to have a cool experience, some beer, and food all for under $5.00!
---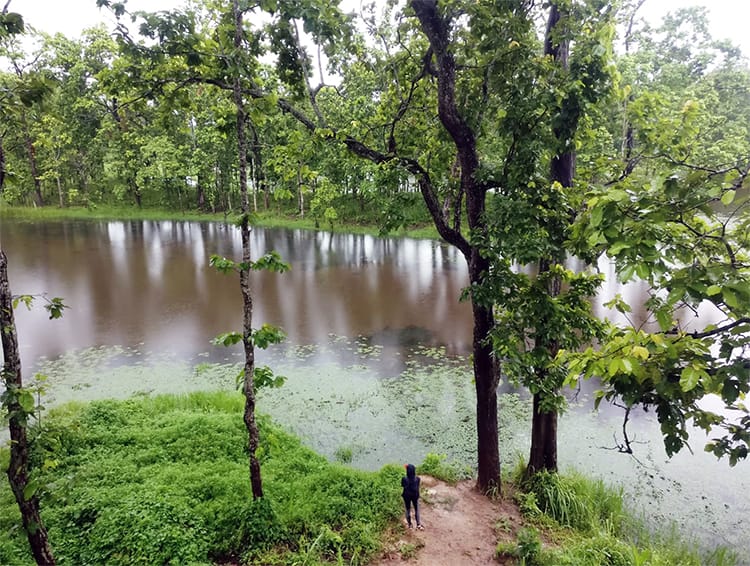 ---
What to Skip in Chitwan National Park
---
I've always been against riding elephants, but we were meant to go to the breeding center to see the mommy and baby elephants that were being raised. Unfortunately, we couldn't cross the river to get there due to flooding, so we were taken to see the male elephants with large tusks. I've never seen one before and was curious, but as soon as we arrived to the building, I was pretty shocked. The elephants had their front feet tied together, and the one closest to us was clearly in distress. It broke my heart, and I decided to walk back to the jeep instead of going on the tour.
Deependra explained that the males are aggressive and have been known to kill the female elephants during mating. They tried to free the elephants from chains once but the elephants were too strong, and they escaped the enclosed area. We asked why they couldn't be free in the jungle, and we were told that they are used to patrol the park. They can rescue injured animals in parts of the jungle where you can't take a jeep, and they patrol for elephant poachers. I could see the dilemma from both sides, but I did not want to participate in a tourist attraction that felt morally wrong to me.
---
Total Spent $71.75 each
---
4 Days and 3 Nights
Round Trip Bus: $14 (to Kathmandu)
Accommodations: $12.50 (for 3 nights)
Food: $24 (for 4 days)
Activities: $21.25 ($40.20 if we had gone into Chitwan National Park)
Even if we had done the original itinerary with the more expensive tour into Chitwan, we would have spent only $90.70 for 4 days and 3 nights. Most of the tour companies were charging $100 for 3 days and 2 nights. So we managed to save money and spend an extra day exploring the area. Overall, I would say it is definitely possible to see Chitwan on a budget if you're willing to book everything yourself.
---
You might also like…