Making a 7 day itinerary for adventure sports in Nepal was a lot of fun. Adventure tourism is such a big deal here because it's one of the few places where you can try almost everything for a fraction of the price. You can bungy jump, abseil waterfalls, white water raft, and go rock climbing in one week. If you have more time, you can even go paragliding, zip-lining, or ride in a hot air balloon. The best part is, it won't break the bank! A ton of people recommend itineraries that take you to Pokhara, I'm going to recommend sticking a little closer to Kathmandu to avoid the 9 hour bus ride (each way). But I'll include an alternative route at the end of this post for those who don't mind the extra time spent going to Pokhara.
7 Day Itinerary for Adventure Sports in Nepal (Near Kathmandu)
While there are tons of adventure sports to choose from in Nepal, seven days doesn't leave a lot of time. The roads throughout the country are pretty bad, and what looks close on a map can take an entire day to get to by bus or car. Therefore, I've chosen places near Kathmandu to optimize your time and keep you from getting burnt out.
Day 1 – Arrive in Kathmandu
Kathmandu is the capital city of Nepal and is currently home to the only international airport in the country. Depending on your flight in, you can use this as a jet lag day, or go out and explore the city. There are tons of beautiful sites including Durbar Square, Pashupatinath Temple, Boudhanath Stupa, the Monkey Temple, and more. I would also use this time to lock in any last-minute plans if you didn't book in advance.
How to get there: There's a bus you can take from the airport to the city center, but it can be tricky to navigate. I'd recommend getting a taxi which will cost around 700 rupees ($7 USD) to get to your hotel.
Budget Hostel in Kathmandu: Milarepa Hostel ($6 USD per person in a dorm)
Comfort Hotel in Kathmandu: Thorong Peak Guest House ($30 USD per couple)
Luxury Hotel in Kathmandu: The Dwarika's ($350 USD or more per couple)
Remember: Bring a dust mask. Kathmandu is notorious for being dusty. This will help you to breathe easier while traveling around.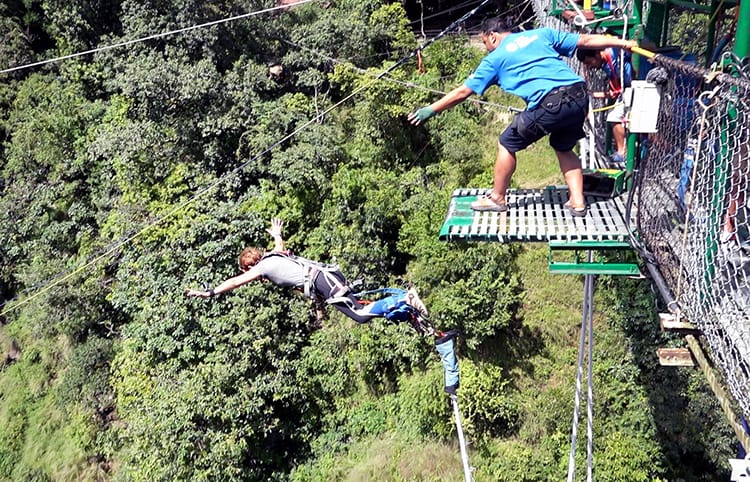 Day 2 – Bungy Jumping in Bhotekoshi
The Last Resort is famous for being an adventure sport haven in Nepal. Their website has a list of overnight trips so that you can schedule a few activities and get a better deal than if you book them individually. Most of their packages include two items and one overnight stay, but I'd recommend emailing them to stay over two nights and do three of the items on their list. The staff is awesome and accommodating. I did the bungy jump on my third day in Nepal, and it was amazing. It's the highest bungy jump in Asia and 9th highest in the world. It's also one of the few jumps that's off a suspension bridge. You can book a canyon swing in lieu of bungy or do both at the same time if you want to jump twice.
How to get there: Transportation is included in your booking. They'll pick you up in Thamel, Kathmandu and take you straight to the resort. It's about a 4 hour drive.
Hotel: The Last Resort
Remember: You can leave any heavy luggage at your hotel in Kathmandu. The Last Resort is kind of like glamping (glamorous camping). The rooms are tents, and last time I was there they only had small lockers for valuables. Bring comfortable clothes, sneakers, sunscreen, a swimsuit, and a small lock for the locker.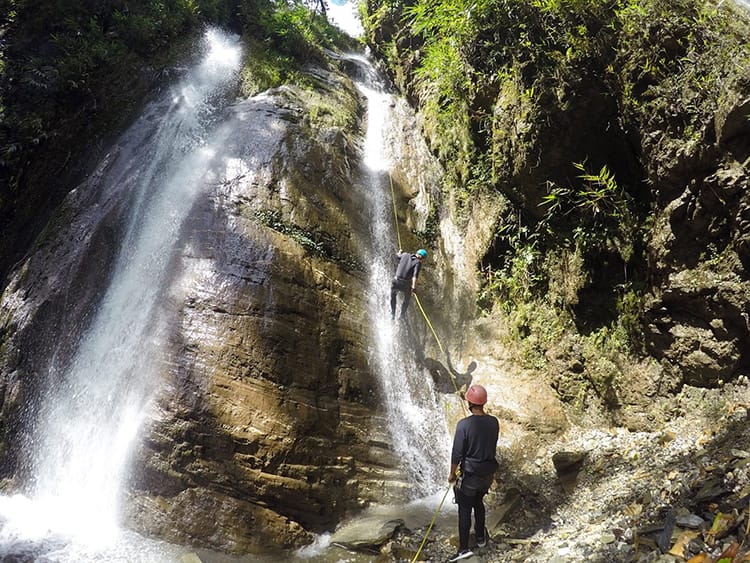 Day 3 – Canyoning / Waterfall Abseiling in Bhotekoshi
My second day at The Last Resort, I decided to go canyoning. Although it's not super expensive to do it once, I wish it was cheaper so I could do it every day. I absolutely loved canyoning. A few different places offer waterfall abseiling in Nepal, but this is the only one where you get to go down several large waterfalls. I kind of felt like Spiderman. It's also the perfect thing to do on a hot sunny day. The waterfalls are super cold and refreshing. Luckily, The Last Resort provides wet suits.
Hotel: The Last Resort
Day 4 – White Water Rafting to Kathmandu
Sadly, I did not get to do the rafting trip, but a few of the girls I met at the resort went and said it was insanely fun. I watched videos later, and it really looked like a blast. I had such an amazing experience with the other two activities that I wish I had signed up for more. You'll arrive back in Kathmandu with a little more time to explore the city and some of its culture.
How to get there: The cool thing about this is that you get to raft from the resort towards Kathmandu. When the trip is over, The Last Resort has a bus waiting to take you the rest of the way.
Day 5 – Rock Climbing in Nagarjung
Once you're back in Kathmandu, you can take a short trip to Nagarjung Forest Reserve. I have been to Nagarjung Forest, and it's beautiful and serene. However, I have not gone rock climbing there. Hardcore Nepal offers a day trip including transportation, gear, and a guide. It's around $150. If that's not in your budget there are two indoor rock climbing facilities right in Kathmandu.
How to get there: Tours should include transportation to and from the park as well as all gear.
Day 6 – Travel to Patan & Explore
You may have come to Nepal for the adventure sports, but you'll probably want to experience a little bit of the culture too. Patan is a small city with a deep history. You can read a list of all the things to do and see in my guides mentioned below. If you're still ready for more adventure, you can learn archery or try your hand at an aerial silks class while you're in town.
How to get there: Going from Kathmandu to Patan is super easy. If there's no traffic you can get there in 15-20 minutes. I usually just take a taxi, but don't pay more than 500 rupees ($5 USD). If you're lucky you can get a taxi for 300 rupees.
Budget Hotel in Patan: Looniva Guest House ($13 USD per couple)
Heritage Hotel in Patan: Hiranya Guest House ($25 USD per couple)
Comfort Hotel in Patan: Shakya House ($50 USD per couple) *My favorite place to stay in Patan
Day 7 – Explore Patan
Patan is very close to the Tribhuvan International Airport, so you can do a little last-minute exploring before heading to the airport.
7 Day Itinerary for Adventure Sports in Nepal (Outside of Kathmandu)
---
If you have the budget to take domestic flights around the country, you can also go to Pokhara for a few days after The Last Resort instead of rock climbing. Unfortunately, the bus from Kathmandu to Pokhara takes a whole day, so going by bus takes two days away from your timeline unless you are okay with an overnight bus.
Day 4 – White Water Rafting to Kathmandu & Fly to Pokhara
After completing rafting (see above schedule) get a flight from Kathmandu to Pokhara in the evening or take the overnight bus to Pokhara that evening.
Taking the Bus from Kathmandu to Pokhara
Comfort Hostel in Pokhara: Hotel Forest Lake Backpackers Hostel ($5 USD per person for dorms). They also have nice private rooms for ($14 USD per couple). *My favorite place to stay in Pokhara.
Comfort Hotel in Pokhara: Hotel Middle Path & Spa ($35 USD per couple)
Luxury Hotel in Pokhara: Himalayan Front by KGH Group ($200 USD per couple)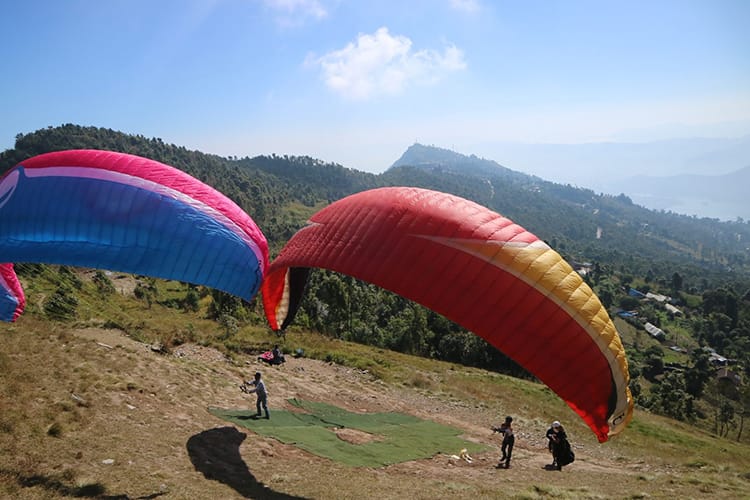 Day 5 – Paragliding in Pokhara
One of the most popular adventure sports in Pokhara is paragliding. I recommend waking up early and hiking to Sarangkot for the sunrise. You can arrange to meet your tour company at the top (this also saves money because you aren't paying for a car to take you up). After the sunrise, you'll walk to the takeoff point for paragliding. There are two places to take off from, and I recommend going from the higher point which is more scenic. You get 30 minutes in the air with the option to do some tricks before coming back down and landing near lakeside. You'll get to see the mountains on a clear day and have a great view of the lake.
Remember: Wear sneakers or you won't be able to run during the takeoff. Bringing a GoPro is handy, but leave all valuables at home. If you have a cellphone/camera, have it in a waterproof case and have a way to tie it to you so you don't drop it.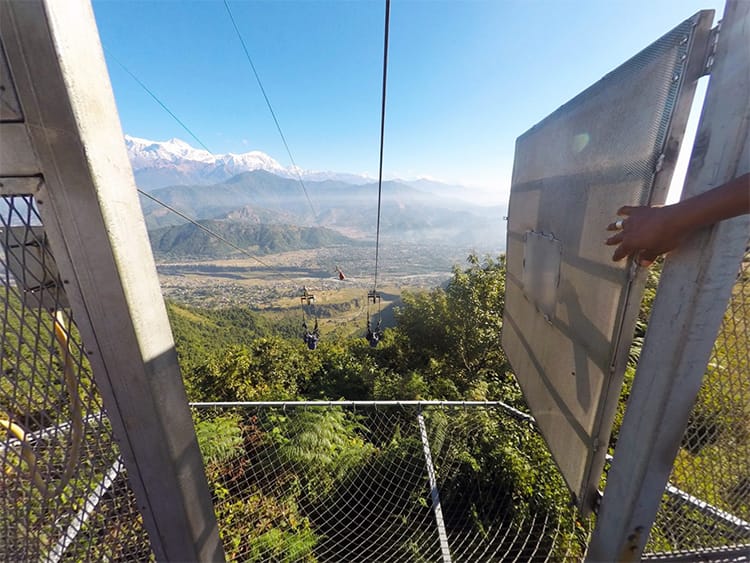 Day 6 – Zipline in Pokhara
Pokhara is famous for having one of the longest, steepest, and fastest ziplines in the world. The views are beautiful and the takeoff will give you a rush. I found this kind of relaxing after the initial drop. If you're feeling really crazy, you can go for a second bungy jump at the end of the zipline. In the evening, I'd recommend taking a boat out on the lake or doing some local sightseeing.
Day 7 – Fly back home with a layover in Kathmandu
After you're done in Pokhara, you can either take an overnight bus back to Kathmandu, or arrange your flight straight out of Pokhara with a layover at Kathmandu's airport.
---
You might also like…