Hiking around the Kathmandu Valley has become a new hobby for me. I used to think you had to travel far to hike, but I realize now that there are a lot of beautiful places around the valley. I completed the Kathmandu Valley Trek southwest of the city, but I wanted to see what was in the southeast. Chitlang is a popular weekend spot among local tourists. I wanted to see what all the hype was about. While most people take a car from Kathmandu to Chitlang, we decided to hike from the top of Chandragiri to Chitlang as part of a 4 day and 3 night hike around the southeast. You can read my post on how to get to Chandragiri and why it's worth visiting.
This hike is part of a 3 day trek. To find out more, read my post on the Kulekhani 3 Day Trek.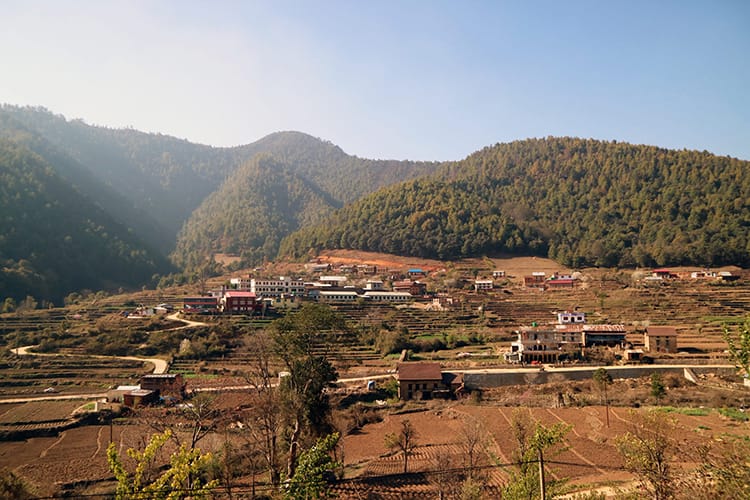 Kathmandu to Chitlang Overview
---
Walking Time: 2 hours
Total Time: 6 hours – We left at 9:00am from Kathmandu, went to Chandragiri by car, took the cable car, walked around, ate lunch, and hiked to Chitlang. We arrived at our hotel at 3:00pm.
Difficulty Level: Easy – This walk is almost entirely downhill or flat. Even at a slow pace you can make it in 2 hours. Most of the hike is very easy to navigate.
Before You Go: Download an offline map like maps.me and have your phone fully charged. Bring 1 liter of water per person and sunscreen.
Note: Chitlang is popular among local tourists on weekends. This is an area where people tend to party and stay up all night. During the week it's very quiet and peaceful. On Fridays and Saturdays it's much louder and may not be as relaxing. I would recommend people to plan their trips accordingly.
---
---
Chitlang Hotels & Accommodation
---
Unfortunately, none of the hotels in Chitlang are listed on booking.com. Visit my Chitlang village guide for a full list of all the hotels we saw on route. I'll only mention my favorites here.
Budget Hotel in Chitlang: Chitlang Organic Village Resort (Phone # 9808117318) We planned to sleep here but found out there was no hot water when we arrived. The place has beautiful grounds, and we happened to be there in the spring when everything was blooming. It's a beautiful place if you're on a budget and don't mind a high-end tea house feel. $15 USD per couple
Comfort Hotel in Chitlang: Chitlang Resort Pvt. (Phone # 9851090113) We're planning to do a 25 day trek next month, and honestly, I didn't really feel like roughing it on this trip. Therefore, we decided to stay in the only place in town that we could find with hot water. The rooms are nice and clean and have large bathrooms. I would recommend this place if comfort is your priority. $20 USD per couple
Unique Hotel in Chitlang: Goat Cheese Homestay (Phone # 9851162253) We only saw this on our way out-of-town, and I was sad we didn't see it sooner. Next time, I would definitely stay here. It's a family owned homestay and the owner studied in France and Belgium to learn to make goat cheese and plum wine. The rooms looked comfy and we were given a tour of the first ever goat cheese factory in Nepal. We even got to try the cheese and wine. $15 USD per person including breakfast, lunch & dinner.
Hiking from Chandragiri to Chitlang
---
After you're done exploring Chandragiri Hills, you'll want to walk back down to the Top Station of the cable car near the small shops. Instead of taking the cable car back down, you'll take the small path located right next to the men's bathroom. You can ask the shop owners to point it out to you as there's no sign. It's between a few of the tiny yellow buildings that sell snacks.
Follow the small path going down stairs until you reach the road. Turn left onto the road by the police checkpoint. Then, take the first major trail to the left which is well-worn. When the trail runs out and turns into the road, you can follow the road downhill. Here, you'll find a small tea shop and a few old buildings. The road splits and you'll stay to the left, but don't stay on the road for more than a minute. Right after the buildings there's a steep trail that goes into the woods on the left. The tea shop owner can point it out to you if you don't see it right away.
After the steep descent, the trail levels out a little and isn't so difficult to walk down. Trekking poles are handy though. From here, you'll take a series of small trails that cut off the main road which takes a longer car friendly route. You shouldn't be on the main road for more than one minute at a time. The trail passes through the forest and rhododendron trees. If you go in the spring, much of it will be in bloom. If you miss one of these trails, you can always take the road although it's longer and not as scenic.
At the bottom of the hill, you'll end up on the road for a bit before reaching the outskirts of Chitlang. For this part you'll be on the dusty road for about five minutes. When you see the first houses, you can take the lovely stone path on the right which goes straight through the old village. This path turns into more of a road later and takes you to Chitlang. Although you're on a road, there's very little traffic, and the old buildings that line the street are very pretty.
---
---
Hiking Photos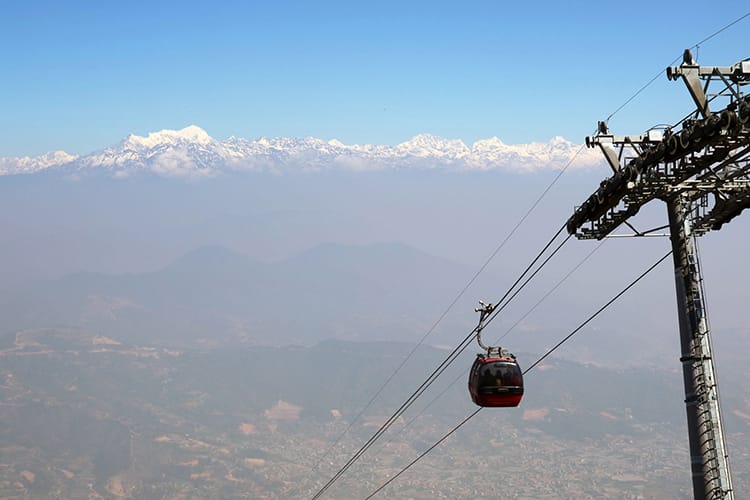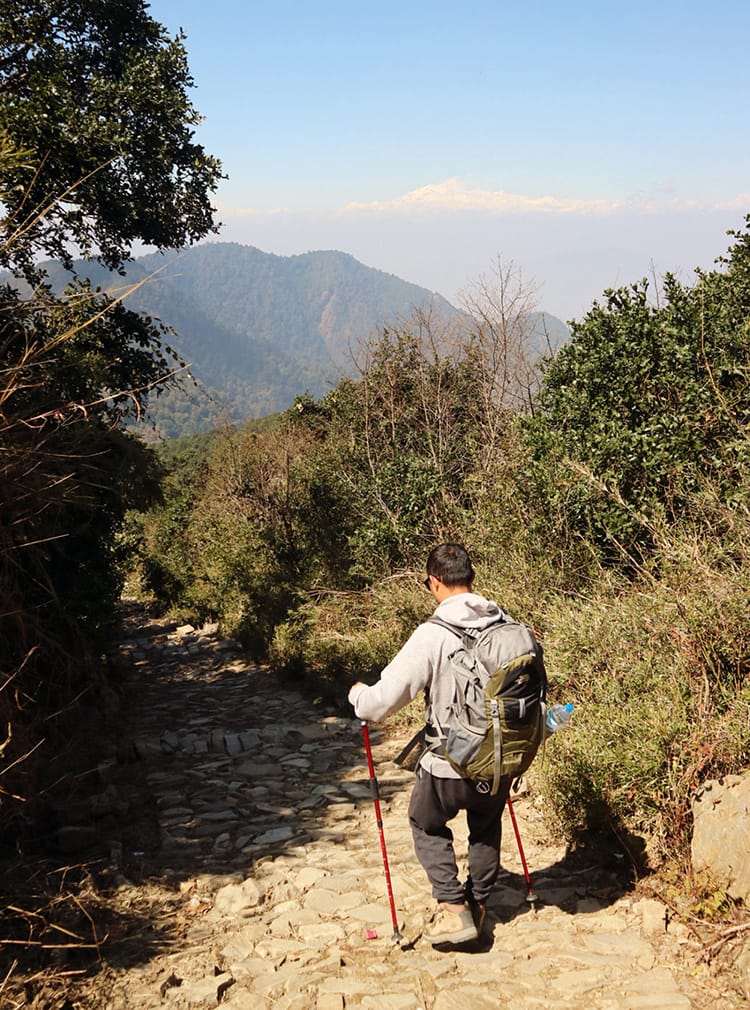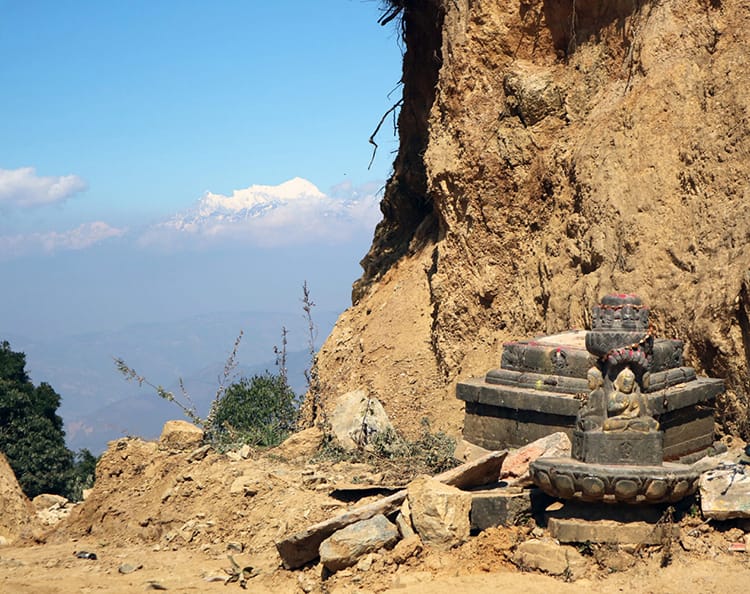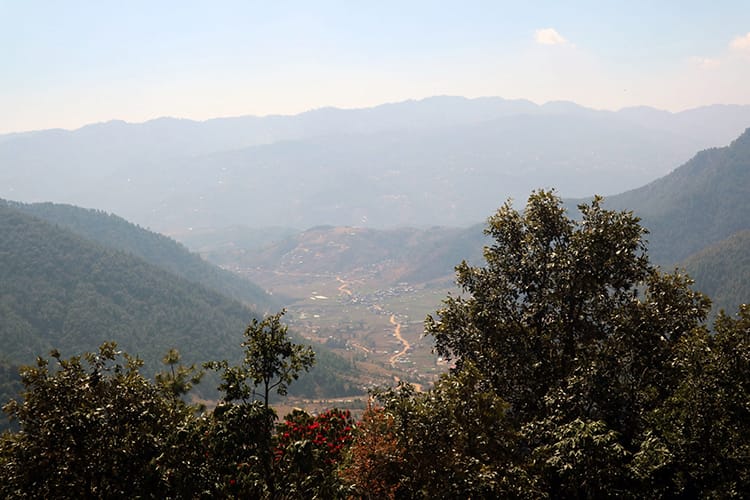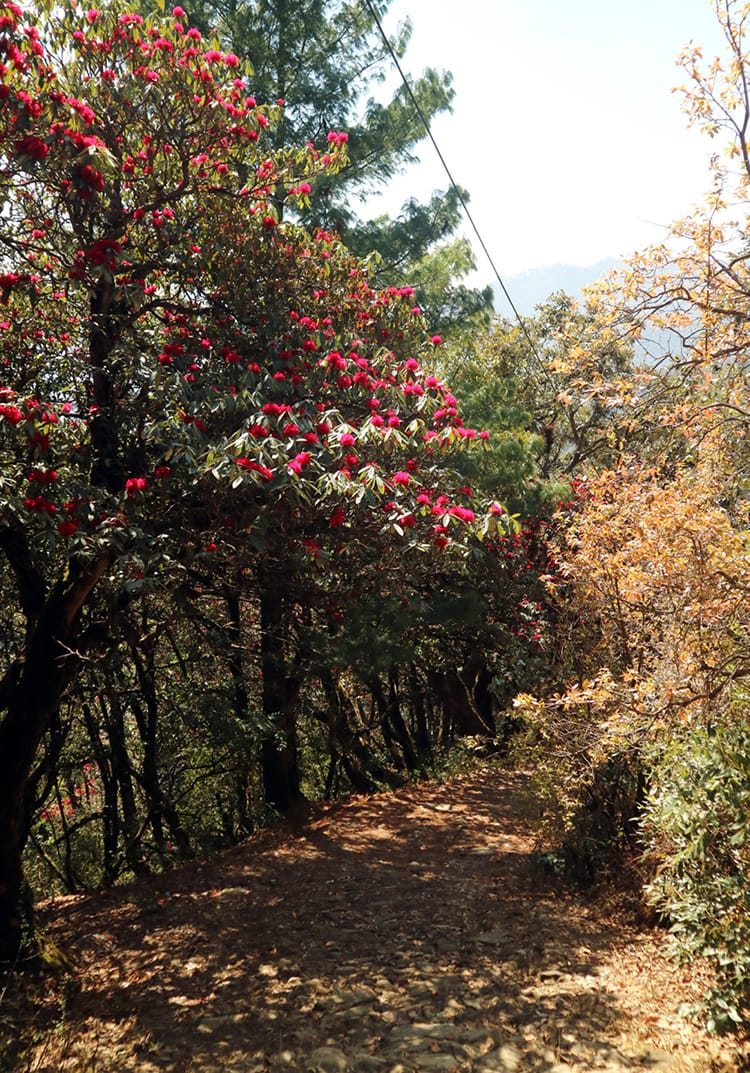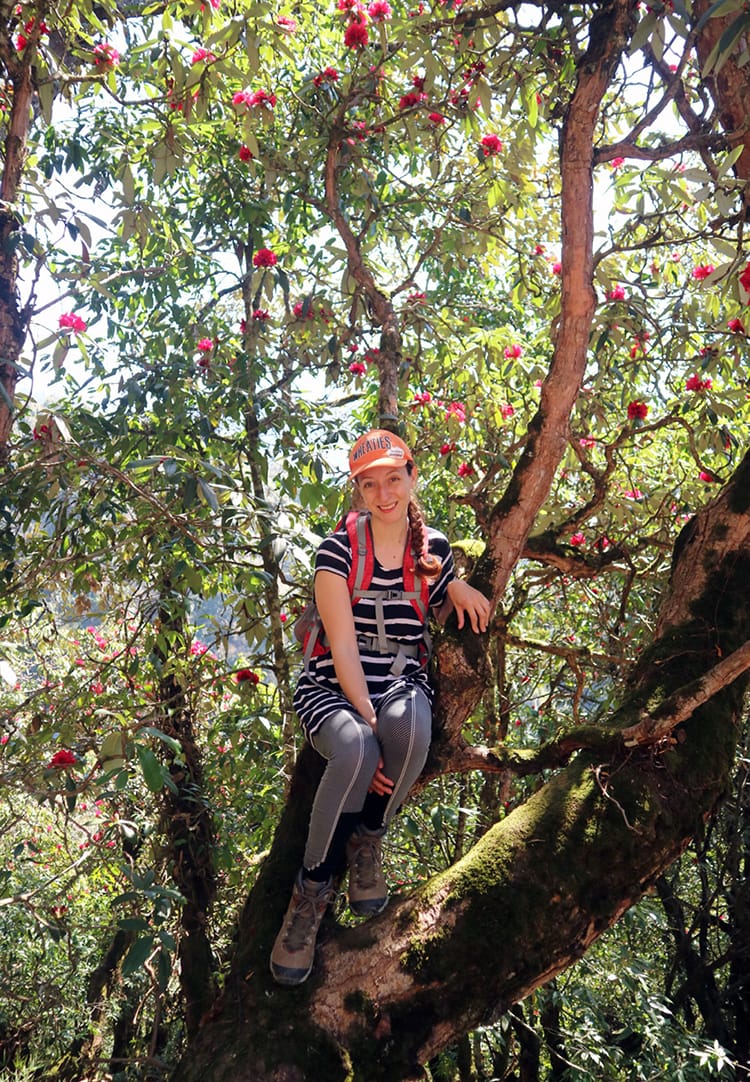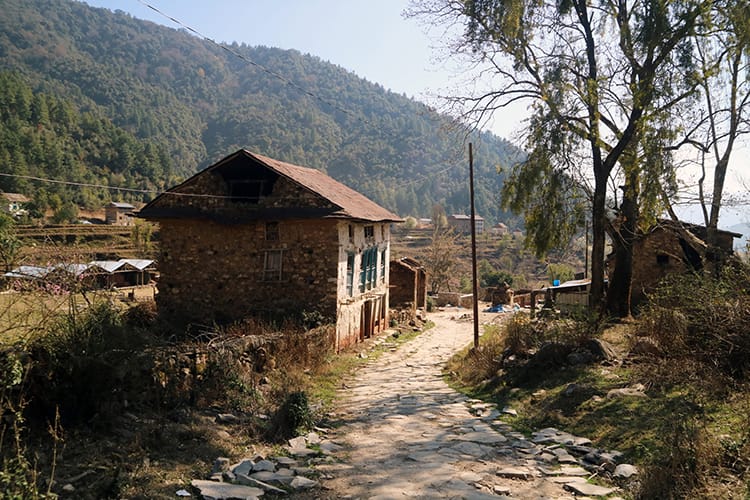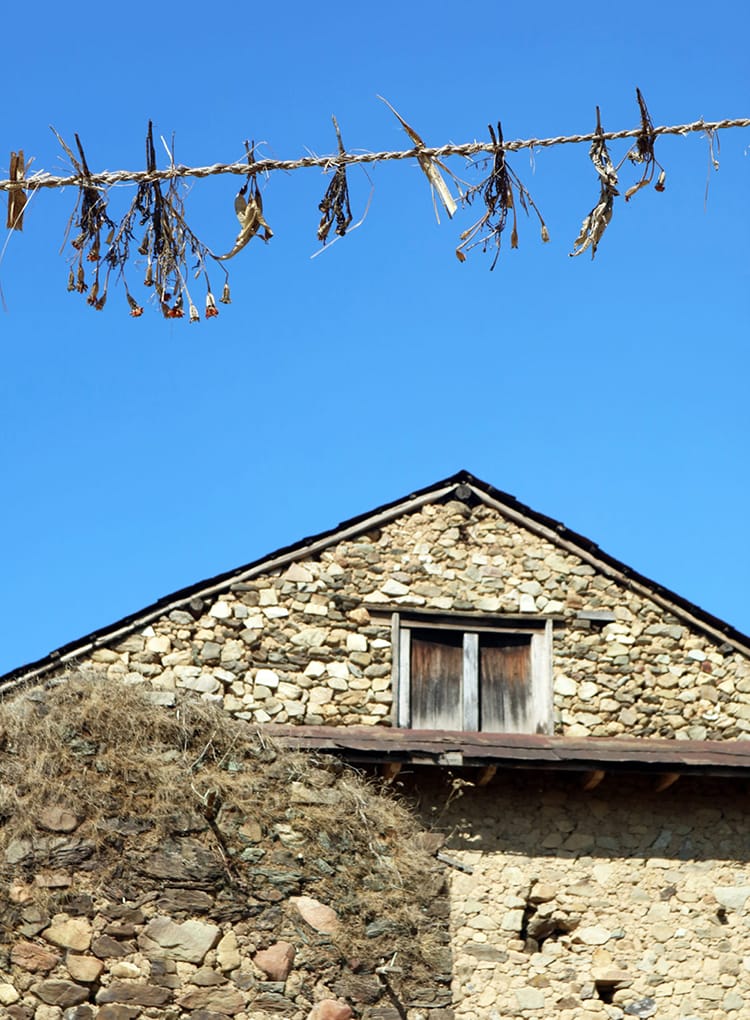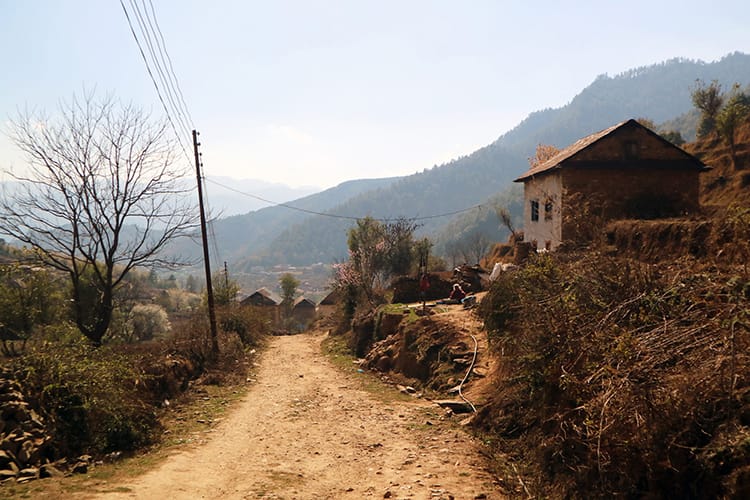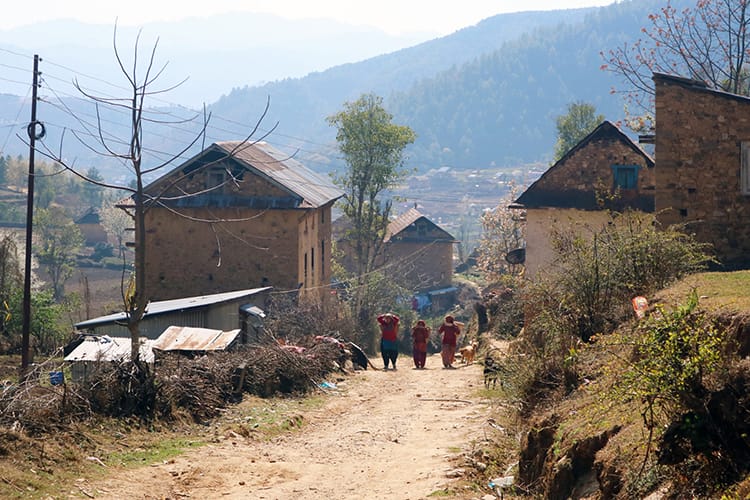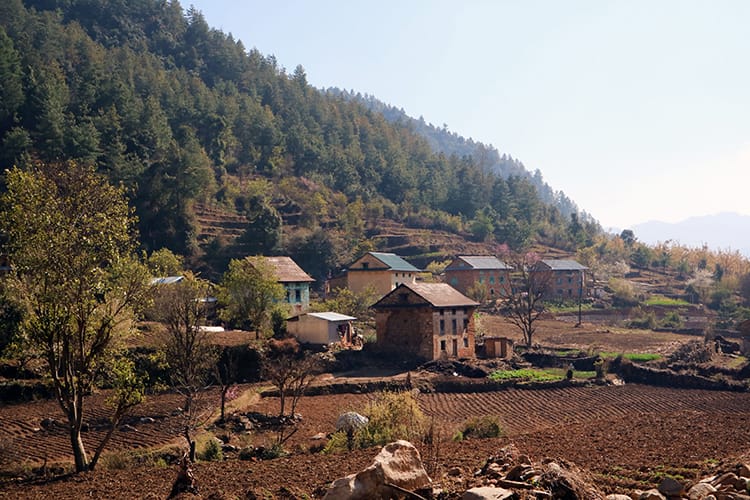 ---
You might also like…