If you ask me what my favorite festival in Nepal is, the answer is definitely Tihar. Hands down, no questions asked. If you ask me my favorite day, then the answer is obviously Kukur Tihar! "Kukur" means "dog" in Nepali. As a dog lover, nothing makes me happier than celebrating Kukur Tihar in Nepal. An entire day dedicated to taking care of dogs and thanking them for being in our lives. Sign me up!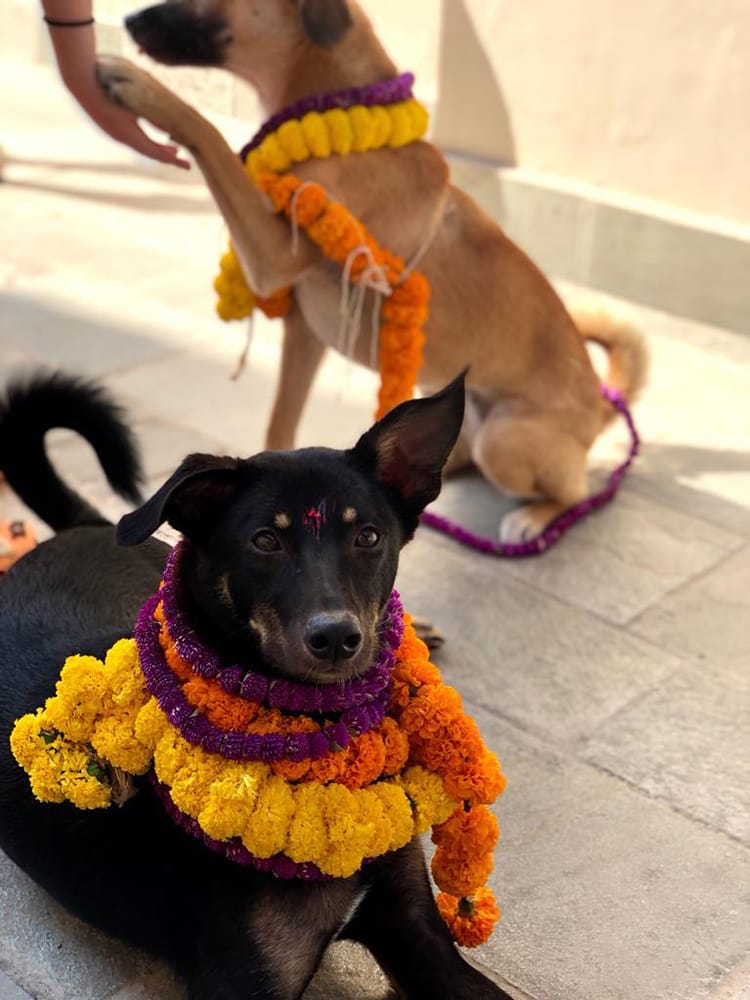 What is Kukur Tihar?
---
Kukur Tihar is considered the "day of the dogs." It's part of the five day Tihar festival that celebrates a myriad of things including crows, cows, the goddess Laxmi, oneself, little brothers, and dogs! On this day, people give dogs a red tikka on the forehead for good luck, a garland of marigolds around their neck, and special food and treats. This applies to all dogs in Nepal including strays.
In ancient Hindu texts, there is a story that tells of five brothers who try to ascend to a different realm where the gods live (a bit like heaven). As they journey on their way, most of the brothers fall behind and only the eldest brother remains. A dog has followed him the entire way and never left his side. The eldest brother reaches the entrance gate but refuses to enter without the dog. The dog turns out to be the god Yama who has taken a different form, and in that moment, the bond between humans and dogs was formed. There are other dogs in ancient Hindu texts who are believed to guard the gods and others who are vehicles for the gods.
---
How to celebrate Kukur Tihar dog festival in Nepal
---
Celebrating Kukur Tihar in Nepal is super easy. If you have a dog, you can treat them extra special on this day, and if you don't have a dog, you can feed the many street dogs around. Often, people give the dog biscuits, but I recommend buying a bag of dog food from a local pet shop and putting some out in locations where there are a lot of strays so that they get more nutrients. If you aren't comfortable around strays, you can visit one of the Dog Rescues in Nepal to donate money or food.
This year we visited Community Dog Welfare Centre and helped put malas and tikka on 160 dogs! It was fun to see everyone come together to treat the dogs extra special on this day. We volunteer at the shelter year round so we know a lot of the dogs now. They are always accepting donations and love having volunteers stop by!
---
How to celebrate Kukur Tihar outside Nepal
---
Even if you're not in Nepal, you can celebrate this holiday. There are several dog rescues in Nepal that could use your help. They rely entirely on donations and don't receive government funding. Or, you can donate to your local shelter. If you can't help financially, consider going to your local shelter and volunteering for the day. You can take the shelter dogs for walks and give them lots of snuggles, love, and treats!
---
When is Kukur Tihar?
---
Nepal has its own calendar, therefore Tihar falls at different times ranging from October to November. Kukur Tihar is typically the second day of the festival, however sometimes the days overlap. This year, Kukur Tihar, Gai Tihar (cow day) and Laxmi Puja fell on the same day when they usually fall on two separate days.
---
Photos from Kukur Tihar
---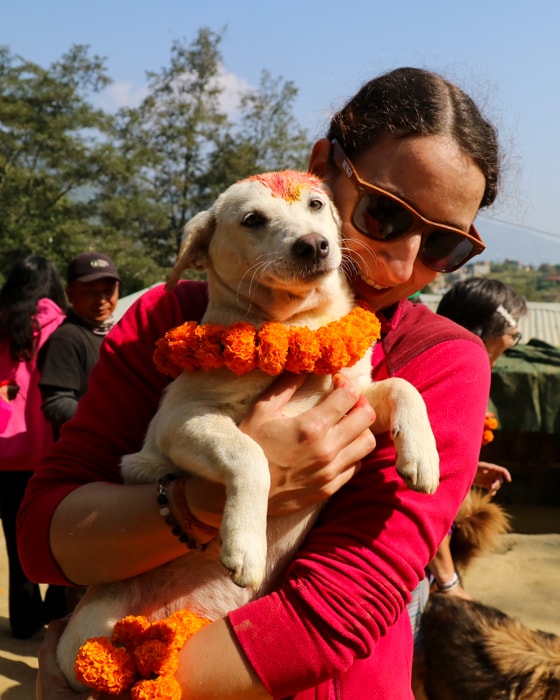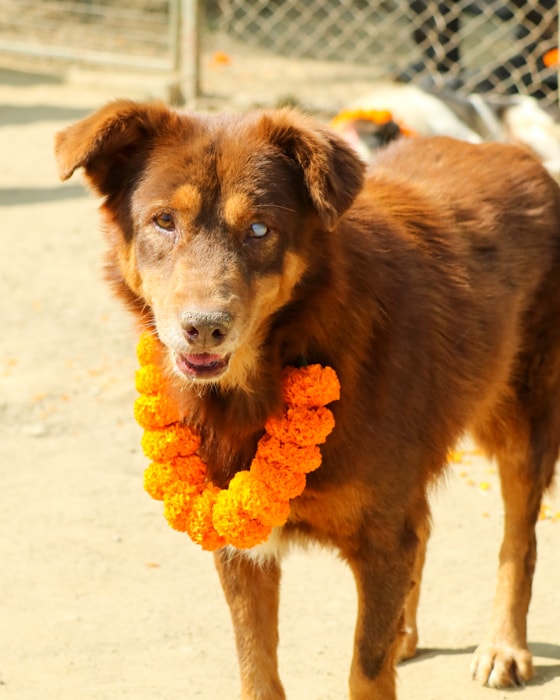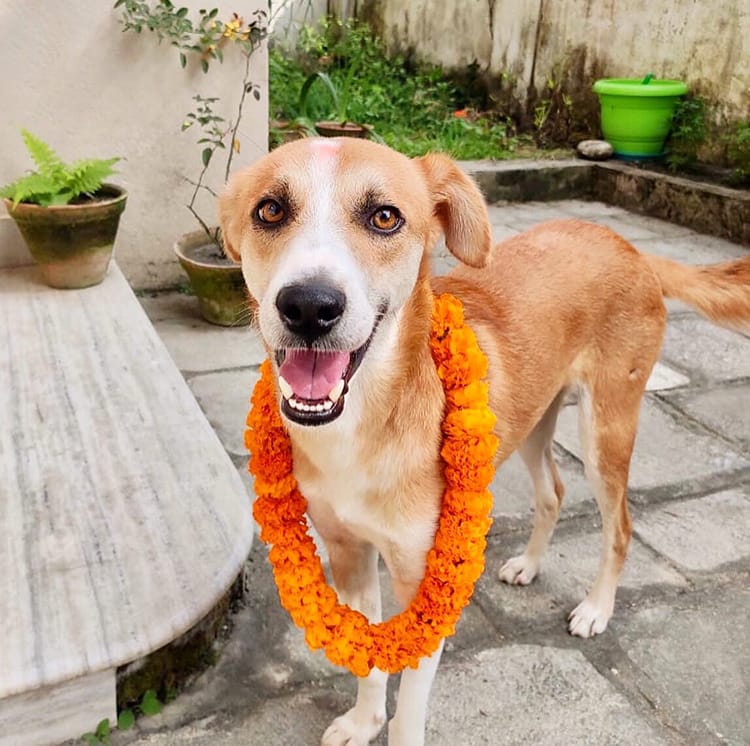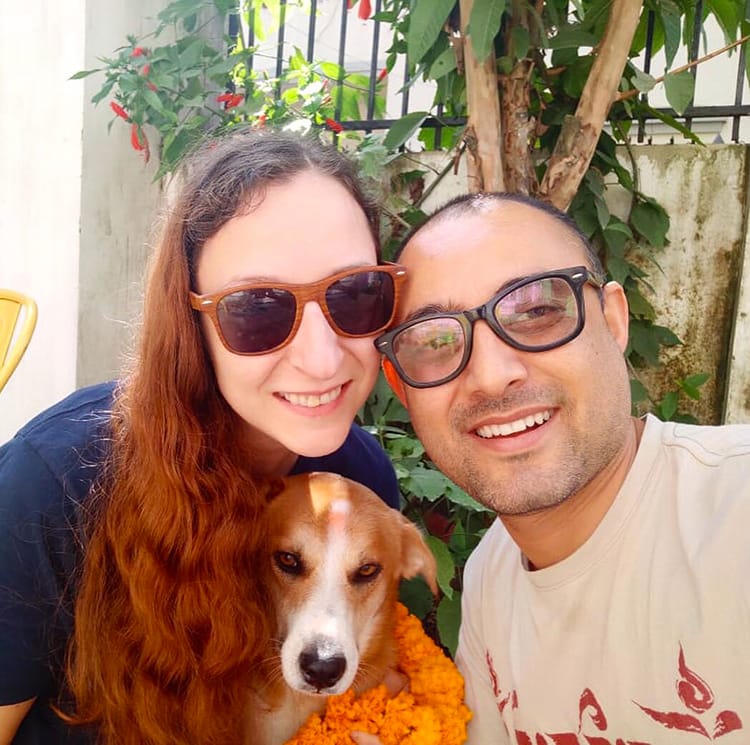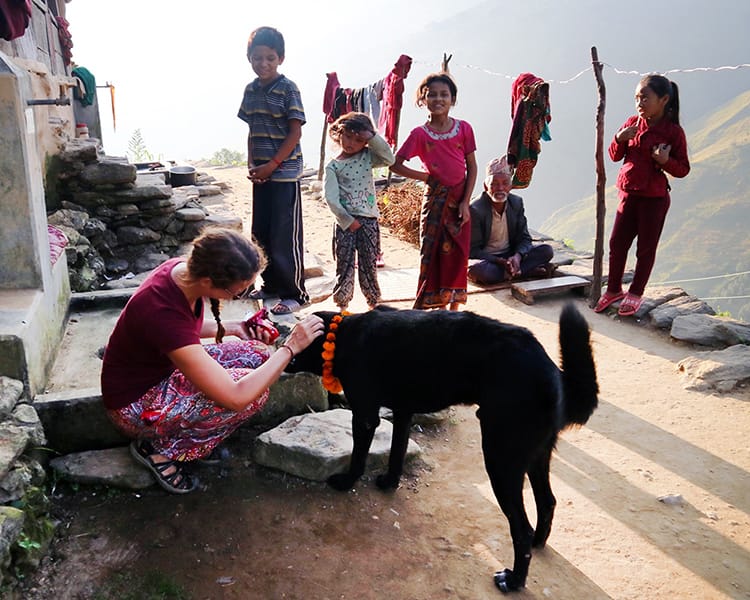 ---
You might also like…