One of the best parts of traveling is learning about other cultures. After spending a month in Bali and seeing the daily Hindu rituals performed there, I was excited to experience the Tihar Festival (a Nepali Hindu festival). One of my local friends thought it would be fun for me to see the difference between celebrating in a small village and in the city. We spent half of the festival in the mountains in Tangting. The other half, we spent in the city of Pokhara.
How to Celebrate the Tihar Festival
Tihar is a five day long festival known as the festival of lights. My understanding is that this festival celebrates the animals which humans are closest to as well as oneself and the goddess Laxmi. On the first day, they celebrate crows which act as messengers. The second day, they celebrate dogs which are our bodyguards and friends. On the morning of the third day, they celebrate the cow which is a Hindu god. In the evening of the third day they celebrate Laxmi, the goddess of wealth and good fortune. The fourth day is seen as the start of the Newari New Year and is a day of self worship for the Newar community. On the last day, sisters (not necessarily by blood) put tika (red dots) on their brothers' foreheads to ensure a long life.
Day 1 – Celebrate Crows
---
Unfortunately, we had a really hard time finding crows in the mountain to celebrate Kag Tihar. Regardless, we laid out rice in several spots for them to eat. At night, the small village was lit with candles in every house. My friend explained that in Pokhara, the candles are replaced with LED lights (like Christmas in the U.S.). Children came around our campfire at night and offered dances in exchange for money. It reminded me a little of Halloween back home.
My friend held up a 100 rupee note and told the kids they would get it for one dance, however, if the dance was good he'd throw down a 1000 rupee note. One of the kids cracked me up. Although I couldn't understand what he was saying, he came closer and my friend showed him the 1000 rupees. I burst out laughing because the kid didn't believe him and wanted to see it before dancing. Immediately, the kids got a lot better at dancing. I joined in the fun and threw down a 500 rupee note which got us at least two more good dances. The kids left thrilled with their earnings for the night. They'd made almost $20, which I think was a pretty good haul.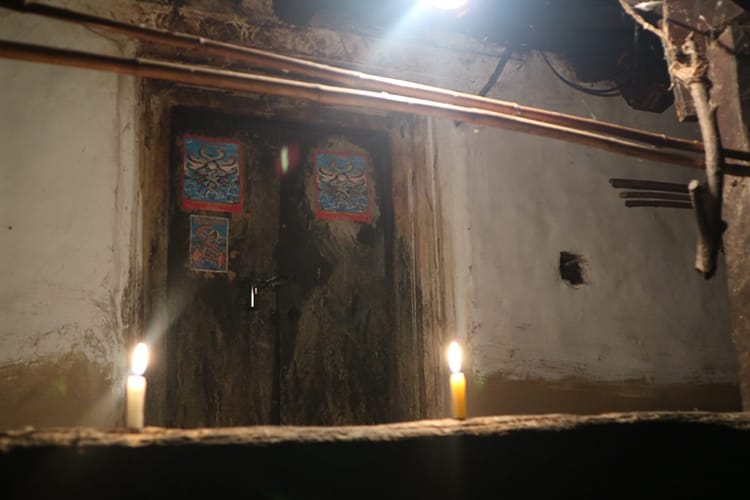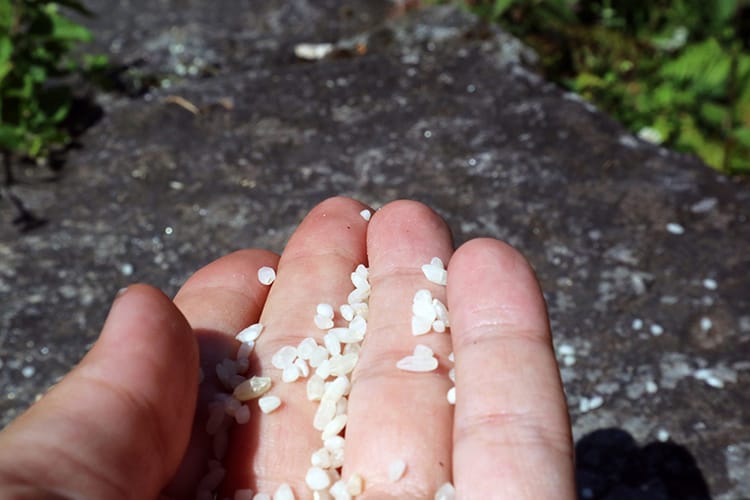 Day 2 – Celebrate Dogs
---
Day 2 is the day of the dogs. After settling into our guesthouse in Tangting, we went on the search for a dog. We had bought some biscuits and our guesthouse owners kindly made us a mala (a garland made of fresh flowers) to string around one dog's neck. We were able to find two dogs to thank for their protection and gave them the biscuits and flowers. One even followed us back to our guesthouse. Clearly, he understood he was being worshipped as a bodyguard and took his role seriously.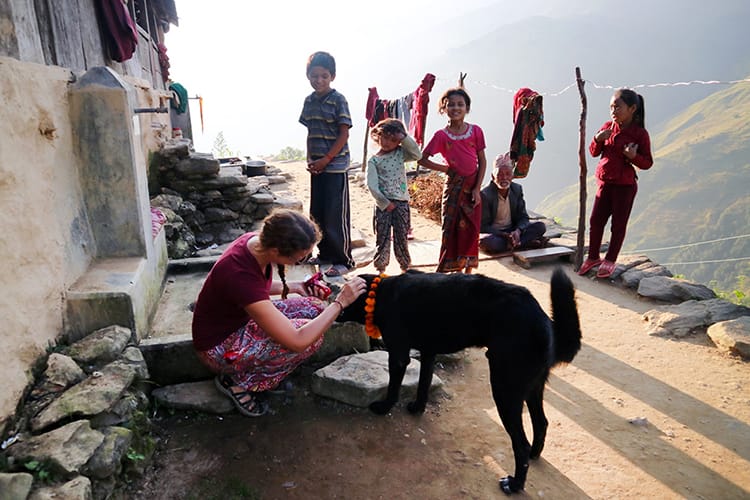 Day 3 – Celebrate Cows & Laxmi
---
We spent the morning in the village and found some cows to worship. It's customary to bring them food, malas, and tika. I got to put a tika on each cow and touch his feet for good luck. My friend put the mala's on and tied a bracelet to one of their tails which would ensure him good fortune for the coming year. I might add that all of this was done while I was wearing traditional Gurung (the villages caste) clothing.
After spending time with the cows, we headed back to Pokhara to see a different side of the celebration. People were in the streets dancing. Music blared from speakers. Comedians told jokes on the sidewalks. LED lights were everywhere, and the whole city seemed to be outside. We walked through town and stopped to watch several of the groups dancing. Everyone was giddy and or drunk knowing there was no work the next day.
The sidewalks were decorated with colorful mandalas (rangoli). Each one different from the last. An offering to please the goddess Lakshmi so that the family is given good fortune for the coming year.
Check out my post on Laxmi Puja to learn more!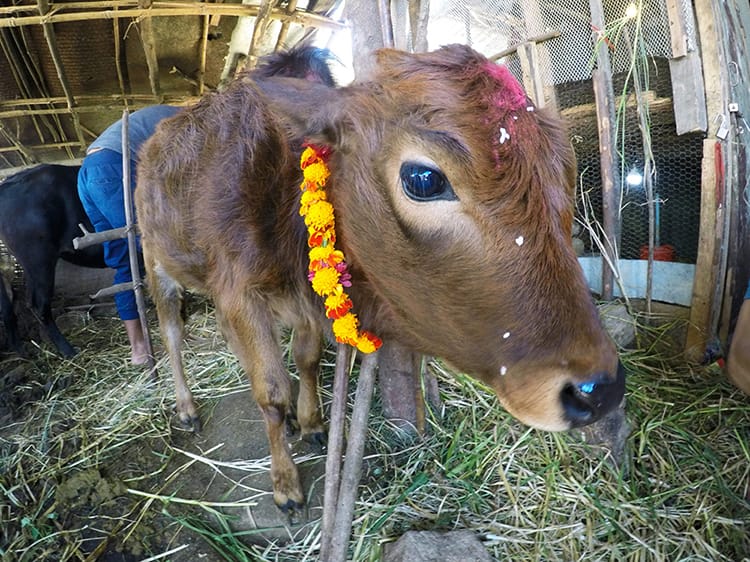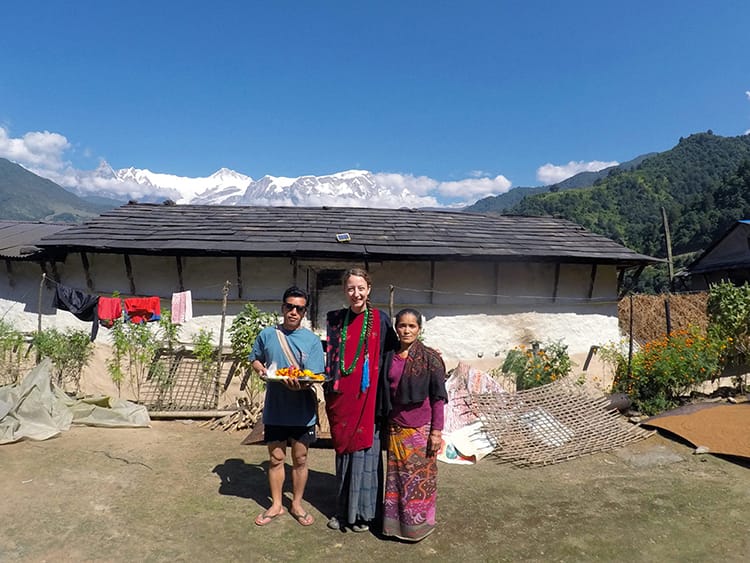 Day 4 – Celebrate Yourself
---
In the Newari community, the fourth day of Tihar is called Mha Puja. This is a ceremony that is done at home with immediate family, so it's usually not seen by tourists. Each family member has their own mandala (rangoli) with a specific design that is significant to the family and passed down through generations. The family all sit together next to their mandalas and do a small puja ceremony which involves lighting candles, eating holy food, and pouring flower petals over your head. It's a beautiful ceremony and a nice way to appreciate yourself.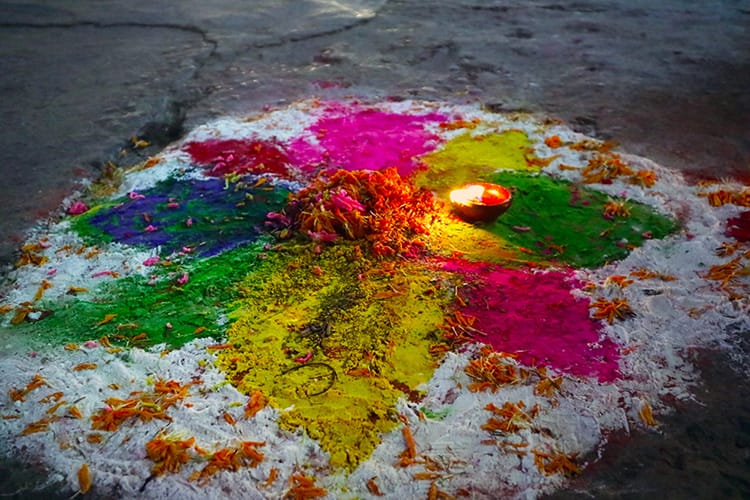 Day 5 – Celebrate Brothers & Sisters
---
Since day five is spent with family, I did not partake in the rituals or festivities. I'm told there is a feast of food in the morning, traditions including tika, and an exchanging of gifts. Typically big sisters give their little brothers a blessing, however you don't need to be blood related. Most people choose a "little brother" or "big sister" when they are young and they perform this ceremony every year with each other.
Overall, experiencing the Tihar Festival for the first time was so much fun. I learned so much about Hindu beliefs and really felt like I got to be a part of another cultures customs.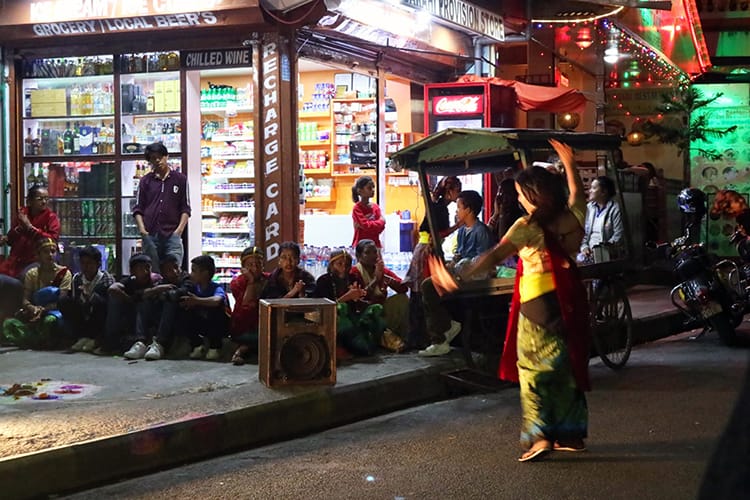 What's your favorite holiday? Have you ever celebrated one in another country?
---
You might also like…