One of my favorite things about living abroad is that I get to experience so many different festivals and traditions. This year, I got to participate in Laxmi Puja in Nepal. Previously, I'd celebrated the Tihar festival as a tourist, but I wasn't able to do a lot of the things that are reserved for families at their homes, so this was a special treat.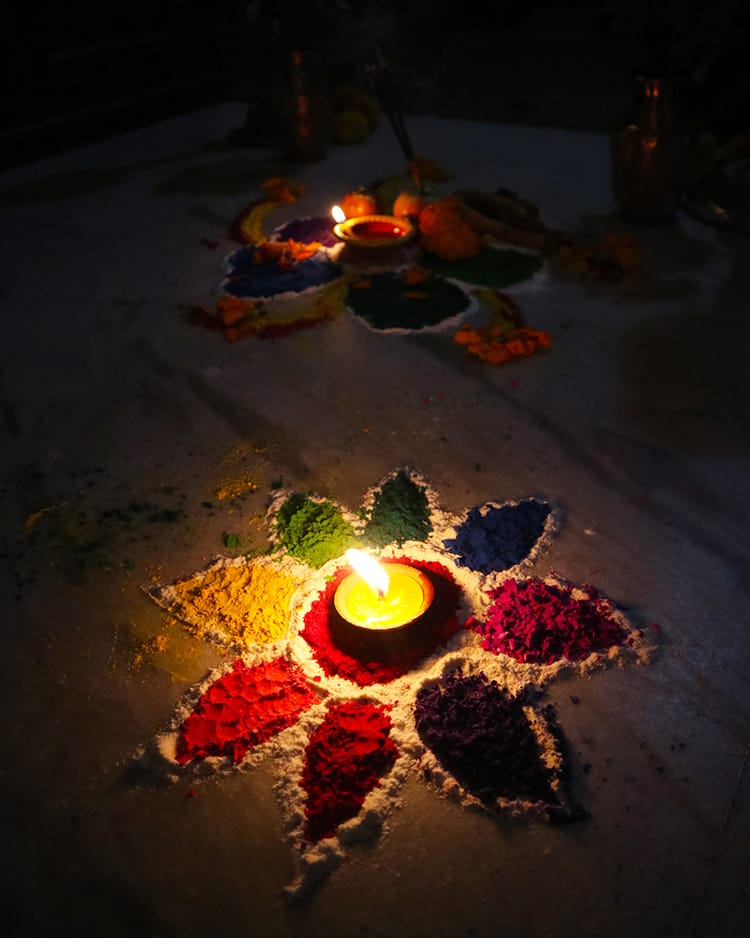 What is Laxmi Puja?
---
Laxmi Puja is celebrated during one of the five days of the Tihar festival which is the second largest Hindu festival in Nepal. Laxmi is the goddess of wealth, and it's customary to welcome her into your home on this day to receive a blessing from her. A puja is a religious ceremony in Hindu culture that involves leaving offerings for gods or goddesses to appease them.
---
How do you celebrate Laxmi Puja in Nepal?
---
In order to welcome the goddess Laxmi into your home, families perform a puja (religious ceremony). First, the family cleans the home. Then, they decorate it. Tihar is the festival of lights, so you'll see candles lit in traditional areas, and in cities you'll see large displays of LED lights hanging from the outsides of the homes much like we do in the U.S. during Christmas. Marigolds are also used as decoration and are hung as garlands above entryways and along gates in front of people's homes.
Each home and business will make a mandala (rangoli) in front of the entrance. Mandalas are made of colorful powders, rice flour, and flower petals. The traditional colors are red, gold, and white, but in modern time people use a rainbow of colors to make them bright and colorful. Making a mandala takes patience and feels a bit like meditation. If you watch the pros do it, it looks insanely easy, but it's difficult to make straight lines out of the powder. A pro tip is to mix the powder with some rice flour so it's not too sticky. I also recommend having a funnel and a tea strainer as tools.
Once the mandala is complete, you make a mixture of flour and water and create little footprints leading from the mandala to the front door of the home. We also made a mandala at the restaurant and the footprints led to the cash register as that's the area we wanted Laxmi to bless. Marigolds are sometimes added to the pathway and mandala. The pathway can also be made with a traditional mud that makes a line to the front door.
Last but certainly not least, the puja takes place. Offerings are presented to the goddess along with the burning of candles and incense. Offerings often include fruit, money, sweets and flowers, but Laxmi likes gold and silver, so it's common for people to shop for jewelry this week and present it to the goddess during the ceremony. Whoever is doing the puja prays and chants to the goddess. Then, each family member makes a small offering and prays. After that, everyone receives a blessing from their elders who put a red tikka (the red dot) on their foreheads for good luck.
---
When is Laxmi Puja in Nepal?
---
Laxmi Puja changes dates from year to year as Nepal has a different calendar than we do. It falls in the month of Kartik on the day of the new moon. Since the calendar is different from ours, it usually falls in either October or November, but the day varies a lot from year to year. This year, Laxmi Puja fell on the same day as Kukur Tihar which celebrates dogs.
---
How to experience Laxmi Puja as a tourist?
---
Laxmi Puja typically takes place at home, however many businesses will also make a rangoli (mandala) in front of their door. If you are staying in a homestay or a hotel during Tihar, you can ask your hosts if you can watch them make the mandala so that you can learn about their culture. I found that making a mandala was similar to decorating a tree at Christmas. You can ask if you can help out and many people will be happy to show you what to do, however some people may consider this a time reserved specially for family, so don't be offended if you are not allowed to join in.
---
What to wear for Laxmi Puja?
---
If you are invited to join in for the festivities on Laxmi Puja in Nepal, then you may be wondering what to wear. If you will be making a rangoli (mandala), I recommend wearing something you don't mind getting dirty. If you will be staying for the puja, it's best to have something modest and a little dressy to change into. If you're a woman, a kurta is traditional but don't feel like you have to go out and buy one. Red is an auspicious color so red is also a wonderful choice if you have a nice top. If you're a man, then a nice pair of jeans and a nice sweater or button down shirt is good. I was asked to wear a saree and all my gold jewelry since it was my first Tihar as a wife.
---
Photos from Laxmi Puja
---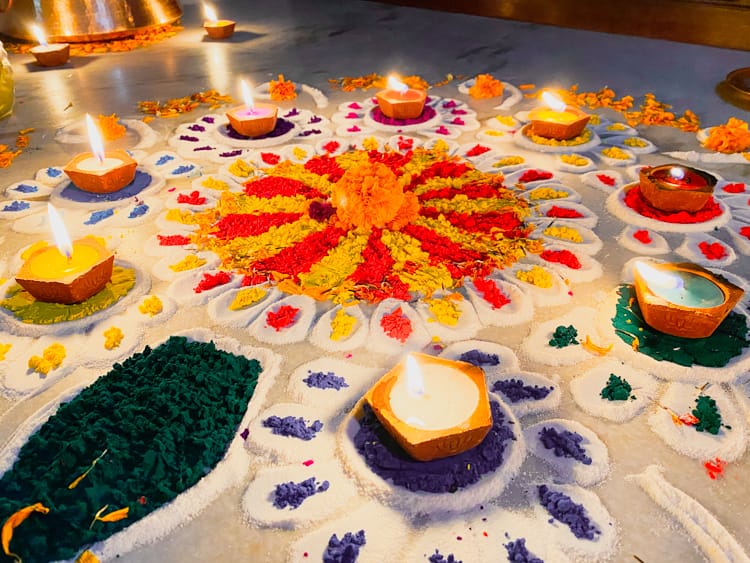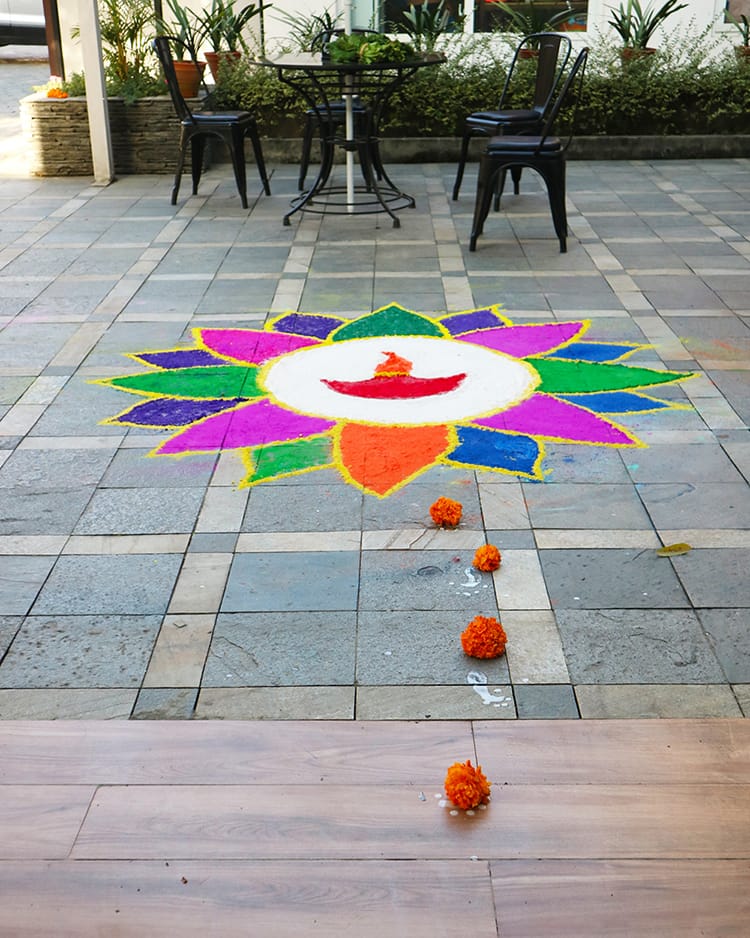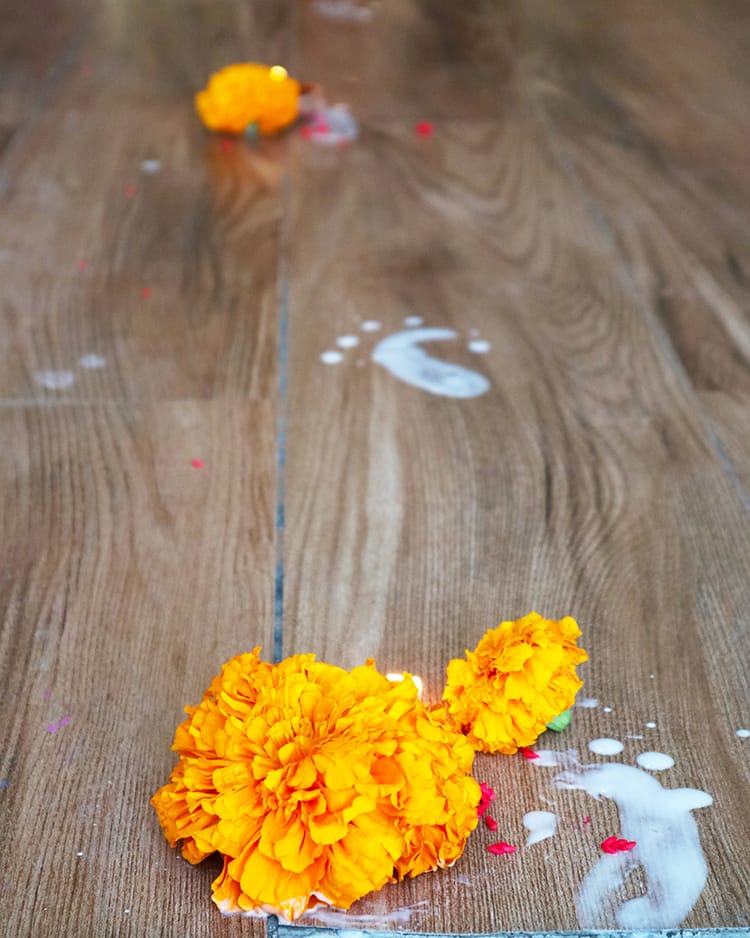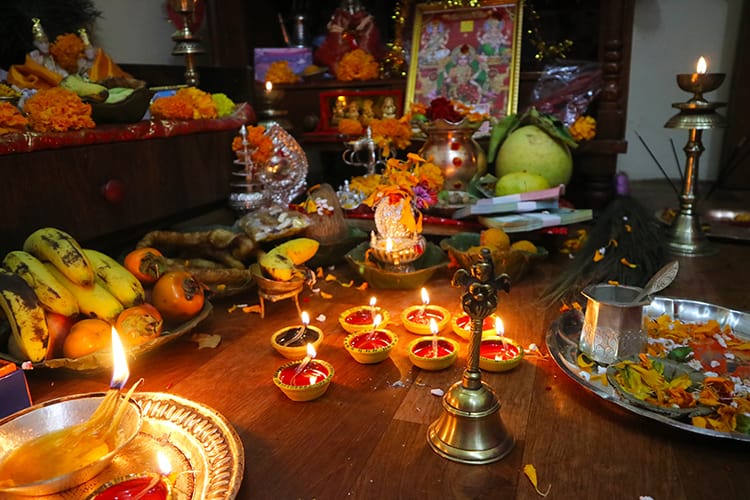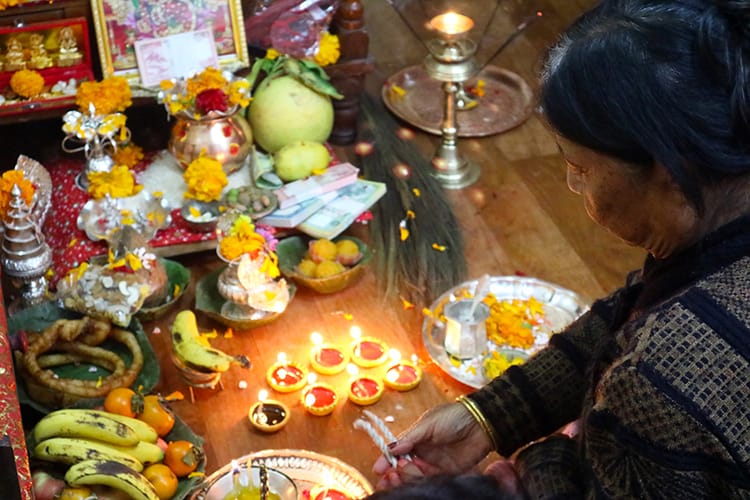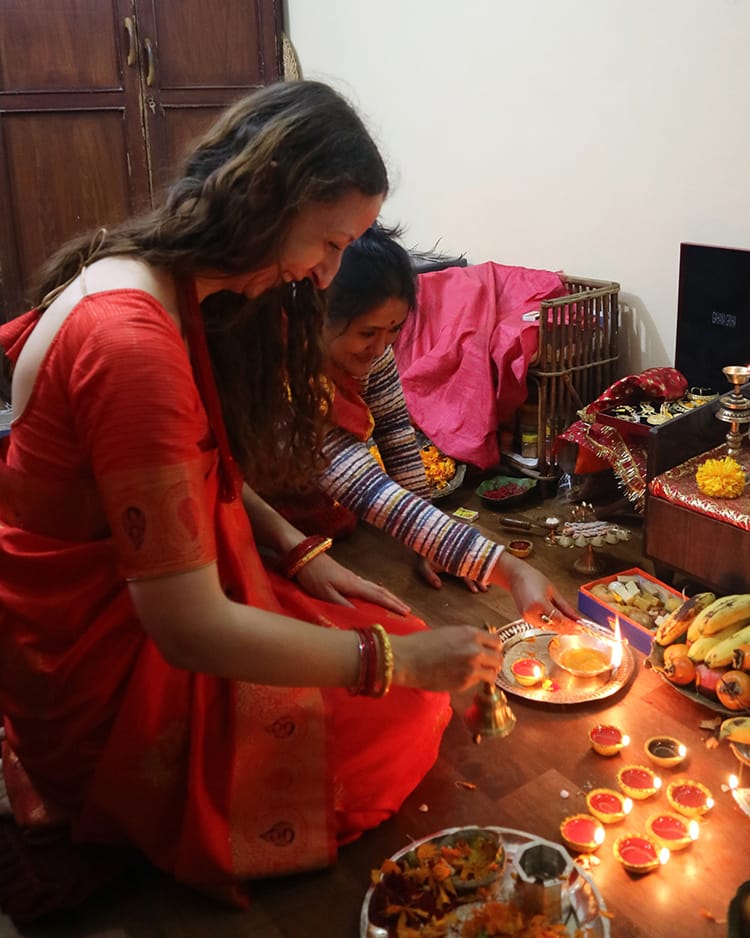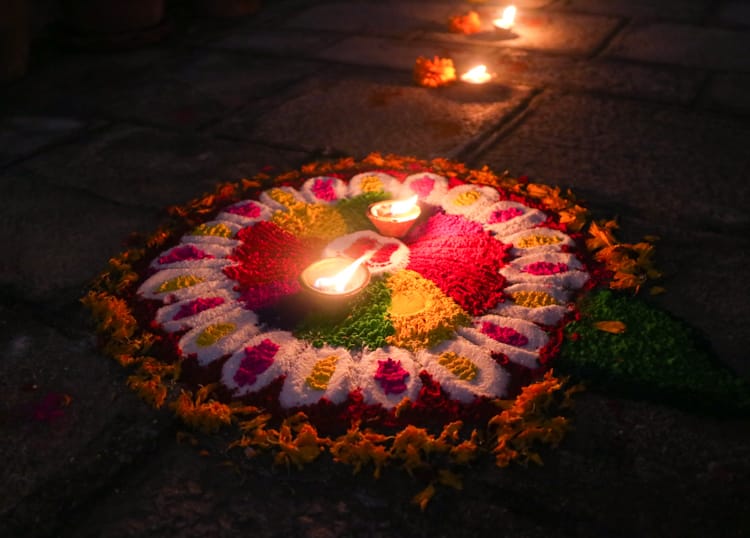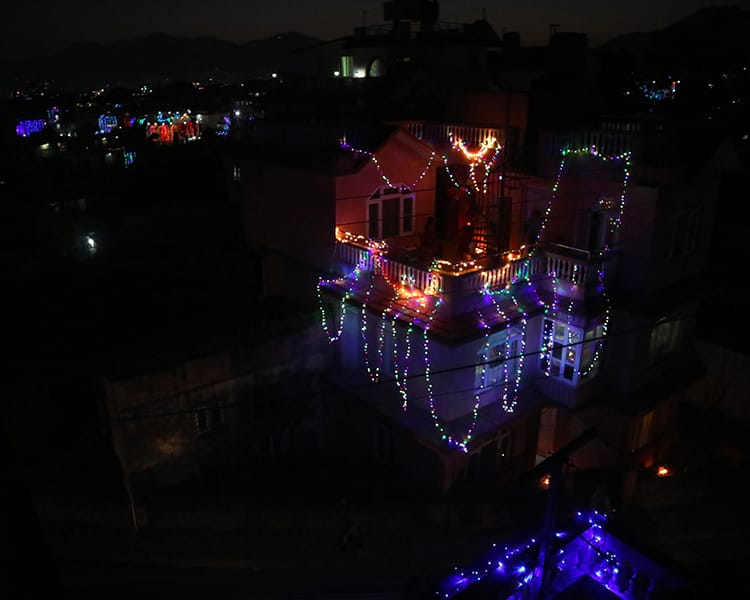 ---
You might also like…