Machhapuchhre Base Camp is a small village along the Annapurna Base Camp trekking route. The village was built entirely for tourism starting in the 1970's and has developed into one of the nicest places to stay along the route. On a clear day, you get an up close look at the famous fishtail mountain as well as the Annapurna Range in the distance. Here's what you need to know for your visit…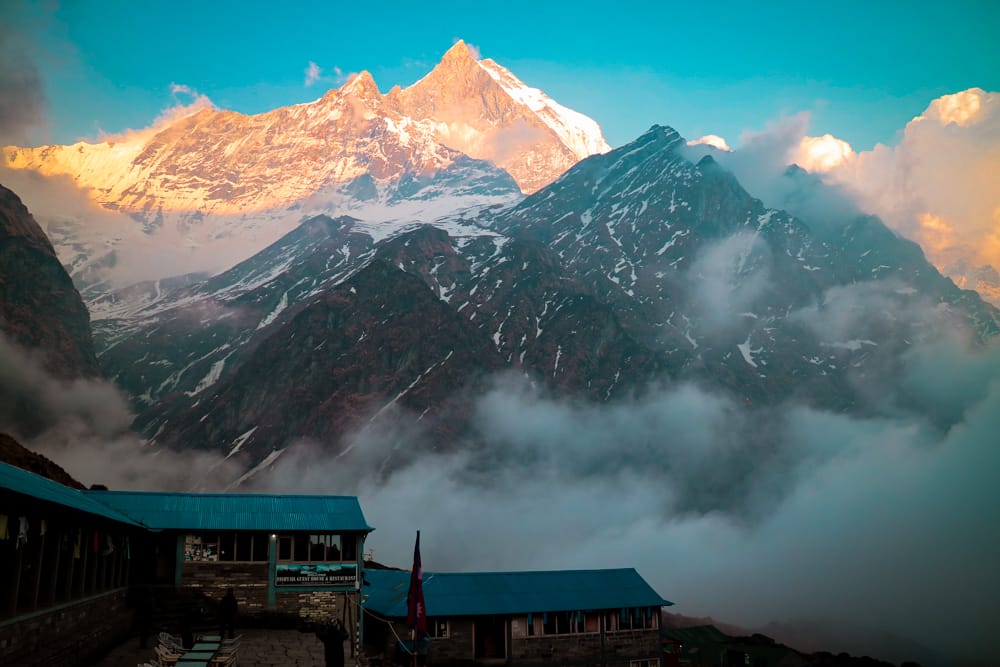 Brief History of Machhapuchhre Base Camp
---
The villagers in Chomrong told us a fun story about the first climbers to attempt climbing Machhapuchhre in 1957. It's said that the group climbed from Camp I to Camp II and went to sleep there, but in the morning when they awoke, they were back in Camp I. Since the people in this region are Bon (worship nature), they believe the gods sent them back down the mountain.
Machhapuchhre is one of the holiest peaks in Nepal, and it's now illegal to try to climb it. It's never been summited and that first attempt was also the last. This makes the name "Machhapuchhre Base Camp" a bit inaccurate since there's no real need for a "Base Camp" for Machhapuchhre.
Before trekkers and mountaineers, this area was used only for sheep grazing. Shepherds would bring their sheep in the summer. After the first successful summit of Annapurna I in 1950, the area became popular among adventurers and explorers. By the 1970's, the trail was full of trekkers who needed lodging and the first teahouses were built in 1975 to accommodate them.
Another interesting fact is that prior to 1970, women were not allowed in the area. The mountains here were considered so holy by the locals, that a woman might taint the land as women were seen as impure due to their periods. Even today, animals may not be slaughtered in this area and no one is supposed to even carry certain meats like buffalo or chicken as it may upset the gods. In fact, those animals can't even enter the area alive as they are considered impure.
There's a temple along the trekking trail between Dovan and Himalaya with a gorgeous waterfall covering an entire wall across from it called Pujinam Baraha Mandir. This is the most sacred temple in the area and this is the point where animals can't cross. Each year the locals do a large puja (religious ceremonial offering) to the gods in June or July. They believed that a sort of oracle who once lived here would predict the future when he spoke.
---
Machhapuchhre Base Camp Village Guide
---
Major ethnicity:
The major ethnicity in this area is Gurung.
Major Religion:
Most of the people here are Bon (worship nature) or Buddhist.
Language:
People speak Gurung or Nepali in MBC.
Machhapuchhre Base Camp Altitude:
3,700 m (12,139 feet)
Oxygen Concentration:
65% compared to 100% at sea level
Machhapuchhre Base Camp Population:
Approximately 30 people live in Machhapuchhre Base Camp during trekking season, however their homes are located at lower altitudes. They only stay here to run the teahouses.
Best Time of Year to Visit:
Locals agree that the best time of year to visit is October or early November. The second best time is March or April however the views are not as good as monsoon is approaching and it may be cloudy. In winter and monsoon, the trekking route is considered dangerous as it's landslide and avalanche prone.
Wild Animals in the Region:
Danfe, snow leopards, mountain mice, mountain goats, deer and sloth bears can all be found in the area.
Location:
Machhapuchhre Base Camp (MBC) is located 63 km (39 miles) northwest of Pokhara. It's located inside the Annapurna Conservation Area just south of the Annapurna Mountain range and west of Machhapuchhre Peak which is 6,997m high (22,956 feet).
How to get to Machhapuchhre Base Camp:
Machhapuchhre Base Camp (MBC) can only be reached on foot. The closest road stops in Jhinu Danda or Ghandruk. From there it's a two to three day walk depending on your speed.
Entry Permit:
An entry permit is required for foreigners which costs 3,000 rupees ($26 USD). ACAP permits can be purchased at the Nepal Tourism Board office in Kathmandu or Pokhara.
NTC or Ncell service:
NTC and Ncell both had no service in the area.
---
What to Eat in MBC
---
Locals recommend traditional Nepali dal bhat (lentil soup, rice, vegetable curry, spinach, and spicy achar), garlic soup (rumored to be good for altitude sickness), masala tea, and Gurung bread. They also rave about their pizza which I have to say was good considering we were in the mountains and I'm quite sure there was no oven.
---
Things to do in MBC
---
Since you have to walk for days to get here, most people enjoy the simple pleasure of enjoying the views. From MBC, you can see Machhapuchhre (the fish tail), Annapurna South, Hiunchuli, Annapurna I, Gangapurna, and Annapurna III.
---
Machhapuchhre Lodges & Teahouses
---
Types of accommodation:
Teahouses and basic lodges
Number of accommodations:
There are 5 teahouses/lodges in the area.
Our choice:
Fishtail Guest House – We liked this hotel so much that we decided not to sleep in ABC the next night. We ended up walking to ABC to see the views and then spending a second night in MBC. The rooms are clean and bright. The toilets are nice, and the food at the restaurant was good. It's one of the best places we stayed on the whole trek. MBC is also a lower altitude and warmer at night, so it was more comfortable then ABC, and we didn't have to carry our backpacks for the day.
Price of a Room:
500 rupees (about $5.00 USD) for a double room.
Price of Veg Dal Bhat:
670 rupees (about $6.70 USD)
Electricity:
There was electricity, however if you want to charge a phone or device it's 100 rupees (about $1.00 USD).
Toilet Situation:
The lodge had five toilets (two western and three squat). This made it extremely easy to get ready in the morning as everyone was leaving at the same time. Some lodges only have two toilets and there ends up being a long queue to use them.
Shower:
Hot showers are available for 350 rupees (about $3.50 USD).
Wifi:
Wifi is available for 300 rupees (about $3.00 USD). This gets you unlimited wifi on one device.
---
Machhapuchhre Base Camp, Nepal Photography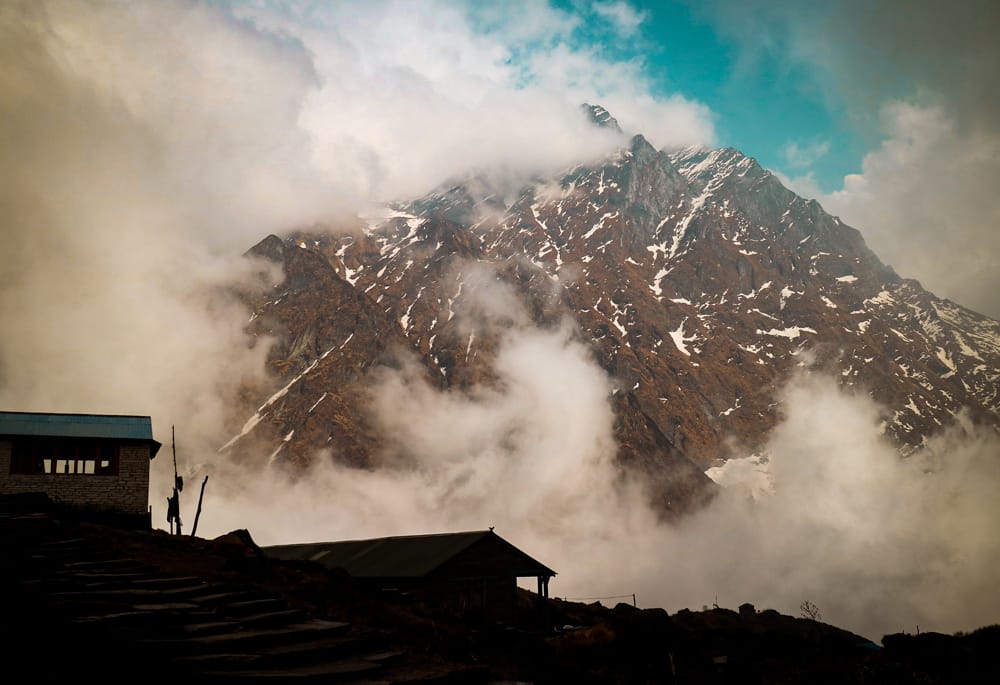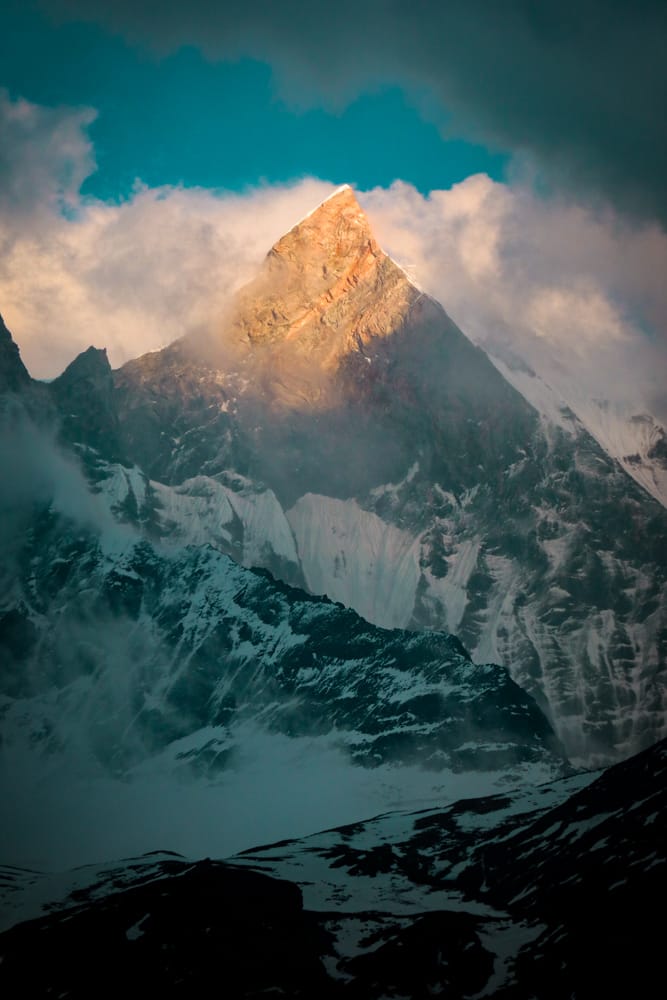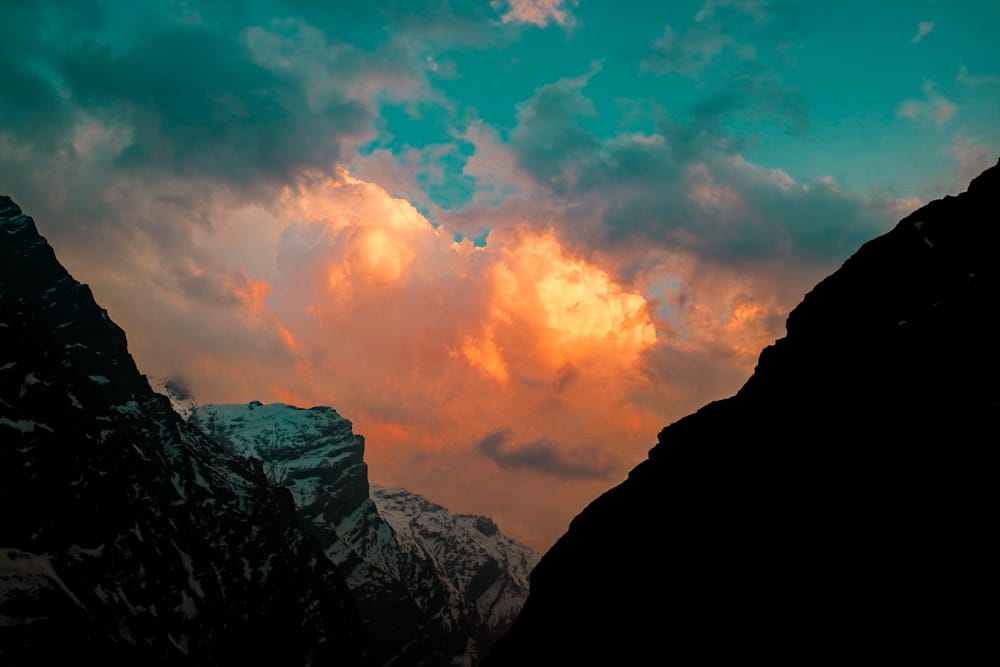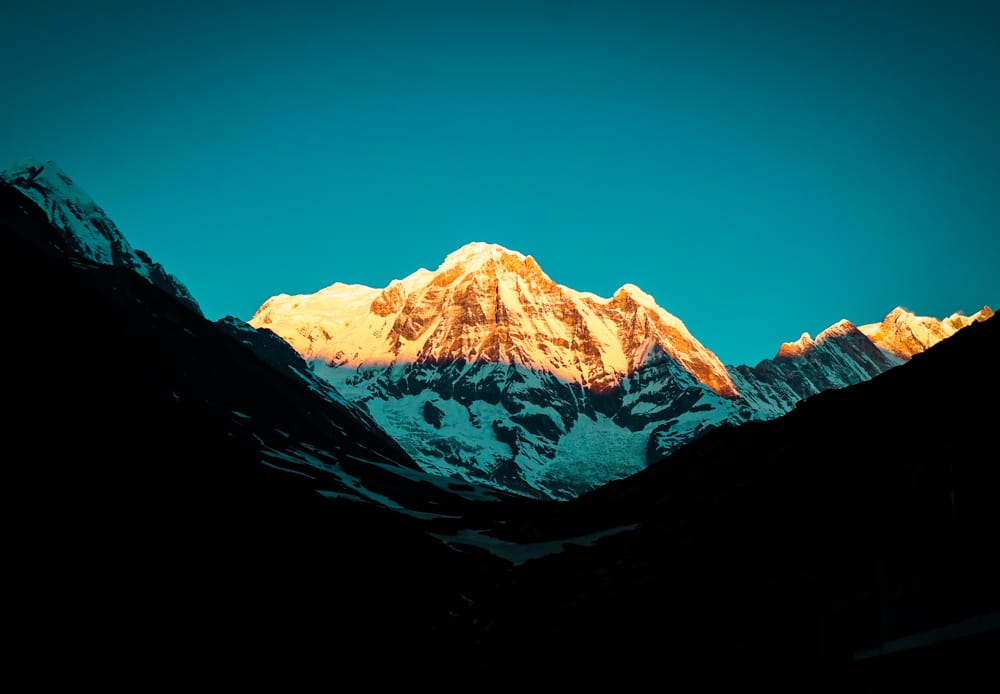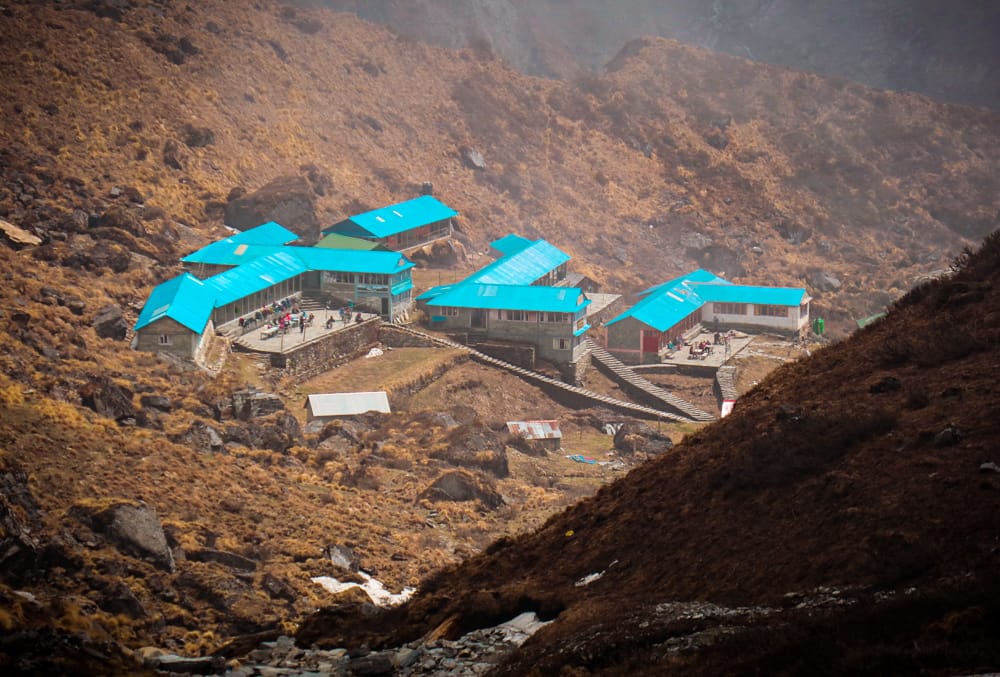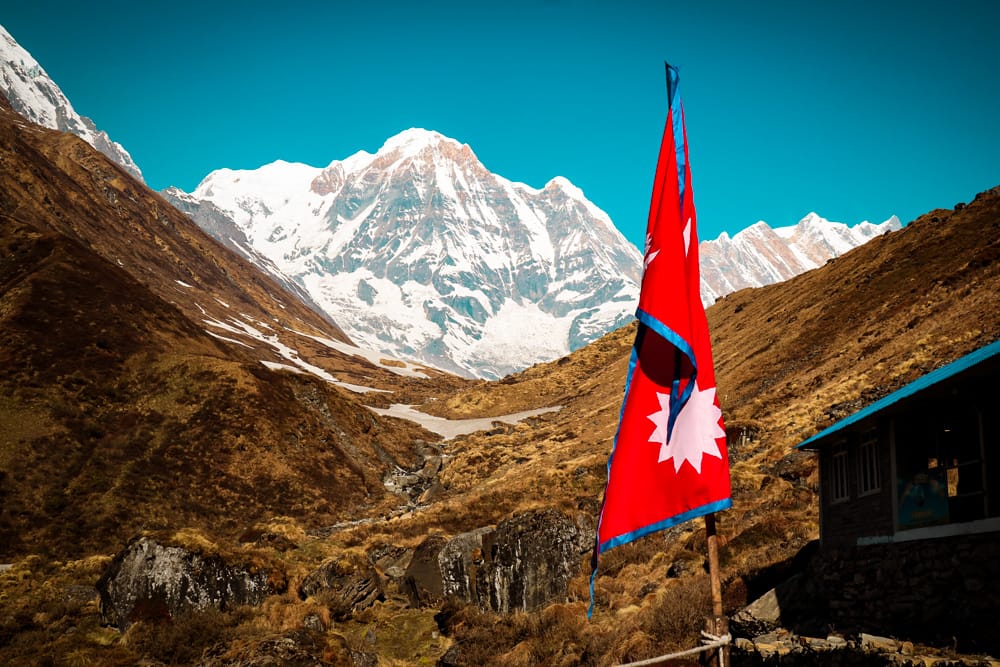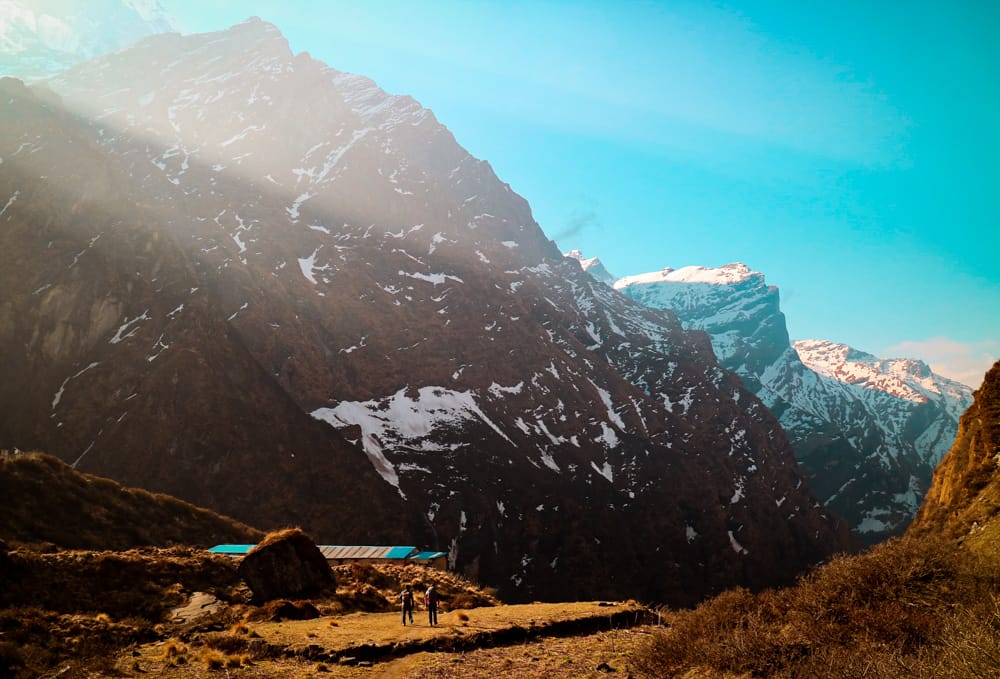 ---
You might also like…