Out of all the villages we visited in the Helambu region, Nakote Ghyang was by far my favorite. We arrived at an empty village but soon found everyone at the newly built monastery. A local man had passed away and we had stumbled into the funeral. Nepali hospitality never ceases to amaze me. We were invited to sit and have tea with the entire village and were given a tour of the gorgeous new monastery. We even saw them carving designs into the cement. Everyone was so friendly and welcoming even though a funeral was going on nearby. I didn't plan to write about this village, but the people were so lovely and the village was so beautiful that I couldn't resist.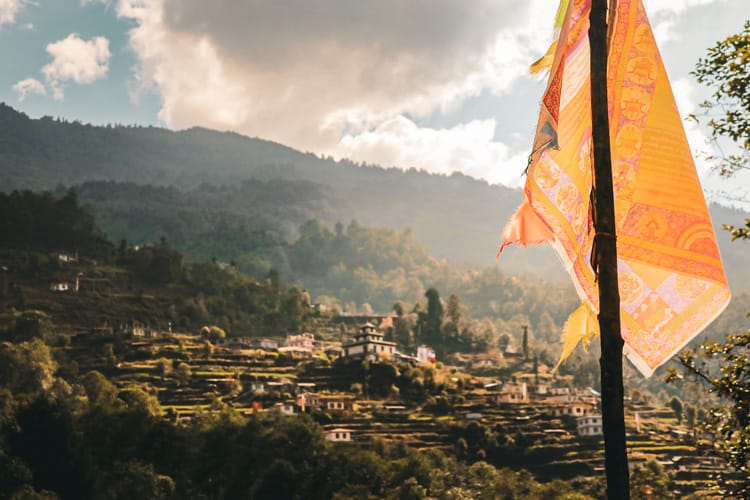 ---
Brief History of Nakote Ghyang, Nepal
---
Nakote Ghyang is a unique village as only Yolmo/Hyolmo people live here making it pure in its culture. The area has suffered from several natural disasters. It was hit hard by the 2015 earthquake, covid hit in 2020, and a massive flood took out the buildings and bridges near the river in 2021. Despite all of these tragedies, the people of Nakote Ghyang are a cheerful and welcoming bunch.
The Pema Cholen Monastery was destroyed in the earthquake and they are currently rebuilding a gorgeous replacement in town. The details on the monastery are a true work of art and I was in awe of how gorgeous this building was for such a small village. One walk through the village will show you that the people who live here take pride in their home. Each house has a gorgeous garden out front leaving the trail through town lined with flowers.
This area is also 100% vegetarian as no killings are allowed in the area. The area is considered sacred and strict Tibetan Buddhists don't eat meat. Guru Rinpoche (the founder of Tibetan Buddhism) walked through and meditated in the surrounding areas around 600 years ago, so many consider the lands holy.
If you're interested in learning more about the Hyolmo/Yolmo people and Tibetan Buddhism in the area, I'd recommend checking out Guide to the Hidden Land of the Yolmo Snow Enclosure and its History which also mentions the holy sites in the area.
---
Nakote Ghyang Village Guide
---
Major Ethnicity:
100% Yolmo/Hyolmo
Major Religion:
Buddhism
Language:
Yolmo/Hyolmo & Nepali
Nakote Ghyang Altitude:
2,000 m (6,560 feet)
Oxygen Concentration:
80% compared to 100% at sea level
Nakote Ghyang Village Population:
According to locals, approximately 200 people live in the village.
Best Time of Year to Visit:
It's best to visit in the peak season around October or November as the skies are clear offering great views. The second best time to visit is March or April when flowers are in bloom.
Wild Animals in the Region:
Animals in the Langtang National Park region include musk deer, Himalayan tahr (looks like a large mountain goat), red pandas, Himalayan black bears, snow leopards, ghoral (looks like a small goat/deer), mountain mice, gray langur monkeys, and over 250 different bird species.
Location:
Nakote Gyanjang is about two hours from Tarkeghyang. Tarkeghyand is around 5 hours from Kathmandu by jeep. Nakote Gyanjang is located within the Langtang National Park.
Entry Permit:
Nakote Ghyang requires a Langtang National Park Permit which costs 3,000 rupees (about $26). This permit can be purchased at the Nepal Tourism Board office in Kathmandu.
NTC or Ncell service:
NTC gets 4 bars and 4G service.
Ncell has no service.
---
What to Eat in Nakote Ghyang
---
Most villages in Nepal recommend you try the local dal bhat (rice, dal, and curries) which varies from region to region. In Nakote Ghyang, they also recommend trying the Tibetan tea (tea with butter added), dhido, raksi (local Liquor), champa (porridge), roti (flat bread), and kiwi when they're in season.
---
Things to do in Nakote Ghyang
---
Things to do in the area include visiting the Pema Cholen Monastery, hiking nearby in the Helambu region, and visiting religious sites for Tibetan Buddhist including the places Guru Rinpoche visited 600 years ago. It's also a fantastic place to learn about Yolmo/Hyolmo culture as it is 100% pure in this village. No other ethnicities live in this area.
---
Nakote Ghyang Lodges & Teahouses
---
Types of accommodation:
Homestays
Number of accommodations:
There is only one homestay in town.
Our choice:
Zambala Guest House & Restaurant +9843657696
Price of a Room:
2000 rupees (about $20.00 USD) for a room. There is only one room with four beds available. This is the only place to stay in town as of 2023.
Price of Veg Dal Bhat:
500 rupees (about $5.00 USD)
Electricity:
There is electricity and it's free to charge devices.
Toilet Situation:
There is a shared squat toilet in a separate building outside.
Shower:
There is no shower available at the moment.
Wifi:
There is no wifi available.
---
Nakote Ghyang, Nepal Photography
---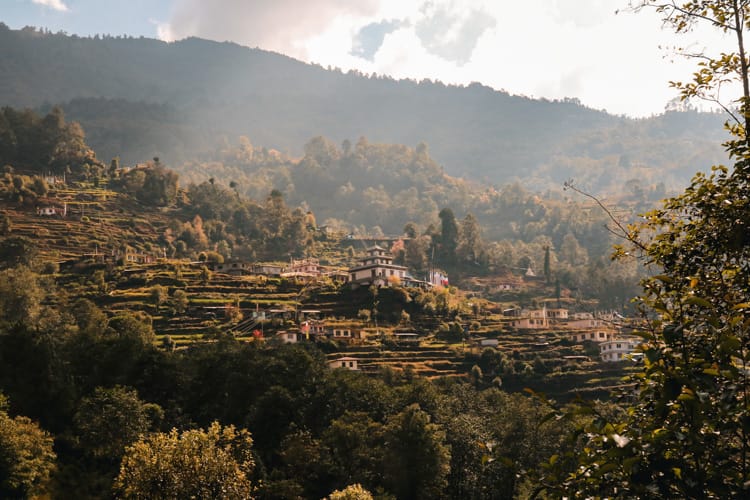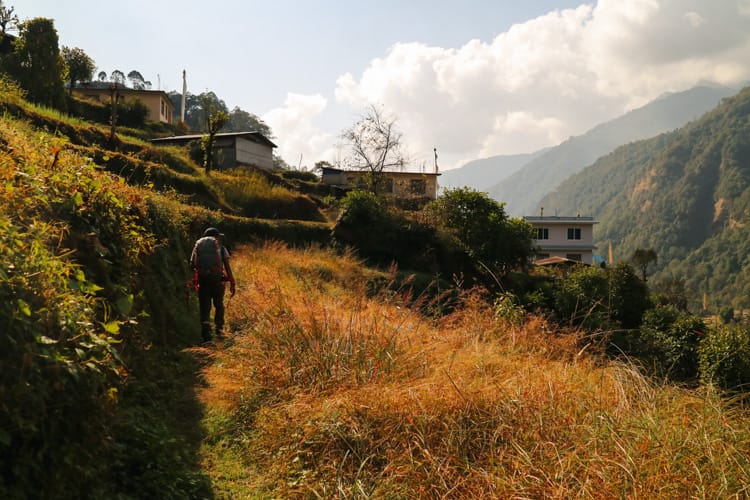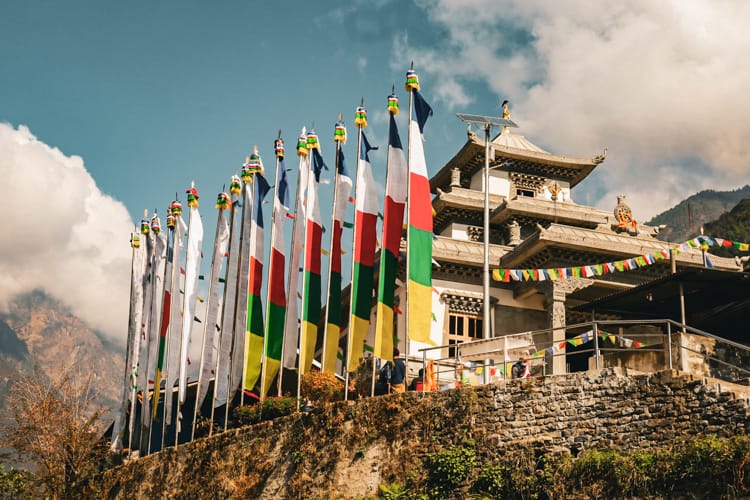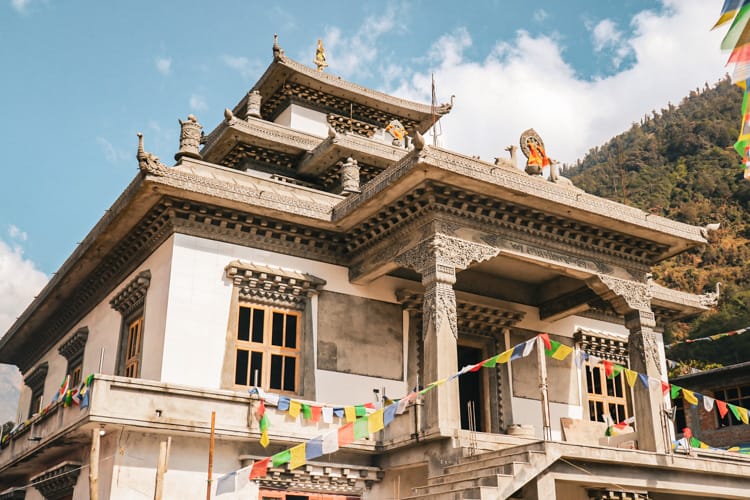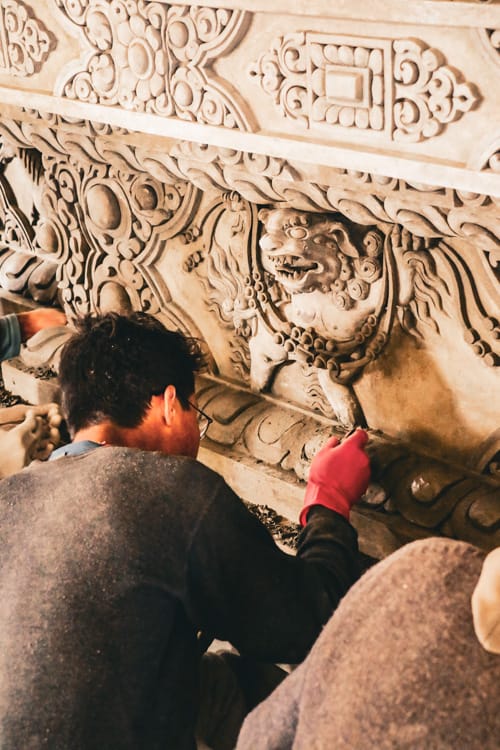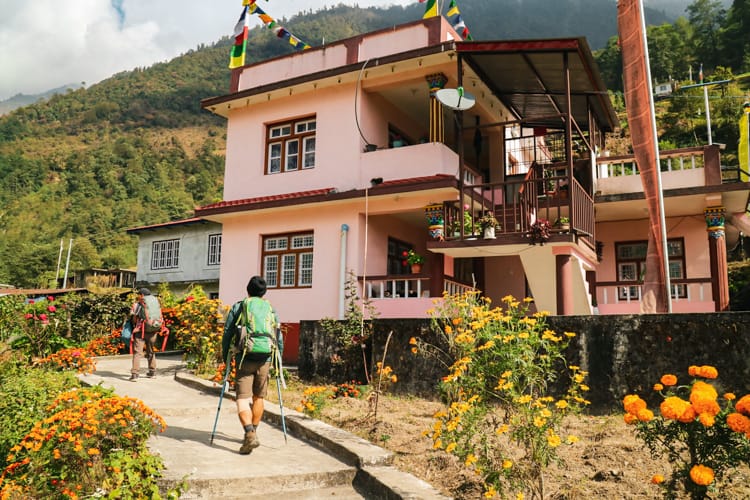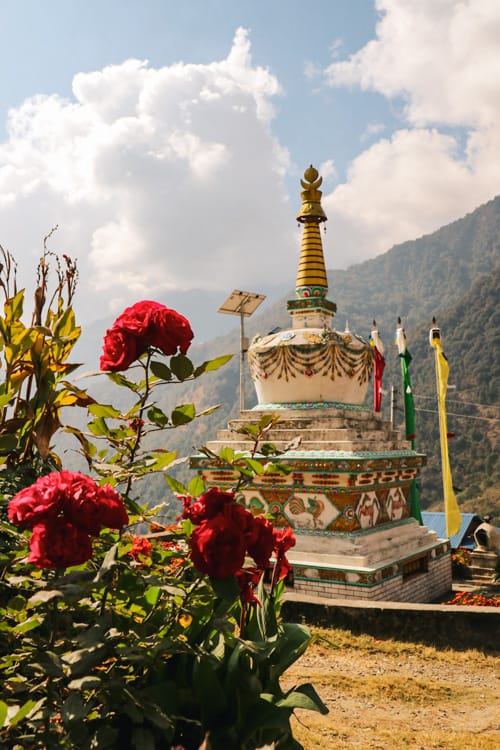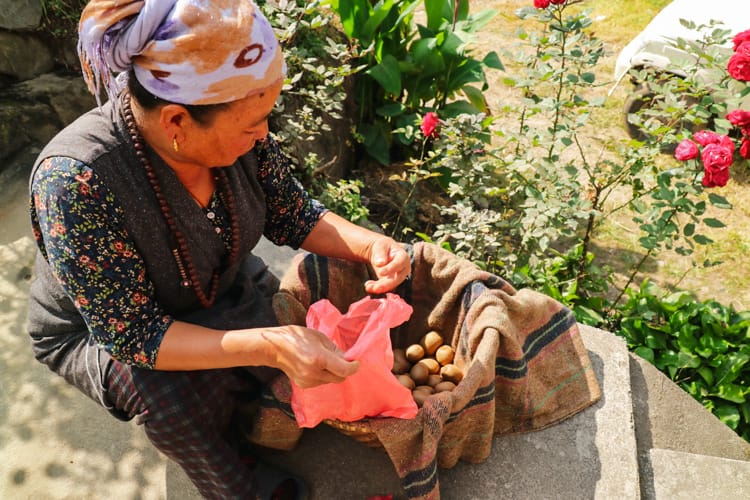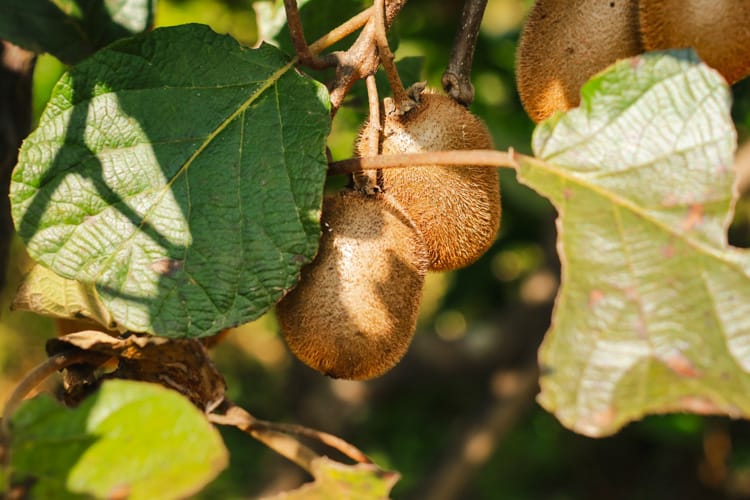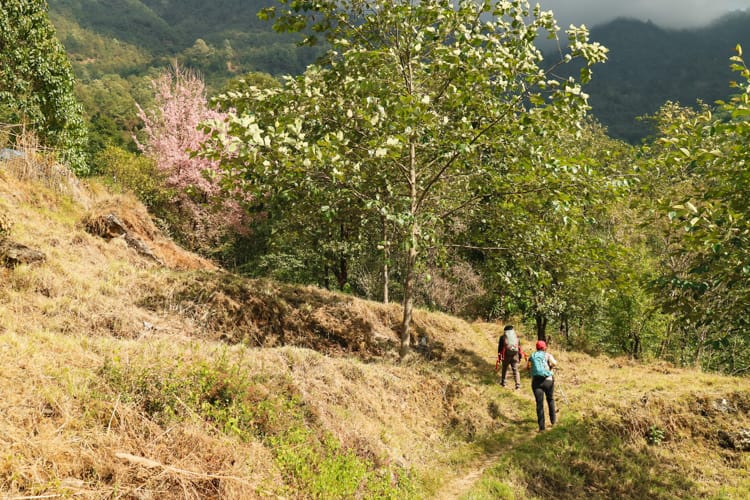 You might also like…