March is the second most popular time of year to visit Nepal. With temperatures and weather perfect for trekking, it's easy to understand why. About 70% of people going to Nepal state that trekking is their number one reason to visit the country. Besides trekking, March also offers beautiful rhododendron forests, lush fields of crops, and so much more. Here's everything you need to know about visiting Nepal in March.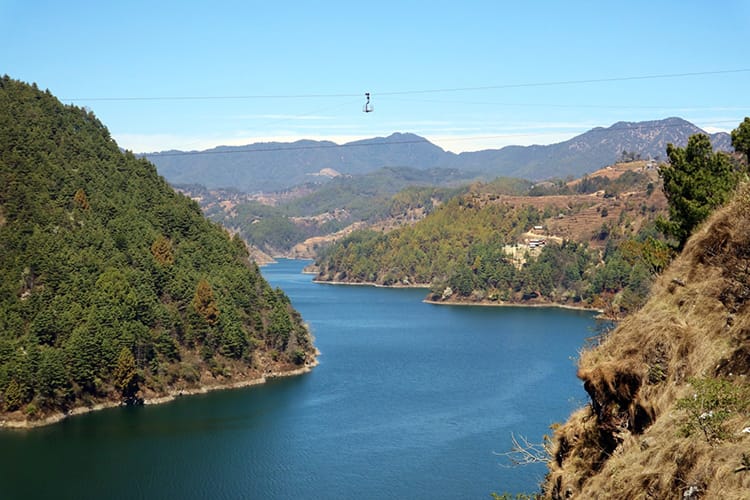 Nepal's Weather in March
---
Season:
Spring / Peak Season
Average Temperature:
44-77 F (7-25 C)
Average Days of Rain:
2
What to Expect:
In Kathmandu and Pokhara, the average daytime temperature is around 79F (26C). In areas near the Terai like Chitwan, Bardia, and Lumbini, the average temperature is around 90F (32C). March gets very little rain, making it a wonderful time to do outdoor activities.
---
Trekking in Nepal in March
---
Low Altitude Trekking:
March is one of my favorite months for low altitude trekking. Since it's spring, you can see a wonderful array of flowers including rhododendron forests. March is peak season in Nepal, so trekking trails are crowded. Lesser known, low altitude routes are sometimes better for avoiding crowds.
High Altitude Trekking:
March is considered the second best month to visit Nepal (October is generally considered the best). Although it's a bit crowded on the popular routes, you can still find peace and quiet on the lesser known trails. March offers spectacular views, wonderful weather, and little rain. There's a lower risk of landslides, mudslides, and floods than other months.
---
Tourism in March
---
Crowds:
Nepal receives almost as many visitors in March as it does in October. According to stats from the Nepal Tourism Board, over 100,000 tourists arrive in the month of March alone. This can make trekking trails like Everest Base Camp and the Annapurna Circuit overcrowded. Make sure to choose lesser known routes or trails to avoid tourist overload.
Budget:
March is peak season, so you won't find any discounts during this time of year. Although discounts are as common as a Yeti in March, Nepal is still a very inexpensive destination to travel compared to most countries. Many people travel comfortably on $30 a day.
Wildlife:
March isn't the worst month to see wildlife, but it's also not the best. Areas like Chitwan National Park and Bardia National Park are hot this time of year, so those going to visit should be prepared for the heat. Since there isn't a lot of rainfall in March, you may get lucky and see some amazing animals who come to the watering hole to drink. Two of the most popular animals to see on safari in Nepal are the Bengal Tiger and the Greater One-Horned Rhino.
Safety:
March is typically a safe time to travel in Nepal. With little rain, things like landslides and flash floods are rare. There are peak conditions for trekking which make it easy to navigate trails. Even though conditions are generally good, it's important to note that things can still go wrong, and I recommend everyone visiting to have a guide if they will be at altitude.
Best areas to visit:
March is a great time to visit almost anywhere in the country. It's peak season for a reason and there isn't much that you need to avoid.
Best areas to avoid:
The only reason I'll mention these locations is because of the crowds. There's nothing wrong with going to these places, but maybe they won't be as enjoyable with so many people. The Everest Base Camp Trek, the Annapurna Circuit, and Pokhara will all be very crowded. I'd try looking into lesser known routes like the Manaslu Circuit, the Langtang Valley Trek, or Tsho Rolpa.
---
Festivals in March
(dates listed are for 2023)
---
March 6th Holi (Kathmandu)
March 7th Holi (Terai)
Holi is one of my favorite festivals in Nepal. It's important to note that most of Nepal (including Kathmandu) celebrates Holi on the first day, while areas near India in the Terai celebrate Holi the second day. Holi is a celebration of color and love. People go into the streets wearing white and throw colorful powder and water at each other.
March 8th Nari Dibas
Nari Dibas is also known as International Women's Day. It celebrates women's rights and the many accomplishments women have made to society.
March 21st Ghode Jatra
Ghode Jatra is celebrated only in Kathmandu. This day celebrates the death of the demon Tundi who terrorized the city. After his death, locals ran horses over his body, and it's believed that parading horses over his body each year prevents him from returning. Therefore, every year there is a parade of horses at the Tundikhel in Kathmandu to celebrate the occasion.
March 30th Ram Navami
Ram Navami celebrates Ram (Lord Vishnu) and his defeat of good over evil. To witness the festivities, you can go to one of Lord Vishnu's Temples where people will make offerings. Some of the most popular temples are Changu Narayan in Bhaktapur and the Sleeping Vishnu in Budhanilkantha.
---
Pros & Cons
---
Pros
Trekking, Trekking, and more Trekking
Amazing Weather
Little Rain
Holi Festival
Some Wildlife Spotting
Cons
---
Packing Essentials
---
There isn't really anything special you need to pack for March. Having both warm weather and layers for the cold is important. While daytime temperatures are perfect, it does drop down at night and you may need a warm jacket or coat.
Check out my packing list for Nepal for everything you need year round!
---
More Monthly Guides for Nepal…
---
---
You might also like…