I highly recommend visiting Nepal in April. It's springtime in the country which makes for beautiful scenery including the famous rhododendron forests that look like they're straight out of a fairytale. It's also considered peak season due to optimal trekking conditions. April doesn't see a lot of rain and it has moderate temperatures. This allows you to see most of the country without being too hot or too cold. With amazing lowlands and the highest mountain in the world, there aren't many months where the temperature is nice everywhere.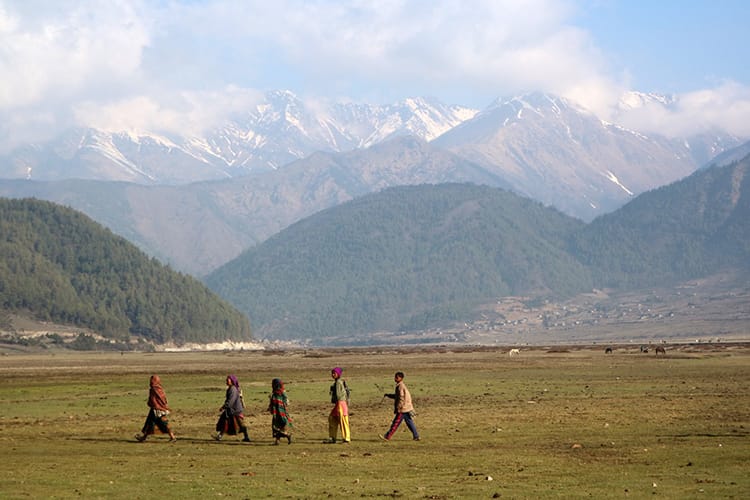 Nepal's Weather in April
---
Season:
Spring / Peak Season
Average Temperature:
53-82 F (12-28 C)
Average Days of Rain:
6
What to Expect:
In Kathmandu, the average daytime temperature is around 86F (30C). In Pokhara, it's a little bit warmer than Kathmandu, but not by much. In areas near the Terai like Chitwan, Bardia, and Lumbini the average daytime temperatures are around 103F (40C). Due to warm weather, it's a great time to be in the mountains since the temperatures do not drop too low at night.
---
Trekking in Nepal in April
---
Low Altitude Trekking:
April is a wonderful time for trekking. At lower altitudes, you'll get to see amazing rhododendron forests and fields of crops growing. The temperatures are warm during the day but aren't unbearable.
High Altitude Trekking:
April is one of the best months to go trekking at altitude in Nepal. Typically, there's clear weather with little rain. I prefer high altitude trekking in March and April because it's a bit warmer than the other peak season of October & November (especially at night). April is a popular time to trek, so I prefer off the beaten path routes to beat the crowds.
---
Tourism in April
---
Crowds:
According to stats from the Nepal Tourism Board, April is often the fourth most popular month of the year to visit Nepal. The country receives 20-30k less visitors than the peak months of October and March. Since April is one of the best months to visit, you will experience a lot of crowds if you go to popular tourist destinations or do the Annapurna Circuit or Everest Base Camp Trek.
Budget:
Since April is peak season in Nepal, you won't find many discounts being offered. That being said, Nepal is fairly cheap compared to other countries. You can check out my backpacking budget post to see the average cost of things.
Wildlife:
Wildlife spotting in the lowlands is difficult this time of year. The temperatures are extremely hot, making it an uncomfortable place to be looking for animals in the jungle. On the other hand, high altitude trekking can offer a lot of wildlife. Consider doing a snow leopard trek or a red panda safari. These animals are a lot less likely to be seen and take a lot of patience. But, if you're willing to hike for days and then sit still for a week, you may get a glimpse of one.
Safety:
April is one of the safer months to travel in Nepal. With little rainfall, the chances of landslides and flash floods are lower. With climate change happening, it's still important to check with locals before traveling especially on trekking routes.
Best areas to visit:
April is a bit of a free for all. You can do almost any trek, or see most cities without any problems.
Best areas to avoid:
The only place I would avoid is the Terai including Lumbini, Chitwan, and Bardia. It's really hot in those areas which makes it rather hard to enjoy. I went to Lumbini in April and after walking around for an hour I was dehydrated (even though I drank a ton of water) and was exhausted. It was difficult to do anything and enjoy it in that heat.
---
Festivals in April
(dates listed are for 2023)
---
Apr 14th Nepali New Year
Nepali New Year is one of the festivals that's easy to join in as a tourist. The most popular place to celebrate is in Bhaktapur where you can join the fun of Bisket Jatra. You can read my post Nepali New Year to learn more.
---
Pros & Cons
---
Pros
High Altitude Trekking
Low Altitude Trekking
Moderate Temperatures
Rhododendron Forests
Festivals
Limited Days of Rain
Cons
---
Packing Essentials for Nepal in April
---
April offers a moderate climate without too many extremes. Since it's one of the warmer months, it's important to have sunscreen, bug repellent, a sun hat, SPF clothing, and proper hiking gear.
Check out my packing list for Nepal for everything you need year round!
---
More Monthly Guides for Nepal…
---
---
You might also like…