The first time I visited Nepal I noticed there was a holiday or festival almost every week, but I could never find much information on how to celebrate. Last year, I was here for Nepali New Year, but I didn't really know what to do with myself. I imagined it to be like New Year's Eve in America where a ball drops and everyone screams and kisses at midnight. The cool thing about Nepal, is that they turn everything into a week-long event. So, New Year isn't just celebrated the night before. There's several days of festivities, parades, and family gatherings with feasts of food.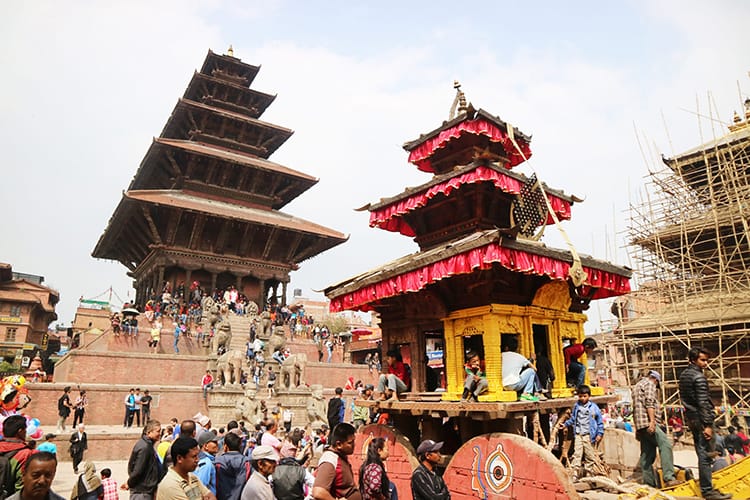 Why does Nepal have a different New Year?
---
Maybe I'm getting ahead of myself. Some of you may not know that Nepal follows a different calendar than we do. It just turned 2076 B.S. here. The Vikram Samvat calendar follows lunar months, and therefore is completely different from the calendar that most of the world uses. Although it's a different calendar, many Nepalese also use the Gregorian calendar (what we use in America) for tourism purposes. So, they also celebrate our New Year. Plus, Tibetan Buddhist have a separate calendar, and they celebrate Losar which is their New Year. Confusing, I know. I've heard that there are 9 different New Year's in Nepal every year due to different ethnic calendars. But Nepali New Year is the nationally recognized and official New Year of the country.
---
When is Nepali New Year?
---
Nepali New Year fell on April 14, 2019 this year. It will fall on April 14, 2020 as well. It generally falls between April 11th and the 15th.
---
How to celebrate Nepali New Year & Bisket Jatra
---
Bhaktapur
Just outside of Kathmandu is the small city of Bhaktapur. Bhaktapur is famous for its New Year festivities. They call it "Bisket Jatra." The festival is unrelated to New Year's Day, but it falls during the same time and has therefore become synonymous with New Year's Day. During Bisket Jatra, a chariot is built near the famous Nyatapola Temple in Bhaktapur. The chariot carries a statue of Bhairava. Bhairava is both a Hindu and Buddhist god. His name translates to "terribly fearful form." Although that sounds like a horrible name, it's believed that he can destroy fear. Therefore, people pray to him for protection from greed, anger, and lust.
Once the chariot is built, it's pulled by hundreds of people to Khalla Tole. From there, a giant game of tug-of-war ensues. The chariot has large ropes tied to it, and it sits on large wooden wheels. The two sides of town fight over the chariot trying to pull it to their side. Although this sounds like good fun, it can get violent. We talked to a group of police who were stationed nearby, and they advised us to watch from above. In the past, people have actually died in the tug of war match which is why you see so many police on guard this day. Luckily, there are tons of view points above where you can see the excitement from a safe distance.
Thimi
Not too far from Bhaktapur, lies the small city of Thimi which is famous for its pottery making. On the third day of Bisket Jatra, the people of Thimi celebrate Sindoor Jatra. On this day, you'll see a parade of palanquins. Palanquins are kind of like the things you see in medieval movies where four men carry a queen out on their shoulders. Each palanquin (there are 32) will have imagery of a different god. Once all of them come together, the people of Thimi throw orange sindoor (think of the powder used in Holi festivals) at them.
During this festival there is a special palanquin which has the image of Ganesh (the elephant god) on it. This hand-held chariot comes from Nagadish. It arrives after the others, and it's customary for the Ganesh palanquin to try to run back to Nagadish without being caught by the other palanquins. Like a game of tag.
Bode
I've seen mixed dates mentioned for the festival at Bode. Some say the festival here happens on the second day of Bisket Jatra, and others say it happens after Sindoor Jatra in Thimi. It's best to check with locals on the exact date and time. Bode is famous during Nepali New Year for its tongue piercing ceremony. One lucky local gets the honor of having their tongue pierced on this day. But, that's not all. He then has to walk around the city with the iron going through his tongue while carrying lit torches on his shoulders.
---
Superstitions about Nepali New Year
---
Many locals believe that the happier their New Year Day is, the happier their entire year will be. It's also believed that good karma gained on New Year Day will help make the rest of the year great. Therefore, many people will be seen cleaning their homes, washing themselves and getting haircuts on this day. Once they are cleaned and well dressed, they will go to temples to pray and do puja. Some will go do charity work or donate items to those less fortunate. Mostly, people spend time with family and friends and have a special feast at home.
---
Bisket Jatra Photography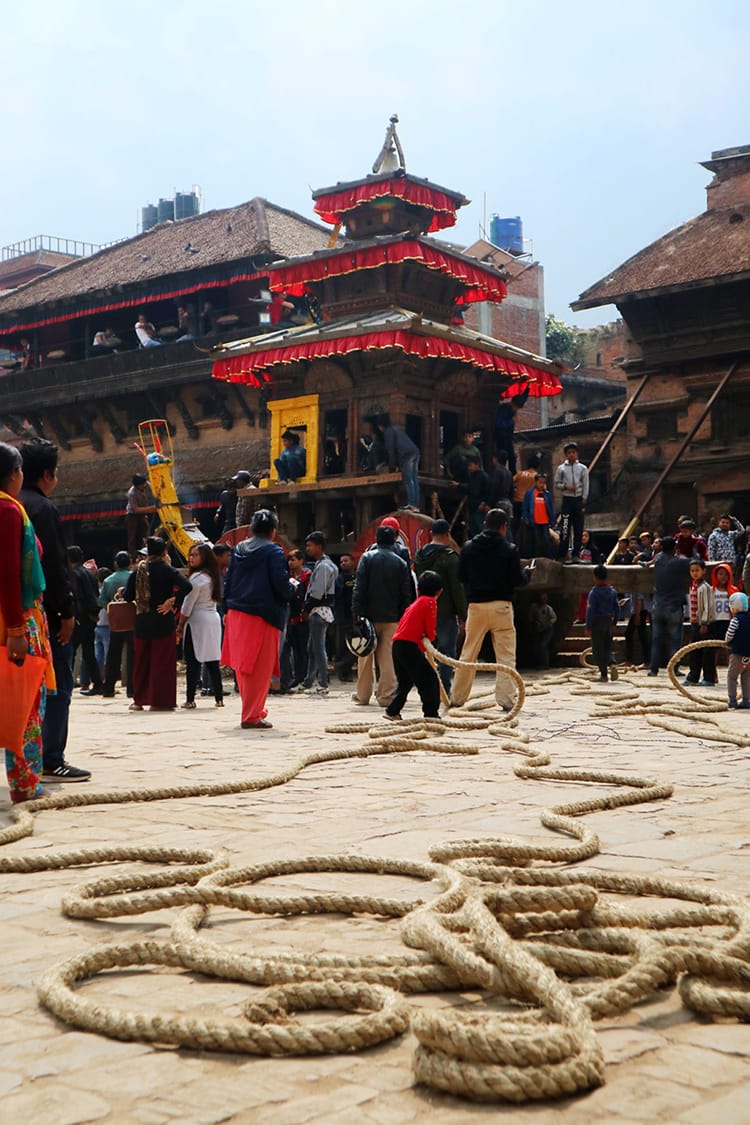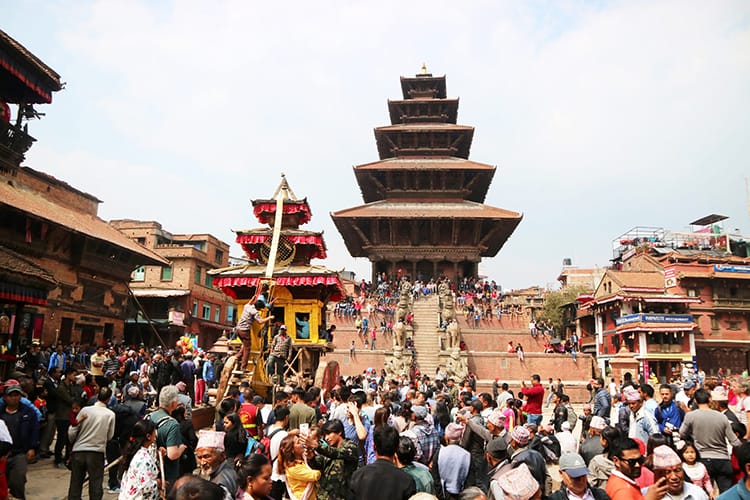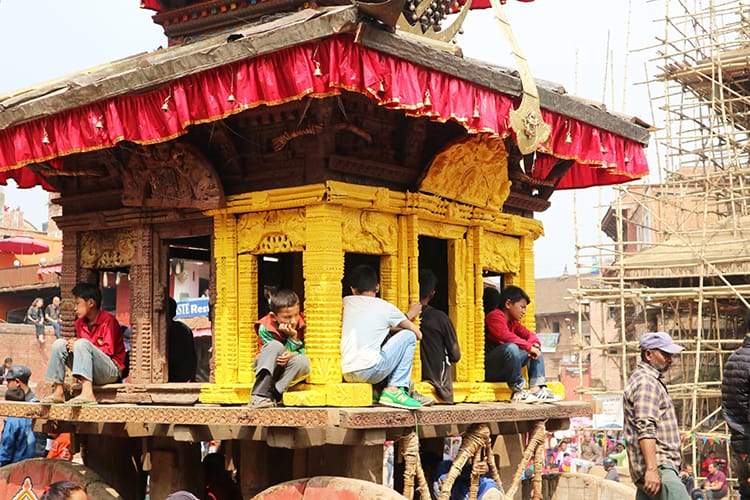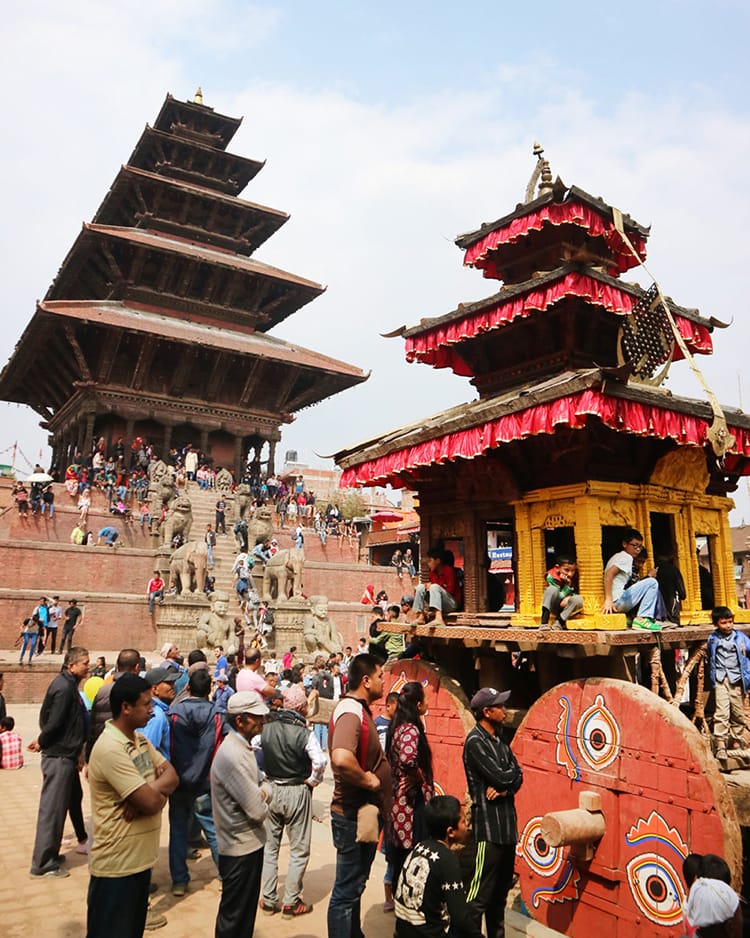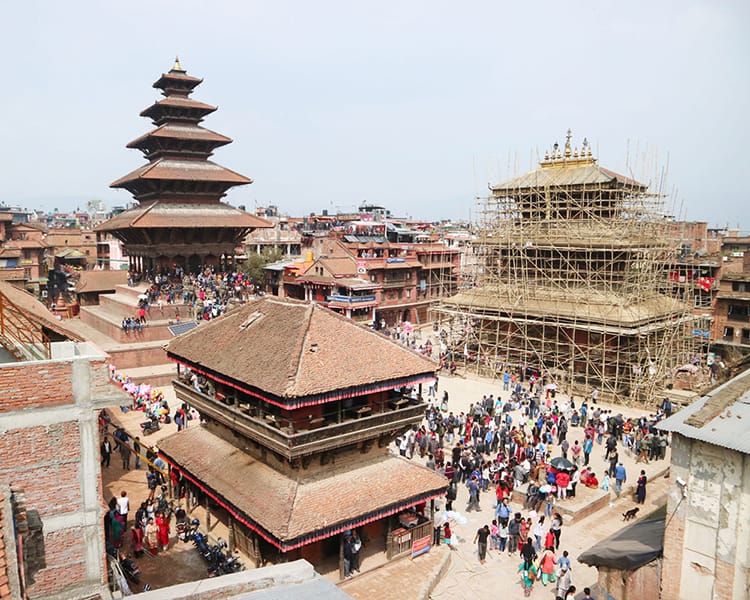 ---
You might also like…