There are certain things that seem insanely daunting before you start backpacking. For me, one of those things was transportation. On a very limited budget, I'd be forced to take trains and buses everywhere. I never even conquered the New York City bus system, and I lived there eight years. So how would I figure out public transportation in a foreign country in another language?! Every time I looked online for information on Thai Railways, I was directed to a timetable, but I never found much more information than that. Truth is, you don't really need more information than that. The Thai Railways Northern Train in Thailand is actually easy to use. Despite that, here's what I learned.
Thai Railways North Line from Bangkok to Chiang Mai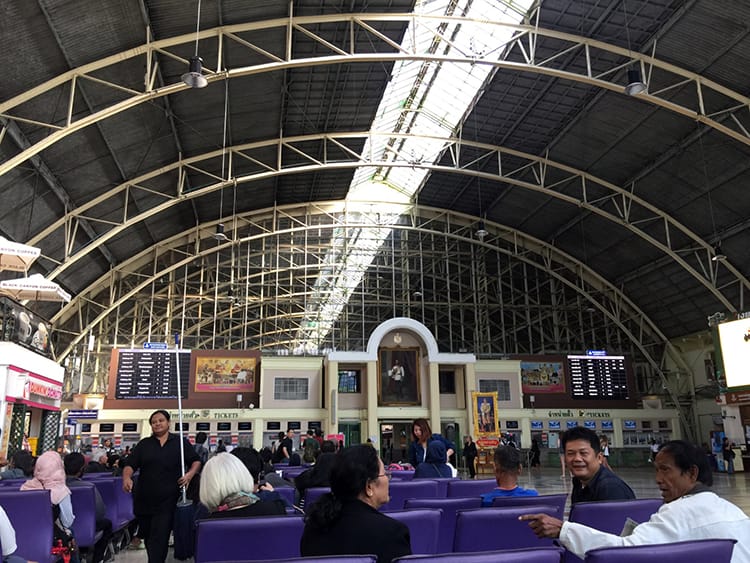 How to buy tickets
Thai Railways Regular Train – Buying tickets for the regular daytime train is actually easy. In Bangkok, there's even a "Foreigners' Line" where the attendant speaks English. You simply tell them where you want to go and when you want to leave. Unless you are going to Chiang Mai, you can buy your tickets same day.
Thai Railways Night Train – Getting tickets for the night train is a little more difficult. You'll want to buy tickets at least three days in advance. You can buy them online, however it's much cheaper to go in person and get them at the station.
Online – When I first went to Thailand, it was difficult to buy tickets online, but now it's much easier. This is really helpful for the night train which books up in advance!
Timetable
You can easily access the Thai Railways timetable online. That being said, trains are rarely on time. Be there ready to leave when the train is scheduled to depart, but ask one of the men at the station if it's on time. They are usually dressed in khaki uniforms and stand by the tracks. Just show them your ticket and they will show you what platform to go to. I had one gentlemen who even came and found me when the train was an hour late to make sure I got on ok.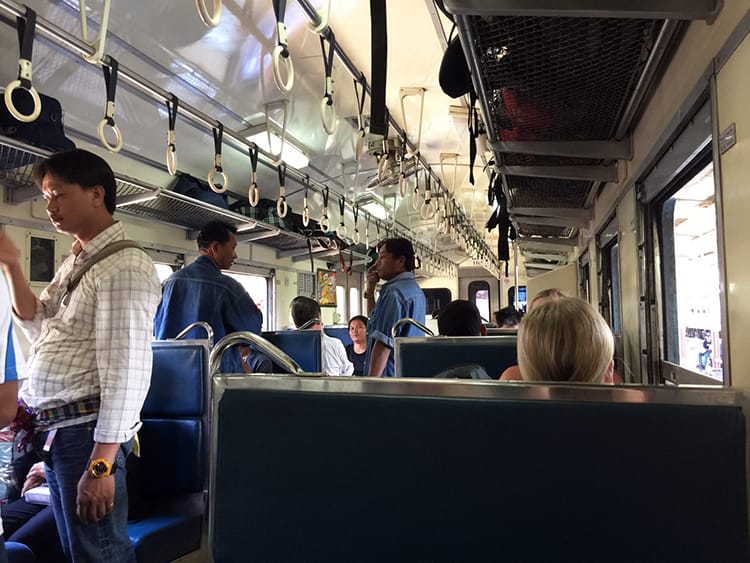 First, Second, & Third Class
There are different classes for the train. Third class is the cheapest. It has no air conditioning and is how most of the locals travel. If you are taking a ride under three hours, I'd recommend third class. It's amazing to experience the local way to travel and it's super cheap. I was actually comfortable since there are fans and the windows go down creating a nice breeze. Although, you will get a little dirty from dust blowing in. For longer rides, splurge on second class which has air conditioning. I honestly have no idea what first class looks like but at that point you might as well fly there.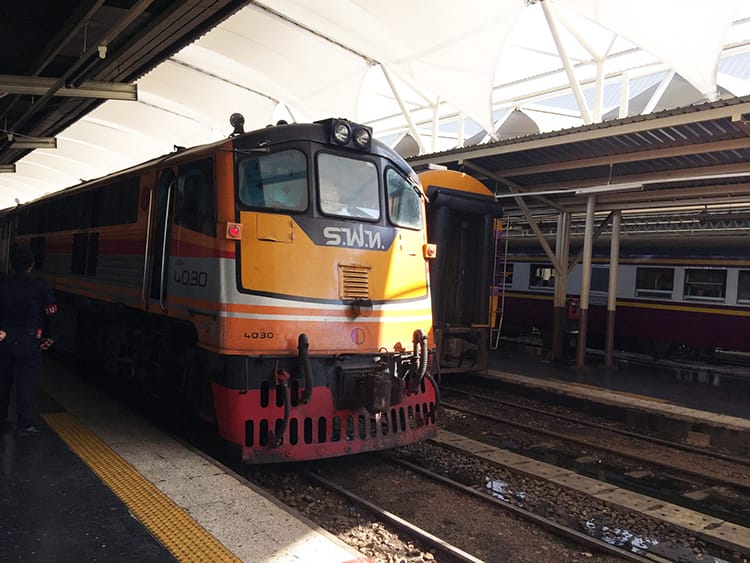 Where to sit on Thai Railways
A common mistake on the train is to sit anywhere. Look at your ticket and see if there is a seat number or if it says "standee". Shorter trips are usually standing, but you can sit down until someone comes and tells you you are in their seat. If you have an assigned seat, ask the man at the station where to stand when the train pulls in so that you board the right car. If it doesn't say standee or a seat number, it's a free for all.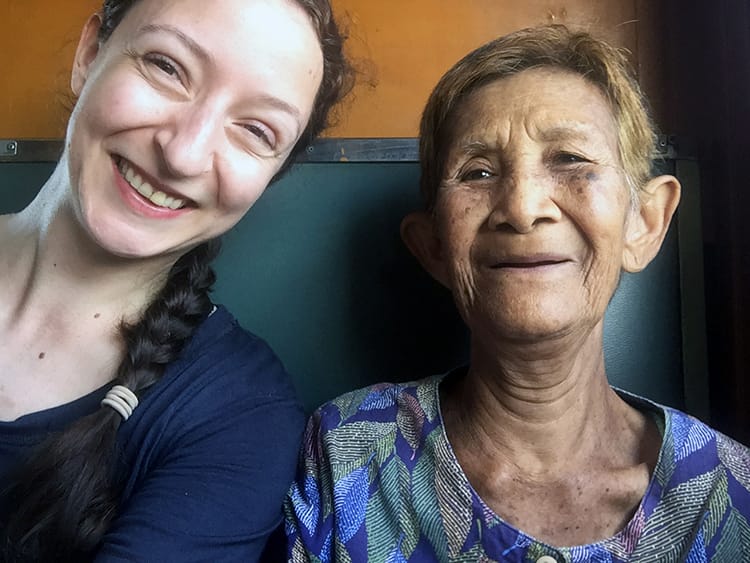 Making Friends
The best way to make friends in Northern Thailand besides hostels is definitely the train. Chances are, everyone is going to the same stop as you. Since the trains are constantly late, I'd often have to use the bathroom at the train station. I made a ton of friends just by asking other backpackers to watch my bag while I went to the bathroom or by asking if they knew how late the train was. Plus, then you don't have to sit on the train alone. Also, make sure to smile at all the locals and greet them with a wai (bow with hands in prayer position). One of the very sweet locals actually ended up sharing her food with me.
Where to Stop on Thai Railways
Although the timetable lists fewer than twenty stops, there are actually hundreds. Having GPS on your phone is helpful so that you can follow the train and see how many more stops are actually ahead. I'd recommend getting off at Ayutthaya, Lopburi, Phitsanulok, and Chiang Mai.
You can read more about these locations in my blog posts here…
Stopping at Ayutthaya * The Monkeys of Lopburi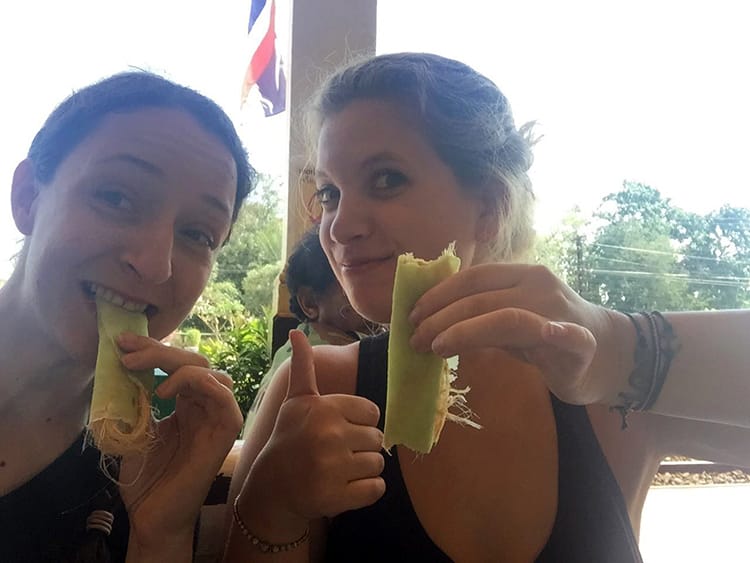 Train Food
Regular Train – Getting food on the regular train is pretty adventurous. People walk around with homemade treats (dumplings, fried rice, sweets, etc.), selling them for around $1. I'd always wait to see how many locals bought something before making a purchase myself. One guy came on with fried chicken and the locals went nuts for it, so I bought some and it was the best fried chicken I'd ever had.
Night Train – Unfortunately, the night train does not have vendors walking back and forth. The food on the train is overpriced and not included in the ticket. I was handed an orange juice without being told a price so I assumed it came with the ticket. It did not, so I had to pay before departing the train. Definitely eat before boarding and bring snacks/drinks with you.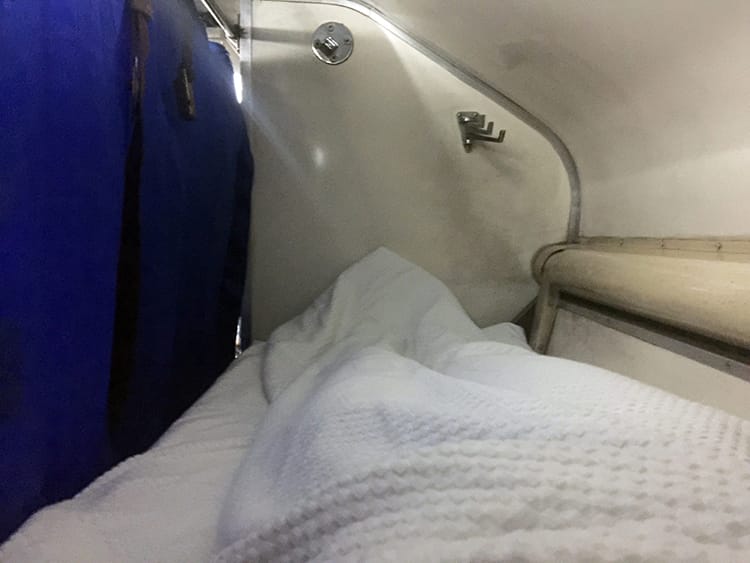 The Thai Railways Night Train
The night train is a great way to get from Bangkok to Chiang Mai and back. You need to book in advance (at least three days) as it sells out quickly. Always ask for a lower bunk as the train rocks back and forth, and sleeping on the top is difficult. I'd recommend bringing an eye mask, ear plugs, and your own snacks. Also, bring something to lock up your belongings. The train is known for theft and most travel insurance policies won't cover theft on night trains/buses.
Have any more questions about taking the Northern Train in Thailand? Leave them in the comments!
---
You might also like…