After visiting Nepal three times, I've officially been there every month of the year. I've seen the pros and cons of visiting Nepal in February, and I can't wait to share them. February in Nepal is cold, but it's a fantastic month to avoid the crowds and get stunning views of the Himalaya without trekking for weeks! It's also one of the best months for bird watching.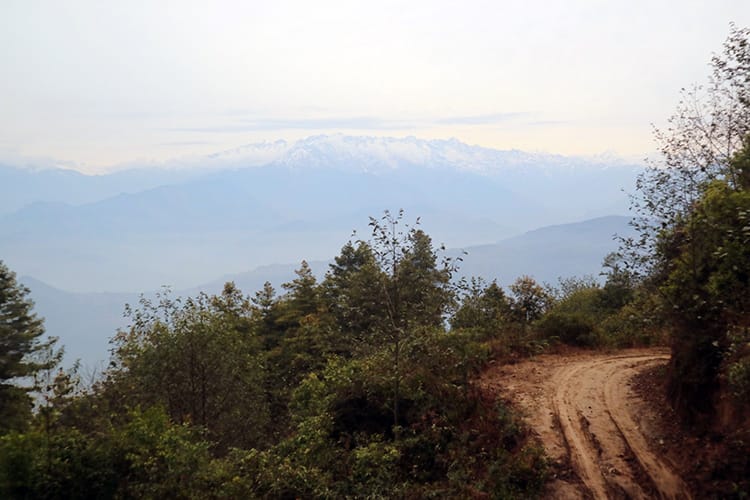 Nepal's Weather in February
---
Season:
Winter / Off Season
Average Temperature:
39-66 F (4-19 C)
Average Days of Rain:
5
What to expect:
February in Nepal can be cold depending on what part of the country you're in. Cities like Kathmandu, Bhaktapur, Patan, Palpa, and others located at an altitude around 1500m (4,921 ft) can be beautiful outside during the day and freezing at night. But, areas in the Terai that are located close to sea level are gorgeous this time of year. Places like Chitwan, Bardia, Lumbini, and Pokhara have temperatures averaging 80 F during the day.
---
Trekking in Nepal in February
---
High Altitude Trekking:
Although not as bad as January, high altitude trekking in February in Nepal can be dangerous. There are cold winds and heavy snowfall during the winter. Often, trails and passes are closed making it impossible to trek. There are avalanches, white out storms, and heavy snowfall to consider before trekking at altitude.
Low Altitude Trekking:
February is the perfect time to do a low altitude trek in Nepal. It's not too hot during the day when you walk, and it's not too cold at night. There's almost no one on the trails, and you can see villagers beginning to plant crops. It is still cold in the evenings and most teahouses don't have heat, so be sure to bring warm layers. You can check out my post on the Kathmandu Valley Trek if you're planning to visit Nepal in February. I did the trek towards the end of January and beginning of February and it was great!
---
Tourism in February
---
Crowds:
According to the Nepal Tourism Board, only 8% of the people who visit Nepal each year visit in February. That's about 30k less tourists compared to the amount of people who visit during the peak month of October.
Budget:
Hotels offer discounts during off seasons to encourage guest to visit their hotel. The best deals can be had in January, June, or July when places offer up to 50% off, but you can still get good prices in February. A hotel that costs $100 in peak season may be listed at $75 in February making it a great time to get a deal.
Wildlife:
I'll be honest and say that I don't know much about bird watching, but I hear February is one of the best months for bird watching in Nepal since you can catch them before they migrate north. Nepal has 886 bird species!
This is also considered an okay time to spot wildlife in the country. Peak season for wildlife is from October to December because of the lack of rain. February still doesn't see much rainfall, so you may be able to spot wildlife coming to the river to drink depending on the time of the month.
Safety:
It's safe to travel around most of the country during February, however, it is dangerous to trek in the mountains due to avalanches, white outs, severe winds, and freezing cold temperatures.
Best areas to visit:
In February, most places are great to visit. Areas in the Terai like Chitwan National Park, Bardia National Park, and Lumbini are beautiful this time of year. Pokhara and its surrounding areas have a nice warm climate. Kathmandu Valley will be a tad cold still, especially at night, but is great during the day.
Best areas to avoid:
The mountains are unsafe this time of year, so it's best to avoid them if possible.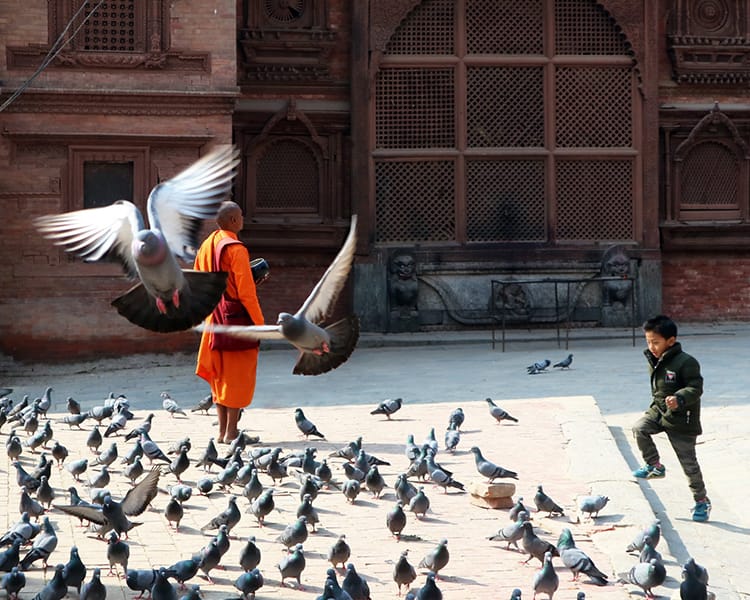 Festivals in February
(dates listed are for 2023)
---
February 18th Maha Shivaratri
Maha Shivaratri is a day that celebrates Lord Shiva in Hinduism. It's celebrated by going to temples honoring Shiva, fasting, chanting, and meditating. Most festivities are celebrated at home, but you can find a temple dedicated to Shiva in cities like Kathmandu and watch those who go to worship.
February 21st Gyalpo Losar
Gyalpo Losar is "Tibetan New Year." This can be confusing because there are several "Tibetan New Year's" throughout each year. This one is mostly celebrated by the Sherpa, Tibetan, Tamang, Bhutia and Yolmo people. Tibetans and Nepalese celebrate by drinking the local alcohol, visiting monasteries, watching dances/performances, cleaning their houses, and having feasts. The festival takes place over three days.
---
Pros & Cons
---
Pros
Not crowded
Nice weather in the Terai
Wonderful Low Altitude Trekking
Clear Skies
Bird Watching
Cheaper Hotels
Cons
Cold Weather in Kathmandu Valley
Snow in the Mountains
Limited High Altitude Trekking
Chances of Avalanches, White Outs, and Bad Winds in the Mountains
---
Packing Essentials
---
Having extra warm clothes and layers with you is important if you'll be spending time around the Kathmandu Valley or doing low altitude treks. February can be very cold at night and most hotels and teahouses do not have heat. Luxury hotels will provide heat, but power outages are not uncommon. In February I find it's colder inside than outside, so I'll often have my coat, hat and scarf on inside at night (and sometimes during the day).
Check out my packing list for Nepal for everything you need year round!
---
More Monthly Guides for Nepal…
---
---
You might also like…