Nepal is such an interesting country full of culture and ancient traditions! These fun facts about Nepal are perfect if you're looking to teach your kids about another culture or you want them to learn about Nepal for an upcoming trip. These facts are fun for the entire family to learn!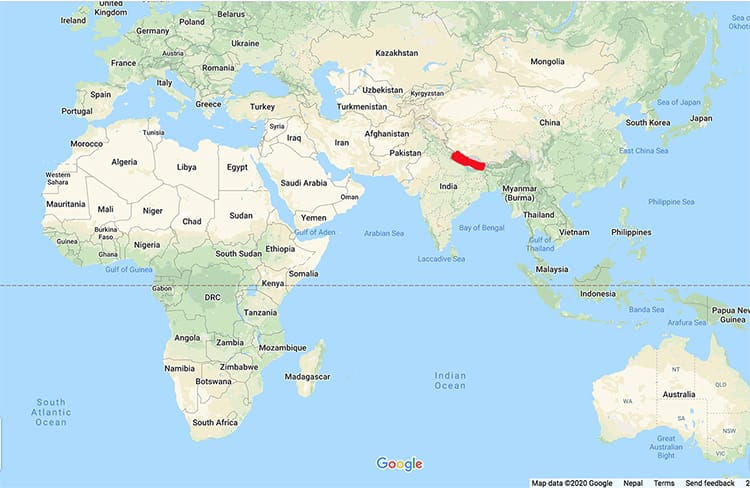 Where exactly is Nepal?
---
Let's start with the basics. Nepal is located in Southern Asia. It's sandwiched between two giant countries (China and India) which makes it a bit like the cream filling of an Oreo cookie!
---
Population
---
Nepal has a population of 30 million people. That's about 10 million less than the state of California which has 39.56 million people!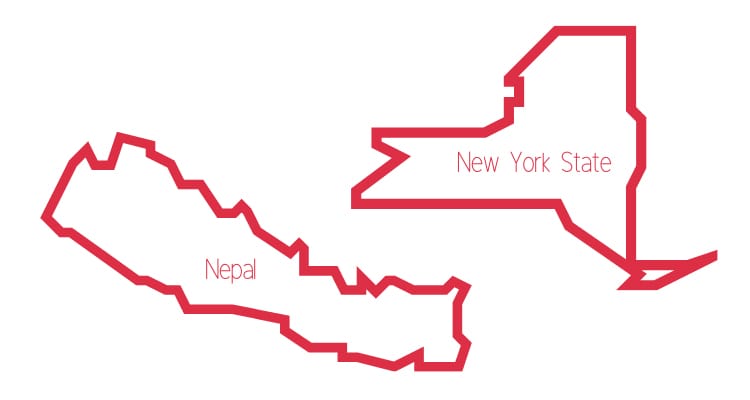 Size
---
The country of Nepal is 56,827 square miles which is just slightly larger than New York State which is 54,556 square miles!
---
Language
---
There are 129 different languages spoken in Nepal. Some are only spoken by less than 100 people and are specific to that ethnicity. The main language in Nepal is called Nepali or Nepalese.
Check out my list of Nepali words every tourist should know!
---
Religion
---
Most people in Nepal are Hindu or Buddhist. In Nepal, there are over 33,000,000 gods! That's more gods than people. There's a god for everything. You can pray to the god of wisdom while doing homework or the god of finishing projects when doing chores.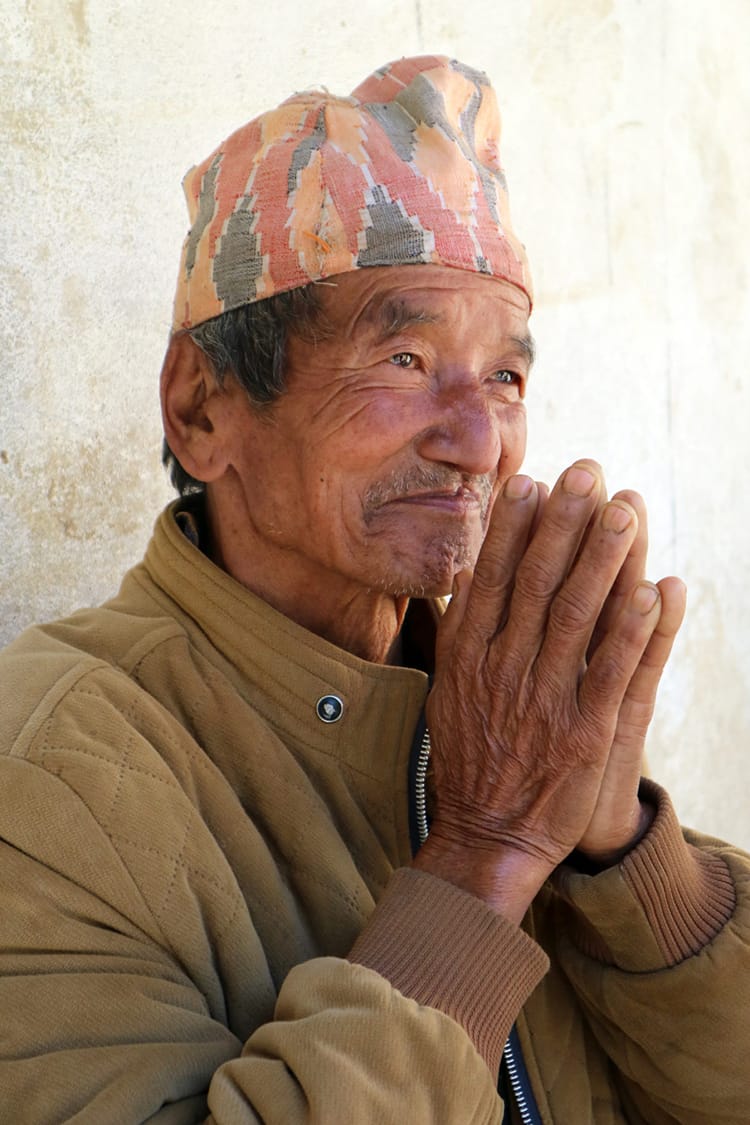 How to say "Hello" in Nepali
---
The traditional greeting in Nepal is "Namaste." In the west, we use this word at the end of yoga classes. It means, the light in me recognizes the light in you. When saying hello, it's customary to hold your hands together as if you were going to pray.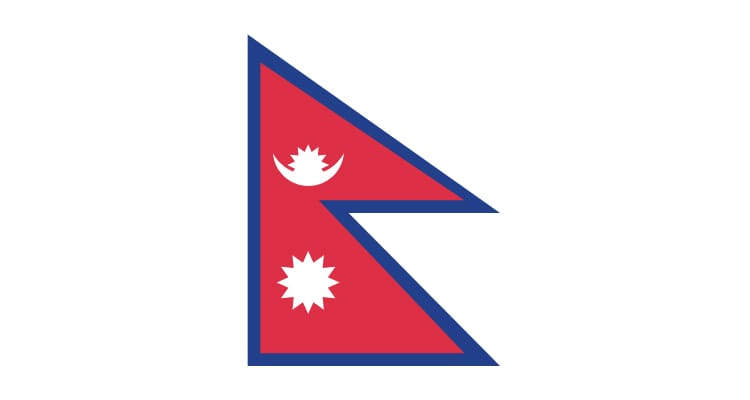 Nepal's Flag
---
Nepal is the only country in the world that has a flag that is not rectangular or square in shape. Flags in Nepal were often triangular, so they kept this tradition in today's modern flag. Now, people say the shape represents the mountains.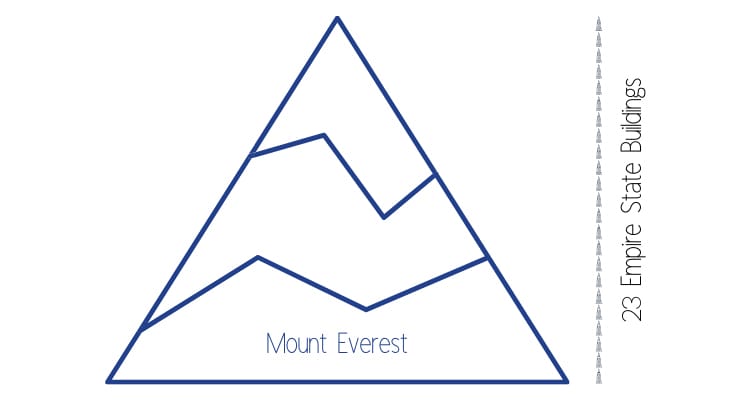 What is Nepal famous for?
---
Nepal is known for having the tallest mountain in the world! Mount Everest is 29,029 feet (8,848 m). The average height of a two story house in America (with an A frame roof) is 25 feet. You would have to stack 1,161 American houses on top of each other to reach the height of Everest. The Empire State Building is 1,250 feet tall. It would take over 23 Empire State Buildings stacked on top of each other to equal Mount Everest!
---
Does Nepal have different holidays?
---
Nepal has its own set of unique holidays. One of the most beloved is called Kukur Tihar. This day celebrates dogs because they protect us and are our loyal friends! During this holiday, dogs are given flower garlands and lots of yummy treats!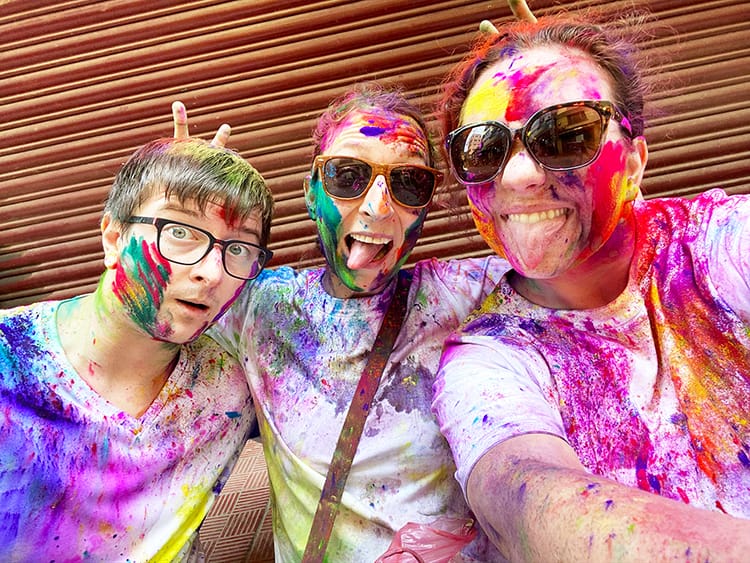 Another popular holiday is called Holi. Holi is the festival of light, color, and love. On this day, people go around having water gun/balloon fights while putting colorful powder on each other!
---
National Flower
---
The national flower of Nepal is the rhododendron flower.
What does Nepali music sound like?
This is a traditional Nepali folk song and is what you often hear if walking through the mountains. If you want to hear more music… check out my post on my favorite Nepali Songs.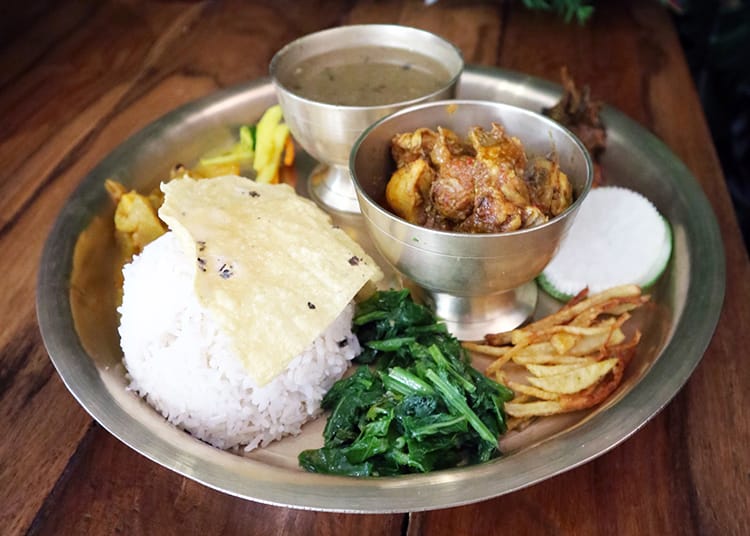 What do people eat in Nepal?
---
The most popular meal in Nepal is called dal baht. Dal means lentil soup and baht is rice. Usually, the lentil soup and rice will be served with spinach and a vegetable curry often made from potato or cauliflower.
---
How do people get around?
---
The first major highways weren't built until 1950. Before that, people walked everywhere. Today, most people drive motorbikes or motorcycles to get around. In the mountains, there are still no roads and people walk for days to get where they are going.
---
Names in Nepal
---
In Nepal, your last name is often your ethnicity. For instance, if you are part of the Sherpa ethnicity, your last name is Sherpa. Imagine if our names were like that. My name would be Michelle Italian!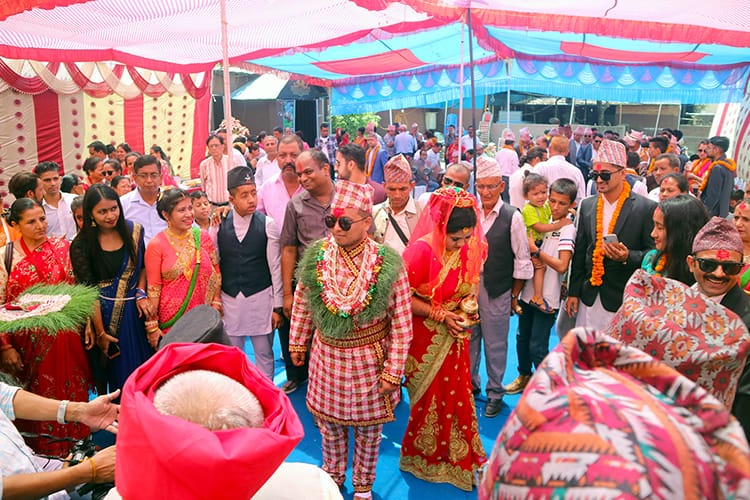 What do people wear?
---
Traditional clothing is different for each ethnic group and there are 126 ethnicities in Nepal. For special occasions, many women wear sarees (a large piece of fabric that is wrapped into a dress). Many men wear a traditional hat called a "topi" which has peaks like the mountains!
Want to know any other fun facts about Nepal? Ask any questions you have in the comments, and I'll be sure to answer!
---
You might also like…