On my second trip to Nepal, I had picked up a few Nepali story books for my niece who was three at the time. I could show her a little about where I traveled in a way that was fun and engaging for her. I think reading children's books about other cultures can help kids to see the world from home and give them some insight into future vacations with the family. If you're planning to visit Nepal with kids, or just want to show them a piece of the world that's different then their own, I highly recommend these books.
Note: I am not a teacher and do not know children's reading levels, therefore, I've added the recommended age for books based on reviews.
---
Everest: The Remarkable Story of Edmund Hillary and Tenzing Norgay by Alexandra Stewart
---
Recommended for ages 4 and up
This book came in with rave reviews from kids and adults alike making it a great book for the whole family. What's particularly special about this book is how both mountaineers are given the spotlight. The book is full of fun facts and gives insight into the lives of Edmund Hillary and Tenzing Norgay from the beginning of their lives until the end. It's a tale of how two very different people could come together to accomplish the impossible.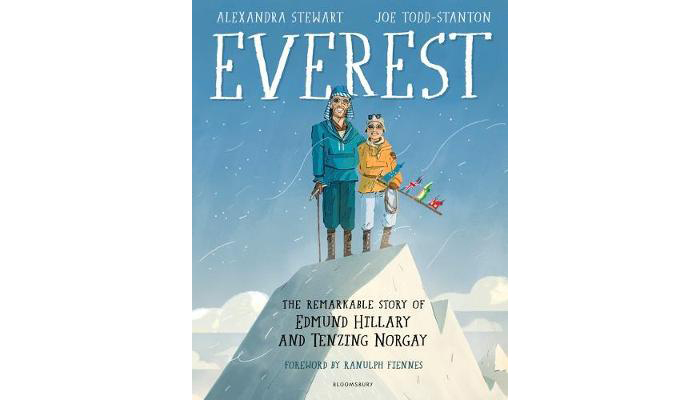 ---
A Dog Named Haku by Margartia Engle
---
Recommended for 5-9 year olds
A Dog Named Haku is the story of two young Nepali boys celebrating Tihar in Nepal. Tihar is a five-day festival in which one day celebrates dogs for being a guard and companion to humans. On this day, dogs are fed special treats and given flower garlands. Many dogs helped with the rescue efforts after the 2015 earthquake and these two boys are on the search for a stray dog to feed to say thank you. They end up finding an adorable puppy named Haku who they take home with them. This story is about being grateful and cultural traditions. Children can also have fun learning a few Nepali words in the back of the book.

---
Nuptse & Lhotse in Nepal by Jocey Asnoug
---
Nuptse & Lhotse in Nepal is a silly book about two cats who discover mountains named after them in Nepal. They go on a journey to see them and face challenges along the way. With a backpack full of jelly beans to give them courage, they overcome the odds to get to the top of the world. I bought this book for my niece for Christmas and we all had a good giggle as my sister read it aloud. It didn't hurt that the two cats reminded me of their pets Mabel and Molly (one of which is brave, and the other a total scaredy cat).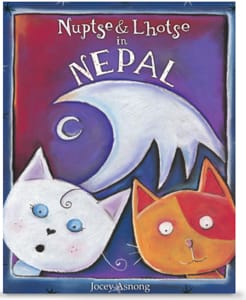 ---
Adventures of a Nepali Frog by Kanak Mani Dixit
---
Recommended for 4-10 years old
This Nepali story book is an adventurous tale of a young frog who wants to see the world. The main character comes from the Nepali expression, "Kathmandu frog" which refers to someone who has spent their entire life in Kathmandu. Inspired to travel, the frog takes off to see parts of Nepal including the Himalaya and Chitwan National Park. Along the way, he meets a myriad of characters who help him on his journey. This is a fun story for any family visiting Nepal as they'll likely experience the places Bhaktaprasad Bhyaguto the frog saw.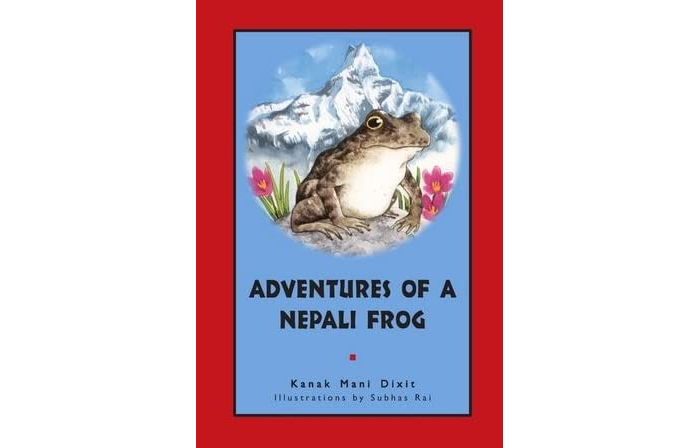 ---
Sita's Chitwan by Vaishali Shroff
---
Recommended for 6-10 years old
Sita's Chitwan: Not Just a Walk in Nepal's First National Park is about a girl who wants to follow her father's footsteps and become a nature guide. Chitwan National Park is Nepal's first National Park and is a UNESCO World Heritage site with a diverse species of birds and animals including the Bengal tiger and greater one-horned rhino. This book is fantastic for kids who love nature or for families planning to visit Chitwan when in Nepal.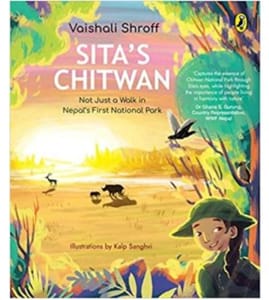 ---
Namaste! by Diana Cohn
---
Recommended for 5-9 year olds
Namaste! is the story of a young girl named Nima who lives near Everest. She makes a promise to her father to make the world a better place. Every day as she walks to school, she passes people from all walks of life from trekkers to porters. She greets each of them with a smile and the Nepali greeting of "Namaste." This means, the light in me recognizes the light in you. Her bright smile and genuine meaning behind it brings light to all those she greets. This story teaches children the importance of kindness and how a smile can make a difference.

---
First to the Top: Sir Edmund Hillary's Amazing Everest Adventure by David Hill
---
Recommended for 4-8 year olds
First to the Top tells the tale of Sir Edmund Hillary and Tenzing Norgay first ascent of Mount Everest. It's a tale of determination, friendship and trust set in the Himalaya. While many adults know the story of the first summit of Everest, it's a new story to children who can ooohhh and ahhhh at the delights of mountain climbing. Children also get a glimpse into the mountaineering world like how oxygen is less at altitude which opens the book up to further discussion about science.

---
Chandra's Magic Light: A Story in Nepal by Theresa Heine
---
Recommended for 5-8 year olds
This book is the tale of two young girls who discover that a solar powered lantern could help their brother get better. He is sick from the fumes produced by kerosene. This book has a positive message about girl entrepreneurs as they fundraise the money to buy the lamp by selling rhododendron flowers. It also has a positive environmental lesson. This Nepali story book highlights the difference in cultures around the world as well as how some areas don't have electricity.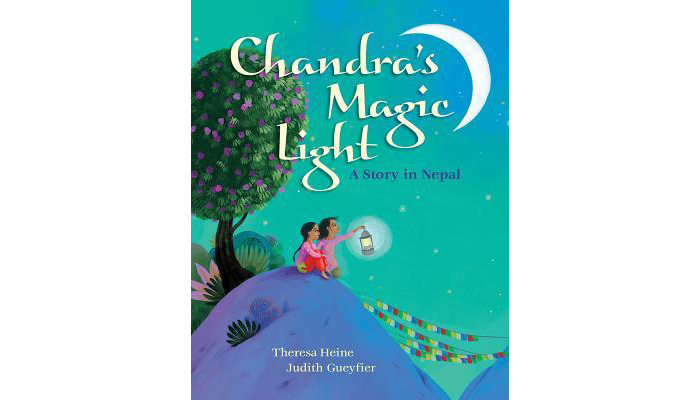 ---
Sathi the Street Dog from Kathmandu by Julie Palais
---
Sathi the Street Dog from Kathmandu is based on the true story of a dog that lived on the streets, was injured, ended up in one of the dog rescues in Nepal, and later found its forever home in Canada! This one reminds me of our foster dogs who have gone off to live in Canada after being rescued from the streets of Kathmandu. It's definitely worth a read to see what a difference we can make in an animals life by lending them a hand when they need it most. This books also comes with an English and Nepali translation.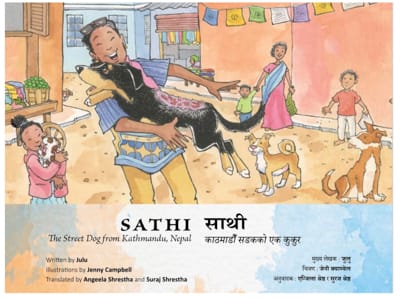 ---
Jack and Betty and the Yak and Yeti by Simon Arthy
---
Recommended for 3-5 year olds
This was the first Nepali story book I ever came in contact with. I bought it for my 3 year old niece when I returned home from Kathmandu. The story tells the tale of a brother and sister who want to climb to the top of the world which is Mount Everest. While some of the words might be hard to pronounce for those who haven't been to Nepal, it was fun for me to read it to her and show her the places I've been.
---
Jack and Betty and the Tigers Tale by Simon Arthy
---
Recommended for 3-5 year olds
A second book involving the brother sister duo of Jack and Betty. This one takes place in the jungles where the pair try to save the tigers. This tale has a great message for endangered animals and why it's important to preserve them. I also purchased this book for my 3-year-old niece, but felt it might be a bit above her understanding. She's 4 now, and I think maybe at 5 she'll be able to grasp the environmental message of this a little more.

---
I See the Sun in Nepal by Dedie King
---
Recommended for ages 5 and up
This book takes place in Bandipur, Nepal where a young local girl goes through the everyday life of a Nepali child. This is a great book to show children from all over the world that children everywhere have similarities, but it also shows the differences in cultures. The book gives kids a chance to learn about Nepali food and culture. It's also printed with both Nepali and English on the pages. Some of the proceeds from this book are donated to The Learning Centers in Bandipur, Nepal.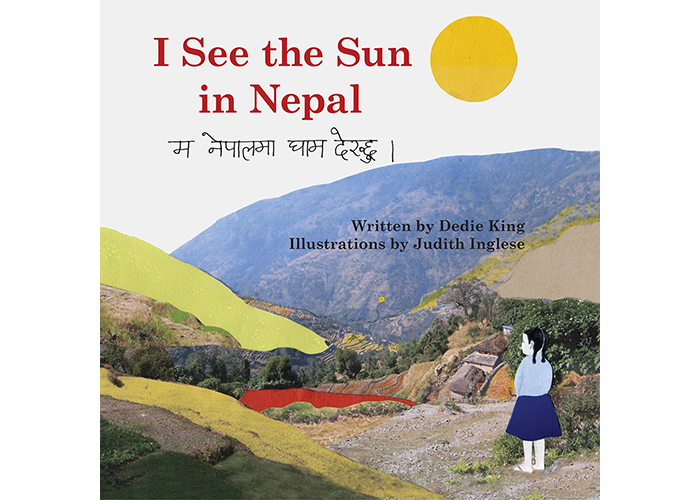 ---
Zak the Yak with Books on His Back by John Woods
---
Recommended for 7-9 year olds
Zak the Yak is the tale of a yak in Nepal who hears about children in nearby villages who don't have any books to read. This is a story that can help kids appreciate the privilege of learning and help them to understand that in parts of the world this is more difficult. It's a fun rhyming book with engaging illustrations. While this Nepali story book is cute on its own, the proceeds from the book go to Room to Read which helps give books to areas in the world with limited resources for libraries.
---

My Mother's Sari by Sandhya Rao
---
Recommended for 4-6 year olds
This picture book is about a child's love of her mother's sari. While this book is about Indian culture, women in Nepal also wear sarees and I found this to be just as appealing to those learning about or visiting Nepal. The book tells of how important a mother's sari is to a child and all the many uses a kid might have for it. The book is known for its beautiful illustrations. My Mother's Sari can be used to teach kids about different cultures and styles of dress.

---
Betty and the Yeti by Ella Burfoot
---
Recommended for 5-8 year olds
Not actually about Nepal, this children's book is about Betty who decides to go for a walk through the snow. Along the way, she discovers why she needs extra clothes while cold weather animals do not. She ends up befriending a Yeti (rumored to exist in the Himalaya) and finds that you can't judge someone by their looks. While the yeti appears scary, he just wants to be friends. This story teaches kids about making friends and facts about animals living in cold climates.

---
To Market! To Market! by Anushka Ravishankar
---
Recommended for 5-9 year olds
Another book not set in Nepal, To Market! To Market! takes place in India, however the vibrant market stalls are similar to that of Ason Market in bustling Kathmandu. The book is about a young girl who heads to the local market with her mother. She's been given some cash to buy something for herself and spends much of the day fantasying about all the options as she passes the different stalls. This book has a rhythmic rhyme making it a fun upbeat read for children.

Know of any more Nepali story books that I missed? Let me know if the comments so that I can check them out!
---
You might also like…