December in Nepal falls between the peak tourist season (October and November) and the coldest month of the year (January) making it a questionable month to visit. Is it still safe to trek or is it too late in the season? Is it too cold? What is there to do during December? Since it's between one of the best months and one of the worst months to visit, you'll often receive a thousand different opinions on visiting Nepal in December. Here's what to expect…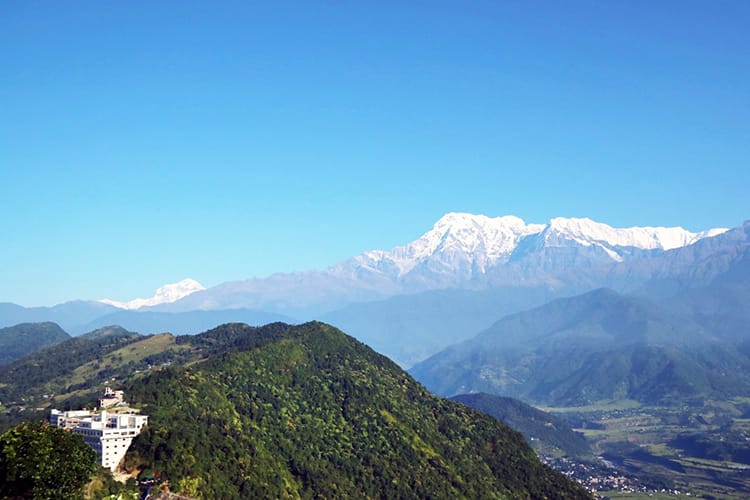 Nepal's Weather in December
---
Season:
Winter / Off Season
Average Temperature:
37-66 F (3-19 C)
Average Days of Rain:
0
What to Expect:
Areas like Kathmandu start to get cold in the winter with daytime temperatures averaging 59 F (15 C). While that doesn't sound terrible, it's worth remembering that a lot of hotels or teahouses don't have heating, or the heating is limited. In areas in the Terai (like Chitwan, Lumbini, and Bardia), the average daytime temperature is a beautiful 75 F (24 C). In the mountains, the weather is COLD. Location and altitude cause the temperature to vary a lot, but be prepared for freezing temperatures at night.
---
Trekking in Nepal in December
---
High Altitude Trekking:
One of the things I really hate about the information online is that a lot of it was written by tour companies. Please read what they say with a grain of salt since they are trying to sell trips year round. I think that trekking in December is doable. I don't think it's as enjoyable though. Winter is extremely cold in the mountains. With limited heat, you end up being cold constantly. I trekked Everest Base Camp at the beginning of November and it was below 0 F (-17 C) some mornings when we did sunrise treks. If you are going to do a high altitude trek, I'd recommend doing it at the beginning of the month. I'd also encourage every single person to have a guide just in case of an emergency involving snow, white outs, or avalanches.
Low Altitude Trekking:
Low altitude trekking is lovely this time of year. It's still cold at 2,000 m (6,500 ft), but it's bearable, and you don't have to worry about snow. The best part is that there's barely anyone else around in December so trekking trails are quiet. You'll likely have great visibility of the mountains most mornings before 10am.
---
Tourism in Nepal in December
---
Crowds:
According to stats provided by the Nepal Tourism Board, Nepal sees about 10-30k less tourists in December then in the peak month of October. About 8% of the total tourists that visit Nepal each year visit Nepal in December. It's still a popular month compared to January (the slowest month). In January, 20-30k less people visit Nepal than in December!
Budget:
Although December is in "off-season" prices won't be too different than peak season. You may get small discounts on hotels and other items towards the end of the month. These discounts may be up to 10-25% off.
Wildlife:
December is one of the best months to see wildlife in Nepal! Bird watchers say it's great for seeing the large variety of birds in the country before they migrate North in the spring to prepare for summer. The country has 886 known bird species!
December is also the best month to go on animal safaris in Nepal. Nepal is famous for being one of the homes of the Bengal tiger, the greater one-horned rhino, and gharial crocodiles. This is one of the best months to see these animals because there is very little rain. Therefore, the animals need to go to the river to drink. Many of the guides in the park track the animals' favorite spots and know exactly where to go to spot one. Seeing one outside of dry season is much more unpredictable since the animals don't come to the river as often.
Safety:
The biggest safety risks in December are heavy snow fall, freezing temperatures, or avalanches in the mountains. December is not the coldest month, so these issues are not as common as they are in January.
Best areas to visit:
The Terai including Chitwan National Park, Lumbini, and Bardia National Park. Pokhara is also nice this time of year. The Kathmandu Valley is a little cold but good for low altitude trekking.
Best areas to avoid:
Places above 4,000m (13,000ft) if trekking at the end of the month. It might be best to plan a trek like Langtang, Gosaikunda, Tsho Rolpa, Annapurna Base Camp, etc. Treks with high passes may be closed. You can check on conditions when you arrive to see which trails are closed.
---
Festivals in December
(dates listed are for 2023)
---
Dec 25th Christmas Day
Although Christmas isn't celebrated in the entire country, it is celebrated in cities like Kathmandu and Pokhara. I always laugh because I tend to be in the U.S. for Christmas and all my Nepali friends (who are Hindu and Buddhist) send me texts or call to wish me a Merry Christmas. They even post family photos wearing matching Christmas pajamas in front of their Christmas tree. You gotta love that they don't just tolerate every religion in Nepal, they embrace them with open arms.
Dec 26th Udhauli Parva
Udhauli Parva is a festival celebrated by the Kirat community. They're an ethnic group that lives in the Himalayas. This festival celebrates their migration from the mountains to lower altitudes each year for the winter.
Dec 31st Tamu Losar
Tamu Losar is the celebration of Gurung New Year. Many of the ethnic groups in Nepal have their own New Year. Gurung people can be found near Pokhara or along the Annapurna Circuit before Manang. To see the celebration, it would be best to stay in a Gurung owned homestay or teahouse during this period.
---
Pros & Cons
---
Pros
Less Crowded than Peak Season
Possibility of High Altitude Trekking (depending on conditions)
Wonderful Low Altitude Trekking
Clear Skies
Almost No Rain
Best Time for Animal Safaris
Great for Bird Watching
Perfect Weather in the Terai
Cons
Cold Temperatures in Some Cities and in the Mountains
Possibility of Avalanches
Possibility of Snow at Altitude
---
Packing Essentials for Nepal in December
---
Warm clothes are a must this time of year. Inside heat is not common in Nepal and is usually only available at high end hotels (over $60 USD a night). It's often colder inside than outside so having layers is important.
Check out my packing list for Nepal for everything you need year round!
---
More Monthly Guides for Nepal…
---
---
You might also like…