Having been in Nepal for every month of the year, I wanted to share some of my insights on what each month has to offer. Nepal in January can be both insanely beautiful with crystal clear skies and extremely cold. It's great for wildlife encounters, but difficult for high altitude trekking. Here's the ups and downs of visiting Nepal in January…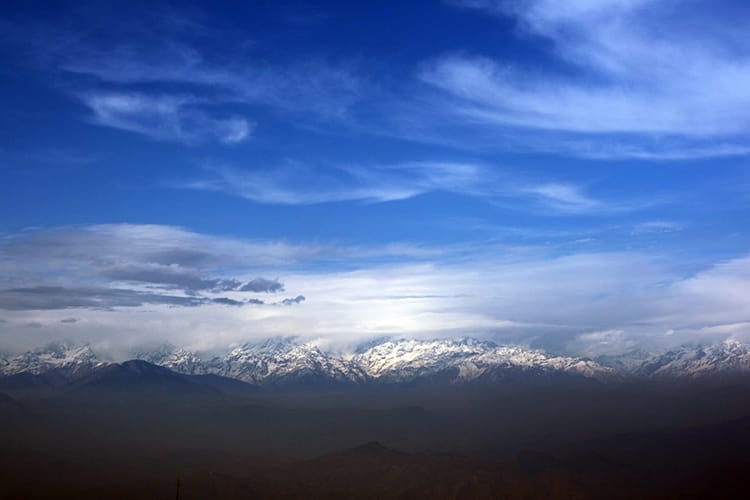 Nepal's Weather in January
---
Season:
Winter / Off Season
Average Temperature:
35-64 F (2-16 C)
Average Days of Rain:
1
What to expect:
January in Nepal is COLD. Okay, well maybe not. Let's break it down. It is in fact the coldest month of the year in Nepal, however, it's only cold in places located at altitude. For instance, Kathmandu is situated at 1,400 m (4,593 ft), so it's cooler there in the winter. Places in the Terai like Chitwan National Park and Lumbini are located just above sea level. These areas are gorgeous in the winter reaching a low of 40 F (4 C) at night and 75 F (24 C) during the day.
---
Trekking in Nepal in January
---
High Altitude Trekking:
Most people who visit Nepal want to go trekking. It's one of the major things to do in the country. Unfortunately, January is extremely cold in the mountains and teahouses have no heat. There's also a chance you may get stuck in a white out or get hit with an avalanche. The government often closes down high passes during January to keep people safe. Therefore, I do not recommend trekking at high altitude this time of year.
Low Altitude Trekking:
On the other hand, this is an amazing time of year to do a low altitude trek. My favorite is the Kathmandu Valley Trek which we did over the course of 10 days in January. Even low altitude trekking is cold this time of year. It's great for walking during the day but be sure to bring layers for bundling up at night. Because there is little rain in January, you tend to get beautiful clear skies with wonderful mountain views. I even saw the Himalayas from the middle of Kathmandu city a few times in the winter! I had no idea you could see them driving down the highway since they are always covered by the smog and clouds.
---
Tourism in January
---
Crowds:
According to stats from the Nepal Tourism Board, only 6% of tourists who come to Nepal come in January. January gets half the number of tourists as the most popular month (October). So it's easy to say that Nepal doesn't get very crowded in the winter. I've gone whole weeks without seeing a tourist while in Kathmandu.
Budget:
Something to note about off-season is that things tend to be cheaper. For instance, hotel pricing may be up to 50% off. Traveling in the winter may have some downfalls, but it is good for those looking for a great deal!
Wildlife:
January isn't peak time for seeing wild animals, but it does fall close. Many people say the best time to see tigers is between October and December. Since there is little rain during this time of year, it's likely animals will come to the river to drink. Guides in the area know the animals' favorite spots, making it easy to track and find them. The best parks to see tigers are Chitwan National Park and Bardia. Both are located in the Terai which is a beautiful climate in January, averaging 72 F (22 C) during the day.
I hear that bird watching in Nepal in January is also excellent. You can see thousands of birds before they begin to migrate north for the summer. Nepal has 886 known bird species
Safety:
Most of the country is extremely safe to travel around in January, however, snow is a major concern at altitude. If you are planning to trek, the trails may be closed and there is a major risk of avalanches. I saw one from far enough away to not have to run, but it was close enough to know that I'd never want to be under one.
Best areas to visit in January:
Lower altitudes like Chitwan National Park, Bardia National Park, Lumbini, and Pokhara. Trekking/hiking at low altitudes in areas around Shivapuri National Park, Nagarkot, Dhulikhel, Namo Buddha, Balthali, and Pharping.
Best areas to avoid in January:
High altitude locations (over 3,000m) and treks in the mountains.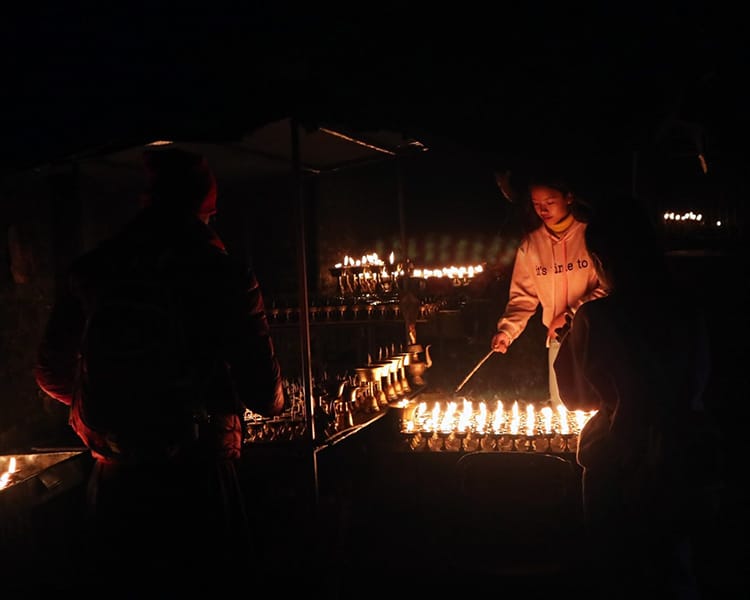 Festivals in January
(dates listed are for 2023)
---
Jan 15th Maghe Sankranti
Maghe Sankranti marks the end of winter solstice. Tharu people consider this their New Year's Day. Typically, festivals are celebrated at home with family, but if you choose to stay in a Tharu homestay during this festival, you may get to see how locals celebrate. Tharu's are dominant in areas around Chitwan National Park.
Jan 22nd Sonam Losar
Sonam Losar (Tibetan New Year) is celebrated over 15 days. Tibetan Buddhists celebrate this festival, so it's popular in the Everest Region and near Boudhanath Stupa in Kathmandu. You can check out my post on how to celebrate Losar for more info!
---
Pros & Cons
---
Pros
Crystal Clear Skies
Beautiful Weather in the Terai
Possibility of Tiger Sightings
Low Altitude Trekking
No Crowds
Cheaper Hotels
Cons
Limited High Altitude Trekking
Avalanches
Cold Weather in Areas Around the Kathmandu Valley
It's Hard to Meet Fellow Travelers
---
Packing Essentials
---
Warm clothes are super important in January. I spent the entire month in a coat, scarf, and hat. In budget hotels, there is rarely heat inside or you have to pay an extra $10 a night for rooms with heat. Luxury hotels will include heat in the rooms.
Check out my packing list for Nepal for everything you need year round!
---
More Monthly Guides for Nepal…
---
---
You might also like…