Depending on your trekking itinerary, you may spend a night or just stop for lunch in Forest Camp. If you are doing an itinerary of five days or less, you'll likely come here for lunch on the way to Low Camp. Longer itineraries (six to seven days) may spend a night here. Forest Camp is a large village that formed over 30 years ago. Around 2010, it became a popular stop along the Mardi Himal trek and teahouses began to pop up left and right. Now the town has twelve teahouses (and counting) making it a comfortable place to stop on the trail.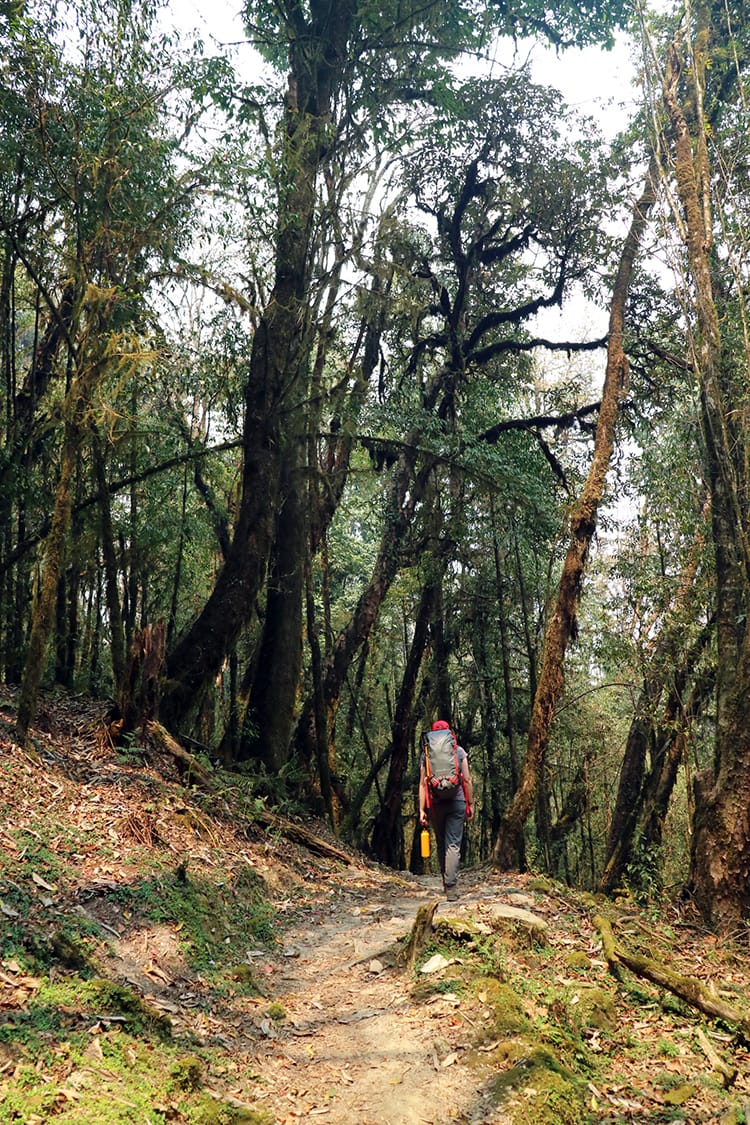 Forest Camp Village Overview
---
Major ethnicity:
Major religion:
Buddhism
Language:
Gurung, Nepali, English
Forest Camp Altitude:
2,520 m (8,267 ft)
Oxygen Concentration:
75% (compared to 100% at sea level)
Location:
Forest Camp is located about 31 km north west of the city of Pokhara. This village lies within the Annapurna Conservation Area and lies along the Mardi Himal Trekking Route. It's south east from the Annapurna Range which can be seen on a clear day.
Best Time of Year to Visit:
Due to the trail and altitude, it's best to visit Forest Camp during peak season to avoid the monsoon or winter season. Peak season in Nepal is March, April, October, and November. During monsoon season, the trails may be washed out and landslides may occur. In the winter, it may be cold with snow fall. Those doing the Mardi Himal Trek may wish to aim for late March or early April as that's when the rhododendron trees are in full bloom.
How to get to Forest Camp:
To get to Forest Camp, you'll need to take a one hour car ride to Kande along a nicely paved highway. From there, it's a two to three day walk to Forest Camp. If you are doing a six or seven day itinerary, you may sleep here. Those doing Mardi Himal in five days or less will likely have lunch here on the way to Low Camp.
What to eat:
Along most Nepali trekking trails, dal bhat is the main dish. It's made fresh daily with local ingredients. While many other items are on the menu, dal bhat comes highly recommended by the teahouse owners in the area as their specialty.
What to see and do:
Since this village developed around tourism, there isn't much to see or do outside of trekking and enjoying the views.
---
Forest Camp Teahouses
---
Number of teahouses:
12
We recommend:
Green View Hotel
Price of room:
600 rupees (approximately $6 USD) for a double room or 900 rupees for a room with four beds
Price of vegetable dal bhat:
550 rupees (approximately $5.50 USD)
WiFi:
WiFi is available and it's free.
Electricity:
Electricity is available for charging electronics. It's 100 rupees (about $1 USD) to charge a phone.
Toilet Situation:
There are shared toilets attached to the building making it easy to access them at night. There is a western and squat toilet available for use.
Showers:
Green View Guest House has a gas heated shower. It's 200 rupees (about $2 USD) to take a heated shower.
NTC Cell Service:
4G and 4 bars with excellent service. We even made a video call.
Ncell Cell Service
H and 1 bar. It wouldn't load Facebook or Gmail as the signal was too weak.
---
Forest Camp Photography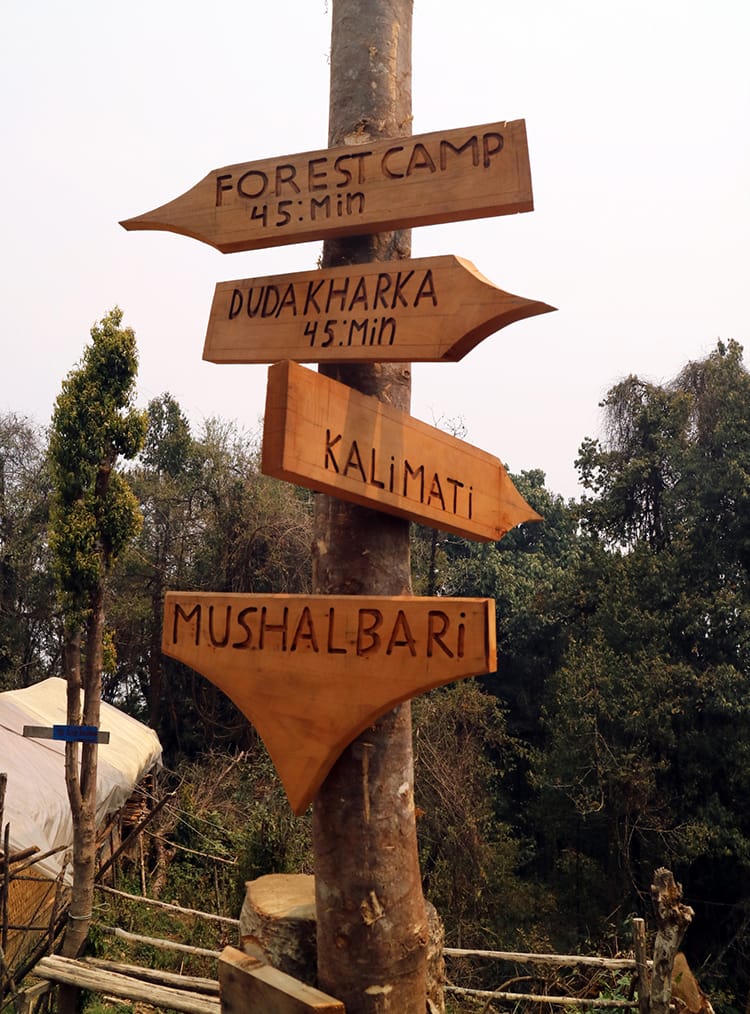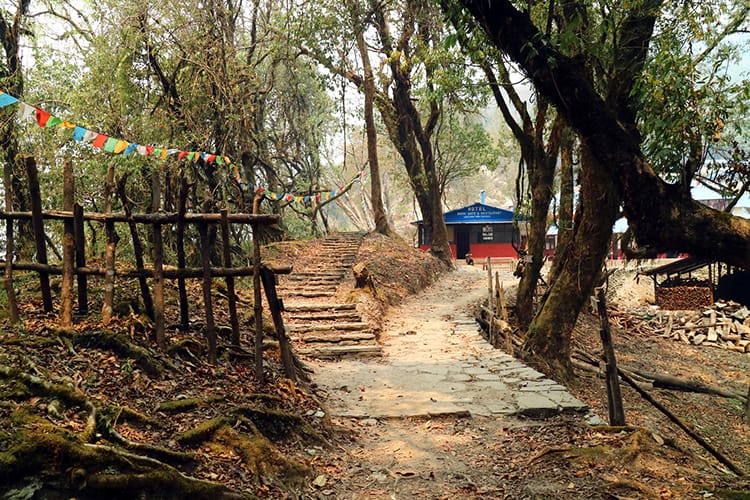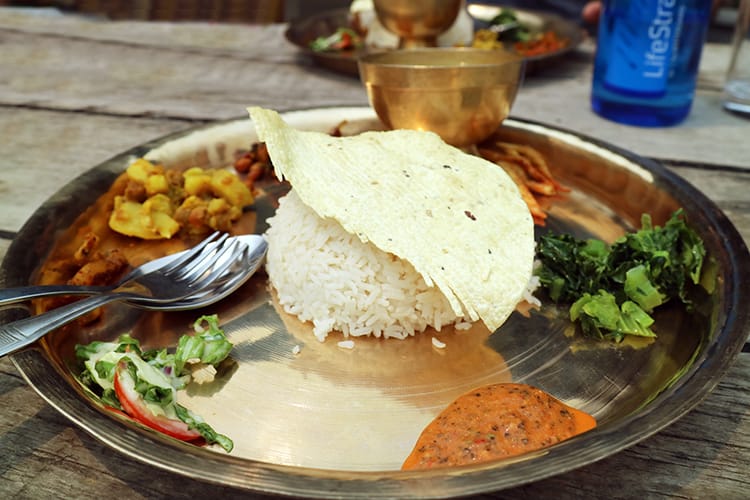 ---
You might also like…