Recently, I've had a few friends ask me what to buy for Nepal souvenirs to take home with them. I feel like I've spent a lifetime in Thamel and Lakeside walking by the hundreds of shops selling goods. The thing is, so many sell the same thing, and they all sell them for different prices. It's hard to know what's authentic, what's a knock-off, and what things are even worth buying. I believe in buying souvenirs right before going home so that you don't have to carry everything around the entire trip. I'm also most familiar with the stores in Kathmandu since I've shopped in them multiple times to buy gifts or my own souvenirs. I decided to compile a list of my favorite Nepal souvenirs and the places to buy them.
Note: I haven't purchased some of the items on this list before, so I won't recommend a place to buy them. The items that I have purchased in the past, I spent a lot of time looking for good quality items at a decent price.
The Best Nepal Souvenirs
Thangka Paintings
---
Thangka paintings make the top of my list because they're hard to find almost anywhere else. In Nepal, they're abundant and a lot less expensive. For instance, you can buy a $200 painting here, and the same one will be sold for about $500 online in the U.S. Picking a thangka can be hard, so I'd recommend reading my post on Understanding Thangka Paintings. The prices can range from $20 to $10,000, so it's kind of hard to tell if you're being ripped off or not. The price difference is based on how the item is produced since there are mass-produced versions versus original one of a kind pieces. I bought a mass-produced one. They fall in the $50-$100 price range.
Where to buy: I bought mine at Gallery Tibet House in Thamel. They have both the originals and mass-produced ones. What I like is that they are very clear about which are which and why some cost so much more. They also showed me 50 options before I picked one out. The salesperson was patient and wasn't pushy. I find a lot of the shops tell you a story and guilt you into buying something. I liked that I never felt guilted or pushed into buying something here.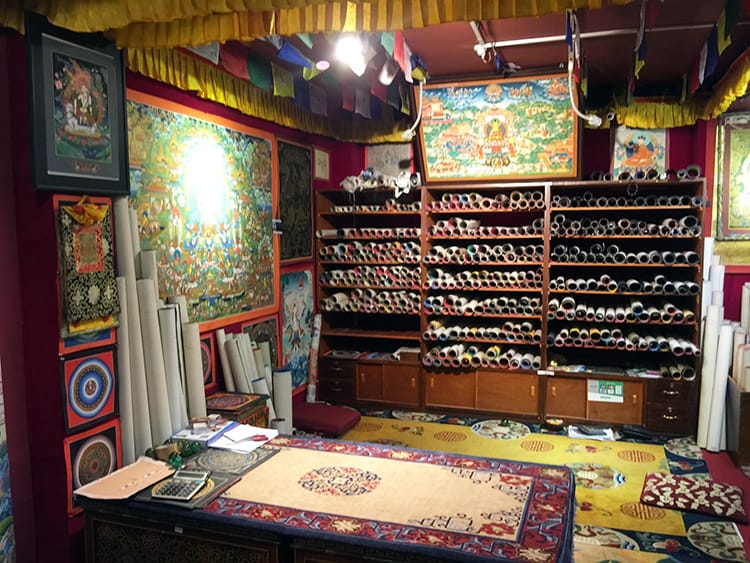 Singing bowls
---
Singing bowls have become extremely popular in the west. My dad was into them, and my mom had purchased him several online as gifts. Being able to hold the bowl in person and pick out a sound you like is cool. You can also find out which bowls match which chakras for health benefits. Again, it's much cheaper to buy them in Nepal than online. They come in different price ranges depending on the size and whether they are handmade or machine-made. If you're interested, you can read my post on Sound Healing in Nepal.
Where to buy: I bought a few at Shakya Singing Bowl Gallery. It's a tiny shop that's a little difficult to locate. Because it's not a typical tourist shop, they aren't as likely to include a ridiculous markup in the cost. The shop owner can also tell you which ones are handmade or machine-made. Note: the photo above is from a fancy and expensive shop in Thamel, not the one I recommend.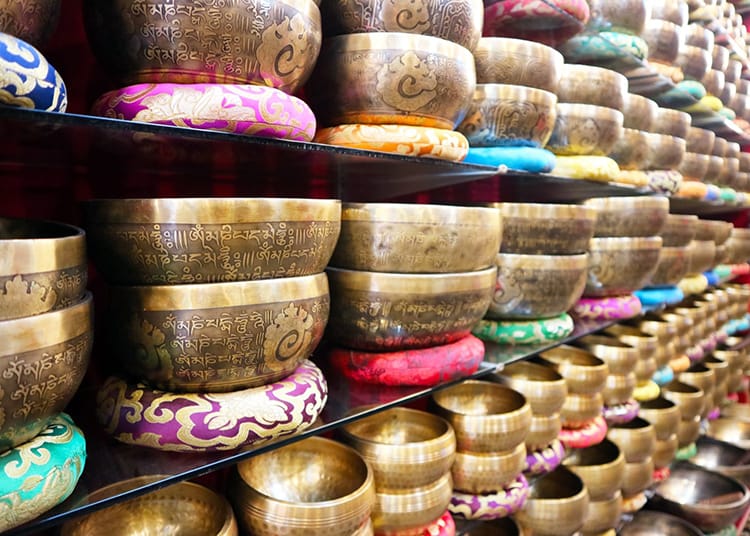 Yak Wool
---
Yaks are popular animals in the mountains. They look a bit like large muscular cows with short legs and long hair. Locals make their wool into a myriad of items. You can buy yak wool hats, slippers, scarves, sweaters, and blankets. Depending on how much space you have in your bag, you can purchase something big or small. Like most fabrics, there's a lot of debate about whether it's real yak wool. Most of the time you are being sold a yak wool blend. Finding 100% yak wool is difficult even if the place is advertising it as 100%
Where to buy: I've bought a yak wool hat ($5.00), slippers ($2.00), and gloves ($2.00). My guess is that they were not 100% yak wool. I bought them at different shops around Thamel. If you're looking for a high-end item, I'm afraid I don't have a recommendation for a place that sells 100% yak wool.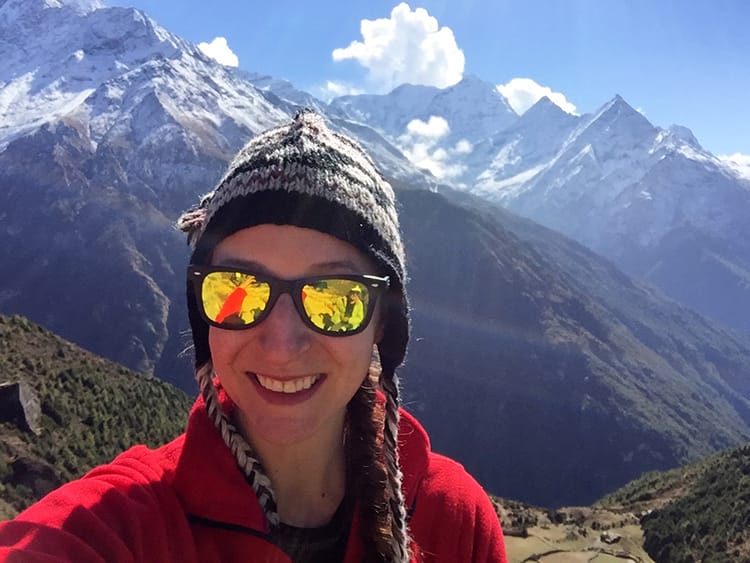 Prayer Flags
---
Prayer flags are the brightly colored fabric flags that are seen everywhere in Nepal. These flags are hung by Buddhists in places of worship. You see them in the mountains, near lakes, at stupas, and even in homes. They believe that when the fabric disintegrates, the prayer written on the flag flies off into the wind. Each color represents something different. I recommend watching my friend's documentary on Prayer Flags if you're interested in learning more.
Where to buy: I don't have a specific store, but they are cheapest in Ason market since this is where the locals shop. The prices vary on the size of the flags and whether they are made from silk or not.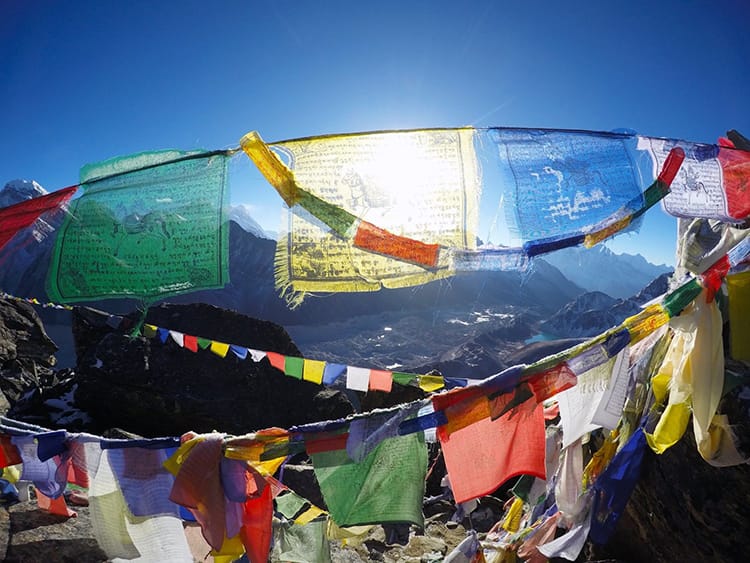 Spices
---
One of the items I'm always asked to bring home with me is an assortment of spices. Spices are a lot cheaper in Nepal than back home, and they have amazing mixes of masala. My family almost always wants saffron and Himalayan salt. I also bring back a mix of garam masala, chicken masala, fish masala, turmeric and more. You can also buy some interesting things like fresh cinnamon sticks, cloves, and anise.
Where to buy: I buy spices in Ason market near the center. There're a few tiny shops that sell bags of spices for a fair price. Be sure to buy the ones with labels. I shipped some home and had a little trouble with a bag of unmarked turmeric. They let me ship it after explaining what it was, but customs might not be so kind when you enter the country.
---
Tea
---
I'm obsessed with Nepali tea. It's kind of like chai but better. I always bring a few bags back home with me. I've seen it sold in tourist shops, but I feel like it's not the good stuff, and it's overpriced. I always buy it in Ason market. I personally like the little pellets. I find that's what a lot of local's drink, and the bag doesn't take up too much room in your bag. For high-end teas and a large assortment, I visit another shop. They have tons of different flavors including herbal teas.
Where to buy: There's a nice tea shop called Sagarmatha Tea House on Lazimpat Road which has an amazing selection of tea leaves.
---
Tibetan Rugs
---
If you're looking to make a big purchase and have it shipped back home, then Nepal is a great place to buy a Tibetan rug. In Patan, there's the Jawalakhel Handicraft Center where Tibetan refugees make the rugs by hand. All profits go to support the local community's schools and healthcare. They make beautiful rugs, and you can take a tour of the small factory that is there.
Where to buy: Jawalakhel Handicraft Center in Patan.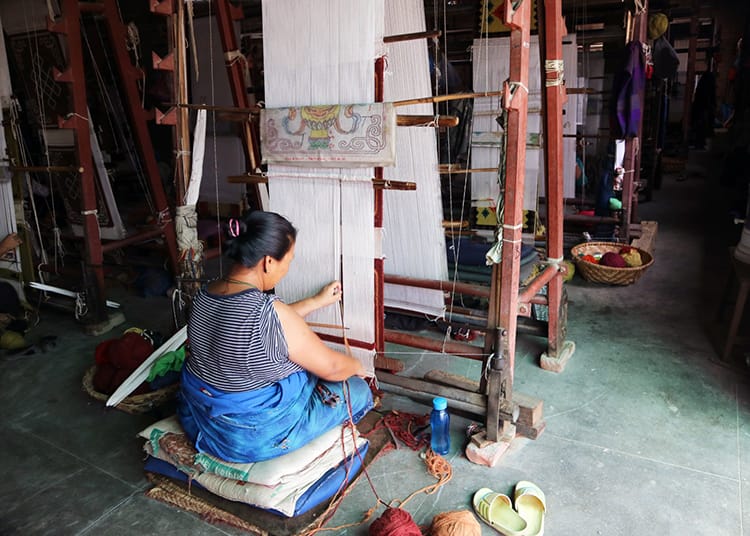 Fossils (Shaligrams)
---
Since much of Nepal used to be under water before the tectonic plates shifted, there's a ton of cool fossils around. The fossils are said to be at least 2,000 years old and are often of seashells or plants. They're used to worship Lord Vishnu in Hindu culture.
Where to buy: Most people purchase these in the Mustang region near the Annapurna Circuit as most of them are found around there. When I went trekking, you could buy them from locals who set up little blankets covered in goods along the trekking route. I've personally never bought one and can't advise on an authentic place in Kathmandu.
---
Scarves/Pashminas/Kasto
---
Kathmandu is full of scarf and pashmina shops. They range from $5 to $200 per piece depending on the quality. I like to buy these for people back home because you can find one in any price range you want. In the $10 – $15 range you can find some nice options. They're perfect for men and women, and you can find some lightweight summer scarves as well as very heavy winter ones.
Where to buy: I like Nepal Handicraft Collections Pvt. Ltd. right in the heart of Thamel. They have a big selection and good prices. You can also find good options in Ason Market if you're looking for something very cheap. For a traditional cotton Kasto, I recommend Cotton Mill Nepal or Ramalaya.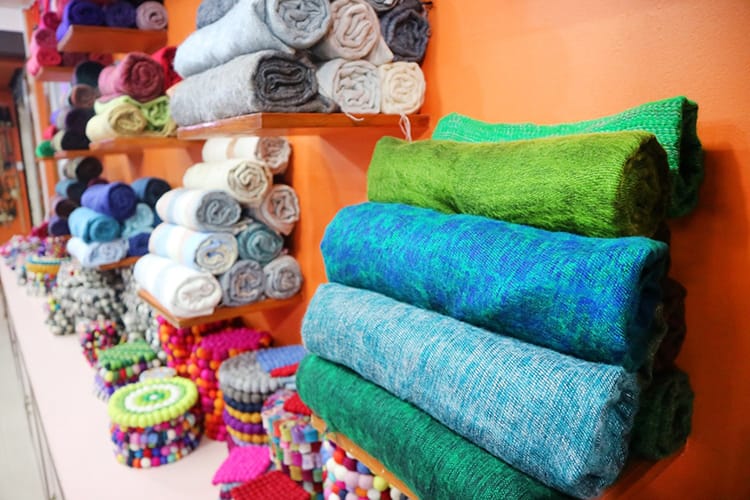 Prayer Wheels
---
Prayer wheels are a popular site in Nepal. You'll see them along trekking routes and in monasteries. They usually say "Om Mani Padme Hum" on them which is a popular mantra in Tibetan Buddhism. It's believed that spinning the wheel is similar to saying the prayers out loud.
Where to buy: These prayer wheels can be found all over Thamel. I rarely see them in local markets which makes me think that they are much more of a tourist knick knack. That being said, they are still cool. I've never bought one, so I don't have a specific store to recommend.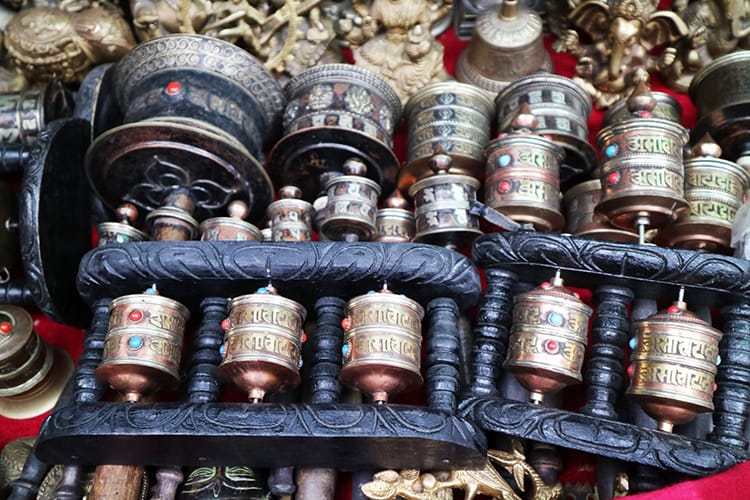 Mala Beads
---
Mala beads are a string of beads used during meditation. Some people count mantras with the beads while others use them to help when sitting silently. Some people say the beads have their own energy and picking one out feels special. Usually, they have 108 beads and 1 "guru bead." You may also see smaller necklaces/bracelets that are 54 beads or 27 beads.
Where to buy: I've never bought mala beads before, but they are EVERYWHERE. Stand in a tourist area for about 5 seconds and someone will ask you if you want to buy them at least ten times.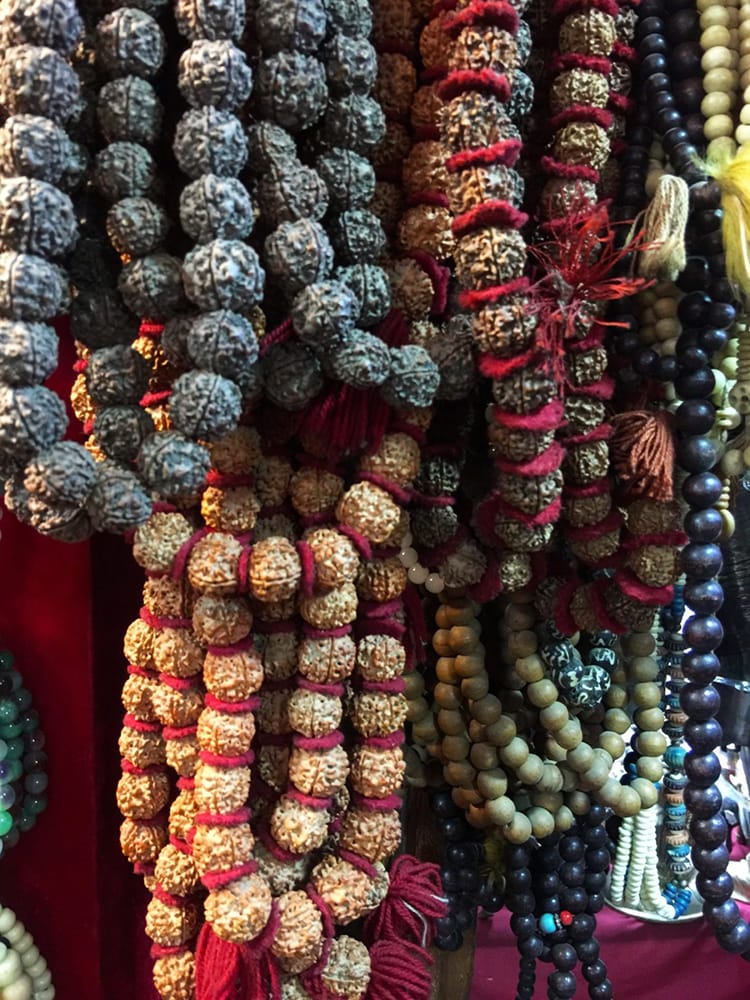 Gorkha Knives (Kukri)
---
Gorkha knives (also known as kukri) seem to be most popular among male tourists. They come in a myriad of designs. My personal favorites are the wood ones which look the most authentic. I've seen men in rural parts of Nepal carrying these in their belts. I've never seen a local carry the super fancy ones, like pictured above. It was the main weapon of the Nepalese Army and you can see the crossed Gorkha knives on pins representing Nepal. Today, they're still used as tools throughout the country.
Where to buy: I've never bought one, although a friend advised me to keep one in my apartment "Just in case." I was told they range from $15-25 for basic ones. I've seen some very elaborate ones for sale that look like they were made for royalty and I'm guessing those cost at least a few hundred dollars.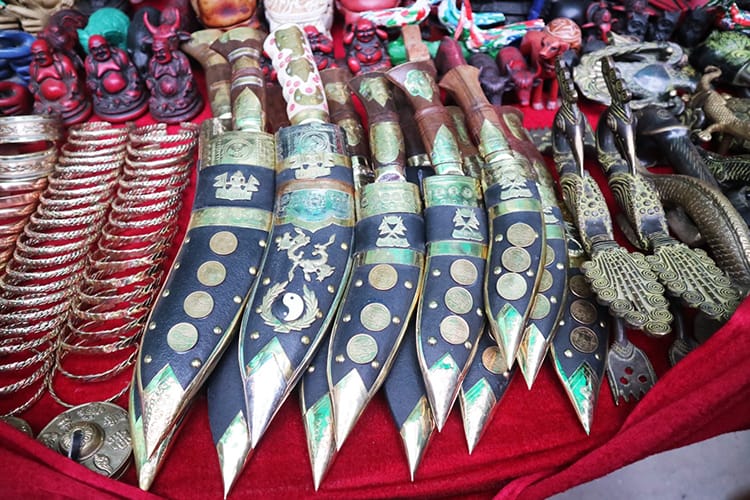 Wood Carvings
---
Wood carvings are famous in the Kathmandu Valley because of the popular architecture created by the Newar caste in the "Golden Age" of Kathmandu. Today, these items are still made by craftsman. The carving is done by hand and is extremely intricate. I took a wood carving class and the simple item we made took an hour. These are true works of art, and they come in all different shapes and sizes. You can buy a tiny statue or ship home an entire window frame. You can also buy wood masks. I have one of Buddha, Ganesh, and Hanuman in my room back in the states.
Where to buy: There's a small stand in Thamel that sells masks. You have to negotiate with the guy, but he has a large selection. I paid $25 for my Hanuman mask here. At other stores they were asking around $40.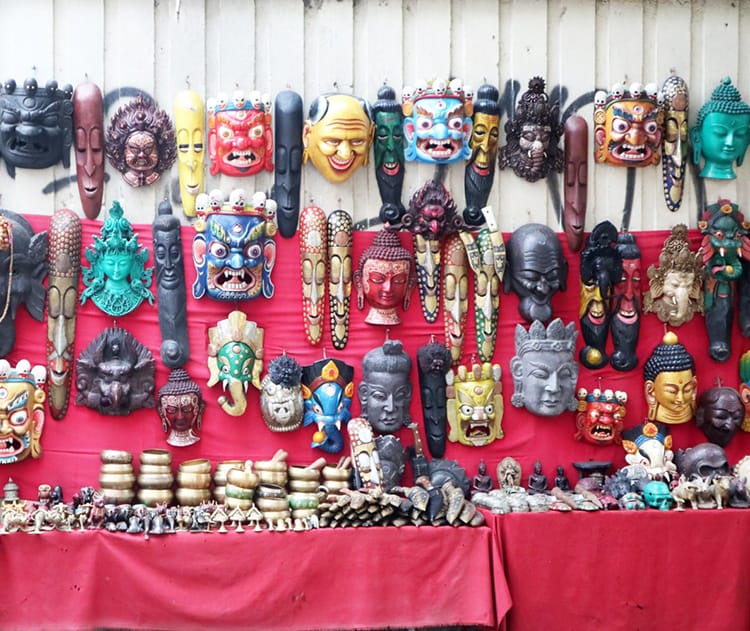 Honey from Honey Hunters
---
If you've heard of the famous honey hunters, then you might want to try some of their honey. It's known as one of the best in the world. Often, I don't like to bring knick-knacks back home, so I try to think of items my friends and family will use. Honey makes an awesome gift, especially when it has a fun story behind it. Finding a reputable seller is difficult as many honeys are branded as "honey hunter honey" when it's just regular honey.
Where to buy: I bought mine from a small shop in Sauraha by Chitwan National Park. I was also gifted some while traveling in western Nepal. Buying an authentic one in Kathmandu may be difficult. I'm told Kathmandu Organics has it, but I have not tried theirs.
---
Bedding & Linens
---
Bedding might sound like a weird souvenir, but I love the brightly colored pillow covers and sheets that can act as wall hangings. My first time in Nepal, I was a backpacker traveling to multiple countries. I couldn't buy souvenirs because I couldn't fit things in my bag. I bought two pillowcases which took up almost no room and was able to bring them to a few countries before heading back home. The first set I bought were quilted together pieces of old sarees that formed an elephant. I had them framed as art. The second set, I used on my bed as throw pillows.
Where to buy: I bought mine from Shangri-La Export in Thamel. I can't say for sure that they have the best price, but they were the only store that had the color I wanted. They have a large selection to choose from. I paid $4 each for the pillowcases.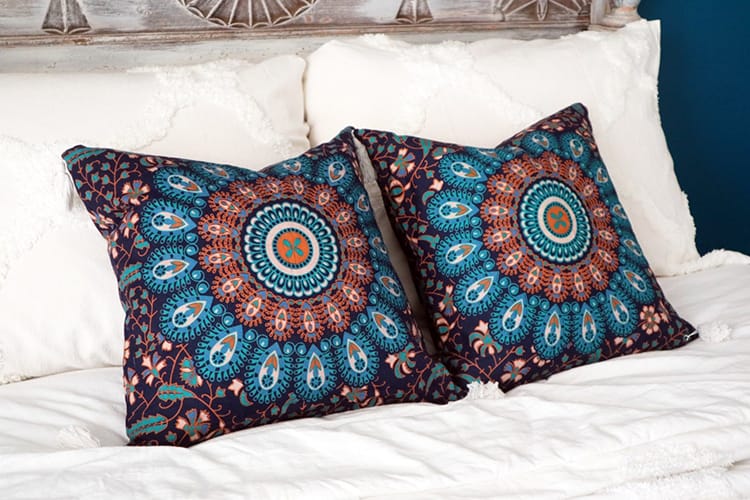 Brass Dining Wear
---
Although a bit heavy, the brass dining wear in Nepal is beautiful. My favorite is the wine goblets and small matching cups. They would look amazing on a bar in someone's home and would be quite the treat to drink out of at a dinner party. There's also a lot of options for plates, bowls, and more. I'm told that the specific design is often based on the ethnic group.
Where to buy: Each store has its own variation and designs, so picking one out you like will be a personal preference. You can buy these items for a fair price near Indra Chowk in Kathmandu where there are many stores offering beautiful brass dining wear.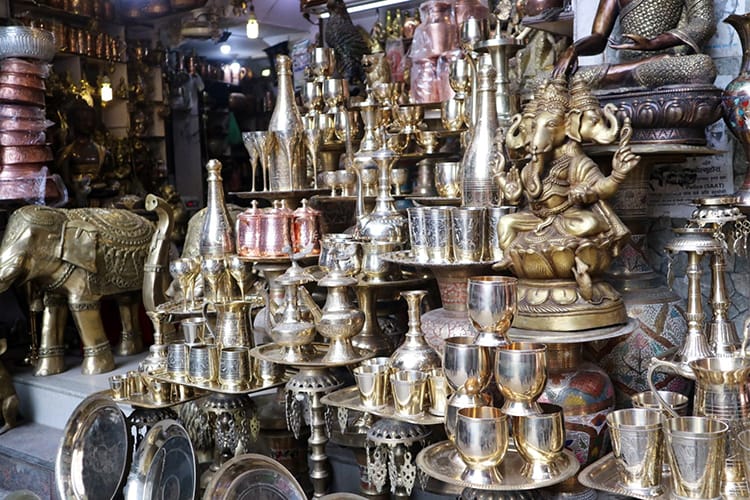 T-shirts
---
Okay, I know t-shirts aren't specific to Nepal, and you can find hundreds of options all over the tourist areas. I'm going to recommend a specific company though because they use hemp, bamboo, and cotton material and all of their shirts are made in Nepal. I own a couple of these and they are a much better quality than 90% of the t-shirts sold in Kathmandu. Plus, they have funny sayings on them. "The Dark Side of the Momo" Pink Floyd shirt is a personal favorite.
Where to buy: The company that produces these shirts is called JuJu Wears. They have a lot of stores around Kathmandu. T-shirts range from $10 to $15 and are much better quality than the $6-$8 shirts sold elsewhere.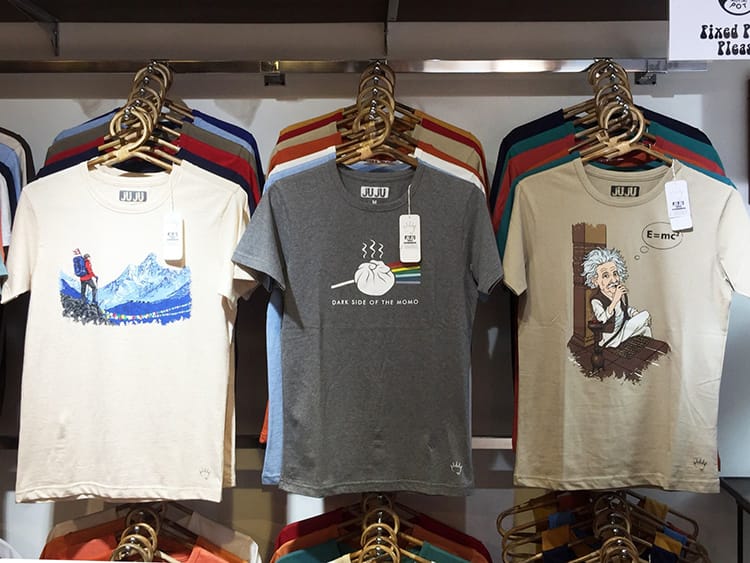 Jumping Tiger Game
---
I've never seen the Jumping Tiger game in another country and I'm told it originated in Nepal. It reminds me of the solitaire tree game I played growing up with a mix of chess and checkers thrown in. One player has the tigers while the other has the goats. The tiger tries to jump over the goats (removing them from the board) and the goats try to block the tigers from moving. You can read more about the rules in this post about Jumping Tiger.
Where to buy: You can find beautiful brass or wood ones around Thamel. The wood ones cost about $25 USD depending on how intricate they are.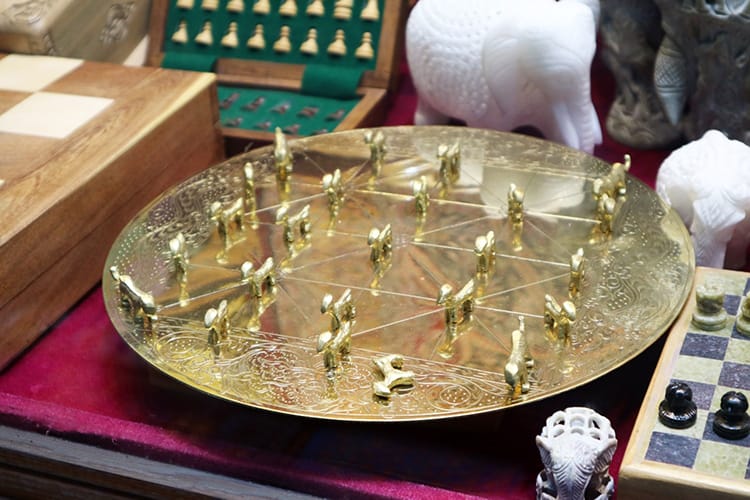 Lokta Paper
---
Lokta paper is a traditional paper made in Nepal. It's been used for centuries and most Buddhist texts, royal documents, and manuscripts were written on this paper in the past. It's so durable that those documents are still in great shape today. The paper is handmade by cooking the bark twice, washing it a couple of times, and then beating it with a wooden hammer. After being spread out, the material is dried in the sun. Now, the paper is sold to tourists in the forms of notebooks, postcards, and even paper lanterns.
Where to buy: Since items like lamps and postcards are made specifically for tourists, there aren't typically "local shops" where you can get a discount. Most of the shops in Thamel offer these products for similar prices. If you go to Ason Market, you can find some items including the notebooks and images of gods printed on this paper which are the more authentic versions.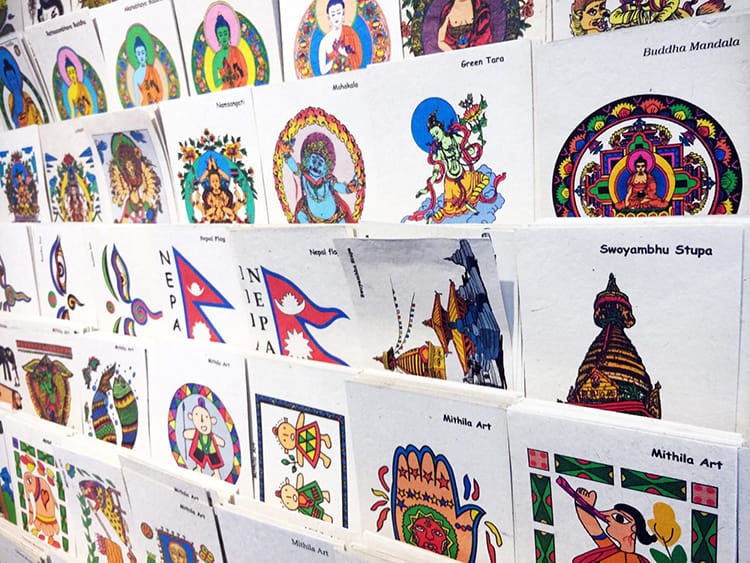 Pottery
---
Handmade pottery is a popular Nepal souvenir. You can find amazing tea sets, incense holders, religious statues and planters for flowers. My favorites are the elephant head planters that you can hang on your walls and fill with flowers or herbs. There're some unique items available that you can't find in other parts of the world, and it's all made in Nepal.
Where to buy: I recommend supporting the local artisans in Bhaktapur's pottery square. There's a small shop in front of Pottery Home. The owner is nice and always gives me honest prices. He has a great selection to pick from. You can also check out Thimi Ceramics if you want to place a large order since they ship items worldwide and you can avoid carrying it in your luggage.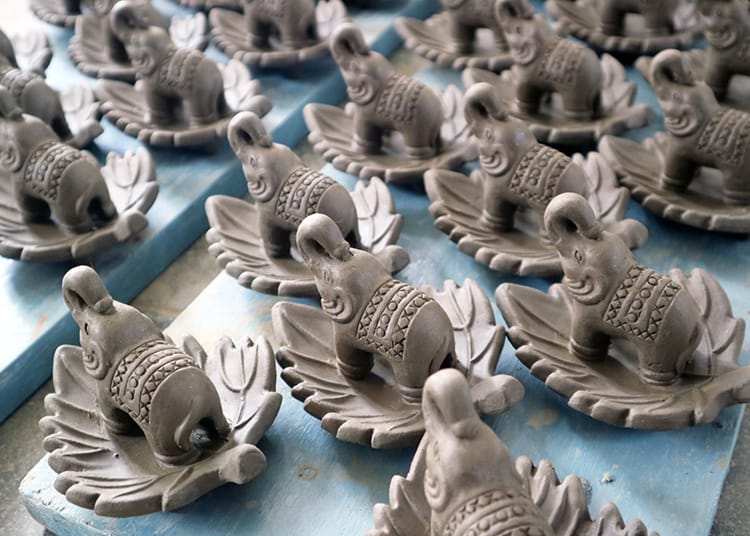 New Skills
---
My favorite Nepal souvenir is always the ability to take home a new skill. In Nepal, you can learn the arts by making pottery, carving wood, or learning thangka painting. You can take cooking classes and learn to make Nepali food like dal baht, Tibetan momo, or Newari samay baji. You can also get spiritual and earn a certificate in teaching yoga, practicing reiki, or sound healing. You can even learn to meditate in a vipassana. These are things you keep with you your entire life.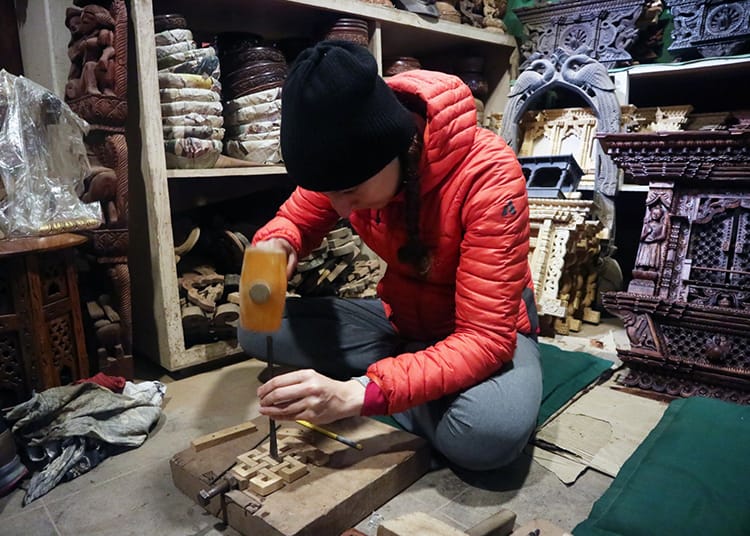 Have any questions about these Nepal souvenirs? Ask in the comments!
---
You might also like…