Australian Camp, Nepal is a popular weekend destination for locals looking to escape city life in Pokhara. This trip can easily be done in a day or as an overnight trip. It's also a popular lunch stop along the Mardi Himal Trek and the Annapurna Base Camp Trek (if you use the old route). Australian Camp is known for its gorgeous mountain views without needing to trek for days. The village is named "Australian Camp" because the first exhibition to go through the area was, you guessed it, Aussies. They visited in the 1960's and camping was offered here later. The camping grounds turned into proper tea houses, and now, you can visit without missing modern luxuries.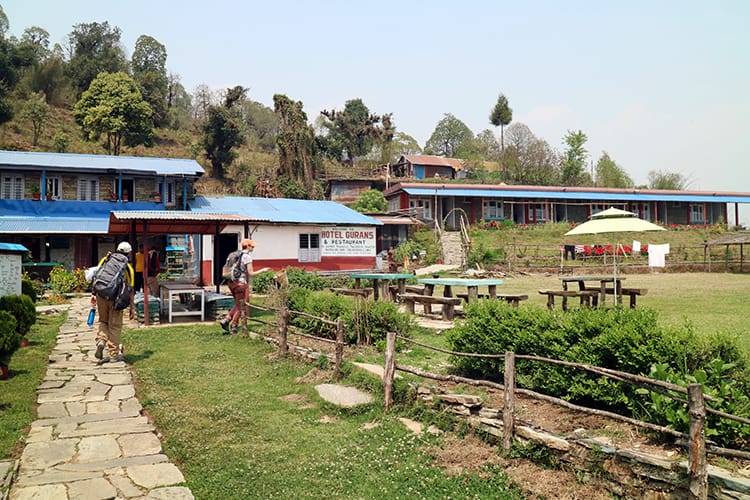 Australian Camp, Nepal: Village Overview
---
Major ethnicity:
Major religion:
Buddhism
Language:
Gurung, Nepali, English
Australian Base Camp Nepal Altitude:
2,040 m (6,692 ft)
Oxygen Concentration:
79% (compared to 100% at sea level)
Location:
Australian Camp, Nepal is about 28 km north west of the city of Pokhara. It can be accessed only by walking, although it is a short distance from a major roadway. The little village is south of the famous Annapurna Range and is within the Annapurna Conservation Area.
Best Time of Year to Visit:
This area is at a low altitude which means it can be visited year round, however, monsoon season makes it difficult to pass the roads and paths that lead here, so it's not recommended during the months of June, July and August. If you are planning to do the full Mardi Himal Trek, I recommend going in late March or early April when the rhododendron trees are in full bloom. This trek is also popular in October and November.
How to get to Australian Base Camp:
You can reach Australian Camp in Nepal by taking a car or jeep from Pokhara. It's about an hour ride to Kande. We paid 2,500 rupees from Lakeside, Pokhara to Kande in a jeep (about $25). From Kande, it's less than an hour walk to Australian Base Camp, however, the walk is straight up a set of stairs. There isn't much shade offered from any trees. Therefore, it's a difficult and hot walk on a sunny day.
What to eat:
We had the vegetable dal bhat which was good and it's a Nepali staple. One of the trekkers in our group ordered the vegetable spring roll and said it was delicious. A few of the people in our group had a lemonade, but said it was too sweet as they used syrup instead of real lemons.
What to see and do in Australian Camp, Nepal:
Australian Camp is popular among locals as a day trip or overnight trip from Pokhara. It's most popular for its beautiful views and sunrises. There are both teahouse and camping options available. If you still have energy after climbing the steep stairs, you can go for a nature walk or day hike nearby.
ACAP Entry Fee:
Since Australian Camp lies within the Annapurna Conservation area, there is a 3,000 rupee fee for the ACAP entry permit. This is a little less than $30 USD making it a bit expensive for an overnight trip for foreigners. Nepali citizens do not need to pay the entry fee and are able to visit the Annapurna Conservation Area for free.
---
Australian Camp, Nepal Teahouses
---
Number of teahouses:
4
Our recommendation:
Hotel Gurans
Price of room:
1,200 rupees (about $12) with an attached bathroom or 500 rupees (about $5) for a shared bathroom.
Price of vegetable dal bhat:
500 rupees (approximately $5 USD)
WiFi:
Wifi is available and there is no fee to use it.
Electricity:
Electricity is available and there is no fee to charge a phone.
Toilet Situation:
The rooms with a private bathroom and the shared bathroom have western toilets. The shared toilet is located near the rooms making it easy to access at nighttime.
Showers:
The rooms with a private bathroom include a heated shower. Those using the shared bath will need to request a bucket of hot water (possibly at an extra charge).
NTC Cell Service:
4G
Ncell Cell Service:
4G
---
Australian Camp, Nepal Photography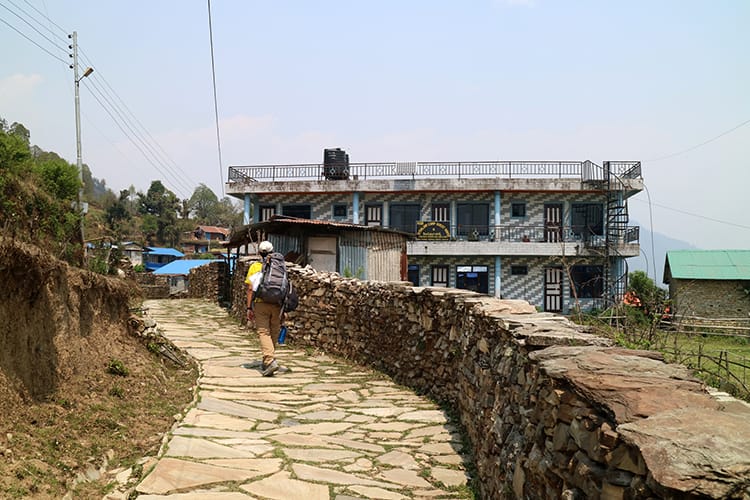 ---
You might also like…