Pothana, Nepal is a small village along the Mardi Himal trekking route just south of the Annapurna Range. It's located in the Annapurna Conservation Area and can be accessed both by walking and by vehicle. The village formed around 1970 when expeditions began to come to the area. In 2000, it was a popular camping ground and in 2010 the Mardi Himal Trek formed, and teahouses were built to accommodate guests.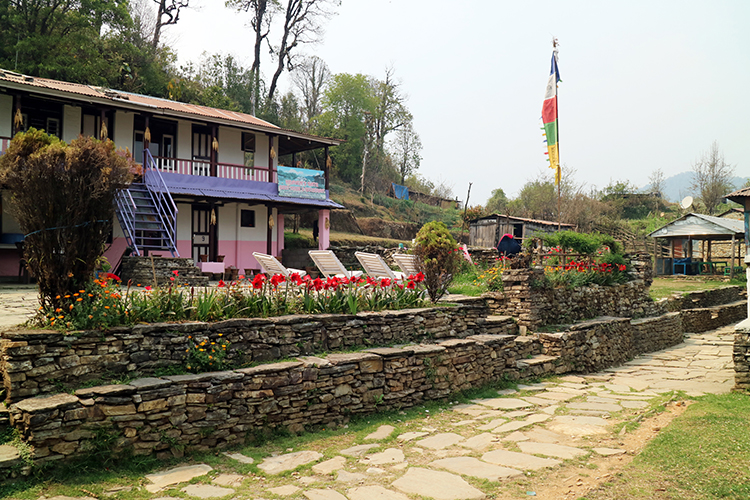 Pothana, Nepal Village Overview
---
Major ethnicity:
Major religion:
Buddhism
Language:
Gurung, Nepali, English
Pothana, Nepal Altitude:
1,890 m (6,200 ft)
Oxygen Concentration:
81% (compared to 100% at sea level)
Location:
Pothana, Nepal is about 26 km Northwest of the city of Pokhara. It's located in the Annapurna Conservation Area just south of the Annapurna mountain range.
Best Time of Year to Visit:
This area is at a low altitude which means it can be visited year round, however, monsoon season makes it difficult to pass the roads and paths that lead here, so it's not recommended during the months of June, July or August. If you are planning to do the full Mardi Himal Trek, I highly recommend going in late March or early April when the rhododendron trees are in full bloom. This trek is also great in October and November.
How to get to Pothana, Nepal:
Pothana is a one hour drive and a 1.5 hour walk from Pokhara. Pothana can also be accessed by a dirt road, but it is not as well traveled and is mostly used by locals to bring supplies.
What to eat in Pothana:
I asked the owner of the teahouse what her special dish is, and there's no surprise that she said, "dal bhat." Dal bhat is a traditional Nepali dish that consists of rice and lentil soup. The dish is often served with spinach, potato curry, and a spicy salsa. It's typically offered as a vegetarian, chicken, or mutton version.
What to see and do:
Nearby the village is a viewpoint, fish pond, yoga ground, football ground, and a small temple which worships the Kumari. This little temple is called Kanchi Bhara Temple, and it is only open two times a year. The Kumari is a young girl who is selected as being the reincarnation of the goddess Taleju who used to visit the kings in their dreams and give them advice on how to rule the land successfully.
---
---
Teahouses in Pothana, Nepal
---
Number of teahouses:
6
Our pick for Pothana:
Heaven's Gate Guest House
Price of room:
500 rupees (approximately $5 USD)
Price of vegetable dal bhat:
500 rupees (approximately $5 USD)
WiFi:
WiFi is available for 100 rupees (about $1)
Electricity:
This teahouse has electricity and allows you to charge electronics without having to pay a fee.
Toilet Situation:
There is a western and squat toilet available. The toilets are shared by all the rooms, but they are located close to the rooms making it easy to access them at night.
Showers:
Gas showers are available for 100 rupees. Solar showers are free of charge.
NTC Cell Service:
Not Working
Ncell Cell Service:
3G – 1 bar
---
---
Pothana, Nepal Photography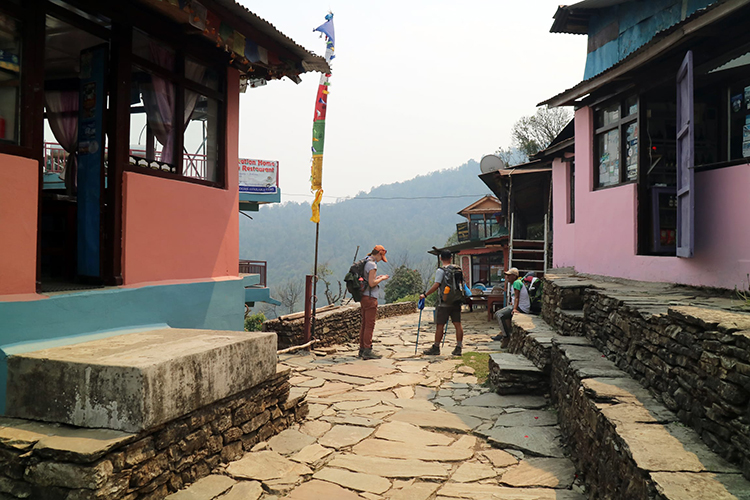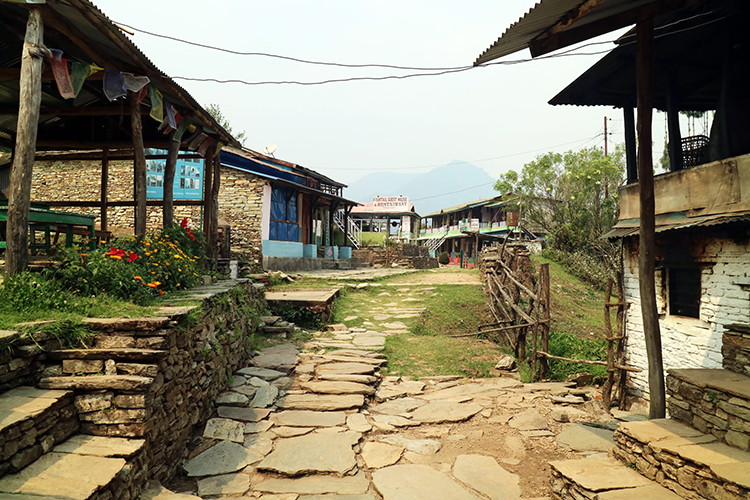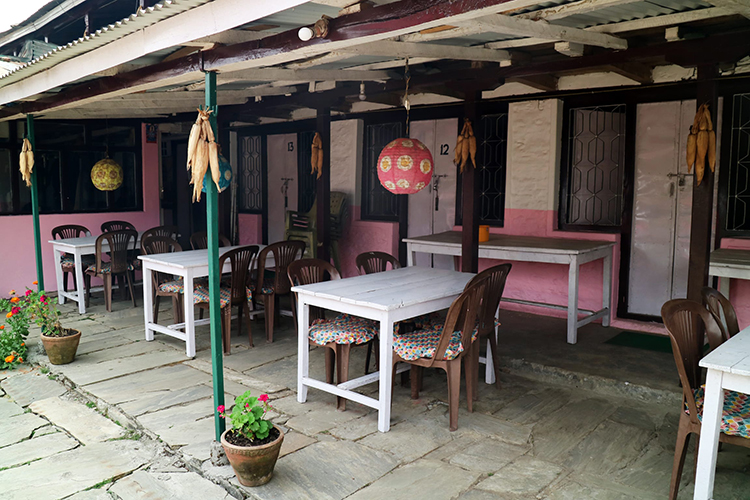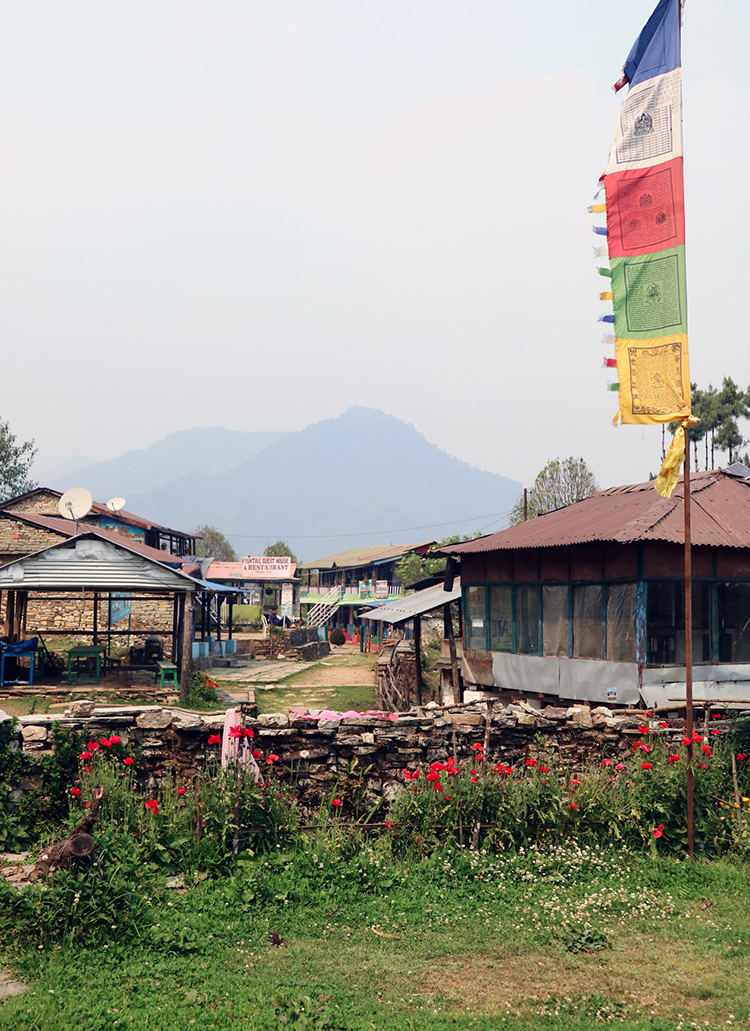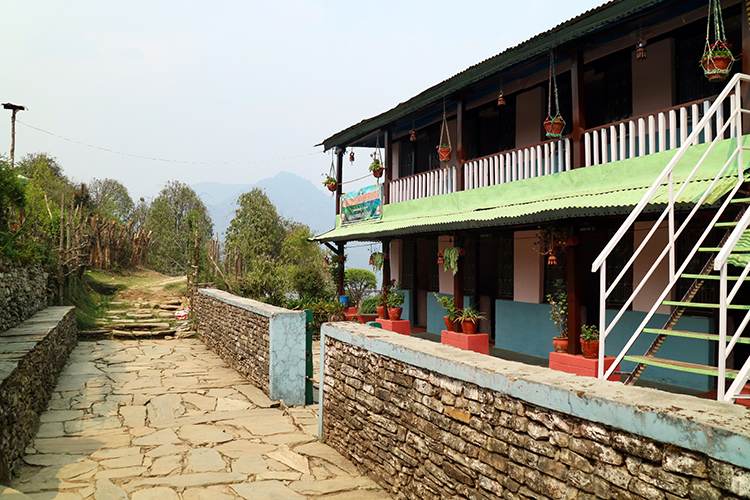 ---
You might also like…