I've talked to so many people who want to know where the most beautiful places of Nepal are. Everyone names the same five places, but there is a never ending list of cities and villages to visit within the country. Most tourists just haven't heard of them. There's such a gap of information for Nepal online, so I'm hoping this interactive map will fix that. Check it out and click through to see all the amazing spots Nepal has to offer!
Beautiful Places of Nepal Map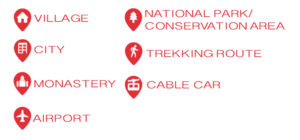 To use this map…
You can zoom in to see what is near you or where you would like to go. Click on each marker to see the name of the location. Then, click on the name to be directed to a guide written by me. Each guide has info on what to do, where to stay, photos and more!
Since I live in Nepal, this map will constantly be updated whenever I find someplace new that I love!
---
Nepal by City
---
Bhaktapur
Bhaktapur is an ancient city in Nepal located just 45 mins from Kathmandu. During the Malla Period, it was one of three Kingdoms in the Kathmandu Valley. It's known for it's wood carvings and architecture and is often referred to as a "living museum."
Dhulikhel
Dhulikhel is a popular destination among locals and expats, but it rarely gets on tourists radar. This hidden gem is only 2 hours from Kathmandu, but it feels like a world away. With dramatic views of the Himalayas and an ancient city to explore, this is one place you shouldn't miss.
Kathmandu
Kathmandu is the capital city of Nepal which makes it a major hub. With the only international airport, it's one of the most popular destinations for tourists. Kathmandu often goes overlooked as a dusty city, but there is so much to explore including UNESCO World Heritage sites, museums, temples, cable cars, day trips, and more.
Kirtipur
Kirtipur is a small ancient city situated on a hill just outside of Kathmandu. This charming city has a big history and was the most strategic point for Kathmandu during wars. Kirtipur was known for it's fierce warriors who held off intruders for decades. Although small, it's winding alleys are full of charm.
Panauti
Panauti is an ancient Newari city a few hours drive from Kathmandu. While it's not far from the capital, visiting it feels like a trip back in time. The older section of the city has tiny alley ways that intertwine and open up into large courtyards with beautiful temples. Farm animals roam freely and locals can often be seen playing cards outside with neighbors.
Patan
Patan is a short 30 minute drive from Kathmandu and is one of three ancient kingdoms that existed in the Kathmandu Valley. While filled with ancient temples and beautiful architecture, Patan is also the best place to visit when you want modern comforts. With a growing expat community, the food scene here has become something to talk about.
Pharping
Pharping is a one hour drive outside of Kathmandu, but this city rarely sees tourism. Most visitors to this area are on a spiritual heritage as it's famous for being the place that Tibetan Buddhism was founded by Guru Rinpoche. The area is considered extremely holy and there are several large monasteries where novice monks are in training.
Pokhara
Pokhara is one of the most popular tourist destinations in Nepal, and rightfully so. With the Annapurna Conservation Area so close by, Pokhara is the starting point for dozens of great treks! Not to mention, the area next to the famous Lake Phewa is full of hotels, restaurants, shops and tour companies making it extremely convenient for visitors.
Tansen
Tansen is an ancient city located off the beaten path. This city sits on the side of a hill making it a rather interesting place to walk around. It's steep alleyways are unique in appearance, and it's maintained it's old homes over time. At the top of the hill, one can enjoy epic views of the Himalayas and day hikes. There's even an old abandoned palace nearby.
---
Nepal by Village
---
Bandipur
Bandipur is a large Newari village located between Kathmandu and Pokhara. It used to be a major stopping point for traders prior to the road being built. These days, it's a popular tourist destination due to its beautiful main street which looks straight out of a fairy tale!
Balthali
Balthali is a lesser known village near the Kathmandu Valley. This little village sits perched on a hill and is the perfect place to go for short hikes and experience the local farming culture. During the spring, it's fields are a lush green and on a clear day, you can see the Himalaya.
Bhotekoshi
Bhotekoshi is way off the grid. What puts it on the map is The Last Resort which is a glamping retreat and adventure camp. At The Last Resort you can go bungee jumping, waterfall canyoning, and white water rafting which makes this the perfect destination for adrenaline junkies!
Bungamati
Bungamati is a short day trip from Kathmandu. This little village is a cultural hub for the arts including wood carving, weaving, and pottery making, but sadly it was hit really hard by the 2015 earthquake. Locals can use the support of tourists visiting and buying handmade goods.
Changu Narayan
Changu Narayan is the location of Nepal's oldest known standing temple. The little village surrounding it is adorable, and it feels like a trip back in time. There are a few small museums in town and great hiking in the area.
Chilingkha
Chilingkha is where my mother-in-law is from. This area is rarely visited by tourists which gives it the most authentic vibes. Visiting here takes a little extra patience and a an adventurous. It's almost impossible to find a teahouse, let alone a hotel, and most people don't speak English, but it gives a great insight into the real Nepal.
Chitlang
Chitlang is a cute village just a two hour hike outside of the Kathmandu Valley. This is the perfect escape for locals and expats. There are tons of places to stay from camping to comfort style and it has a French country side feel. You can even visit a goat farm and learn how to make goat cheese!
Kakani
Kakani is famous for its radishes and strawberries. The small village is just a couple hours outside of Kathmandu. It's on the far end of the Shivapuri National Park and is a great place to start or finish hikes. There's also a great view of the Himalaya.
Lukla
Lukla is most famous for its airport which is known as the most dangerous airport in the world. It's also the start of the Everest Base Camp trek. This little town is an oasis in the mountains. With no road access, it's a strange mix of traditional and modern.
Markhu
Markhu sits on a lake just a few hours from Kathmandu. For those who can't make it to Pokhara, this is a great secondary option. The lake is a peaceful place to rest, read a book, or go for a boat ride. On weekends, it's a bit more rowdy with large groups hanging out on Friday nights.
Nagarkot
In my opinion, Nagarkot is a bit overrated, but it does offer great sunrise views of the Himalayas. This is a very popular destination for locals looking to get out of the capital city of Kathmandu for a breath of fresh air.
Tangting
Tangting is a tiny village on the way to Sikles in the Annapurna Conservation Area. While there are tons of cute towns around the Annapurnas, this one is truly gorgeous. The village has small stone pathways weaving through it, a beautiful view of the Himalayas, and incredibly nice locals.
Thimi
Thimi is a small city set between Bhaktapur and Kathmandu, and it's most known for its ceramics and pottery. You can walk through alleys where pottery is drying or take a tour of one of the ceramic factories. It's also a great place to pick up souvenirs to take home.
---
Nepal by National Park / Conservation Area
---
Bardia National Park
Bardia National Park is an off-the-beaten path adventure for wildlife lovers. Due to its distance from Kathmandu, not many people make the trip. Those who do rave about seeing wildlife you could rarely spot anywhere else in the world.
Chitwan National Park
Chitwan National Park was Nepal's first national park. It's now considered one of the top sites in the world to see the Bengal tiger which is currently endangered. The park is also home to the greater one-horned rhino.
Gaurishankar Conservation Area
The hidden gem of Nepal is the Gaurishankar Conservation Area which sees less than 500 tourists a season! This is an off-the-beaten path region that includes a yak sanctuary. Gaurishankar Himal is considered one of the most religious places in Nepal and the time zone of the country was decided based on the location of it's peak.
Shivapuri National Park
Shivapuri National Park is a quick 30 minute ride from Kathmandu. While spotting endangered wildlife is rare, it's a great place to escape the city and do day hikes or two day treks. It has spectacular views of the Himalayas for those with limited time in Nepal.
---
Nepal by Trekking Route
---
Annapurna Base Camp
The Annapurna Base Camp Trek can be done in as little as five days or as many as eight. This trek is difficult with a lot of steep uphill climbs and stairs, but it's worth it for the views that await you at the top. The Annapurna Base Camp Trek is said to be the oldest trekking route in Nepal!
Annapurna Circuit
The Annapurna Region is the most visited trekking region in Nepal and for good reason. Treks often start at a low elevation and go above 5,000m giving trekkers a wide range of scenery and foliage. The Annapurna Circuit goes over the world's largest pass, through thick forests, and onto dessert like terrain. Not to mention, you'll see several different ethnic groups along the way including Thakali and Manangi.
Everest Base Camp / Gokyo Lake
The Everest Base Camp trek is known world wide as a bucket list item. Those who can't commit climbing Everest opt to trek to Base Camp rather than summiting the world highest mountain. This trek immerses you in Sherpa culture and allows you to see the beautiful Himalayas every morning.
Gosaikunda Lake Trek
Gosaikunda, Nepal is a small village with a sacred lake located in Langtang National Park which holds religious significance for both Buddhists and Hindus. It's a popular pilgrimage site year round, especially during the Janai Purnima festival which usually falls in August. 
Kathmandu Valley Trek
The Kathmandu Valley Trek is a little known trekking route in Nepal. This trek doesn't go through the Himalaya, but it does immerse you in Nepali culture by taking you through ancient cities that are off the beaten path. This trek is perfect for those who want to experience Nepal without roughing it.
Khopra Danda
The Khopra Danda Trek is an up and coming trek. Although it's located in the popular Annapurna Conservation Area, this route is still considered off-the-beaten path and is visited by few foreigners. This trek leads you through ancient Magar communities, to holy Khayer Lake, and along beautiful paths surrounded by wildflowers with the Himalaya as your back drop.
Langtang Valley
The Langtang Valley Trek is one of the up and coming treks in Nepal. Located north of Kathmandu and south of Tibet, this gorgeous trail goes through traditional villages that have been influenced largely by Tibetan culture. The area was hit hard by the 2015 earthquake. Meeting the people here is a reminder of how resilient and strong the Nepali people truly are.
Mera Peak
Mera Peak is the highest trekking peak in Nepal. A trekking peak is a peak that can be summited without a lot of climbing knowledge or experience. It's a great training peak for those who want to get into climbing. It's also used as an acclimation trek prior to doing higher climbs nearby. This peak reaches almost 6,500m and is a real adventure.
Poon Hill Trek
The Poon Hill Trek is one of the most popular trekking routes in Nepal because it takes less than a week and offers fantastic views of the Annapurna range. This trek let's you experience Magar and Gurung culture. This route also allows you to trek without roughing it as there are many accommodations along the way.
Tsho Rolpa Lake Trek
The Tsho Rolpa Lake trek is as off the beaten path as it gets. Few people enter the conservation area each year and you may see less then 10 tourists in your whole trip! This trek goes through a highly Buddhist area where no animals can be killed which has created a sanctuary in the mountains for animals like yaks, cows, sheep, and more.
Mardi Himal Trek
The Mardi Himal Trek started to gain popularity around 10 years ago making it one of the newest trekking routes in Nepal. This trek is most popular among locals who know it has some of the best views of all the short treks in the country. With only 5 days of trekking you'll find yourself surrounded by the Himalaya.
---
Nepal by Monastery
---
Namo Buddha
Namo Buddha is a monastery for novice monks in training, but it's also a beautiful place to visit and spend a night. The monastery has mountain views and is only 30 minutes from the city of Dhulikhel. Sit in on meditations and eat with the monks in the morning to experience Buddhism in Nepal.
---
Nepal by Cable Car
---
Chandragiri
Chandragiri is famous for its cable car along with the temple and restaurants at the top. Chandragiri has epic mountain views from just outside of the city of Kathmandu. It's the best way to see the mountains without leaving the city.
Have any questions about the most beautiful places of Nepal? Ask me in the comments!
---
You might also like…