Over time I've put together several packing lists for different treks, but I've never created a female packing list for Nepal for the regular day to day items. Nepal is an interesting country with a quickly changing dynamic. Below I've compiled a list of everything a female traveler should bring with them. A good note is to pack clothing based on where you plan to spend most of your time. If you'll be in Kathmandu or Pokhara, it's much more liberal. However, small villages are still very modest for women, and it's best to dress accordingly.
---
Luggage and Bags
---
---
---
---
---
---
---
---
Ziplock Bags
I'm seriously amazed at how many times ziplock bags have come in handy. I recommend packing a few of each size from snacks to galloons.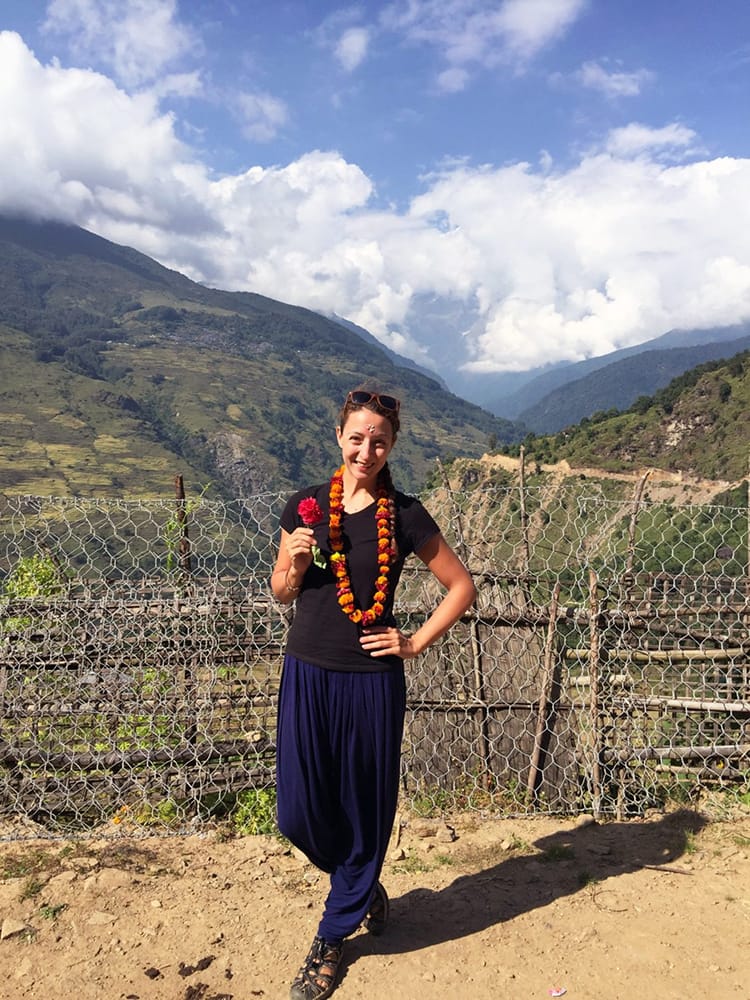 ---
Clothing to Pack for Nepal
---
---
---
---
---
---
---
---
Workout Outfit
I like to have a workout outfit with me everywhere I go. I took a Muay Thai and an aerial silks class in Kathmandu. It's also good to have for day hikes or yoga classes. I wear leggings and a tank top.
---
Swimsuit
I have a bikini with me and for the most part I felt comfortable. I went to one local pool where women were fully clothed and only guys were in the water swimming. In that situation, I wish I had a one piece simply because I felt self conscious and out of place. If you do wear a bikini, I would recommend one that covers you up (i.e. no thongs).
---
5 Pairs of Socks
I walk almost everywhere so sneakers are important for me, therefore, I wear a lot of socks. I usually do laundry once a week so five is a good number for me.
---
12 Pairs of Underwear
Again, I do laundry once a week, but I always like to have extra underwear. One time, my laundry place ended up being closed for four days because the owner was sick. So having extra was a life saver.
---
5 Bras
I like to have three bralettes and two sports bras with me. I like to be comfortable and I find these feel better in hot temperatures, but this is really based on your personal preference.
---
---
---
---
---
---
---
Flip Flops
I don't recommend walking around in flip flops. Streets are uneven, and when it rains, the dirt will get kicked up all over your pants. But, these are great for the shower, inside your room, etc.
---
Toiletries to Pack
---
Shower Supplies
Shower supplies are super easy to buy in major cities like Kathmandu or Pokhara. If you plan to stay in the same place for awhile, you can buy soap, shampoo, and conditioner when you arrive. If you're moving around a lot and like to avoid liquids or heavy bottles then I recommend solid shampoo and a conditioning bar which I've used and liked in the past. I like to bring a case for my shampoo and soap, a solid face wash, a razor for shaving, and a microfiber quick dry towel.
---
Feminine Hygiene
It's pretty easy to get pads in Nepal, so I don't bother packing any. It's nearly impossible to find tampons though, so pack them if that's you preference. I like U by Kotex because they take up the least amount of room in my luggage. Personally, I prefer a Blossom Cup. Yes, it was super weird to use at first, but now I love it. I don't need to pack any tampons or pads and it's environmentally friendly.
---
Makeup and Skin Care
I barely use makeup, but I do use Make Sense Tinted Moisturizer, Lash Sense Mascara, and Covergirl Perfect Point Plus. I bring these with me because I'm picky about brands. If you're pale, I highly recommend buying any coverup you use before you leave. I also recommend a solid sunscreen bring an SPF lip balm.
---
Hair Care
I always bring all hair ties and a lightweight hairbrush with me. I also recommend a dry shampoo just in case you come across a cold shower situation.
---
Tooth Care
Tooth brushes and tooth paste can be bought in Kathmandu when you arrive. I always bring a toothbrush with me in my carry on because my flight to Nepal is really long. I recommend a Steripod toothbrush holder which actually sterilizes your brush while you aren't using it. I also hate regular floss, so I always bring toothpick flossers. Last, I have an emergency dental filling kit that I carry, just in case I can't find a dentist right away.
General
I always bring deodorant with me because I don't like the gel kind and that's what's easily available in most of Nepal. I also bring a travel sized case of q-tips, an eye mask, ear plugs, and hand sanitizer. I'm a huge fan of Badger Anti Bug Balm because it's a solid organic bug repellent that works really well. I also bring Travelon Laundry Sheets which take up no room and are good in a pinch.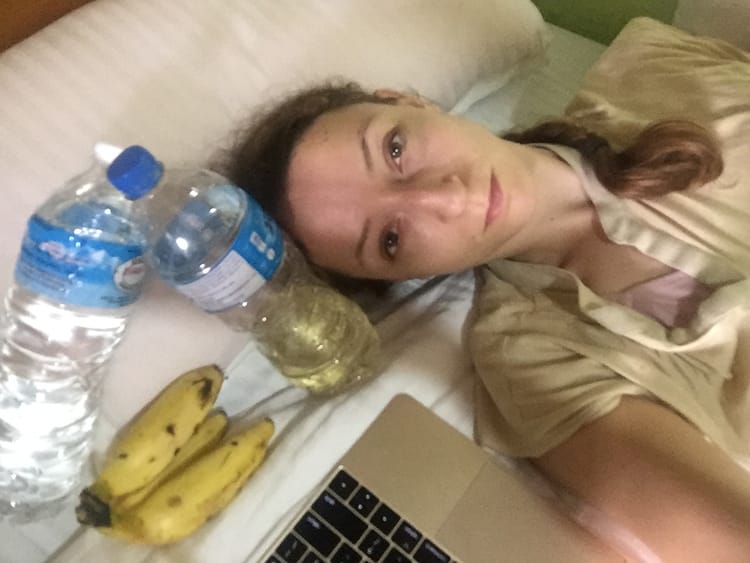 ---
Medicine, Vitamins & First Aid
---
Medicine
Most of these items are readily available in major cities. I always like to have them with me in case I'm in an area without easy access to doctors. I ALWAYS carry a high grade antibiotic, a pain killer, cold medicine (for day and night), anti diarrhea pills, Diaresq, and throat drops. If I'm trekking, I carry Diamox (but I don't use it unless I actually feel sick). In some areas, it's recommended to have malaria pills, however I have never used them in Nepal.
---
Vitamins
I prefer to take vitamins over medicine, so I always stock up on immune boosting vitamins to keep me healthy. I like to have olive leaf (for immunity), activated charcoal (for food poisoning), zinc (for colds), a multivitamin, probiotic gummies (for digestion), and Nuun electrolytes (for quick rehydration).
---
First Aid
A first aid kit is always a good idea. I recommend having a Swiss army knife, lighter, medical tape, ace bandage, duct tape, antiseptic towelettes, Neosporin, bandaids, and an emergency water filtration straw. Some of these may sound weird, but I swear they all come in handy once in a while. I pack my own first aid kit, however, you can also buy pre-made ones.
---
Electronics
---
Photography
As a travel blogger, this category is important for me. If you don't need high quality photos, I'd recommend just using your phone to save space and keep your bag light. I carry a GoPro along with a three way mount, remote, spare batteries, and the charger. The other GoPro accessories are a waste of money in my opinion. I also carry a Canon EOS Mirrorless Camera which I love. It's smaller than a DSLR. The only downfall is that the zoom isn't great if you want to shoot wildlife.
---
Computer
I have a Macbook 13″ which I'm obsessed with. It's insanely lightweight, and since I work from the road, it goes everywhere with me. I bought mine refurbished from Apple to save money.
---
Power Bank
I really like my Goal Zero Power Bank. Since I use it so much, I'm thinking of upgrading to something a little more high tech in the future. For everyday use though, it is really great. It's saved my butt a few times during power outages.
---
Kindle
love having a Kindle Paperwhite. I'm not big on going out at night so I generally read before bed. I like that it's got back lighting, so I don't have to have any lights on when I'm in a shared dorm. It also holds a battery charge for a long time. I can usually read a whole book before needing to recharge it. The newest edition is advertised as waterproof. I have an older model, but am a little jealous of the new one!
---
Audible
Don't like carrying a book or Kindle? Check out audible! You can sign up for a 30-day free trial and get two books free by clicking the banner below! If it's not for you, you can cancel any time.
---
General
You'll need a good power adapter in order to charge everything. I recommend buying a headlamp and batteries in Kathmandu. Sometimes you'll need to use bathrooms that are outside and seeing at night is not easy. It's best to have a set of spare batteries for it as well. To protect my phone, I use a Lifeproof case. That way I don't have to worry about getting it wet or dropping it.
---
Miscellaneous
---
Food
I like to bring a bar of chocolate, Kind pressed bars, and beef jerky with me. That might sound weird but these are my favorite snacks to have on hand.
---
Sewing Kit
I always carry a mini sewing kit and some patches. I've used the sewing kit several times to help fellow travelers repair ripped pants and the patch kit came in handy when I was in Cambodia, and a rat chewed through my luggage during an intense search for peanuts.
---
Fabric Softener Sheets
This one sounds weird, but I put a couple of dryer sheets in my luggage to make sure everything smells super nice. I keep a few spares in a ziplock bag so I can rotate them with fresh ones over time.
---
Money
It's important to have some cash on you. Your bills MUST be new with no tears or creases. I know that sounds insane, but people won't exchange it if it's ripped or old. Nepali rupees however can be falling to pieces and no one cares. I like to have $100 USD with me. I don't exchange it except in an emergency. I get $50 worth in fives and ones just in case I get stuck without an ATM and need to use USD to pay. Luckily, people will accept USD if you don't have rupees.
---
Cards
I carry two credit cards and two debit cards. I keep one of each in my purse and one of each in my locker. I've had my credit card number stolen twice while traveling in Asia, so having a backup is very important. The debit cards are how I get money out of ATMs. I recommend Charles Schwab if you're American. For a credit card, I recommend Capital One's Venture Card. During my first year of travel, I never had to pay for a flight because I saved up so many points (and I had over 10 flights that year including from the U.S. to Asia). You also don't have to call them every time you switch countries, and I've never had my card stop working because I was in another country. Trust me, no one wants to be stuck on a long distance call trying to sort out a credit card problem on vacation.
---
VPN
I recommend a VPN (virtual private network) if you'll be using your computer or phone while in the country. A VPN allows you to access websites while using public networks with privacy. If you plan to look at banking apps, booking sites, etc. then I highly recommend it as my credit card was stolen two times in Nepal before getting a VPN. Now, I use ExpressVPN which is inexpensive and easy to use. It costs $8 a month if you sign up for a year or $12 for a single month.
---
Documents
Obviously, you'll need your passport. I like to make a copy of my passport and visas, so I can have a copy in my purse. I also order a handful of passport photos so that I don't have to buy them for trekking permits or anything. Keep a copy of your plane ticket and travel insurance as well.
---
Trek Packing Lists
---
I've left trekking gear off the list, but you can find more information on specific treks and what to pack in these posts…
---
You might also like…