June falls at the beginning of monsoon season in Nepal. While most of the rain hits towards the end of the month, I wouldn't really recommend people to visit Nepal in June unless it's the only time of year they can go. With rain comes landslides and mudslides which can delay travel plans and make getting around the country difficult. High altitude trekking in June can also be problematic and comes with some extra risks. Here's everything you need to know before booking a plane ticket to Nepal in June.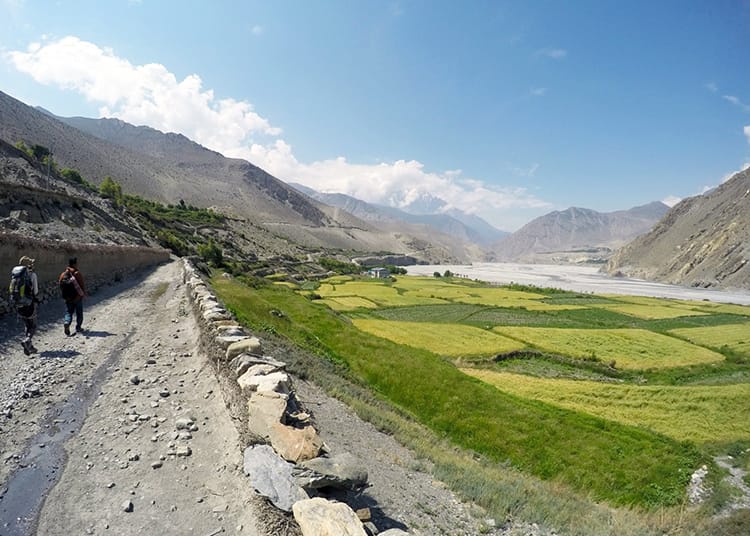 Nepal's Weather in June
---
Season:
Monsoon Season / Summer / Off Season
Average Temperature:
66-84 F (19-29 C)
Average Days of Rain:
15
What to Expect:
In Kathmandu, the average daytime temperature is around 81F (27C). In Pokhara, the average is around 90F (32C) making it the hottest month of the year there. In areas in the Terai, like Chitwan, the average temperature during the day is 105F (40C)! On a hot day it can go up to 112F! June is often a hot sticky month with high humidity due to monsoon season. You can expect it to rain half the days. In areas like Kathmandu, that might mean a few hours of rain followed by sunshine. In areas like Chitwan, it can mean a constant downpour for days which results in flooding.
---
Trekking in Nepal in June
---
Low Altitude Trekking:
As long as you don't mind getting a little wet, low altitude trekking in June isn't terrible. I consider low altitude to be under 8,000ft (2,500m). Traveling around the Kathmandu Valley during this time can be nice. Just remember that it's very hot during the day, so walking in the heat might be rough.
High Altitude Trekking:
I don't recommend high altitude treks during the second half of the month due to flash floods, landslides, mudslides, etc. During the first half of June, you can typically trek without it being too terrible. I finished the Annapurna Circuit in June, and it wasn't awful. Something to remember is that monsoon season means lots of clouds. The week that we trekked in June, we barely saw any mountains or views even when we were walking in them. We also got hit with snow as we went over the pass. This freaked a few people out because the path disappeared in the snow. If you go trekking in June, please hire a guide unless you know how to navigate without a trail, signs, GPS, etc.
---
Tourism in June
---
Crowds:
While July is the least visited month of the year, June isn't too far off. If you like to avoid the crowds, this is a great time to go. With limited trekking options and a promise of rain, not many people chance coming to Nepal in June. The country receives half as many tourists as it does in the peak month of October according to the Nepal Tourism Board.
Budget:
If you're looking to get a good deal, June is one of the best times. Many hotels lower their rates in monsoon as an incentive to attract tourists. If rain doesn't bother you, you can upgrade your travel plans to nicer accommodations or save money.
Wildlife:
Having done a safari in Chitwan in June, I wouldn't recommend it. The river was flooded and the grasses were so high that we weren't allowed in the National Park. We had to go to a park on the outskirts and barely saw any wildlife. It poured the entire time and we were all soaked. Flash floods often flood the entire town near Chitwan this time of year.
Safety:
Flash floods, landslides, mudslides, and rockslides are all an issue this time of year. Although you likely won't encounter them firsthand, they may cause delays or cancellations to your plans. Roads often wash out, so buses can't get through. Flights are delayed due to bad weather. Some trekking routes may be closed.
Best areas to visit:
It's best to spend monsoon around the Kathmandu Valley. There are paved roads that are generally in good shape. The temperature isn't too hot, and you don't have to worry too much about rain every day.
Best areas to avoid:
Areas in the Terai like Chitwan, Bardia, and Lumbini are awfully hot. It's also mosquito season and you'll want to be careful about mosquito borne illnesses. This area also receives the most rain.
---
Festivals in June
(dates listed are for 2023)
---
June 29th Ropain (Rice Planting Festival)
The Rice Planting Festival falls on the last day of June. This is usually the first day of rice planting which is a staple crop for the country. Visitors can join the fun and help plant rice in villages. This is often a muddy endeavor and is good for those who don't mind rolling up their sleeves. It's a great way to see local life and lend a helping hand. During the planting, you'll see people singing, dancing, and splashing mud at each other.
June 29th Edul Aajaha
Edul Aajaha is celebrated by Muslim families in Nepal. Muslim men go to the mosque in the morning to pray. In the evening an animal is sacrificed. A third of the meat is kept for the family, a third is given to the poor, and a third goes to friends and family.
---
Pros & Cons
---
Pros
Less crowded
Budget Friendly
Less Dust
Cons
Limited Trekking
Landslides, Mudslides, Flash Floods
Delayed Travel
Lots of Rain
No Wildlife Spotting
Hot Temperatures
---
Packing Essentials for Nepal in June
---
This probably goes without saying, but good rain gear is a must. I always have a raincoat, waterproof pants (if hiking), a rain cover for my backpack, waterproof bags for electronics, and I waterproof my hiking boots. It's also important to consider malaria pills and carry a good insect repellent if you'll be in the Terai for long periods of time.
Check out my packing list for Nepal for everything you need year round!
---
More Monthly Guides for Nepal…
---
---
You might also like…