Having spent the entire month of July in Nepal, it wouldn't be my first choice. July is right in the middle of monsoon season making it rather difficult to enjoy yourself. There are ups and downs to visiting Nepal in July. There are no crowds. Prices are low. Everything is a bright lush green. But, it's nearly impossible to plan more than a day in advance, high altitude trekking is not recommended, and if you're traveling by plane or car you can expect some major delays. Here's what you need to know before booking a ticket.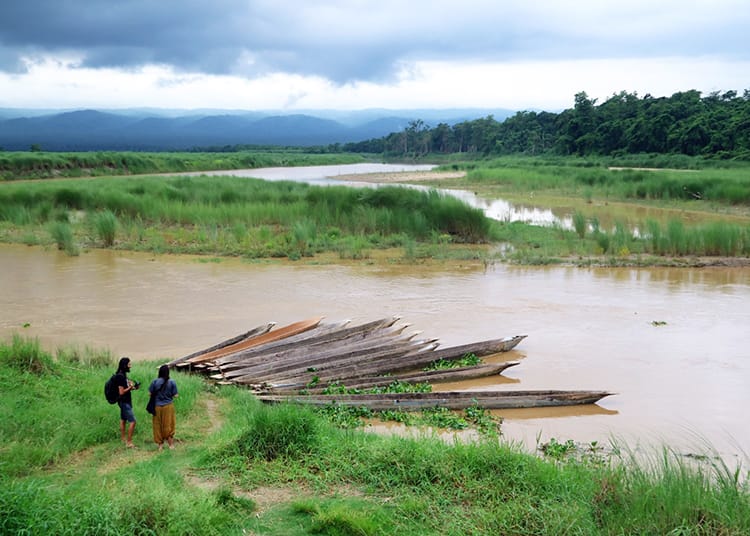 Nepal's Weather in July
---
Season:
Monsoon Season / Summer / Off Season
Average Temperature:
68-84 F (20-29 C)
Average Days of Rain:
21
What to Expect:
In Kathmandu, you can expect the daily temperature to be around 75F (24C). In areas around Chitwan and Lumbini, you can expect a very hot average of 97F (36C). In Pokhara, it's a little warm at 85F (29C). With an average of 21 days of rain in the month, it can be hard to plan. The good thing is it rarely rains all day. Usually, you'll get hit with a few hours of heavy rain, and the rest of the day might be gorgeous.
---
Trekking in Nepal in July
---
High Altitude Trekking:
I personally would not do a high altitude trek in Nepal in July. Therefore, I wouldn't recommend others to do it either. If you are going to go despite my advice, please have a guide. While trekking trails are often easy to navigate, some are prone to landslides, rockslides, and mudslides which can be made worse during monsoon. A good guide will know which trails are safest.
Low Altitude Trekking:
Low altitude trekking can be hit or miss in July. When I was there, it started to rain at 2pm every single day as if the sky was on a timer. We did some small hikes and treks and always made sure to be wherever our next hotel was by 2pm. We ended up walking in the rain one day when we arrived late. Plan accordingly, have a guide, and choose a trail that's safe in monsoon. I'd recommend the Kathmandu Valley Trek which is beautiful.
---
Tourism in Nepal in July
---
Crowds:
In the month of July, Nepal receives a third of the number of tourists as the peak month of October according to stats from the Nepal Tourism Board. July is usually the least visited month of the year, making it a great time to avoid crowds.
Budget:
Because July is the least visited month of the year, it's also the cheapest. Hotels sometimes lower their prices up to 50%. One of the most luxurious hotels in Kathmandu costs $500 USD a night in peak season and only $300 a night in July.
Wildlife:
Unfortunately, this is one of the worst months to see wildlife. I did a safari during monsoon season in Chitwan National Park. Almost everything was canceled because of flooding. When we finally got a jeep safari in a surrounding area, we only saw a dog and a cat. Just kidding, kind of. We saw a wild boar with a baby and a deer. We had a blast despite the downpour of rain, but that's because we made the best out of the situation.
Safety:
Mudslides, landslides, rockslides and flash floods are all a problem in July. These can cause major delays when traveling. They can also cause serious safety concerns when trekking.
Best areas to visit:
Kathmandu and areas around the Kathmandu Valley have a nice temperate climate this time of year. It does rain for a few hours most days, but it isn't a constant downpour.
Best areas to avoid:
Chitwan, Lumbini, Bardia and other areas in the Terai are best to avoid. Flooding is common and mosquito borne illnesses are more prominent this time of year.
---
Pros & Cons
---
Pros
Discounts
Possibility of Clear Views After Heavy Rain
Less Dust
No Crowds
Cons
A Lot of Rain
Muddy Roads, Paths, and Trekking Routes
Hot Humid Weather
Limited/Unsafe Trekking
Delays
Limited Wildlife Safaris
Landslides, Mudslides, Flash Floods
---
Packing Essentials for Nepal in July
---
In July, it's important to have rain gear with you. A good rain jacket and rain pant (if you'll be hiking) are key. If you're a backpacker, make sure to have a rain cover for your backpack as well. I've also waterproofed my hiking boots to ensure my feet don't get soaked. July is mosquito season. If you'll be in the flatlands around Chitwan, Bardia, Lumbini, etc. then you should have mosquito repellent. You may also want to talk to your doctor about malaria pills.
For a list of all the stuff I bring to Nepal, check out my Nepal Packing List.
---
More Monthly Guides for Nepal…
---
---
You might also like…