Nepal in September can be a big mix of ups and downs. September happens to fall between monsoon season and one of the best months of the year to visit the country. Due to climate change, the weather in September has become unpredictable. Some years it could be a rainy mess with limited options for travelers, and other years' travelers might luck out with some of the best weather you could ask for. Traveling in September is a gamble, but those who aim to visit later in the month have better odds for ideal conditions.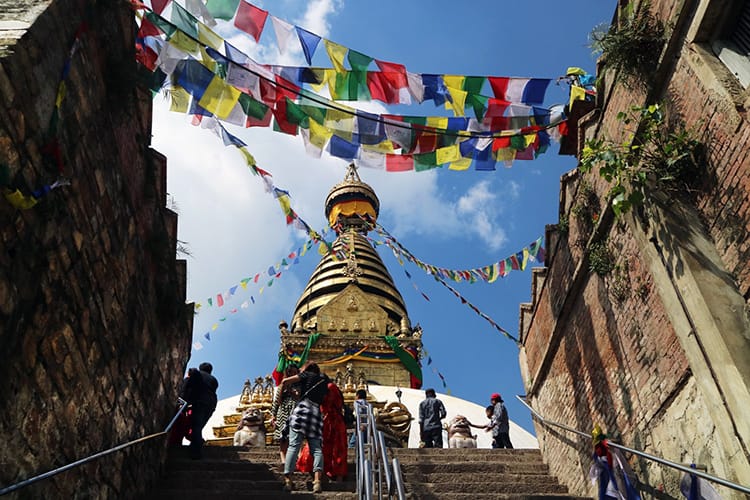 Nepal's Weather in September
---
Season:
Monsoon / Fall Season
Average Temperature:
66-82 F (19-28 C)
Average Days of Rain:
12
What to expect:
The weather in September tends to be hot and humid since it's still the end of monsoon season (May-September). On average, Nepal sees about 12 days of rain during the month of September. In Kathmandu, the average daytime temperature is around 73 F (23 C). In Pokhara, it's around 82 F (28 C). In areas around the Terai (like Chitwan, Barida, and Lumbini) it's around 97 F (36 C). This makes it an ideal time to hang out in the Kathmandu Valley or around the very popular city of Pokhara.
---
Trekking in Nepal in September
---
High Altitude Trekking:
September is the last month of monsoon season in Nepal. With climate change, it's hard to pinpoint which months are ideal for trekking anymore, so it's best to check weather conditions right before going. Personally, I avoid all treks in monsoon season. There are major dangers including flash floods, landslides, etc. You'll also likely experience leeches in the jungle which can be relentless in monsoon. When trekking in September, we had about 3 leech bites a day but had about 25 leeches on the outside of our clothing while walking. Yuck! Since September is the end of monsoon, you may get lucky. Aim for the end of the month for better trekking conditions as that is closer to peak trekking season. The beginning of the month may still be dangerous.
Low Altitude Trekking:
I think low altitude trekking is the best bet for trekking in the beginning of September. Even then, it's very important to talk to locals about the routes you plan to take. Some areas (which are very easy to walk during peak season) may be flooded, washed out, or have closures because of monsoon season. Roads are known to wash away this time of year, so trekking trails can be dangerous even at low altitudes. There may be leeches on the trail during this month. Something else people don't consider is how the streams turn to rivers quickly. It may not be raining at a lower altitude, but if it's pouring higher up, the streams may have flash flooding. People sometimes dye crossing a small stream if it suddenly turns to a raging river without warning. Trekking at the end of the month or waiting until October is a better idea.
---
Tourism in Nepal in September
---
Crowds:
Due to September being on the cusp of monsoon and peak season, it's a bit of a gamble for trekking. Therefore, September is much less crowded than the peak month of October. September receives almost half as many tourists as October according to stats from the Nepal Tourism Board.
Budget:
Monsoon season is the best time of year to get discounts on things like hotels. In the beginning of September, you may be able to get some great deals if you're willing to put up with bad weather and limited outdoor activities.
Wildlife:
Unfortunately, there's not a great chance of spotting wildlife in September. With so many days of rain, animals don't have to come to the river to drink. I went to Chitwan National Park during monsoon season, and I had a blast. But, that's only because I was with amazing people. Our safari got canceled when the river flooded and the grasses were too tall to be safe to walk through. We went for a small jeep safari in an outlying area and did manage to see some endangered crocodiles and a wild boar. But there were no rhinos or tigers in sight.
Safety:
Monsoon season in Nepal comes with a lot of hassles and risks. Due to poor infrastructure, many of the roads get washed away during monsoon season. This can cause major delays when traveling by car. You may also find yourself stuck at the airport for days if you are flying into areas like Lukla where the weather is temperamental at best. Besides constant delays, there are major safety concerns when trekking or traveling. Landslides and flash floods are very dangerous this time of year.
Best areas to visit:
I find that spending time between an altitude of 1,200m and 2,000m (3,900ft -6,500ft) is best this time of year. This includes areas like the Kathmandu Valley which isn't as hot as lower lying land. It's also not as dangerous as areas in the mountains where landslides are common.
Best areas to avoid:
The Terai (Chitwan, Lumbini, Bardia) is extremely hot this time of year. With the heat and lots of rain, it's a breeding ground for mosquitos. Although not as bad as India, there is a chance of malaria and other mosquito borne illnesses in this area during this time of year.
Check if areas or roads are prone to landslides, mudslides, or flash flooding before visiting. For instance, the road between Pokhara and Lumbini is often closed during monsoon because it regularly has problems. My friends were traveling by bus from Pokhara to Lumbini, and it normally takes 8-10 hours to get there. It took them 24 hours to get there because of closures!
---
Festivals in September
(dates listed are for 2023)
---
Sept 1st Gai Jatra
Gai Jatra is a festival in Kathmandu that is celebrated by the Newar community. Each family who has lost a member that year must participate. Those who have a cow will walk it down the streets in a parade. Those who don't have a cow, dress their children up in costumes. The festival is meant to make people laugh and smile and show everyone that they are not alone in losing a loved one.
Sept 6th Shree Krishna Janmashtami
Shree Krishna Janmashtami is the birthday of Lord Krishna. People celebrate by visiting his temple and fasting until midnight. You can watch some of the festivities by visiting the Krishna Temple in Patan Durbar Square.
Sept 6th Gaura Parba
Gaura Parba is a festival that celebrates the goddess Gauri (Lord Shiva's Wife). Hindu women in western and far-western Nepal celebrate by fasting, dancing, and singing over a three-day period.
Sept 19th Constitution Day
While Constitution Day is not a festival, you may see people celebrating in the streets with political speeches and marches holding flags. You may also see some protests as not everyone is happy with the current constitution.
Sept 20th Rishi Panchami
Rishi Panchami is a day when women ask for forgiveness by bathing in rivers. Unfortunately, women in Nepal are subjected to a lot of rules while they have their periods. This is more common in rural areas where women can't enter kitchens, temples, or even touch their husbands while menstruating. Rishi Panchami is the day they ask to be forgiven for anything they may have done wrong while menstruating.
Sept 28th Indra Jatra
Indra Jatra is an eight-day long festival that marks the beginning of festival season. It's one of the biggest festivals of the year for the Newari community in the Kathmandu Valley. Most of the festivities take place in Kathmandu Durbar Square where those lucky enough can witness the "living goddess."
---
Pros & Cons
---
Pros
Less crowded
Discounts
Ideal Trekking Conditions at the End of the Month
Cons
Rain
Difficult to Spot Wildlife
Unsafe Trekking at Beginning of Month
Unsafe Roads
Possibility of Landslides, Mudslides, or Flash Floods
Delayed Travel
---
Packing Essentials for Nepal in September
---
The most important things to have in monsoon season are rain gear and mosquito repellent. For rain gear, I recommend a good raincoat, waterproof bags, and a rain cover for your backpack (if it didn't come with one). If you'll be in areas in the Terai for long periods of time, you may want to talk to your doctor about Malaria pills.
Check out my packing list for Nepal for everything you need year round!
---
More Monthly Guides for Nepal…
---
---
You might also like…