May is one of my favorite months to be in Nepal. While monsoon technically starts in June, May can be a little unpredictable when it comes to rain. Most people visit in March or April when trekking conditions are at their peak. Although Nepal in May doesn't have the best weather, it's a far cry from the worst. With less tourists, you're able to do all the best things without the crowds which gives you a more authentic experience.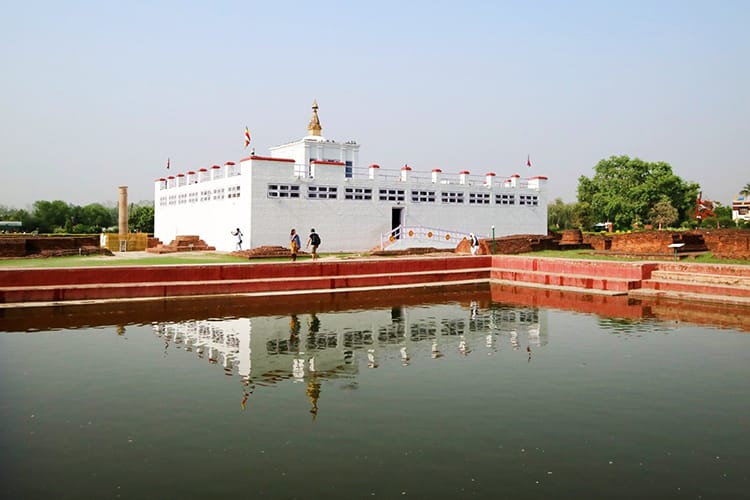 Nepal's Weather in May
---
Season:
Spring / Peak Season
Average Temperature:
60-86 F (16-30 C)
Average Days of Rain:
10
What to Expect:
The average daytime temperature in Kathmandu is around 80F (27C). In Pokhara, the average temperature during the day is around 85F (29C). In areas near the Terai like Chitwan, Lumbini, and Bardia, temperatures are often over 100F (38C). While there are a handful of rainy days in May, it usually only rains for an hour or two and then clears up. The best part is that there's a lot less dust, and you can get beautiful clear views after a good rain.
---
Trekking in Nepal in May
---
Low Altitude Trekking:
Low altitude trekking in May is definitely possible. Since May is one of the hotter months of the year, it may not be as enjoyable as a high altitude trek which will be a little cooler during the day. I tend to do low altitude trekking when high altitude trekking is not an option, so I usually don't go in May since there are so many other great options. One of the highlights of lower treks is this is the season for rhododendron flowers to bloom. They're the national flower and you can walk through incredible fairy tale like forests of them.
High Altitude Trekking:
High altitude trekking in May can be hit or miss. You might deal with rain some days, so it's best to be prepared. You may also get a few good storms, but usually the trails are safe. I've done two major treks at the end of May including the Annapurna Circuit and Tsho Rolpa. My only advice is to have a guide with you. They'll know what areas are prone to landslides and what to do in an emergency. The best part of trekking in May is that you can avoid the crowds on the trails.
Something that's really cool about doing Everest Base Camp in May is that you can see the tents set up at Base Camp for those trying to summit the highest mountain in the world. Most mountaineers won't risk talking to trekkers because they don't want to catch any colds before their big day. If you're lucky, you might meet a few mountaineers who have just come back from the summit before they head back home.
---
Tourism in May
---
Crowds:
Since May is the end of tourist season in Nepal, the number of people entering the country drops significantly. According to stats from the Nepal Tourism Board, May receives almost half as many visitors as March. This makes it a wonderful time to see local life and avoid crowds.
Budget:
Since May is the end of tourist season, you may find a few deals here and there as an incentive to visit the country. They aren't as big as the deals you'll get in June or July, but hotels may offer small discounts off their normal price.
Wildlife:
Areas like Chitwan National Park and Bardia National Park are very hot this time of year. With monsoon around the corner, they receive enough rain that most animals don't come to the watering hole. On the other hand, May is when yaks are born. If you have time, visit the Rowaling Valley where there's a sort of yak sanctuary. You can see the baby yaks running free in the mountains. It's the cutest thing.
Safety:
Safety isn't a huge concern in May. As I said above, you can trek during this month but make sure to have a guide. If the weather changes quickly, they'll know what to do. If there's a heavy rainstorm, there is a possibility of mudslides, landslides, etc.
Best areas to visit:
Kathmandu, Pokhara, and high altitude treks are all great this time of year. May is a pretty good month to travel through most of the country.
Best areas to avoid:
Chitwan, Lumbini, and Bardia are worth staying clear of. It's very hot and a lot of places do not have air conditioning. Mosquito borne illnesses are also a problem this time of year.
---
Festivals in May
(dates listed are for 2023)
---
May 5th Buddha Jayanti
Buddha Jayanti is the celebration of the birth of Buddha. For those who don't know, Buddha was born in Lumbini, Nepal. May is a popular month for pilgrims to visit his birthplace. It's a wonderful time to go since there will be decorations and a beautiful celebration. It is VERY hot this time of year, so be sure to have lots of bottled water, sunscreen, bug repellent, and proper clothing.
May 29th Ganatantra Diwas
Ganatantra Diwas is the day when Nepal became a Republic. You may see political speeches and celebrations going on in major cities. You may also witness protests on this day. As a tourist, you should avoid protest gatherings and you shouldn't take photos of them either.
---
Pros & Cons
---
Pros
High Altitude Trekking
Low Altitude Trekking
Baby Yaks
Less Dust
Less Crowds
Rhododendron Forests
Fields Being Harvested
Cons
Some Rain
Mud
Limited Wildlife
Possibility of Landslides or Flash Floods
---
Packing Essentials for Nepal in May
---
Since it's the beginning of monsoon season, you may experience a little more rain than other months. Be sure to have proper gear including a raincoat, waterproof hiking boots, a rain cover for your backpack, waterproof pants, and a few waterproof bags for electronics. If you'll be in areas near the Terai, bring a good bug repellent and talk to your doctor about whether you should bring malaria pills or not.
Check out my packing list for Nepal for everything you need year round!
---
More Monthly Guides for Nepal…
---
---
You might also like…